GREEN BAY – The Green Bay Packers are in a unique situation this Sunday in the NFC Championship game at Seattle in that they head in as an underdog to the defending Super Bowl champion Seahawks.
This, despite finishing the year with the same record, the league's top ranked offense and, likely, the league's most valuable player under center.
But yet, even locally, there is doubt the Packers can overcome the league's top-ranked defense and the hostile environment at CenturyLink Field.
If any of the players listen to radio, watch television, or sift through online media, this is what they're likely to see: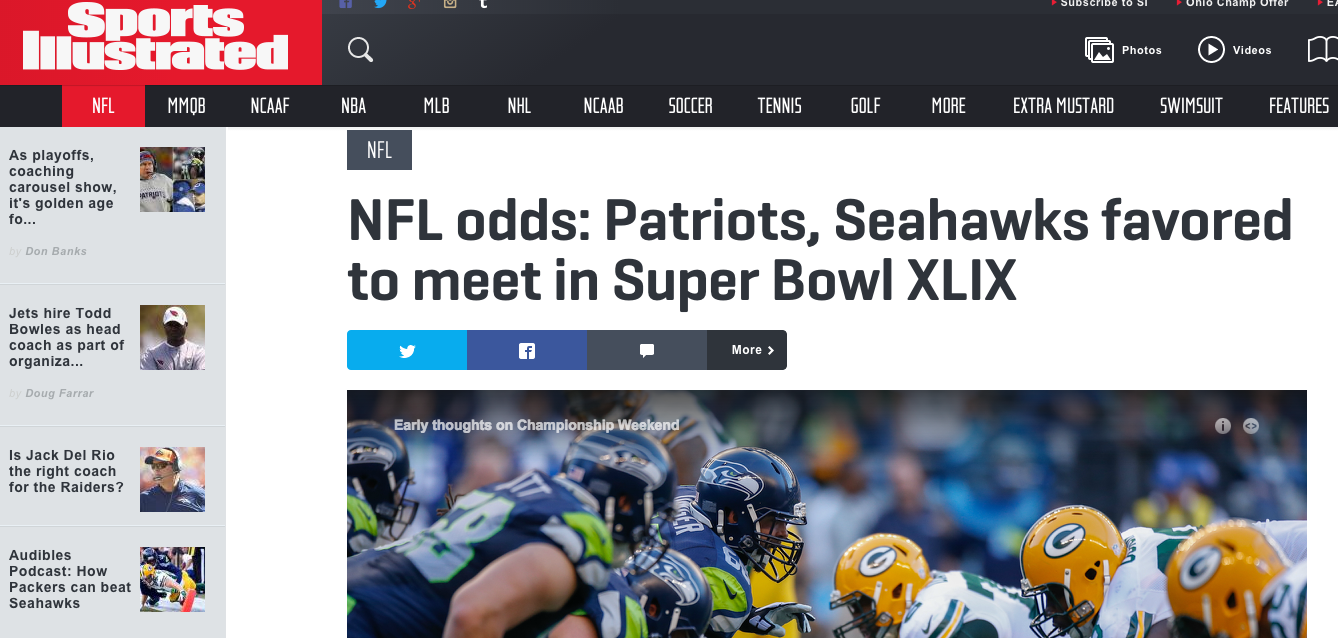 Even Wisconsin zoo animals are picking against them:
"I don't have anything to say to them," Packers defensive lineman Mike Daniels said when asked about his response to such critics.
"Everybody has an opinion. That's just what it is. I have an opinion. They have an opinion. We're all entitled to our own opinion. I can't hold anything against anybody who has their own opinion."
But, doesn't it take some of the pressure off?
"National media doesn't mean anything to us," safety Micah Hyde said. "Since I've been in the NFL, even in college, we don't listen to that stuff. But at the same time, we've always been relaxed. This whole season. We're relaxed right now going into it."
Advertisement
Suit up for Sunday.
Some of Daniels' teammates had different perspectives on the outside perception however, including one player who has worn both hats as the underdog who did the impossible and the Goliath who was cut down – corner Tramon Williams, who was part of the 2010 wildcard Super Bowl team and the 2011 squad that went 15-1 and failed to live up to that standard once the postseason began.
"We like it that way," Williams said of the team's underdog status. "It's typically that way for the most part but over the years we've put together a really good team. You always hope to come in as the underdog, but you can't fly in under the radar forever. But, that's the way we want it. It's not going to make the game any different. We still gotta both go out there and play our game. Hopefully we execute the most."
Another member of the Packers who was on both of those teams with Williams, tight end Andrew Quarless, took a different tact, instead feeling like a favorite who has to add a little bit to their game.
"I don't feel like an underdog," Quarless said. "But they're definitely a tough bunch. They're going to bring the aggression so we've got to match their intensity and even past their intensity. They come out and play tough."
Fakin' the pump

Russell Wilson uses a variety of tricks to fool defenders and create extra time for his receivers, and running room for himself, one of which is a pump fake that can be pretty convincing.
It's a skill that has caught the Packers attention – in that they know he does it well – but there's one way to combat it.
"You don't jump," Packers linebacker Clay Matthews said. "You don't jump. (Former linebackers coach) Kevin Greene didn't like when we jumped, so I don't jump."
Advertisement
Order your gear now.
Tramon Williams chuckled and admitted it's sometimes not that easy for defenders, saying it's hard to not want to leave your feet, but Matthews shrugged the idea of that being an instinctual act off – at least when it comes to him specifically.
"For players who aren't trained to hit the quarterback, their instinct is to jump," said Matthews, who led the Packers with 11 sacks this year. "You train yourself. Train yourself and it becomes second nature. It's second nature for me."
Jump around
So, what does Packers kicker Mason Crosby think about this slick move Kam Chancellor pulled last week against Carolina?
"If he actually uses any of the linemen to help himself through, it's a penalty, so they have to come clean over the line so our guards are aware of that and Brett (Goode) as our snapper is aware and try to lift and just get him to at least touch them," Crosby said. "It's impressive that those guys can jump through. Some great athletes."
The Packers have had three field goals and two extra points blocked thus far this year, and the Seahawks got to a kick in 2012.
"It's all timing. Every kick is a little bit different," Crosby said. "I just have to focus on kicking the ball. I can't really worry about all that other stuff. I'll leave that to the protection and the guys in front of me and make sure that I hit the ball through when I'm called upon."
Challenging the Chancellor

Speaking of the Seahawks' 6-foot, 3-inch, 232-pound safety, Packers tight end Andrew Quarless said the best way to counteract the two-time Pro Bowler is to go right at him – like teammate Eddie Lacy did earlier this year.
"I mean, he's definitely a good player – somebody I'm looking forward to going against," Quarless said of Chancellor. "He's not a perfect player but me personally I'm ready just to go at him. Don't be intimidated. Go right at him and make him make a play. Anybody of his standard, of his play, me personally I go at him."
ICYMI
Think you've consumed everything and anything Packers? Probably not. Here are five favorites of ours you may have missed:
The Packers have their own "Beast Mode."
The roster is filled with young players … but you wouldn't know it by how they act
.
Aaron Rodgers' comeback against Detroit gives him true "hero" status
.
Going on the road? Unfortunately the Packers haven't packed much success when doing so
.
Eddie Lacy is a real life video game character
.
Jim Owczarski is an award-winning sports journalist and comes to Milwaukee by way of the Chicago Sun-Times Media Network.
A three-year Wisconsin resident who has considered Milwaukee a second home for the better part of seven years, he brings to the market experience covering nearly all major and college sports.
To this point in his career, he has been awarded six national Associated Press Sports Editors awards for investigative reporting, feature writing, breaking news and projects. He is also a four-time nominee for the prestigious Peter J. Lisagor Awards for Exemplary Journalism, presented by the Chicago Headline Club, and is a two-time winner for Best Sports Story. He has also won numerous other Illinois Press Association, Illinois Associated Press and Northern Illinois Newspaper Association awards.
Jim's career started in earnest as a North Central College (Naperville, Ill.) senior in 2002 when he received a Richter Fellowship to cover the Chicago White Sox in spring training. He was hired by the Naperville Sun in 2003 and moved on to the Aurora Beacon News in 2007 before joining OnMilwaukee.com.
In that time, he has covered the events, news and personalities that make up the PGA Tour, LPGA Tour, Major League Baseball, the National Football League, the National Hockey League, NCAA football, baseball and men's and women's basketball as well as boxing, mixed martial arts and various U.S. Olympic teams.
Golf aficionados who venture into Illinois have also read Jim in GOLF Chicago Magazine as well as the Chicago District Golfer and Illinois Golfer magazines.