GREEN BAY – The south end zone began rumbling as Tim Masthay was punting the ball away after a three-and-out by the Green Bay Packers, a buzz that turned into a cheer.
It took the rest of the stadium – which was disappointed in the Matt Flynn-led series that ended with a sack – a minute to realize that Aaron Rodgers had begun a slow walk out of the tunnel and back to the Packers bench.
"I was wondering what was going on," Randall Cobb said. "We just had a third down that we didn't pick up and then the crowd just starts chantin' (MVP) and yelling out of nowhere and you turn around and see him walking out of the tunnel. That's huge for us a a team, just to be able to feed off that energy that the crowd brought in that moment."
The fact Detroit would go on to tie the game 14-14 seemed inconsequential.
All eyes were on No. 12, warming up, and if he would return to action.
Then, along the Packers sideline, the players heard it: Twelve's gonna go.
"It was kinda cool," Packers rookie center Corey Linsley said. "'Twelve's gonna go,' and it's like wow, you know, he's gonna go."
"It was dramatic," Cobb said with a smile. "It was great. It was definitely great to have him back, just to have him back on the field, just him, his presence, is huge for us as a team."
Just minutes earlier, the 78,408 were hushed as Rodgers lay prone on the Lambeau turf, clearly hurt after tossing a 4-yard touchdown pass to Cobb.
Rodgers had stepped up into the pocket and began to scramble to his right, and as he reached the line of scrimmage his left leg popped off the ground and he hopped on his right leg once before delivering the ball.
He was helped off the field and immediately went to the locker room with just over two minutes to play in the first half, with the official word saying his return was questionable.
The Packers led, 14-0, at that point, and the Lions took advantage in the change of atmosphere, putting together their first scoring drive of the game to cut the lead to 14-7.
And while Detroit did tie the game as Rodgers warmed, it seemed as if his return signaled that the "old Lions" should as well – punter Sam Martin immediately kicked the ball out of bounds to give the Packers excellent field position.
Then, on a key 3rd-and-9 play from the Detroit 18, Jason Jones lined up in the neutral zone to give Rodgers extra yards, and more options.
The next play, Rodgers hit Cobb for a 13-yard touchdown to give the Packers a 21-14 lead.
"He still came out and fought," Packers defensive lineman Mike Daniels said. "Nothing but … if there was a word higher than respect, which there probably is, that's what I got for Aaron."
It was now 21-14, and the the next two Detroit possessions went this way:
Incompletion

Incompletion

Incompletion

Punt

Fumble
"We really didn't even talk about it," Packers corner Tramon Williams said of Rodgers' departure and subsequent return. "We didn't know what his status was. You always hope he's going to be okay, but we have to keep our mindset ready to play, and that's what we did."
While Green Bay had its seventh kick of the year blocked after that punt, the Stafford fumble led to another short field and eventually, the clinching 1-yard Rodgers scoring sneak – a play Rodgers called for himself.
Unpiled, Rodgers got up and did a subdued belt move to the south end zone fans, and slowly walked off the field. It gave the Packers a 28-14 lead, likely clinched his second Most Valuable Player award, and sent the Packers into the playoffs with the No. 2 seed, a bye, and at least one home playoff game.
"I wanted to be back out there competing with my guys," Rodgers said. "When I broke my collarbone I remember (ESPN analyst) Jon Gruden saying I was out for the game and I said to hell with that and tried to get my pads back on and get back out there, but that didn't work obviously with the severity of that injury. This was different. (Packers team doctor Dr. Patrick McKenzie) came in, we talked, we talked about the risks and I was able to get him to allow me to do some movements on the sidelines to see how it felt."
After testing the calf on the sidelines, and getting medical clearance, Rodgers asked Packers coach Mike McCarthy to keep him in the shotgun to limit how much he had to move around. McCarthy agreed, so Rodgers returned.
"I wasn't going to put myself in major harm's way, but at the same time, you know, I feel like if I can be out there I could give our a team a little jolt," Rodgers said.
Despite coming in injured (the Packers had third string quarterback Scott Tolzien active for the first time all year), Rodgers finished the first half 6 of 9 for 97 yard and a TD for a rating of 139.6.
He finished the game 17 of 22 for 226 yards, two touchdowns and a 139.6 rating. He also rushed for 14 yards and a score.
"We all know how bad he was hurting, so for him to go like that, that's awesome," Linsley said.
Same ol' Lions

A week after Lions center Dominic Raiola was suspended for this week's game for stepping on a Chicago Bears player, Lions defensive tackle Ndamukong Suh stepped on Rodgers' injured calf:
Intentional, or accidental? And if it's not Suh, are we even wondering? pic.twitter.com/nxFeDyXAfg — Jason Wilde (@jasonjwilde) December 29, 2014
"You gotta get your guy's back and let somebody know you're not appreciating their antics," said Packers guard T.J. Lang, who confronted Suh after the play. "I don't really know what happened that play. I finished the block and he took exception to it, and some words exchanged. You now, it's football. I haven't seen the play, but from what I understand it didn't sound like it was too pretty."
Rush game
Detroit came in with the league's No. 2 ranked defense (295.9 yards per game) and the number one ranked run defense by a wide margin, allowing just 63.8 yards per game on the ground.
The rushed for a season-high 152 yards and Eddie Lacy had 100 of them, hitting the century mark on 26 carries. Fifty-eight of those yards came on the first two plays of the game for the Packers.
"It gives us momentum and it lets us know that hey, we're able to run the ball on these guys," Lacy said. "They're a tough defense and you can't expect that every single play, but those guys, the big guys up front, had that mindset and they tried to make every available hole possible."
As for the other 23 carries for the other 42 yards?
"Oh man, it hurts," Lacy said with a laugh. "I'm sore. But I mean, it's a physical game. This was one of the more physical games. But our offensive line opened up a lot of holes for us and we were able to run the ball pretty good."
Notes

Micah Hyde tied a franchise record with his third career return touchdown with his 55-yard return in the first quarter. 
Rodgers didn't complete a pass in the first quarter for the first time in his career, going 0-for-2.
Jordy Nelson broke Robert Brooks' single-season record for receiving yards in a season and became the first Packers receiver to go over 1,500 yards receiving in a year.
For as hard as he runs, Lacy's second quarter fumble was just the third that he had lost in his career in over 500 carries. Interestingly, Lacy's last lost fumble was in week 2 in Detroit, when the Lions picked it up and returned it for a score.
Outside of Hyde's touchdown, the Packers special teams continued to struggle as a Mason Crosby field goal attempt was blocked (the seventh this year) and the Lions also recovered an onside punt after a safety.
Hyde's "leap"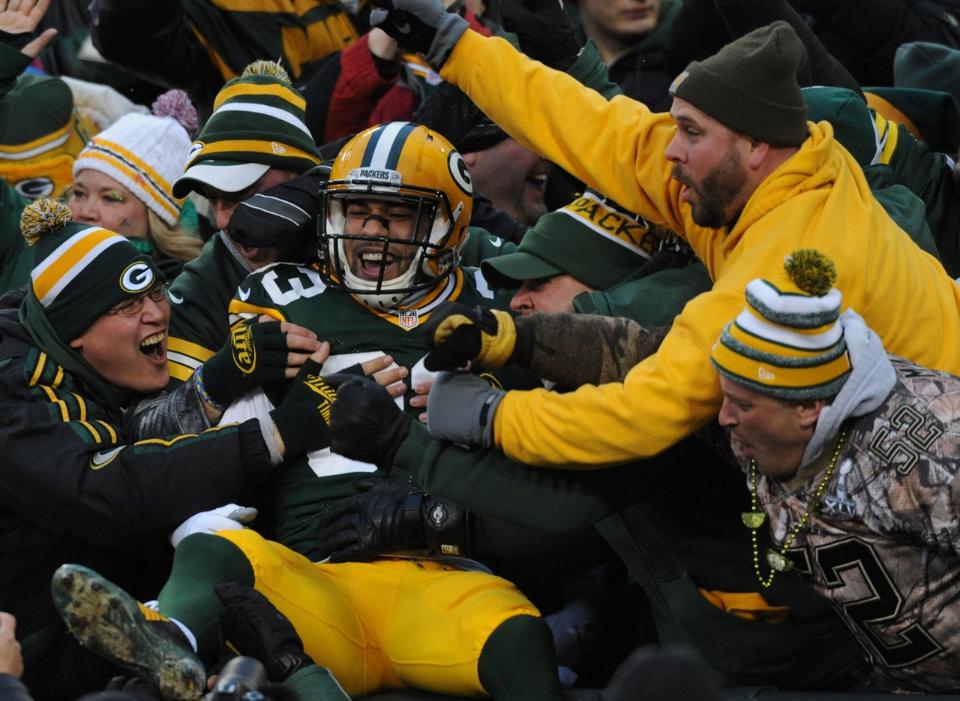 Micah Hyde got another chance to perform a "Lambeau Leap" with his punt return touchdown – his first came in week 2 against Philadelphia – and to some it didn't go very smoothly.
"Oh man, was it bad again?," he asked with a laugh. "There was hesitation because obviously it didn't come to me right away. Then the guys came up and told me to leap. I got up there this time pretty good, and I was going to kind of get up there on my knees and face the crowd but they wouldn't let me up.
"I don't know. I'm probably going to hear some crap again about my Lambeau Leap. But hey, I've got to do it again."
Hyde said he may need to work on it this week.
"I think I might need to go out there and practice it by the statues."
Premature meme of night
Quick trigger award goes to…
This guy, who got this done within two minutes of game action:
Packers fans, @JuMosq included, be like pic.twitter.com/O7nlH0n6cj — Ethan Hammerman (@Ethanhamm) December 28, 2014
Rodgers came back after one series in the second half to lead the Packers to a touchdown and a 21-14 lead.
Jim Owczarski is an award-winning sports journalist and comes to Milwaukee by way of the Chicago Sun-Times Media Network.
A three-year Wisconsin resident who has considered Milwaukee a second home for the better part of seven years, he brings to the market experience covering nearly all major and college sports.
To this point in his career, he has been awarded six national Associated Press Sports Editors awards for investigative reporting, feature writing, breaking news and projects. He is also a four-time nominee for the prestigious Peter J. Lisagor Awards for Exemplary Journalism, presented by the Chicago Headline Club, and is a two-time winner for Best Sports Story. He has also won numerous other Illinois Press Association, Illinois Associated Press and Northern Illinois Newspaper Association awards.
Jim's career started in earnest as a North Central College (Naperville, Ill.) senior in 2002 when he received a Richter Fellowship to cover the Chicago White Sox in spring training. He was hired by the Naperville Sun in 2003 and moved on to the Aurora Beacon News in 2007 before joining OnMilwaukee.com.
In that time, he has covered the events, news and personalities that make up the PGA Tour, LPGA Tour, Major League Baseball, the National Football League, the National Hockey League, NCAA football, baseball and men's and women's basketball as well as boxing, mixed martial arts and various U.S. Olympic teams.
Golf aficionados who venture into Illinois have also read Jim in GOLF Chicago Magazine as well as the Chicago District Golfer and Illinois Golfer magazines.