Lilo Allen is a dynamic force on the Milwaukee creative scene, a fierce poet as well as the creator behind the up-and-coming jewelry brand called Papyrus & Charms.
Papyrus & Charms is a part of a new collective of Milwaukee innovators called The Bronzeville Collective MKE, located at 339 W. North Ave. in the heart of the Bronzeville Cultural and Entertainment District. The store opened its doors on Oct. 5.
"(We) definitely wanted to bring a financial aspect of empowering black and brown creatives," says an enthused Allen.
The collective is four anchor brands, including Fly Blooms by the multi-talented Tiffany Miller, Distinctive Designs by Tomira White and artist-in-residence Jasmine Barmore, a graphic artist who runs BeElegant. (Some of her artwork featured at the store will be on display at the Black Holocaust Museum upon its opening.)
The Bronzeville Collective MKE's space is hip, bright, relaxed and navigable. It is almost too easy to turn around and fall in love with the beautiful pieces of wearable and non-wearable art. It might be all the crystals in the shop that are crafted into jewelry, but whatever the reason, the energy is on point.
The Bronzeville Collective MKE was born out of the dream of Allen and Miller. Both artisans thought that there was a space that needed to be created and invested in.
"It's ours as much as it is the people's," says Allen, who, along with Miller, was a part of the Pop-Up Milwaukee initiative, which seeks to support economic growth in neighborhoods while also giving a hand up to local entrepreneurs to grow their brands.
"The community came out (to the pop-up store). It was great," says Allen.
Papyrus & Charms made appearances at pretty much every street festival in town over its four years of business. It is best described as vibrant, culturally conscious handcrafted goods, including jewelry as well as bath and body products. It is a family affair for the company as Allen's father (who lives in Jamaica) also makes jewelry and other assorted items, which are a part of the Papyrus & Charms umbrella.
"A lot of it is inspired by the African diaspora and my Jamaican heritage, but also I love crystals and gold and shiny things," says Allen. "I wanted everything that I create to be accessible to people."
That sentiment comes to effusively in the stunning work that she creates. There are crowns made of amethyst crystals, rings that are elegant and almost Victorian in their crafting, as well as a multitude of earrings that could help anybody feel good about themselves.
"For most of my things, I try to put an Afrocentric twist on it because the purpose – honestly, one of the goals – is for people to be able to see themselves in the things that I create," Allen says.
For Allen, it comes from a very deep place to make this type of work happen and look effortless. When asked about her origin story in the jewelry world, Allen can barely contain herself with her reply.
"I just gravitated to it," she explains. "I would be like 6 or 7 at my mom's job as she worked (at) the restaurant, selling my jewelry."
Papyrus & Charms is about to take its wares out east, as Allen was invited by Buzzfeed to be a vendor at their Time Square headquarters for their Buy Black Friday market on Nov. 15.
"My friend Steph is a tarot spiritual worker, and they were invited … and he said, 'Invite Lilo,' and I booked a flight and that's that," Allen says.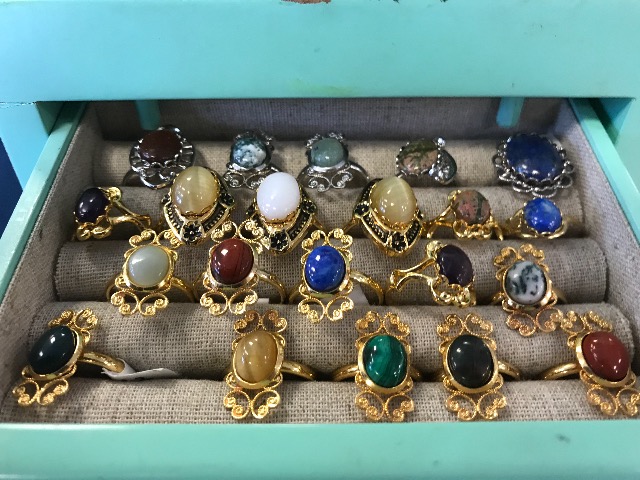 The Bronzeville Collective MKE is currently still on the lookout for individuals to be involved and have their products sold at the business. Interested people can apply online or find them on Facebook at The Bronzeville Collective MKE for more information.
"I think the people in Bronzeville wanted to see something like this; we've had folks just walk in off the street saying, 'This is great,'" Allen says. "I think the most important thing is that folks realize that there is a place like this to come and support … that it is their place too. That we built this for the people."
The Bronzeville Collective Milwaukee is open by appointment on Mondays and Tuesdays; from 1 until 7 p.m. Wednesdays through Fridays; Monday: from 11 until 5 on Saturdays; and noon-5 p.m. on Sundays.