Last month, a Madison man named Michael Schumacher and his lawyer won the right for Schumacher to wear a pasta strainer on his head for his Wisconsin driver's license photo. Schumacher claimed the kitchen utensil was required headgear as a Pastafarian and member of the Church of the Flying Spaghetti Monster.
Originally, the Department of Motor Vehicles in Madison refused to allow Schumacher to wear the colander on his head for his photo, but after attorney Derek Allen sent the Department of Transportation a letter, they obliged.
Schumacher is not the first person to wear a strainer on his head for his license photo. People have been sporting strainers around the world – from Texas to New York to Italy – claiming it is their right as Pastafarians.
Pastafarianism – a blend of the words "pasta" and "Rastafarianism" – promotes a playful view of organized religion. The basic message is that all religious beliefs are equally plausible, but none of them belong in public schools.
The concept was created by Bobby Henderson in 2005 to protest the Kansas State Board of Education's decision to permit intelligent design / creationism as an alternative theory to evolution in public school science classes. Henderson satirized the decision in a letter to the school board, stating that if the school system was going to offer multiple theories explaining how the world began, his belief deserved consideration.
The central belief of Pastafarians is that the Flying Spaghetti Monster – a supernatural creature with a "noodly appendage" who "boiled for our sins" – created the universe after binge drinking and the Monster's intoxication is the explanation for why the Earth and human beings are flawed.
Pastafarians also "believe" that pirates were the original Pastafarians and the decreased number of pirates in recent years is the true reason for global warming.
Last week, Steve Whitlow became the first person in Milwaukee – and possibly the first in Wisconsin (it is uncertain whether Schumacher returned for his photo before Whitlow) – to wear a colander on his head for his driver's license photo.
"I had been a casual fan of Pastafarianism for 10 years, so when this opportunity came to take a photo with a colander on my head, I had to do it," says Whitlow.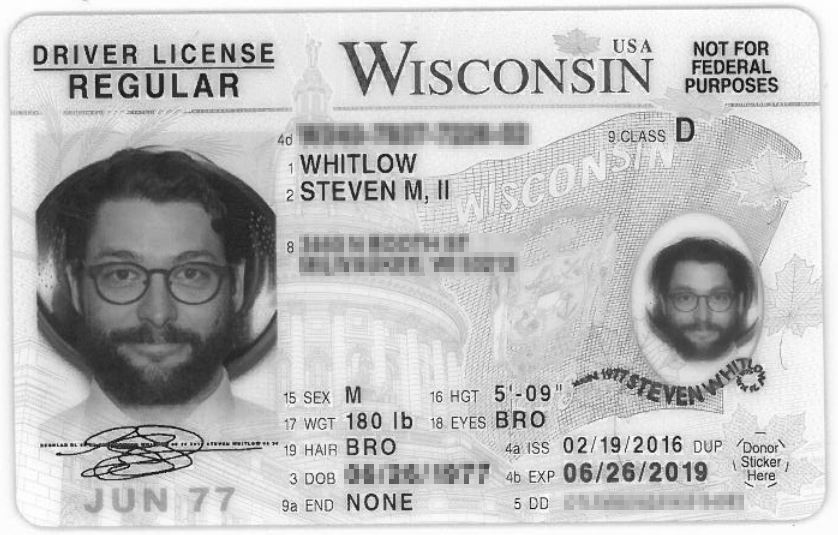 Two days later, Whitlow arrived at the DMV on Teutonia to get a replacement license with his teenaged son, a copy of Allen's letter and his colander.
Whitlow says he had "no problem" with the DMV employees. When he was called to take his photo, he told the photographer that he was going to wear his colander, which has to be pushed far enough back on the head so it does not cover the person's face.
"He said, 'that's fine, sir, I just need you to stand on the X,'" says Whitlow.
Although the staff was unfazed by Whitlow's choice of headgear, some of the other DMV customers clearly were not.
"I got some side-eyes and crazy looks," says Whitlow.
It took about a week for his new license to arrive at Whitlow's home, and he was slightly disappointed with the outcome because new license photos are black-and-white.
"I was hoping the silver in the colander would pop against the blue in my shirt," says Whitlow.

Molly Snyder started writing and publishing her work at the age 10, when her community newspaper printed her poem, "The Unicorn." Since then, she's expanded beyond the subject of mythical creatures and written in many different mediums but, nearest and dearest to her heart, thousands of articles for OnMilwaukee.

Molly is a regular contributor to FOX6 News and numerous radio stations as well as the co-host of "Dandelions: A Podcast For Women." She's received five Milwaukee Press Club Awards, served as the Pfister Narrator and is the Wisconsin State Fair's Celebrity Cream Puff Eating Champion of 2019.