Janelle and Matthew Gramling have worked in side-by-side art studios for almost five years in a warehouse building on South 23rd Street. Janelle, primarily a self-taught ceramic and fibers artist, creates sculptures, functional home goods and clothing. Matthew spends his days crafting wood furniture from local, fallen trees for commercial, gallery and design-based settings.
(Tabletop. PHOTO: Dre Hudson)
The parents of four have once again wed, this time their artistic talents and skills to create new life in their combined art worlds. "Our aesthetics work really well together," says Janelle.
(Credenza. PHOTO: Dre Hudson.)
The couple melded passions to create new work together made from fiber, ceramics, wood and sometimes – with the help of another artisan in their building – upholstery. They will unveil their exquisite joint efforts this week in a show called "Persistent Object."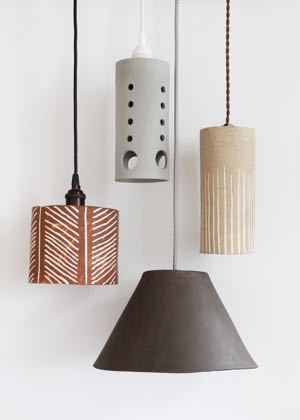 "Persistent Object" opens at Between Two Galleries in Walker's Point, 423 W. Pierce St., on Friday, June 21 from 5 to 9 p.m. During this time the Gramlings will also release their first catalog.
"We both wanted to push ourselves creatively and show ourselves as well as others what we are capable of," says Janelle. "We've been making one-of-a-kind objects but are excited to make larger, more challenging furniture and art objects that are made to order."

(Hanging Lamps. PHOTO: Dre Hudson.)
The opening of "Persistent Object" coincides with with The Furniture Society's annual conference which is in Milwaukee this year from June 19 to 22.
The name "Persistent Object" comes from the opening essay in a book called "The Crafts of the Modern World" by Rose Slivka that Janelle found particularly inspiring.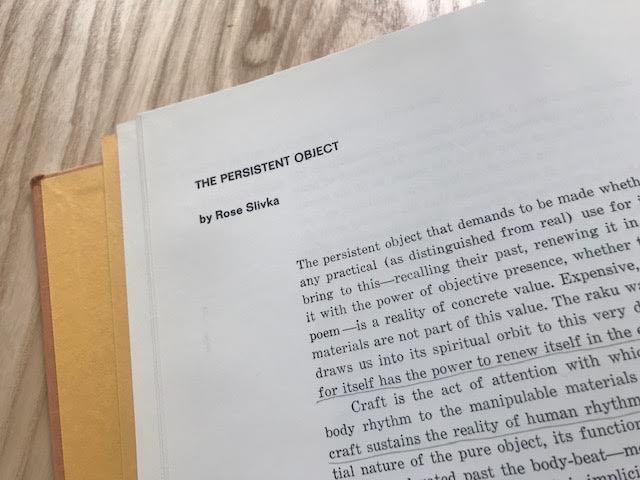 Janelle says she and Matthew, who live with their four children three blocks from their studio in the Clarke Square neighborhood, had to adjust their creative processes for their collaboration, but luckily, found that like their personalities in life, their mediums complement each other.
"This surprises a lot people who ask 'how can you work with your husband?' And of course we have our challenges over things – especially when we are tired or overworked – but we're really enjoying this," says Janelle. "Wood and clay work together in really interesting ways and things have come together really well."
"Persistent Object" opens Friday, June 21 from 5 p.m. to 9 p.m and will remain on display at Between Two Galleries through July 6. Matthew and Janelle will be onsite for the opening as well as on Fridays and Saturdays from 11 a.m. to 4 p.m.
Molly Snyder grew up on Milwaukee's East Side and today, she lives in the Walker's Point neighborhood with her partner and two sons.
As a full time senior writer, editorial manager and self-described experience junkie, Molly has written thousands of articles about Milwaukee (and a few about New Orleans, Detroit, Indianapolis, Boston and various vacation spots in Wisconsin) that range in subject from where to get the best cup of coffee to an in-depth profile on the survivors of the iconic Norman apartment building that burned down in the '90s.
She also once got a colonic just to report on it, but that's enough on that.
Always told she had a "radio voice," Molly found herself as a regular contributor on FM102, 97WMYX and 1130WISN with her childhood radio favorite, Gene Mueller.
Molly's poetry, essays and articles appeared in many publications including USA Today, The Writer, The Sun Magazine and more. She has a collection of poetry, "Topless," and is slowly writing a memoir.
In 2009, Molly won a Milwaukee Press Club Award. She served as the Narrator / writer-in-residence at the Pfister Hotel from 2013-2014. She is also a story slam-winning storyteller who has performed with The Moth, Ex Fabula and Risk!
When she's not writing, interviewing or mom-ing, Molly teaches tarot card classes, gardens, sits in bars drinking Miller products and dreams of being in a punk band again.