In days when running a small food-based business can be downright scary, Pete's Pops is making full use of every opportunity that comes their way.
Whether it's through simple popsicle pick-up at their walk-up shop at 3809 W. Vliet St.; offering amazing drive-by birthday parties, complete with dry-ice-filled pop carts filled with treats; or providing the opportunity for customers to purchase 10-packs of pops (which can be stashed away in the freezer to brighten up even the dreariest of days), they're continuing to spread sweetness and joy throughout the city.
Beginning next week, there will also be an entirely new spot to get a hold of your Pete's Pops, thanks to a brand new walk-up pop stand in Bay View.
The new stand, which even from the exterior, looks like just about the happiest place you can imagine, is located at 916 E. Russell, just behind the Shape Up Shoppe and former Sven's Cafe. And it will officially open to the public on Friday, June 12 at noon.
Sweet serendipity
The plans for the new little shop came about relatively quickly. In fact, Pete's Pops owner Pete Cooney says the opportunity arose out of the blue, at a time when opening a second location was far from his mind.
"I've been taking these long Quarantine walks every day," he says. "And I use the time to reflect and think about life. One day, as I was walking, I saw this little building that I've honestly never seen before. And I saw that it was for lease."
From there, the wheels began turning, and Cooney began envisioning the idea of a brand new destination for his pops, right there in a residential Bay View neighborhood.
Just a short time later, he found himself signing a lease and transforming the formerly pedestrian little building into a bright, welcoming pop stand.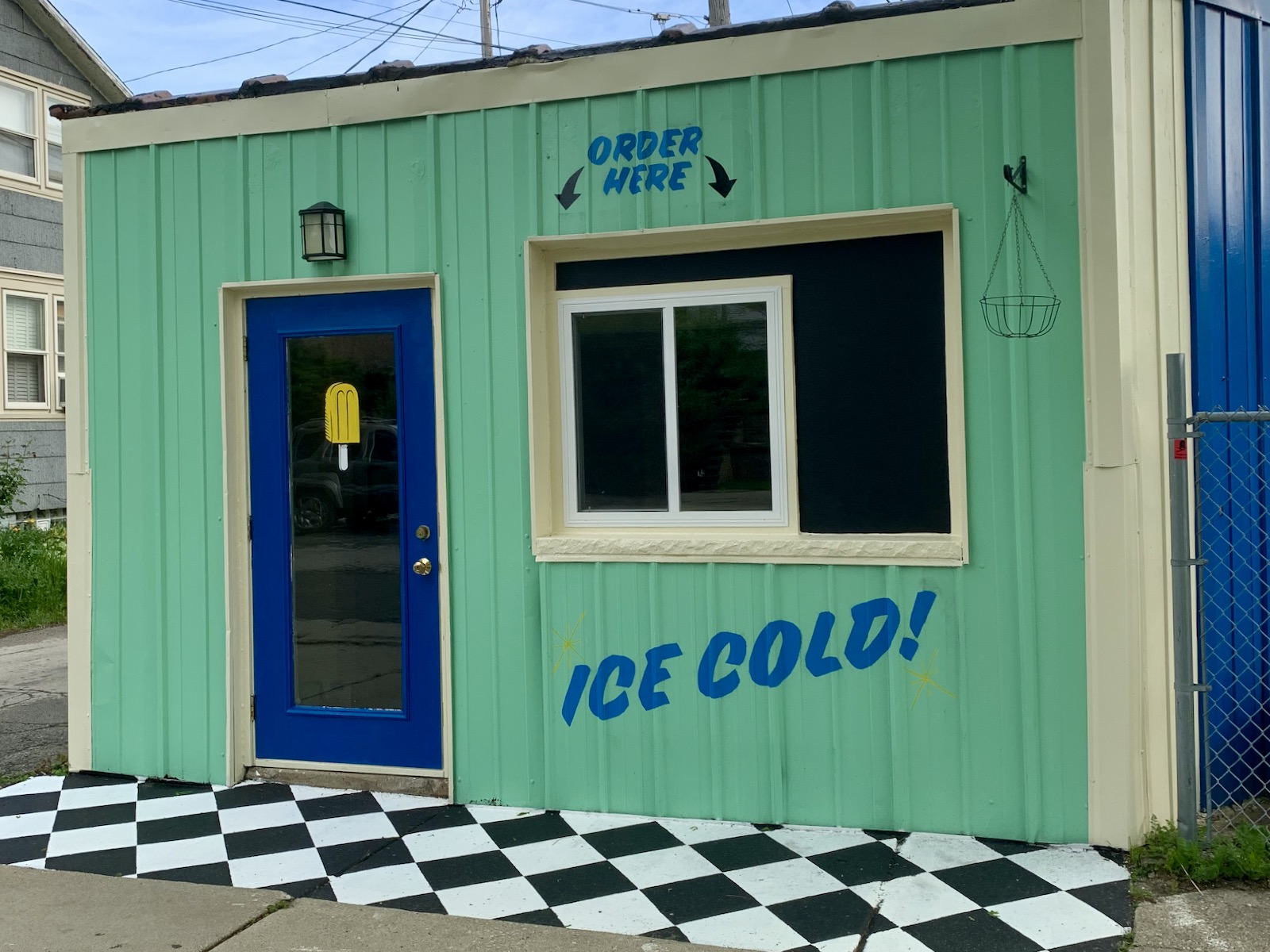 "It's definitely a risk we're taking,' he admits. "But now seems like a really good time to be open to opportunities." He pauses and chuckles.
"I've either found a gem that was hidden in plain sight, or I'm going to open up this really great walk-up window that no one will ever find."
Cooney says that the new little shop will feature a simple walk-up window where passersby can stop to pick up their pops. The stand will also be dog friendly, with multiple flavors of Pup Pops available for folks accompanying furry friends.
"I'm proud of our Vliet Street shop for so many reasons," says owner Pete Cooney. "I love where it is and everything that it stands for. It's so much more than just a popsicle window.
"But I'm also very very excited to fight back against all the business we've lost… all the weddings we can't cater and the DNC traffic we can't serve… by increasing our reach with a brand new Bay View location."
Beginning June 10, Pete's Pops in Bay View will be open Tuesday through Thursday from 3 to 9 p.m., Friday and Saturday from noon to 9 p.m. and Sunday from noon to 7 p.m.
Lori Fredrich (Lo) is an eater, writer, wonderer, bon vivante, traveler, cook, gardener and girlwonder. Born and raised in the Milwaukee area, she has tried to leave many times, but seems to be drawn to this quirky city that smells of beer and alewives.
Some might say that she is a little obsessed with food. Lo would say she is A LOT obsessed with food. After all, she has been cooking, eating and enjoying food for decades and has no plans to retire anytime soon.
Lo's recipes and writing have been featured in a variety of publications including GO: Airtran Inflight Magazine, Cheese Connoisseur, Cooking Light, Edible Milwaukee, Milwaukee Magazine and the Milwaukee Journal Sentinel, as well as on the blog Go Bold with Butter, the web site Wisconsin Cheese Talk, and in the quarterly online magazine Grate. Pair. Share.