Phoebe Bridgers finally made a stop in Milwaukee on her "Reunion" tour, and it was anything but punishing.
The Grammy-nominated singer/songwriter somehow simultaneously turned the BMO Harris Pavilion into a puddle of tears and a raging mosh pit – and the crowd loved every second of it on Friday night.
Bridgers came out with her hit song "Motion Sickness" off her "Stranger in the Alps" album, which was a great choice to get the energy up. Smoke followed her to the front of the stage, setting a beautifully haunting mood that would follow throughout the rest of the performance.
To slow things down, she continued on with "Garden Song" off her record "Punisher." The indie-rock ballad sports softer melodies and reflects on moments that shaped her growing up, a dissection of how fleeting youth is – something just about everyone can understand. The crowd singing along made that even more apparent. The image of a golden bridge within a green forest floating in the stage's background gave the lyrics an even more intimate delivery.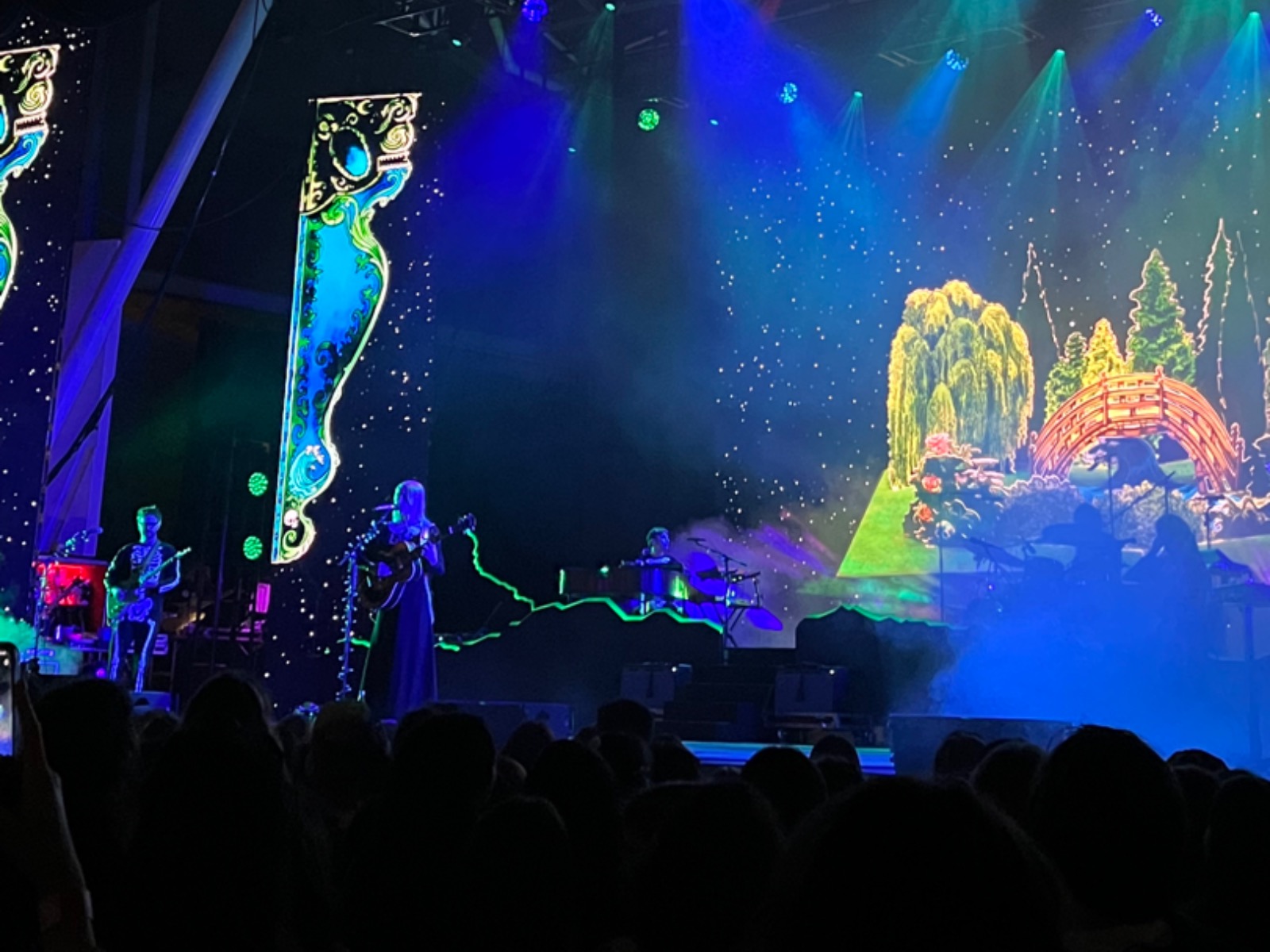 To preface the next song, Bridgers noted, "This is for dads," before the guitar riff of "Kyoto" blared. Nominated for Best Rock Song at the 2021 Grammys, the song was a perfect sonic 180 to level out the pacing of the show. I'm not sure why she devoted it to dads – but the older men in the audience definitely didn't miss a beat.
Later on, Bridgers talked a little bit to the audience. She mentioned how attendees fled her shows when she brought up gay and women's rights, but she made it clear that those people weren't welcome anyways.
"We've had some like weirdos at shows lately," Bridgers laughed. "I'm like get out! So yeah, thanks for being cool; it's been so fun. I love you guys."
Throughout the show, Bridgers creatively manipulated the backdrop to reflect whatever each song was about, adding to the mood each time. During "Halloween," there were images of tombstones in a cemetery. In "Moon Song," there was an enormous full moon with light beams illuminating her platinum blonde hair, emphasizing her angelic appearance. This made for a one-of-a-kind psychedelic experience that could give anybody goosebumps.
Speaking of unique experiences, at one point someone in the crowd passed up a classic Wisconsin cheesehead. Bridgers hesitated at first but smiled as she put it on, asking with a hint of sarcasm if she'd be taken seriously singing with a hunk of cheddar on her head.
"Don't f*cking laugh at me," Bridgers said. The crowd warmly laughed anyway.
Bridgers closed the night with "I Know the End," which gained momentum over its almost six minutes of run time. During the last part of the song, the tempo picked up and the crowd's energy followed suit as the band broke off into the explosive final guitar solo. Chilling red lights filled the smoke in front, while the house on the background screen dramatically burst into flames. She couldn't have gone out with a bigger bang.
Of course, she came out with an encore and blessed the audience with "Georgia" off her 2017 album, which happens to be a rare sighting. The song is emotionally bittersweet and left a lot of people with runny mascara – myself included. But it truly wouldn't have been a Phoebe Bridgers show without that.
Set list
"Motion Sickness"
"DVD Menu"
"Garden Song"
"Kyoto"
"Punisher"
"Halloween"
"Smoke Signals"
"Chinese Satellite"
"Moon Song"
"Scott Street"
"Funeral"
"ICU"
"Sidelines"
"Graceland Too"
"I Know the End"
Encore
"Georgia"