Fans of Milwaukee – and Great Lakes – history who haven't signed up for the Wisconsin Marine Historical Society's mailing list are missing out. To join the list, send an email to wmhs59@gmail.com.

The group – headquartered at Milwaukee Public Library, which I featured in this story a few years back – is very active in terms of collecting and archiving documents and photos and objects and also hosts numerous events each year.
The newsletter is an easy way to find a cool old photo in your inbox every week (sometimes more). And, because these folks are history buffs like the rest of us, there's always a story behind the photo and the WMHS folks share that story.
This one really caught my eye because of the dramatic photo. Here is today's story from the Wisconsin Marine Historical Society:
On this day, May 13, in 1978, the British freighter Photinia was blown hard aground just south of Milwaukee. Her crew was taken off by helicopter and no one was injured. She would be abandoned by her owners and sold to salvors.
Freeing the crippled vessel proved difficult. She remained stranded until July 7. After being refloated, Photinia was taken to Bay Shipbuilding in Sturgeon Bay. She would not be repaired and was eventually scrapped at Kewaunee in 1981.
Photinia was launched Nov. 17, 1960, at South Shields, a coastal town on the River Tyne in the North East of England. Built as a bulk carrier for the Stag Line, she was 480 feet long with a 60-foot beam. She was delivered in March 1961.
The following year Photinia was modified to lay electrical cable. She laid a 380 mile high-voltage line across the Cook Strait, which separates New Zealand's North and South Islands. She then laid a cable connecting the Caribbean islands of Trinidad and Tobago. This work complete, Photinia was converted back to a bulk carrier in 1965.
Still owned by Stag Line, Photinia began Seaway service in 1966. Her time on the Great Lakes was uneventful until 1978. That year she entered Lake Michigan in early May. After delivering a load of pig iron at Chicago, she made the short trip to Milwaukee for a load of corn. With no dock space available, Photinia's captain decided to anchor just outside Milwaukee's harbor.
Early in the morning on Saturday, May 13, 1978, a violent storm struck the area. Pushed by winds gusting to 58 miles per hour and powerful waves, Photinia's anchors dragged across the sandy lake bottom. She finally became impaled on rocks and stuck in mud approximately 1,300 feet from shore near the Lakeside Power Plant, about 4.5 miles southeast of the harbor entrance. Her crew of 32 was taken off by Coast Guard helicopter. There were no injuries.
According to her captain, Photinia would not have gone aground if a harbor tug had been properly equipped. As soon as the anchors began dragging, the captain radioed the Coast Guard requesting assistance. Unfortunately the only tug available did not have a towing hawser big enough to handle Photinia.
The large freighter did draw a crowd. St. Francis police estimated that "several thousand spectators had gone to the bluffs Saturday and Sunday to view the stranded vessel."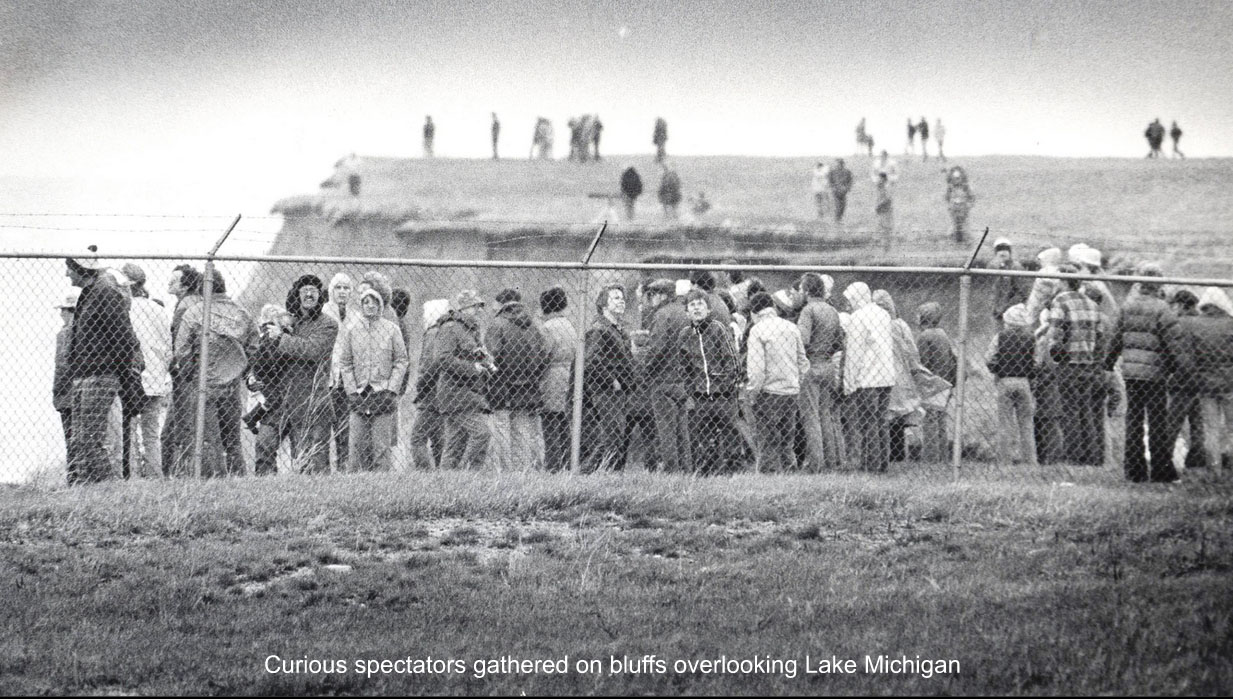 Stag Line ended attempts to free Photinia on May 19. Officials concluded that the cost to refloat and repair, which they estimated at $2.5 million, exceeded her value. Already 17 years old, freighters like Photinia typically lasted only 20 years in saltwater service. So she was surrendered to the underwriters.
Midwest Marine Contractors of Mount Prospect, Illinois, and Selvick Marine Towing of Sturgeon Bay bought Photinia. They hoped to repair and resell her. Captain William C. Selvick, head of Selvick Marine Towing, had considerable experience salvaging vessels and believed she "should have a good 15 years left in her." But freeing Photinia would prove particularly difficult.
Selvick began salvage operations on June 6. Before trying to refloat her, over 70,000 gallons of fuel oil had to be removed. After four previous attempts failed, Photinia was finally pulled free on July 7. It took six tugs with a total of 15,000 horsepower to do the job. She was towed to Bay Shipbuilding in Sturgeon Bay and put into drydock.
Captain Selvick "admitted to a feeling of relief more than pride when the Photinia floated free." He never divulged the purchase price but noted that the job cost "a bundle."
A hull survey revealed that damage was more extensive than originally believed. There were large punctures in Photinia's stern and the entire hull below the water line was badly dented. The estimated repair cost was $2.8 million. Selvick, which was now sole owner, decided against making repairs. The company hoped to break even by having her cut up for scrap.
On July 21, Photinia was tied up at the Sturgeon Bay city dock to await final disposition. That October Selvick arranged a weekend sale onboard the ship. For two dollars, a person could tour the old freighter. Those interested could also buy artifacts and other removable items – everything from brass portholes to keys. In December Photinia was moved to Chicago.
Photinia's final destination would be Kewaunee. Against the wishes of city aldermen, she was brought there from Chicago in November 1979. R.P.M. Sales of Two Rivers would ultimately dismantle Photinia at Kewaunee. Work was completed in 1981.
NOTES:
Salvagers bought Photinia, "as is, where is." The price "did not include the ship's two motorized lifeboats or the liquor, medicine and cigarettes on board."
In the early morning hours of July 2, a 26-foot workboat used to move parts, food and workers between Photinia and the harbor exploded. Witnesses compared the blast to "a spectacular fireworks display." Fortunately no one was on the boat when it happened.
Born in Brooklyn, N.Y., where he lived until he was 17, Bobby received his BA-Mass Communications from UWM in 1989 and has lived in Walker's Point, Bay View, Enderis Park, South Milwaukee and on the East Side.
He has published three non-fiction books in Italy – including one about an event in Milwaukee history, which was published in the U.S. in autumn 2010. Four more books, all about Milwaukee, have been published by The History Press.
With his most recent band, The Yell Leaders, Bobby released four LPs and had a songs featured in episodes of TV's "Party of Five" and "Dawson's Creek," and films in Japan, South America and the U.S. The Yell Leaders were named the best unsigned band in their region by VH-1 as part of its Rock Across America 1998 Tour. Most recently, the band contributed tracks to a UK vinyl/CD tribute to the Redskins and collaborated on a track with Italian novelist Enrico Remmert.
He's produced three installments of the "OMCD" series of local music compilations for OnMilwaukee.com and in 2007 produced a CD of Italian music and poetry.
In 2005, he was awarded the City of Asti's (Italy) Journalism Prize for his work focusing on that area. He has also won awards from the Milwaukee Press Club.
He can be heard weekly on 88Nine Radio Milwaukee talking about his "Urban Spelunking" series of stories.