If you're anything like me, from screenshots to open tabs, my Pinterest is full of "I'll do it tomorrow" DIY projects. That certainly was true for Katie Garcia and Garrett Sheskey, owners of Milwaukee-based Pin-It LIVE, who are changing the way we "pin."
While the two friends were in graduate school, Sheskey would constantly see Garcia with at least 20 tabs open on her computer for DIY projects, recipes and other things she wanted to make (we've all been there). After realizing she usually didn't have the time to get these projects done, Sheskey and Garcia decided to bring their dreams to life, and Pin-It LIVE was born.
Open for two years now, Pin-It LIVE, located at 522 N. Water St., Suite 203, is Milwaukee's first do-it-yourself creative studio. Eager crafters can send in an idea or pick from craft ideas on the studio's website. Once a reservation is made, either with a friend or group, the Pin-It staff will collect all necessary materials and help guide you through your project of choice.
Projects include home signs, magazine racks, coasters, beer caddies, succulent gardens, hanging mason jar wall sconces for flowers/candles, art displays, wine boxes and much more.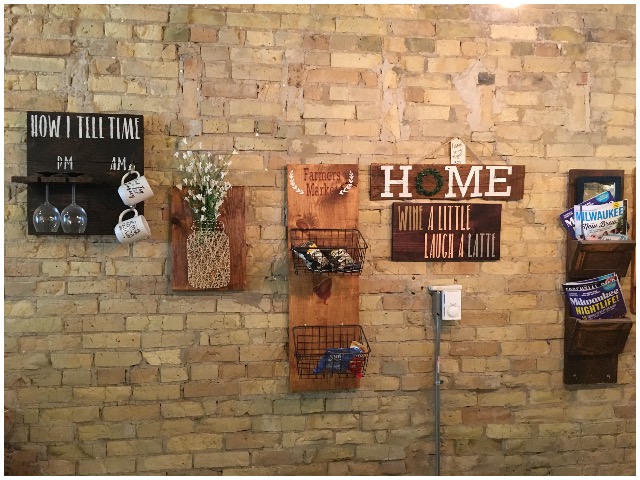 I had the lucky chance to check out the space recently. Featuring exposed brick, the studio is bright, airy and full of creative potential, perfect for the Pin-It LIVE concept. Everywhere I looked I saw a potential project, as well as a wall filled with pictures of happy crafters.
Making the space even more fun, Garcia and Sheskey offer a "creative juices" bar to crafters. They host private craft parties with bloody mary and mimosa bars, wine and beer; so, you'll have your creative juices flowing in no time.
Bring back that rewarding feeling of making something on your own while having a laugh or two with friends or family. It's located in the Third Ward, right down the street from the Public Market. Groups can be as large as 30 people and reservations can be made online.
Happy crafting!