As we close out 2020, we wanted to share some of our favorite stories from the last decade. We hope you enjoy reading these stories as much as we enjoyed telling them. Click here to see the rest of our picks of must-reads and happy new year, Milwaukee!
There are no words. And there are likely no pictures capable of adequately capturing the spirit and energy of Sunday night's P!nk show at the American Family Insurance Amphitheater.
I should've anticipated it. But I didn't. I was nowhere close to prepared for what I saw over the course of her 90-minute Summerfest performance. But I should've been. After all, you don't spend nearly two decades touring multi-platinum albums without learning how to entertain an arena crowd. And entertain is precisely what P!nk did.
It's been a long while since P!nk has performed live. In fact, her showing at the Big Gig was her first major appearance since her last world tour, which wrapped up in 2014.
Needless to say, fans have been furiously anticipating the star's seventh solo album, which was rumored to be set for release in November of 2016. That never came to fruition. Instead, P!nk dedicated time to family, giving birth to her son, Jameson, in December 2016. She also pursued numerous collaborations, including working with Sia on the Stargate single "Waterfall" which was released in March.
However, if social media is any indication, it seems she's been back in the studio over the past few months working on the long-awaited follow-up to 2012's "The Truth About Love," which debuted at #1 on the Billboard Top 200, selling 7 million copies worldwide and garnering three Top 10 hits.
It was understandable, then, that the audience arrived at this performance with a great deal of anticipation and excitement. Fortunately, there was a bit of relief at hand. Their dancing muscles and sing-along skills were adequately exercised by former Milwaukeen-cum-California-DJ Kidcutup, who got things started with a series of mash-ups featuring old school hip-hop, funk and rap artists (Warren G., Rare Earth, Tupac Shakur, Dr. Dre), and classic rock (Rush, Pink Floyd, Bon Jovi) along with engaging call-and-response. All of it merely primed the pump for what was next.
As the DJ materials were cleared, P!nk's stage was deliberately set. A large pink pincushion was revealed and larger-than-life push-pins were positioned in a throne-like pattern, adorning the perch where drummer Mark Schulman would lay down his grooves for the duration of the evening.
The minimal stage seemed spare, almost oddly so (though that would be remedied as the night wore on). And a curious audience watched, waiting for the show to begin.
As the lights came up, dancers populated the stage – a mere distraction really – forcing the audience to search the scene for a sign of the artist herself. Slowly, a platinum coiffed P!nk dressed in pink and black stripes with platform boots appeared, making her way up through the crowd, beaming and waving until she was smack dab in the middle of the stage. She strutted down the catwalk, joining six dancers in what already seemed like a ready-made dance party. As she wailed the words to "Get the Party Started," there were cheers and then silence as the audience listened. Their queen was in the house.
The beginning of her set list included crowd favorites like "U + UR Hand" and "Just Like a Pill," during which she wooed guitarist Justin Derrico, tousling his hair and deftly dancing her way around him in classic P!nk fashion. And, as she parried into the crowd at stage right, she stopped singing. "You guys sing," she said to the crowd knowingly. "You know all the words."
"How are you guys?" she cooed after a performance of "Trouble." "Thanks for coming! It's been four years since I've been on stage. And my humans are here with me ... hi humans!" she went on, waving to her family in the crowd.
It was a cheesy, yet real moment – an occurrence that shouldn't surprise P!nk fans in the slightest. After all, forthrightness has evidenced itself as a persistent quality for P!nk as she's transitioned from pattering R&B star to power pop icon. And throughout her Summerfest performance she presented herself, through both song and deed, as both broken and invincible.
That theme played out through the props on stage. During "Just Give Me A Reason," a duet P!nk recorded with Nate Ruess, a recording of Ruess' vocals was depicted in part using the image of a whimsical voodoo doll on the video screen behind the stage. And the doll image – perhaps symbolic of the pain we experience as humans, often at one another's expense – became part of the show's theme, as two larger-than-life dolls took their place on both the left and right of the stage, staring down with their adorable-yet-haunting button eyes and mouths sewn tightly shut.
During "Who Knew" and "F**kin' Perfect," she sat astride Derrico on stools at the front of the stage, exchanging friendly banter and throwing out random admissions like "Oops. Forgot the words," and self-aware observations like "Gotta work on my posture, sorry," which she said as she straightened up after falling into a slouch on her stool.
And as she belted out the words to a song she's likely sung hundreds of times, "Pretty pretty please, don't you ever ever feel like you are less than, less than perfect…" there was a sense that the words still held personal meaning.
At first, fans may have thought they glimpsed a tamer, more docile P!nk than they had seen on her last tour. In fact, Milwaukeeans had the unique benefit of seeing P!nk at her most vulnerable – a star who admitted her time away from the stage had left her slightly out of practice. But, as the night commenced, she'd prove herself perfectly capable of giving fans exactly what they wanted.
Gears switched entirely during her performance of Kris Kristopherson's "Me & Bobby McGee" as she channeled a Janis Joplin-esque persona.
There were raucous, showy pieces – like the Led Zeppelin cover, "Babe I'm Gonna Leave You," at the end of which Derrico showed off his guitar chops in an impressive solo, engaging the crowd long enough for P!nk to slip away for one of at least four costume changes, of which she joked: "When I have a party at my house, I change like seven times."
Other moments seemed to showcase P!nk's sincerity. Take for instance the cover of "River" by emerging artist Bishop Briggs, a performance which later evoked a response from an elated Briggs, stunned that an artist she admired thought enough of her work to perform it.
Numbers like "Blow Me (One Last Kiss)" were theatrically choreographed masterpieces. During others, like "Raise Your Glass," there was no stillness in the theater. Women and men alike were hopping and fist pumping. And there was nowhere anyone wanted to be but right there.
And yet, despite the escapism, there were moments that struck me. When P!nk was catapulted onto two of her dancer's shoulders, her narration belied the years of time that had come between her and the stage. And the audience cheered as she asked, "Is this right? Are my legs straight?" before somersaulting off of her human pedestal and onto the ground.
The production value of the show was high, and that alone would have made it worthwhile. Throughout P!nk's performance, even those in bleacher seats benefited from vibrant images projected from the stage and the energy that filled the amphitheater.
And you get the feeling P!nk wants it that way: She orchestrates a show so that every man, woman and child can have a moment when the suspension of disbelief whisks them away to a place that's devoid of the grind, devoid of the worry of the every day. That's 'Merica, after all.
And then the lights brightened, and then dimmed. And you could tell the audience was waiting, wondering: Is this the end? Is it intermission? Will there be an encore?
But then, just as you thought the crowd couldn't wait any longer, there were bright puffs of white smoke. P!nk appeared on the catwalk. And before you knew it, she was airborne, flying through the ether, across the front of the stage and above the audience.
Using acrobatics isn't something new for P!nk. She did on her 2009 "Funhouse" tour and showcased it on TV with a breathtaking performance of "Glitter in the Air" at the 2010 Grammys. Her "The Truth About Love" followed suit with a tour that evoked a pop-punk take on Cirque du Soleil. And yet, it still seemed somewhat unexpected.
And I thought to myself, as I watched the phones hurriedly attempting to capture the moment, to preserve it forever, there is no way to capture it. There is no way to bottle this moment in time. That's why this is a live show. It's why you have to be here, right now. And it's why so many fans come back time and time again to see, no, to experience a bit of that otherworldly charm.
Even as the song came to a close and P!nk descended back to the stage, her dress slightly torn from the ride (total rock star status), the crowd was enrapt. But, it soon became obvious that the ride was over.
There were kisses blown and goodbyes given. And there were fireworks, literally. And as the crowd filed out of the theater – by the thousands – there was laughing. And smiling. And I can't count how many times I heard, "Wow, that was awesome."
And it was. But not just because it was a theatrical triumph.
Yes, P!nk is a well seasoned performer. And she knows how to work the crowd, to create a spectacle, to entertain. But, last night there was more. So much heart. So much soul. So much that was genuine and true.
And if it wasn't, if it was nothing more than celebrity-fueled hype, I'll ask you one thing: Just please don't break my beautiful bubble.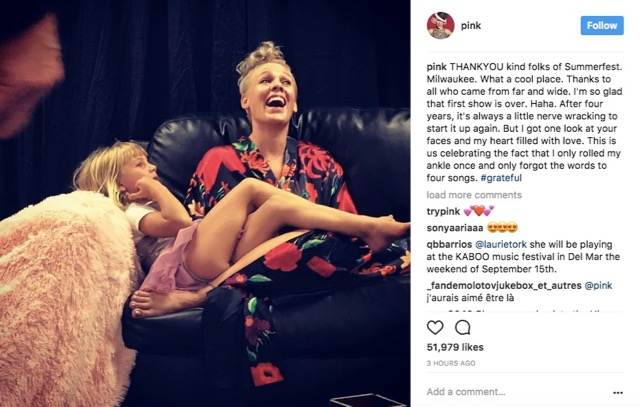 Setlist
"Get the Party Started"
"U + UR Hand"
"Just Like a Pill"
"Trouble"
"Leave Me Alone (I'm Lonely)"
"Try"
"Just Give Me a Reason"
"How Come You're Not Here?"
"Funhouse/I'm Just a Girl" (No Doubt cover)
"Who Knew"
"F**kin' Perfect"
"Me & Bobby McGee" (Kris Kristofferson cover)
"Babe I'm Gonna Leave You" (Led Zeppelin cover)
"Sober"
"River" (Bishop Briggs cover)
"Just Like Fire"
"Blow Me (One Last Kiss)"
"Raise Your Glass"
"So What"
Lori is an avid cook whose accrual of condiments and spices is rivaled only by her cookbook collection. Her passion for the culinary industry was birthed while balancing A&W root beer mugs as a teenage carhop, fed by insatiable curiosity and fueled by the people whose stories entwine with each and every dish. She's had the privilege of chronicling these tales via numerous media, including OnMilwaukee and in her book "Milwaukee Food." Her work has garnered journalism awards from entities including the Milwaukee Press Club.
When she's not eating, photographing food, writing or recording the FoodCrush podcast, you'll find Lori seeking out adventures with her husband Paul, traveling, cooking, reading, learning, snuggling with her cats and looking for ways to make a difference.