It's been almost two years since Pizza Man was resurrected on the East Side, after a blaze took out their original location on Oakland and North Avenues. And now – beginning today – the West Side will have a convenient spot to enjoy this iconic Milwaukee pizza. And pasta. And wine.
A preview of the restaurant this week confirmed that the new location at the Mayfair Collection, 11500 W Burleigh St., is already off to a good start.
The atmosphere at the West Side location closely resembles that of the Downer location, sporting wine-bottle chandeliers in the bar, trendy Edison-style light bulbs in the fixtures above the bar, reclaimed barnwood features, and wooden booths where couples (or families) can enjoy semi-intimate pizza dinners.
A long bar at the front of the restaurants features tap beer and wine (including a list of over 250 domestic bottles), as well as cocktails.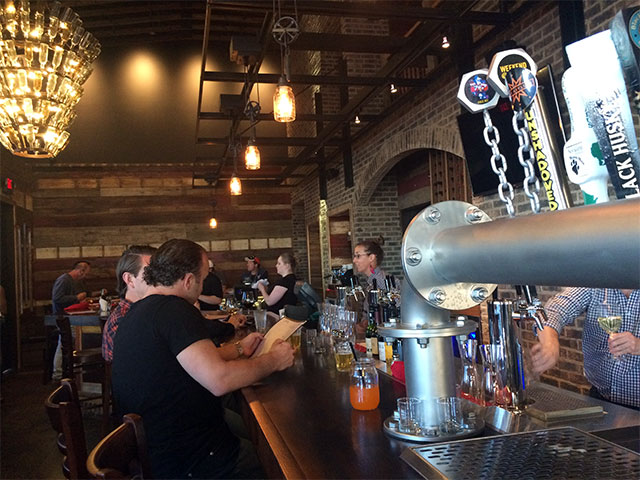 The food, under the guidance of Chef Zak Baker, is exactly as fans would expect. From butter-drenched escargot to the familiar ultra-thin crust pizzas, the menu has something for virtually everyone, including vegetarians who can indulge in dishes like the "Leaf eater" featuring curried cauliflower and Brussels sprouts.
Our group sampled a number of dishes, including the escargot ($12 for six snails), which was as butter-garlic-and-herb-packed as always.
And pasta dishes are on par. The classic carbonara ($16) sports crisp pancetta in a creamy egg-based sauce.
Shells florentine ($15) is a cheesy baked dish with spinach and ricotta cheese covered in marinara and mozzarella.
Eggplant parmesan ($15) features crisp fried eggplant dolloped with fresh mozzarella and served atop a pile of classic spaghetti.
As good as everything was, the pizza is still the star of the show. In fact, the artichoke a ala mode ($22 for a large), a Pizza Man classic, was better than ever, with plenty of cream cheese dollops and large artichoke quarters.
Pizza Man Tosa will feature specials including deep dish pizza on Mondays, half-off wine specials on Monday and Wednesdays, and buy one get one large pizzas on Wednesday. Kids can eat for $1 on Tuesdays when a parent buys a large pizza or entree.
Hours will be 11 a.m. to 10 p.m. Monday to Thursday, 11 a.m. to 11 p.m. Friday and Saturday, and 11 a.m. to 9 p.m. Sunday. Brunch will be served on Saturdays and Sundays, from 11 a.m. to 2 p.m. Call (414) 249-2000 for reservations and to place orders for carryout.