As first reported by OnMilwaukee.com, Dogg Haus owner Mazen Muna will open Plum, a cocktail lounge at 780 N. Jefferson St., Thursday night. We got inside for a first look.
"We are ready," says Muna, who was putting the finishing touches on the bar Wednesday night. "Many years and thought has gone into this – from the screws that we used, to the ingredients that are going to be in the cocktails and in the menu, along with a hand-selected staff."
The look inside the lounge is purple and sleek. An astroturf wall lines the north side of the space in front of the bar, which focuses on the unique top-shelf liquors Plum will feature. Look up and you'll see tubes shining the same purple light down, accented with lime green plush chairs. It feels a little like an updated Velvet Room.
Muna credits his business partner, Andre Lewis, for creating the impressive lighting effects that give the space several distinct vibes, including an outdoor patio overlooking Jefferson.
The look is certainly unique for Milwaukee, and Muna credits that to picking up cues from his life well-traveled.
"I've been in bars and restaurants in Europe, the Mideast, all over the U.S. and I've always picked up the positives from each individual place and they stayed in a memory bank in the back of my head," he says. "What you're looking at is our thoughts becoming tangible."
This space, however, has been many things over the years. For some reason, nothing has stuck. Muna is aware of the building's reputation, but says now is the time for Plum to succeed.
"Jefferson Street is a very nice area," he says. "People like to go out, young professional crowds, people that work hard and like to enjoy themselves. We just want to help them create their memories by opening and providing a value-added service and bar to the dynamic of the wide phenomenal spectrum of other establishments in the city. It's just one more option, but it's a different option."
To Muna, "plum" means first-class, a sense of accomplishment and a straight line. "After going through thousands of names, 'Plum' takes all of that criteria, puts it together and explains it in a way that we hope that our customers can see," he says.
Plum will also serve food, and Muna has recruited chef Adam Pawlak (Port of Call, Sebastian's) for that task – but this place will be nothing like the Dogg Haus. Still, Muna says running a nightclub isn't a big departure from a hot dog joint.
"It's not much of a difference," he says, the excitement clear in his voice. "Opening businesses has been no stranger to me. It's just as nerve-wrecking each individual time. Each day that the open sign turns on, it's like the first day. We cannot forget that every day that we open is a first day for somebody."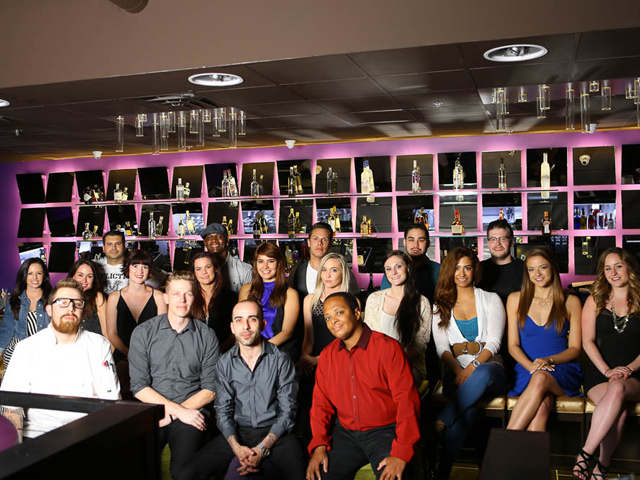 Andy is the president, publisher and founder of OnMilwaukee. He returned to Milwaukee in 1996 after living on the East Coast for nine years, where he wrote for The Dallas Morning News Washington Bureau and worked in the White House Office of Communications. He was also Associate Editor of The GW Hatchet, his college newspaper at The George Washington University.
Before launching OnMilwaukee.com in 1998 at age 23, he worked in public relations for two Milwaukee firms, most of the time daydreaming about starting his own publication.
Hobbies include running when he finds the time, fixing the rust on his '75 MGB, mowing the lawn at his cottage in the Northwoods, and making an annual pilgrimage to Phoenix for Brewers Spring Training.