As we close out 2020, we wanted to share some of our favorite stories from the last decade. We hope you enjoy reading these stories as much as we enjoyed telling them. Click here to see the rest of our picks of must-reads and happy new year, Milwaukee!
The thought of "porch hangs" on a warm night conjures images of koozie-covered beverages, soft chairs and lightning bugs – and it also suggests a simpler, more carefree time. These days, such feelings are in short supply – and most people are staying at home as much as possible – which means that a resurgence of porch dwelling will most likely be in full swing this summer.
Historically, large porches were status symbols and a luxury that allowed land owners to enjoy the outdoors while being protected from rain and direct sunlight. Later, porches became a symbol of everyday life, a way to pass the hours, but also created a sense of community as American as parades or apple pie.
Once television and in-home air conditioning became readily available, porch sitting became less practiced. At the same time, more people chose the privacy of their back yards instead of their front yards to enjoy nature. Plus, news and even gossip was attainable through TV and the Internet, so people no longer relied upon their neighbors for such information.
But once again, human behavior is changing, this time due to a world pandemic, and for many the need to unplug and connect with people from a safe distance is more profound than ever.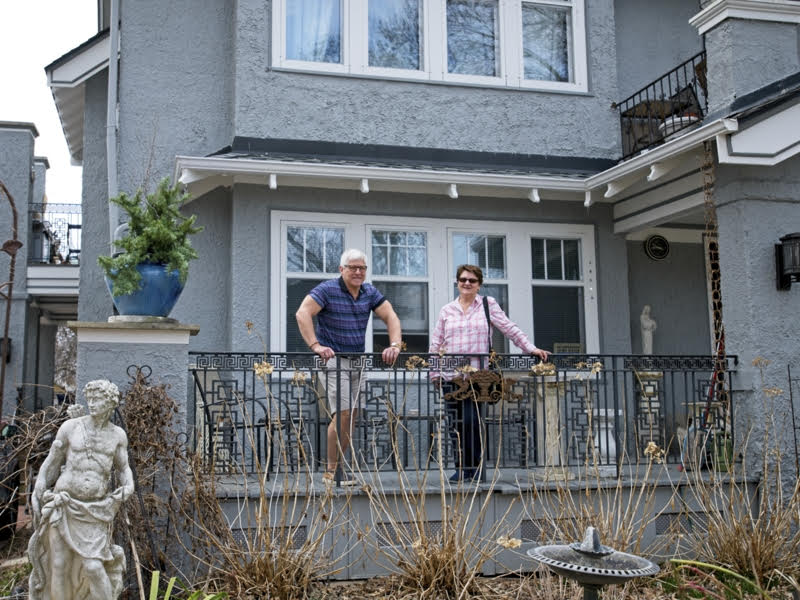 For Wisconsinites, porches offer a summertime hygge, a cozy space that allows us to be simultaneously connected to both the comfort of our homes and the unity of the public streets.
Katie Rose and her partner, Christopher Brooks, own a Victorian home that they are in the process of rehabbing in the Historic Concordia neighborhood. The 1842-built house has an enormous, ornate porch which the couple spends as much time as possible lounging in the wicker furniture or with friends and neighbors at the eight-person dining table. There's even porch space for dancing.
"Our street is a buzzing hive of so many different people. There's lots of foot traffic and it's an awesome highway alternative that connects the west side to the city. People wave and we say hi to everyone that passes by," says Rose. "Our neighborhood is very close knit – in warmer months everyone has their walking routes so we see our neighbor pals on a regular basis."
Originally, Rose and Brooks planned to rehab the exterior of the house after a couple of years of focusing solely on the inside. The COVID-19 outbreak made them postpone most of the work until a later date when it's safer and easier to obtain the necessary supplies.
The massive porch also serves as a go-to for a beer or a cocktail in the summer. One of the neighbors works for MillerCoors and drops off beer every week.
"We have a cooler on the porch and people are welcome to help themselves," says Rose. "In summer, the porch becomes the extension of our home. Our house is so old and so big that central air is not an option, so in summer, the porch is where we live."
When Jody Paschke bought her Propsect Avenue place on Milwaukee's East Side, the porch was one of the main selling points for her and her family.
"We eat all of our meals on the porch when weather allows as it's a covered porch, but not enclosed. We play music and games, read, grow plants, herbs and flowers, dance, drink, talk about our days and current events," says Paschke. "We often host family and friends on our porch, too."

Paschke's Prospect Ave. porch from before the pandemic. (PHOTO: Jody Paschke)
Paschke is aware that when warm weather rolls around again she will be spending time on her porch in solitude and with her family, but probably not with friends this year. Still, she looks forward to being able to communicate with neighbors from the safety of her porch.
"My porch is my happy spot," says Paschke. "That won't change."
Ryan Thompson and his family live in Washington Heights and porch life is very much a part of the culture on their block. Thompson says his porch gets so much action in the warm months from his young sons and their friends that he repaints the porch every year "due to endless battles, ball games and 100,000 footprints" to keep it fresh looking.
But Thompson says he doesn't mind the work.
"It means more to us now than ever. Our porch is a huge part of our family and community life," he says. "We enjoy seeing all of the people walking by, from the mayor who lives around the corner to the endless stream of other young families that stop by our neighbors to see their coy pond and the beautiful gardens we all tend to in the summer."
Thompson's tenants who rent part of the duplex are also porch sitters, much to his approval. "We love our Sicilian tenants who drink copious amounts of espresso on the porch and fill the entire house with wonderful aromas every day of our lives," he says.
Since the stay-at-home orders, Thompson and his family have been spending even more time on their porch as a way to stay connected to neighbors from a distance.
"There is a lot more beer drinking and pointing these days," he says. "And we wave to everyone."
Angie Reilly owns a 1920-built home in Grafton that she named "The Grafton House of Blues" and her Mississippi-style porch frequently serves as a stage. Reilly invites local and touring musicians to play concerts on her porch for neighbors, family and friends.
The Grafton House of Blues porch stage, and in action. (PHOTOS: Angie Reilly)
Grafton was home to Paramount Records in the 1920s and 30s and pressed records from some of the most influential Blues musicians of the era. Reilly, who is a musician and music teacher, started a small record label from her home called Hot Seat Records and attempted to start a Paramount Records museum in Grafton, but was unsuccessful. Thus, she started her less-formal Grafton House of Blues instead.
Through research, Reilly learned that coincidentally, a man named John Rick who was employed by Paramount once lived in her home.
"From what I understand, he worked for the record factory which was only two blocks from where I live and the musicians who recorded in Grafton would get dropped off at the Interurban Train Station that was a block away," she says. "When I'm sitting on my porch, I sometimes like to imagine that the musicians walked past my house on their way to the recording studio. There's a strong possibility that they did."
The history and possibility of what was – as well as what can be – seems more accessible from the porch for Katie Rose, too.
"I just imagine all the things that have passed by our home in all those years. It's overwhelming to think about," says Rose. "Our house has seen a lot. If the porch could tell a story, it would be remarkable."
Molly Snyder grew up on Milwaukee's East Side and today, she lives in the Walker's Point neighborhood with her partner and two sons.
As a full time senior writer, editorial manager and self-described experience junkie, Molly has written thousands of articles about Milwaukee (and a few about New Orleans, Detroit, Indianapolis, Boston and various vacation spots in Wisconsin) that range in subject from where to get the best cup of coffee to an in-depth profile on the survivors of the iconic Norman apartment building that burned down in the '90s.
She also once got a colonic just to report on it, but that's enough on that.
Always told she had a "radio voice," Molly found herself as a regular contributor on FM102, 97WMYX and 1130WISN with her childhood radio favorite, Gene Mueller.
Molly's poetry, essays and articles appeared in many publications including USA Today, The Writer, The Sun Magazine and more. She has a collection of poetry, "Topless," and is slowly writing a memoir.
In 2009, Molly won a Milwaukee Press Club Award. She served as the Narrator / writer-in-residence at the Pfister Hotel from 2013-2014. She is also a story slam-winning storyteller who has performed with The Moth, Ex Fabula and Risk!
When she's not writing, interviewing or mom-ing, Molly teaches tarot card classes, gardens, sits in bars drinking Miller products and dreams of being in a punk band again.