Sarah Ross lives in Saveland Park, a South Side neighborhood in Milwaukee, and for trick-or-treaters this year they had full-sized candy bars – but they also threw a single potato into the bowl.
"I thought it would be fun to see the reactions," says Ross. "I saw a post about someone else doing it in past years, and I thought it was funny, but when I mentioned it to friends nobody had heard of it."
More than 45 kids picked a raw potato over a full-size candy bar. Luckily, Ross had a 10-pound bag of russet potatoes on hand along with a few extra golden potatoes.
"It was really funny to see kids choosing the potato and not the candy, even when I said they could have both," says Ross.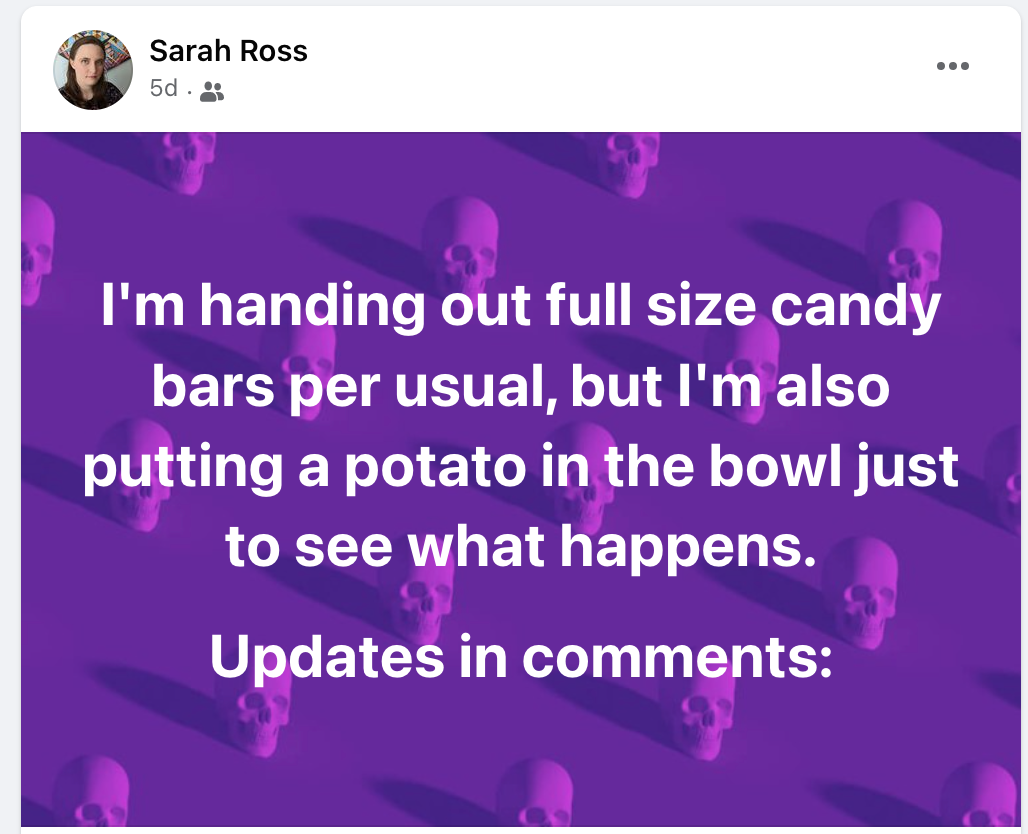 Ross posted to Facebook what they were doing and added real-time updates to the thread throughout the experience:
"First kid, very young. Takes the potato and is incredibly excited. Tells every other house on the block: 'I GOT A POTATO' ... Parents very confused but excited about it."
"We are now at FIFTEEN potatoes. A group of teens in steampunk outfits came by. They're peer pressuring friends into getting it. Every teen is yelling about the potatoes. Amazing. They are yelling 'POTATO GANG' at each other."
"We are in our reserve potatoes. Kids are specifically requesting potatoes. We have given away 28 potatoes."
"Two first grade-ish age kids were like 'what's this?' And I said, 'a potato.' They chuckled and grabbed it, showed their parent and parent said 'HA!'"
"We have gone through 40 potatoes. Parents have told us they've heard the legend of the potato and been scouring the neighborhood."
"We had one kid ask what it was, then say 'no potatoes!' Then pause and put the candy back to take the potato."
"We are out of potatoes! The last group fought over the last potato
final count, 46 potatoes in 100 min, with 50 min remaining on trick-or-treat time."
As to why the potatoes were so popular among trick-or-treaters, Ross can only speculate.
"I think the novelty was a large part of it. Some kids definitely really like potatoes, though. I also imagine others probably felt they needed evidence or their family wouldn't believe them," says Ross.
The original post currently has over 30,000 shares and counting. Upworthy, Comicsands and Bored Panda also posted about it.
"It's been shared in a bunch of groups with hundreds of thousands of members, and as a Trekkie I was excited to see George Takei share it," says Ross.
Ross is grateful that the reaction to their potato play-by-play was so positive. They also hope to keep paying the potato forward, so to speak.
"It's good to see people having fun with it. If folks are able to volunteer their money or time, let's keep the potato love going with contributions to Hunger Task Force or your local food pantry," says Ross.

Molly Snyder started writing and publishing her work at the age 10, when her community newspaper printed her poem, "The Unicorn." Since then, she's expanded beyond the subject of mythical creatures and written in many different mediums but, nearest and dearest to her heart, thousands of articles for OnMilwaukee.

Molly is a regular contributor to FOX6 News and numerous radio stations as well as the co-host of "Dandelions: A Podcast For Women." She's received five Milwaukee Press Club Awards, served as the Pfister Narrator and is the Wisconsin State Fair's Celebrity Cream Puff Eating Champion of 2019.