Longtime friends and bandmates Joey Turbo and Casey Hughes quietly opened Promises, 538 E. National Ave., in mid-July. The space, which was formerly the Walker's Point Music Hall and before that Gibraltar MKE, has two connected rooms with a stage in each, but the live music program is just on the cusp of taking off.
"We are really just starting up with bands now. We took the first month to figure this all out. There's a lot to learn. But now we have a lot more shows coming up – about three a week," says Turbo.
Turbo and Hughes spent years together playing in rock-and-roll outfit, The Platinum Boys. (Turbo also recently played his final show at Promises with his popular, decade-old band Rio Turbo.) Hence, the two know firsthand what bands need and want in a music venue.
"We wanna treat bands well. Be a memorable venue for them while creating a fun show environment," says Turbo.
Although rooted in punk and rock, Turbo makes it clear they are not a bar with a particular theme or style.
"We are really across the board with everything here. A lot of people have been involved in the process and that's how we like it," says Turbo.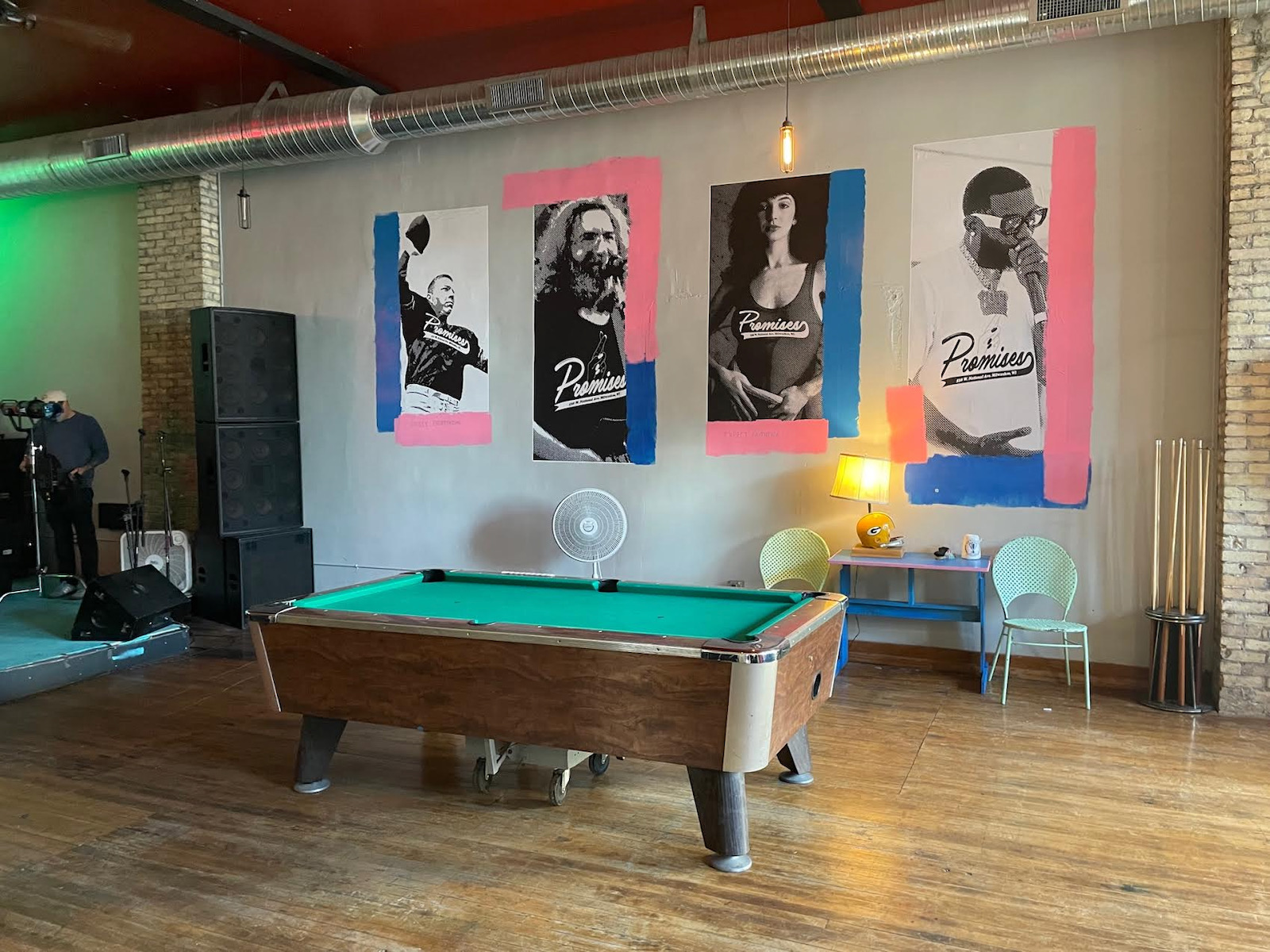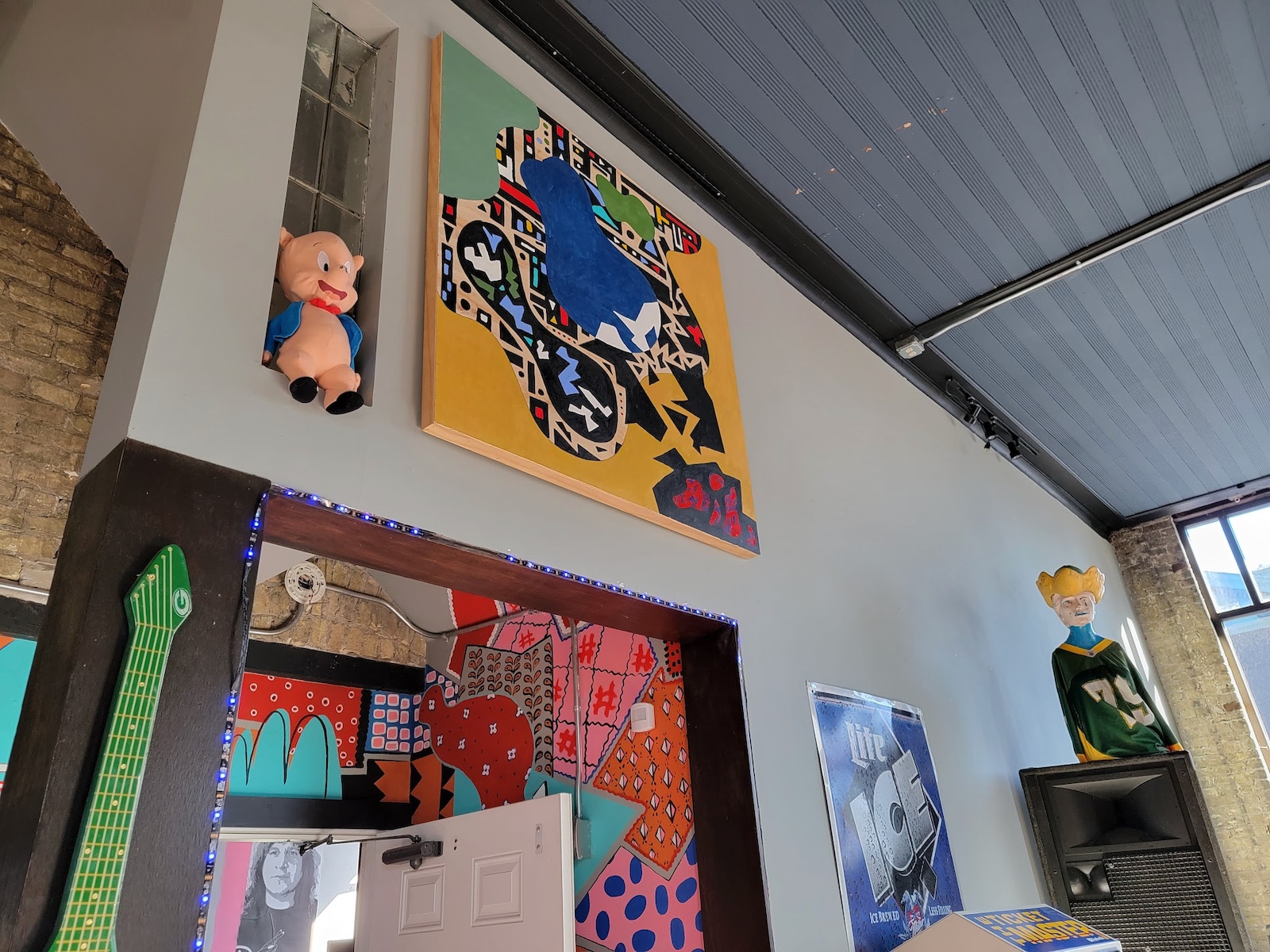 Both owners are huge sports fans which is made evident by the retro Milwaukee Brewers and Packers memorabilia on the walls, including a display of vintage-looking baseball cards of current staff members. Some of the items came from Turbo's home bar whereas other items have been purchased more recently or brought in by friends.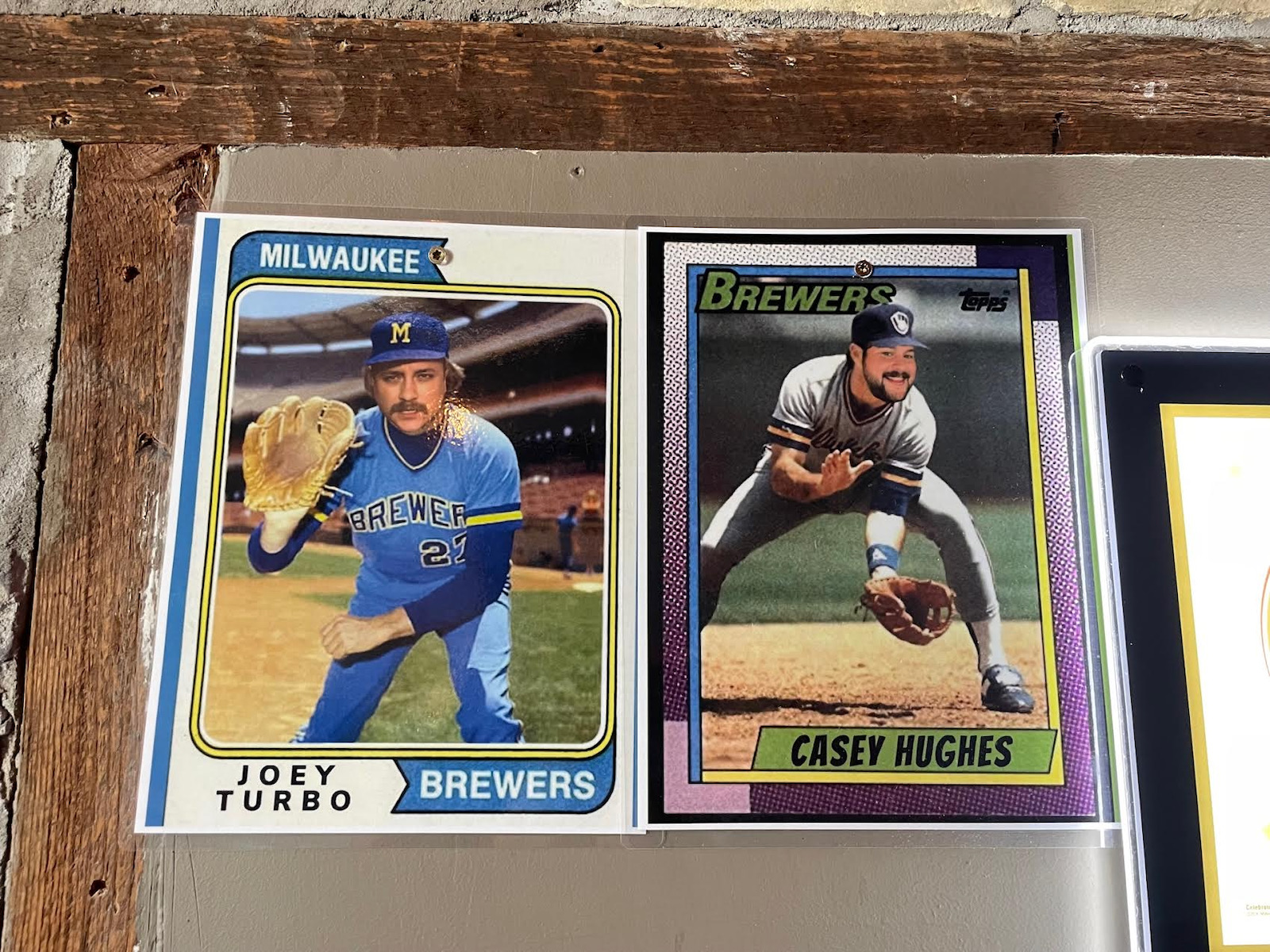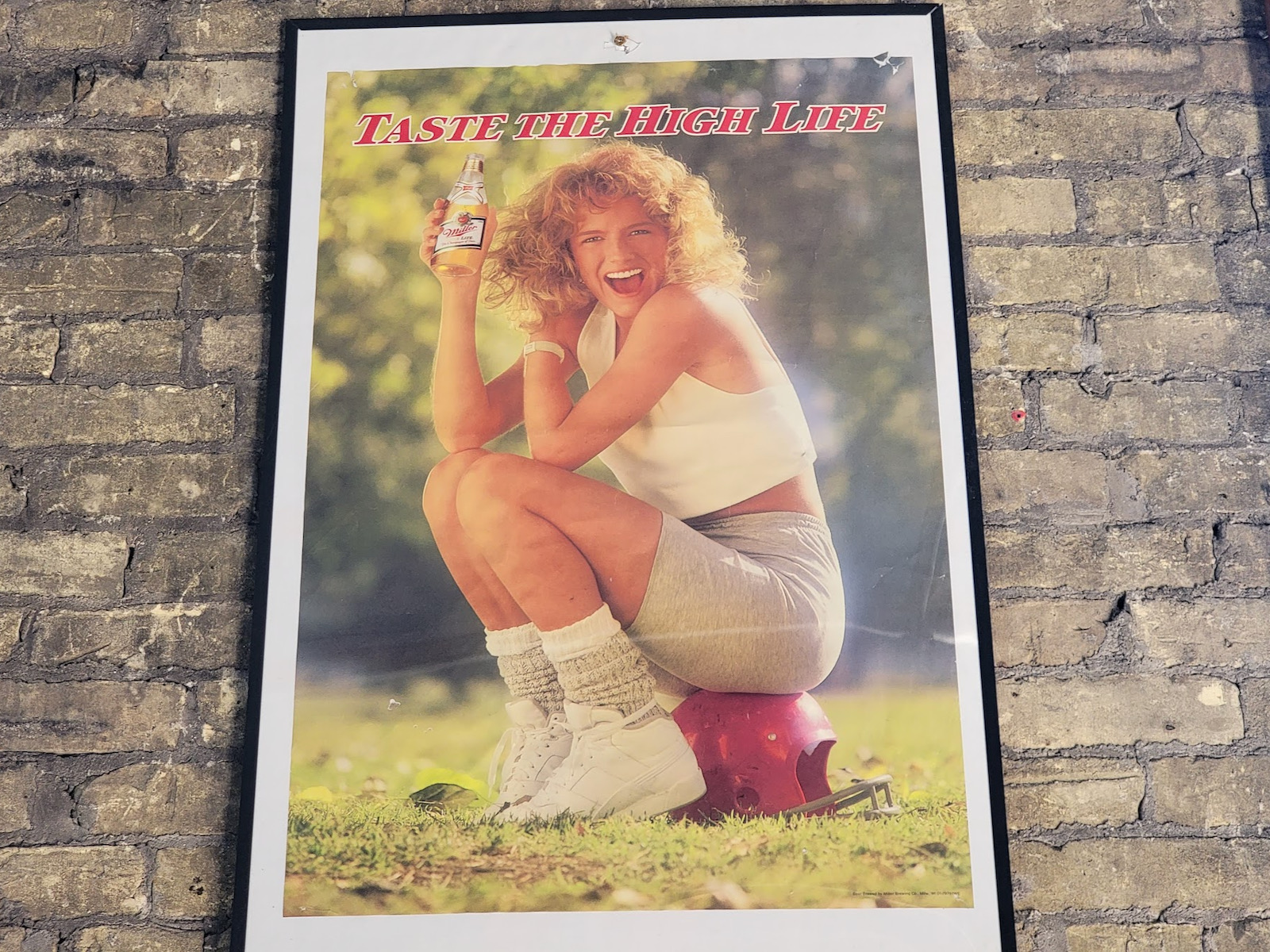 "The key is to keep it interesting, but not to clutter it up too much," says Turbo.
Promises also has flat screen TVs for game watching. "We've had some great Packers parties so far," says Turbo. "More to come."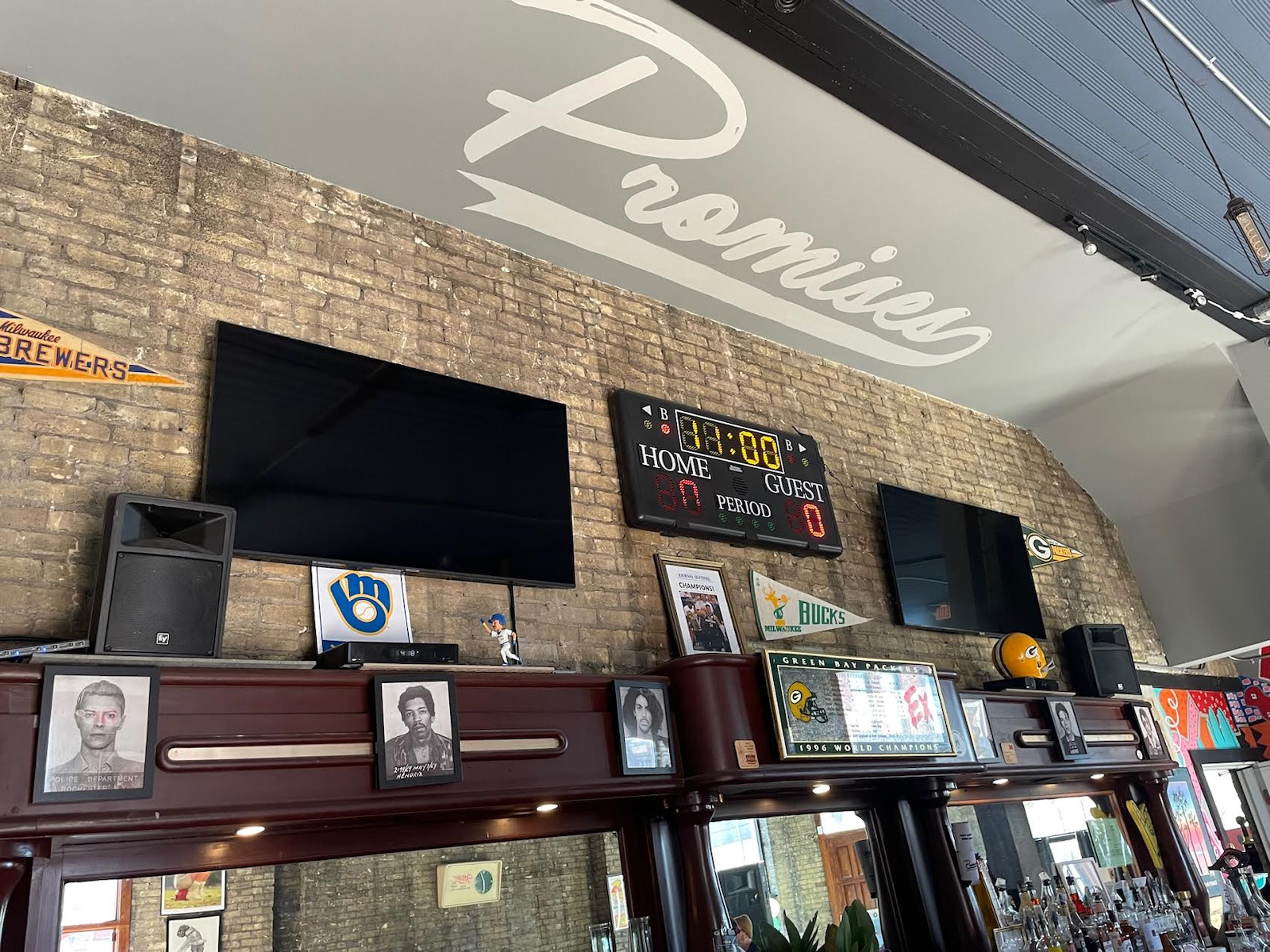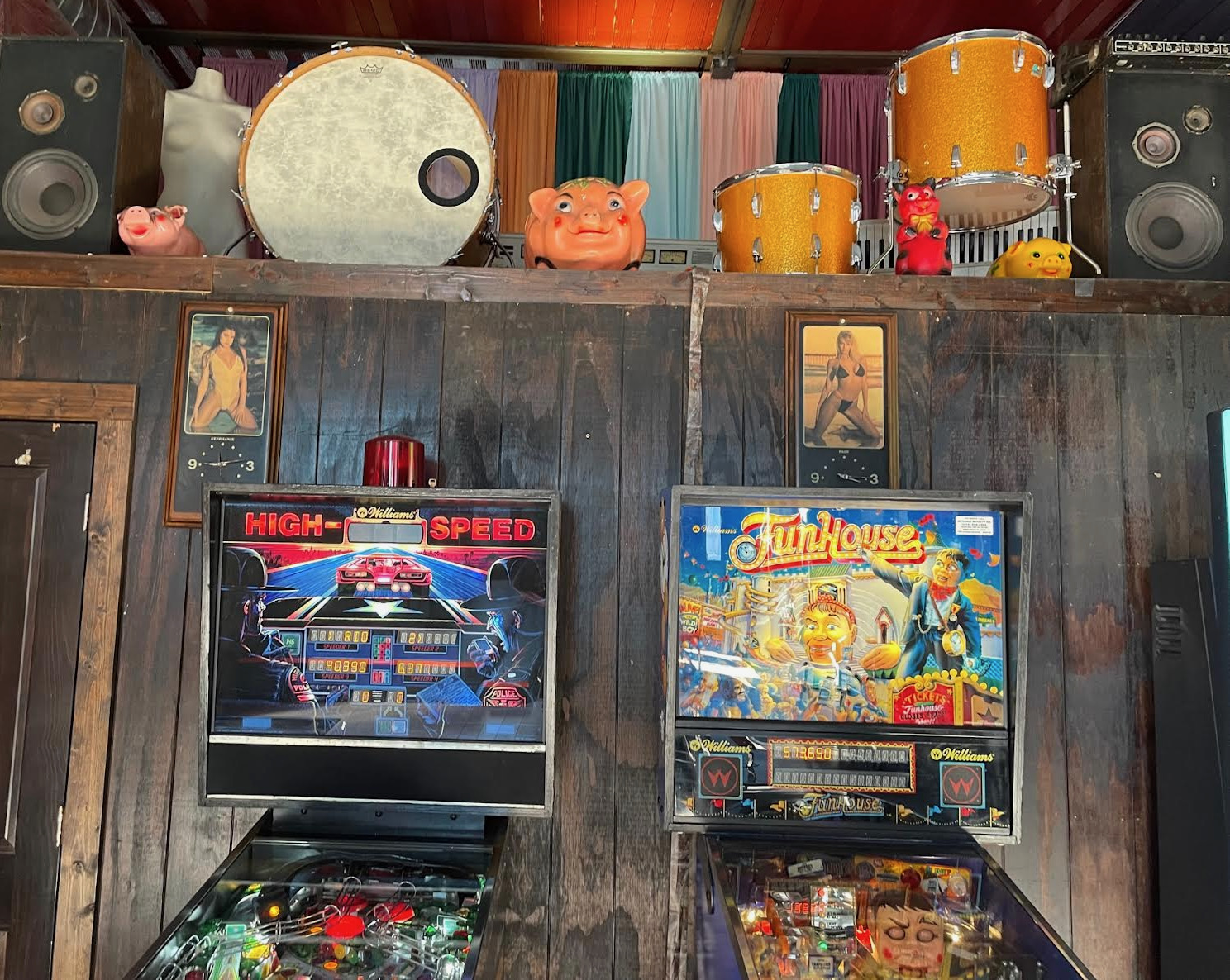 But the most eye-catching aspect of Promises is the art, created by a Milwaukee-based artist named Zelda and a few other talents. The massive "latch hook" wallhangings (are they latch hook? Yarn art?) are visually and texturally appealing with bright colors and pop-art imagery like skulls and fish and eyeballs.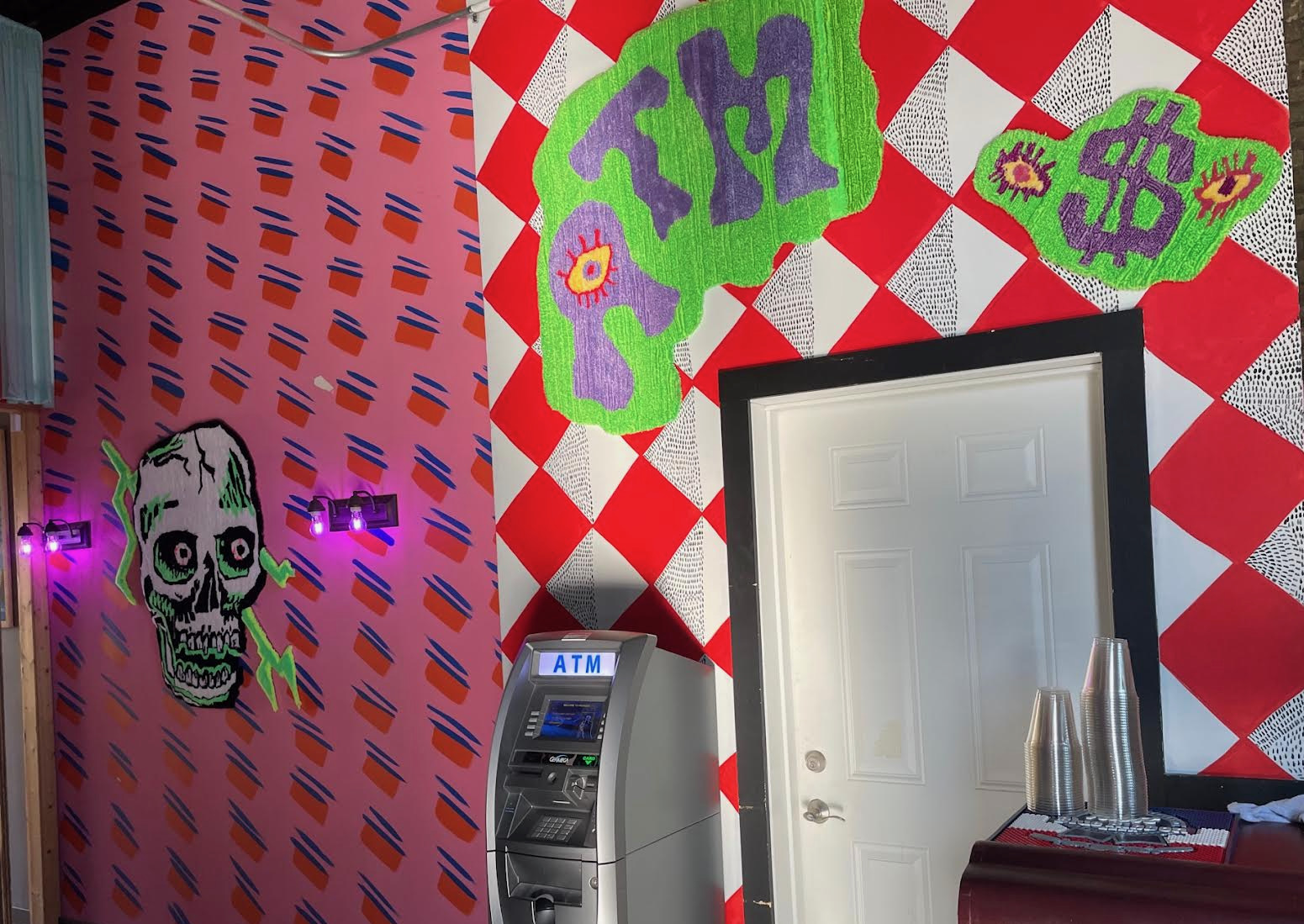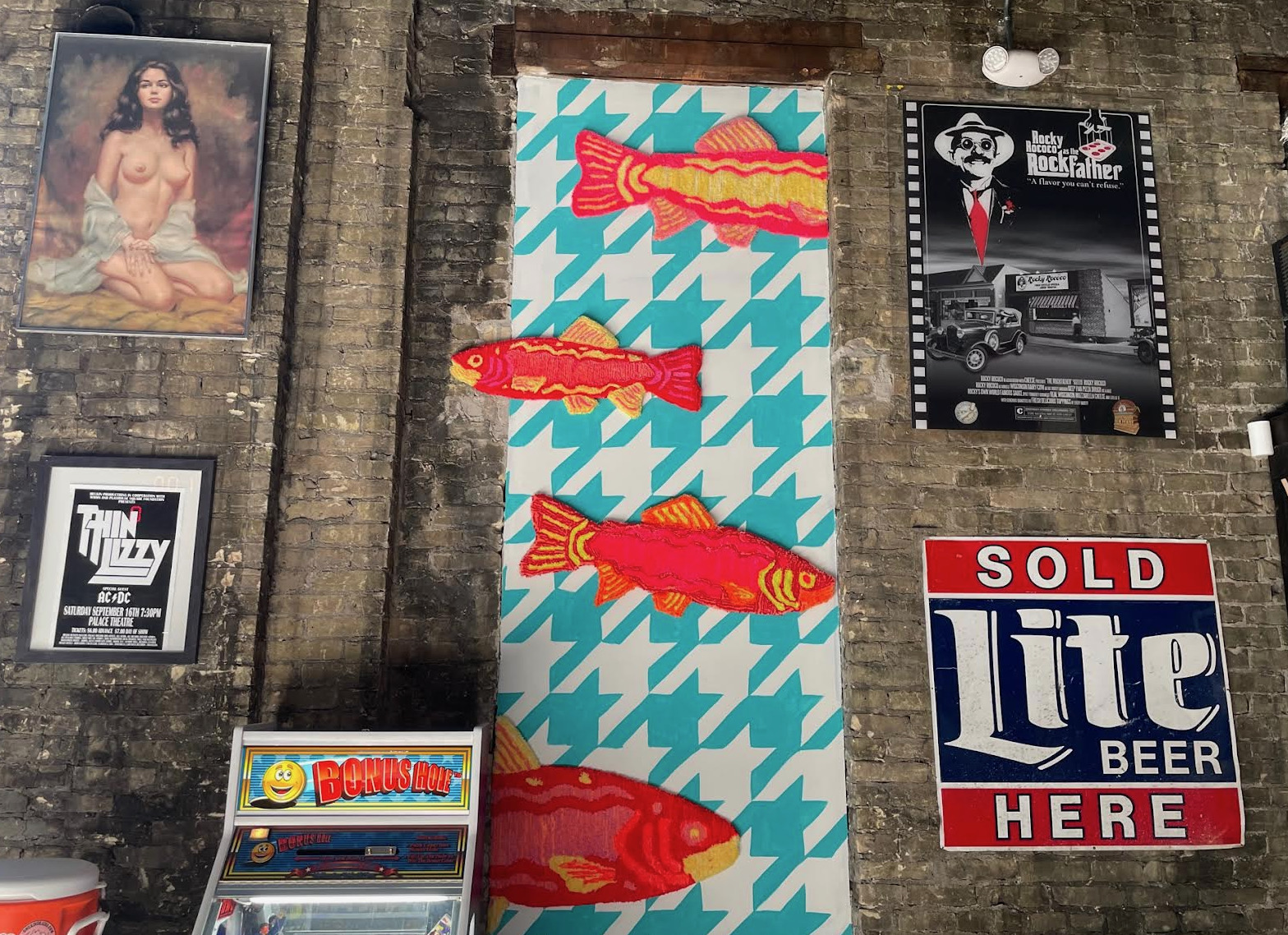 Turbo says the name Promises doesn't really mean anything. Like the theme of the bar, they wanted a slightly ambiguous name that allows room for interpretation.
The front room stage will host intimate shows along with DJs and karaoke, whereas the second stage will have louder bands and performances. Some of the shows will be free, some will have a cover charge. However, Promises will never charge a cover to sit in the front bar.
The drink options are simple and straightforward – a careful selection of macro and micro beers, hard ciders and seltzers, and cocktails.
"Keeping it affordable is really important to us. Neither of us are super into triple IPAs anyway. Plus, there are so many places around here that already do that well. We can make an awesome Old Fashioned and margarita, but mostly it's easy drinking around here," says Turbo.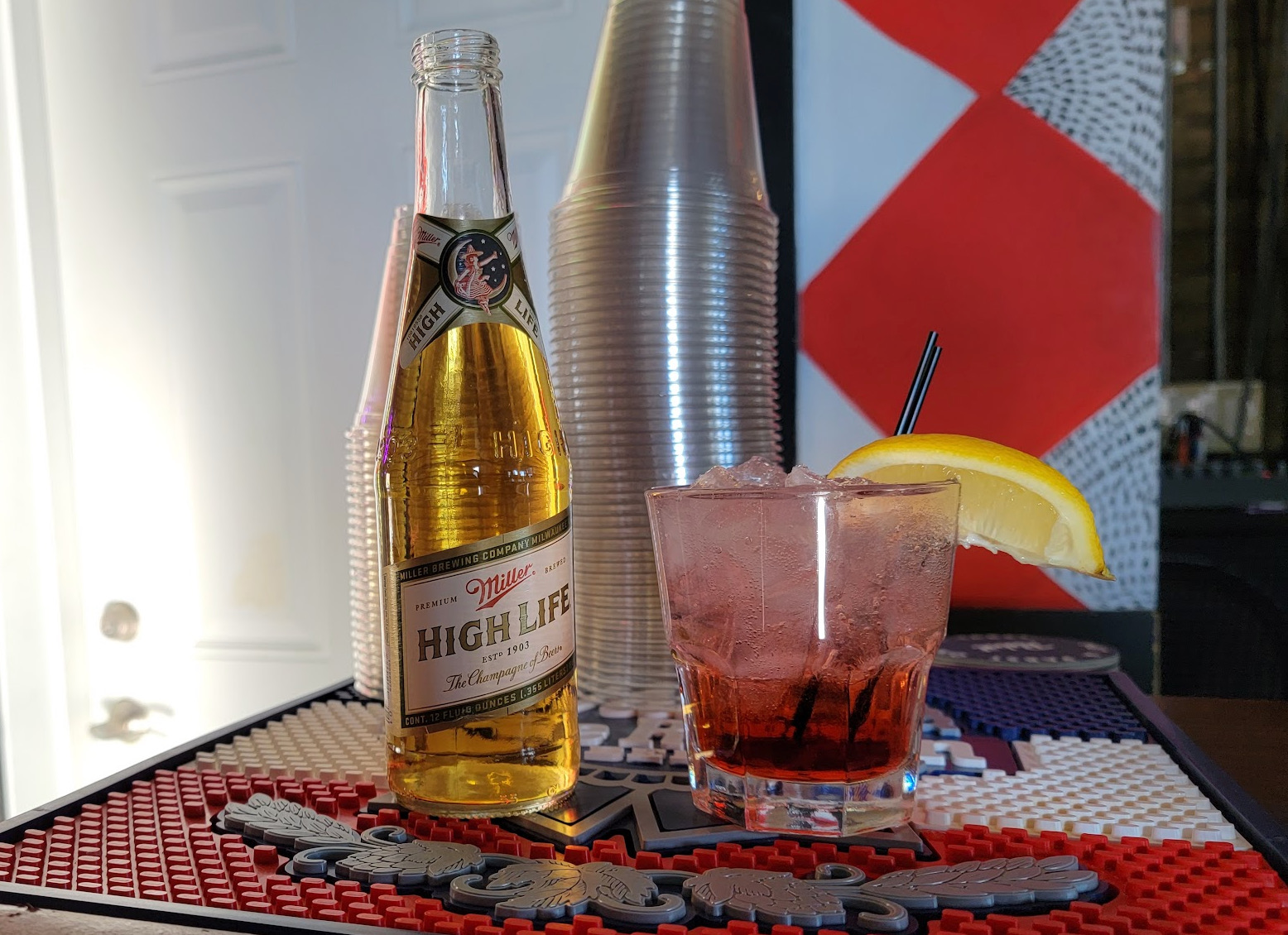 Promises has no plans to serve food, but encourages customers to bring in fare from nearby restaurants and food trucks. The bar will also soon house something called a "Funtender," a vending machine with snacks and unique items from all over the world.
"Again, there are so many awesome places in this neighborhood that do food already. We know what we're good at and we're staying in our lane," says Turbo.
Stay informed of all the live music and sports events at Promises via their Instagram.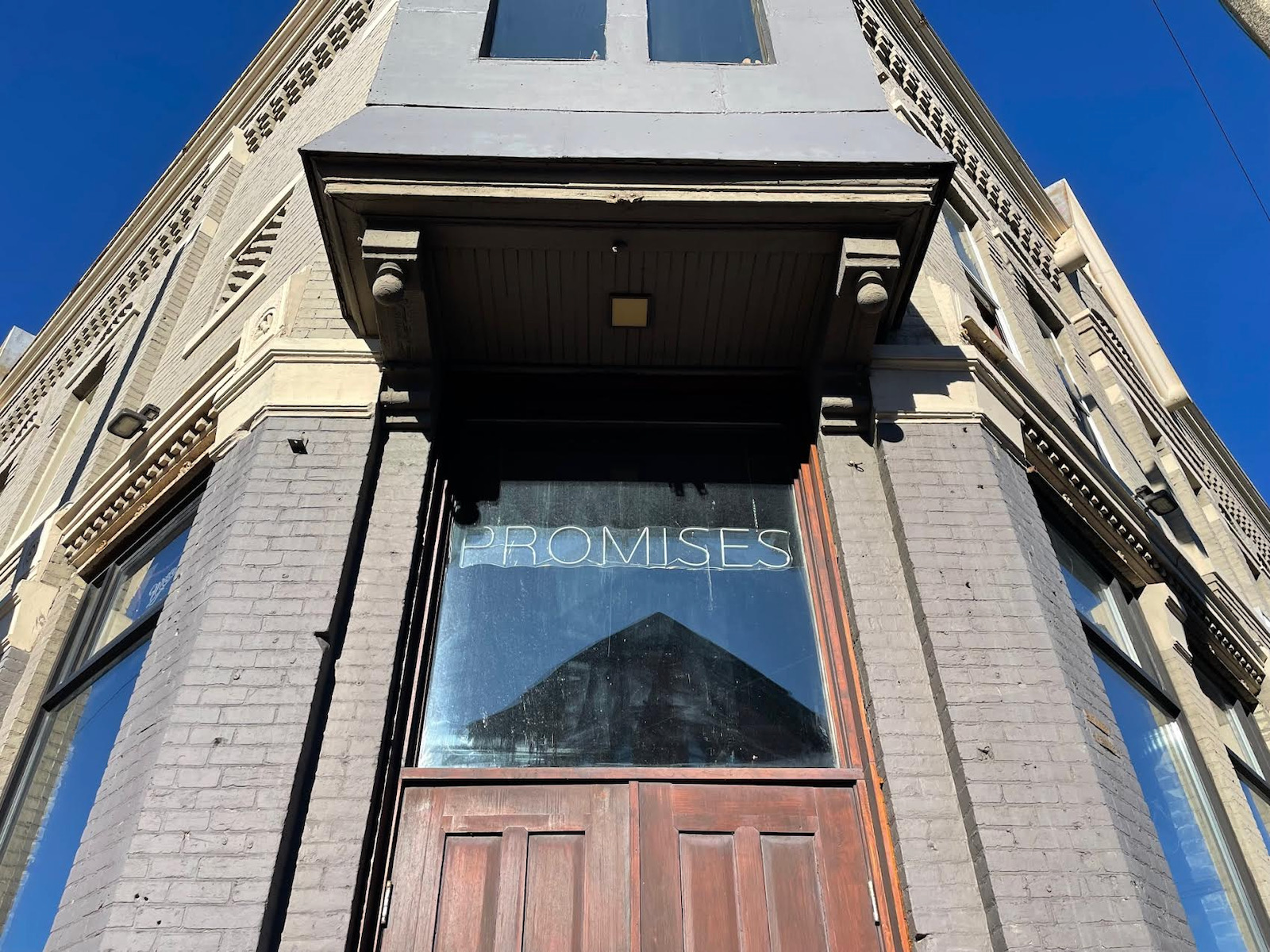 Molly Snyder started writing and publishing her work at the age 10, when her community newspaper printed her poem, "The Unicorn." Since then, she's expanded beyond the subject of mythical creatures and written in many different mediums but, nearest and dearest to her heart, thousands of articles for OnMilwaukee.

Molly is a regular contributor to FOX6 News and numerous radio stations as well as the co-host of "Dandelions: A Podcast For Women." She's received five Milwaukee Press Club Awards, served as the Pfister Narrator and is the Wisconsin State Fair's Celebrity Cream Puff Eating Champion of 2019.