You can't exactly set your watch by the guarantee that the Psychedelic Furs will be on the Summerfest schedule each year, but they've played here enough that long-time fans of of the new wave post-punk sextet will have had plenty of opportunities to see them live.
This fall, however, they are touring in support of something that hasn't happened in nearly three decades: The Furs made a new album.
Actually, "Made of Rain" came right before Summerfest 2020, which, of course, didn't exist, so instead of them playing the BMO Harris Pavilion last July 5, they were here on a cool and breezy fall Friday night at the Briggs & Stratton Big Backyard for a 9:30 p.m. set that started 40 minutes late.
Never matter, though. This band, which still contains most of the original (or nearly original) members, didn't disappoint. The warbling, sometimes gravely voice of Richard Butler sounded about the same. But at 65 and clad in some sort of short black tuxedo jacket, black vest, poofy polka dot silk shirt and black baggy suit pants, Butler looked, well, old — but still animated and theatrical on stage.
But this full, mellow crowd was pretty old, too (including this author). We didn't care how the aging rockers looked, really - and I know I appreciated the lack of standing on the bleachers in front of me.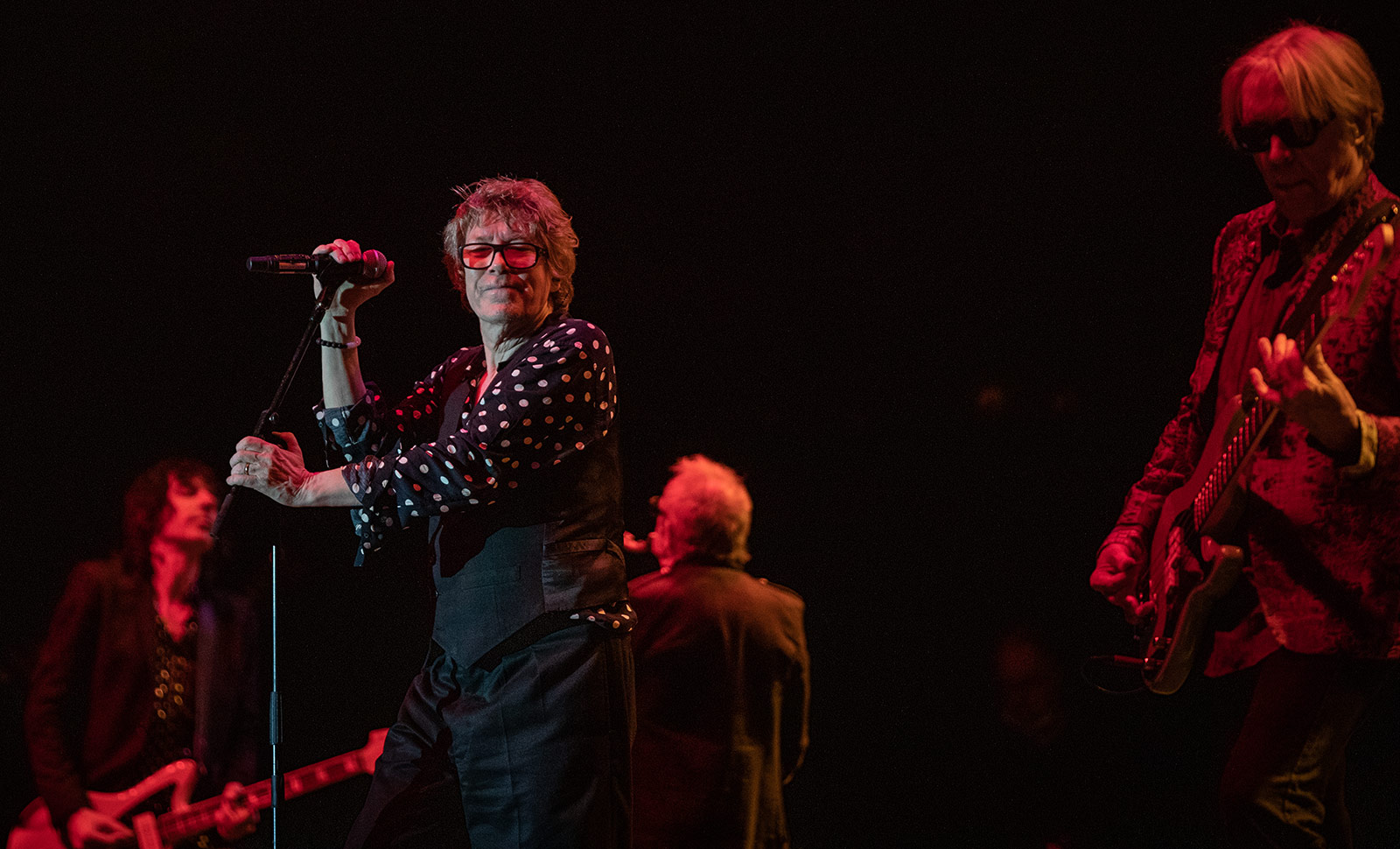 Songs like "Love My Way" took me back to the early '80s, and the crowd sang along gleefully. Memories flooded back, evoking that poster / record flat I had in my bedroom as a kid. And obviously, "Pretty in Pink" felt as familiar as the John Hughes movie. For 95 minutes, the synth and sax heavy hits just kept coming, like "The Ghost In You" and "Heaven." The audience totally ate up "Heartbreak Beat," the last song before the encore. Bassist Tim Butler flung his guitar pick into the audience and it landed at my feet; what a cool souvenir!
If you're a music fan of an, ahem, certain age, you just knew a bunch of these songs even if you couldn't name them ahead of the show.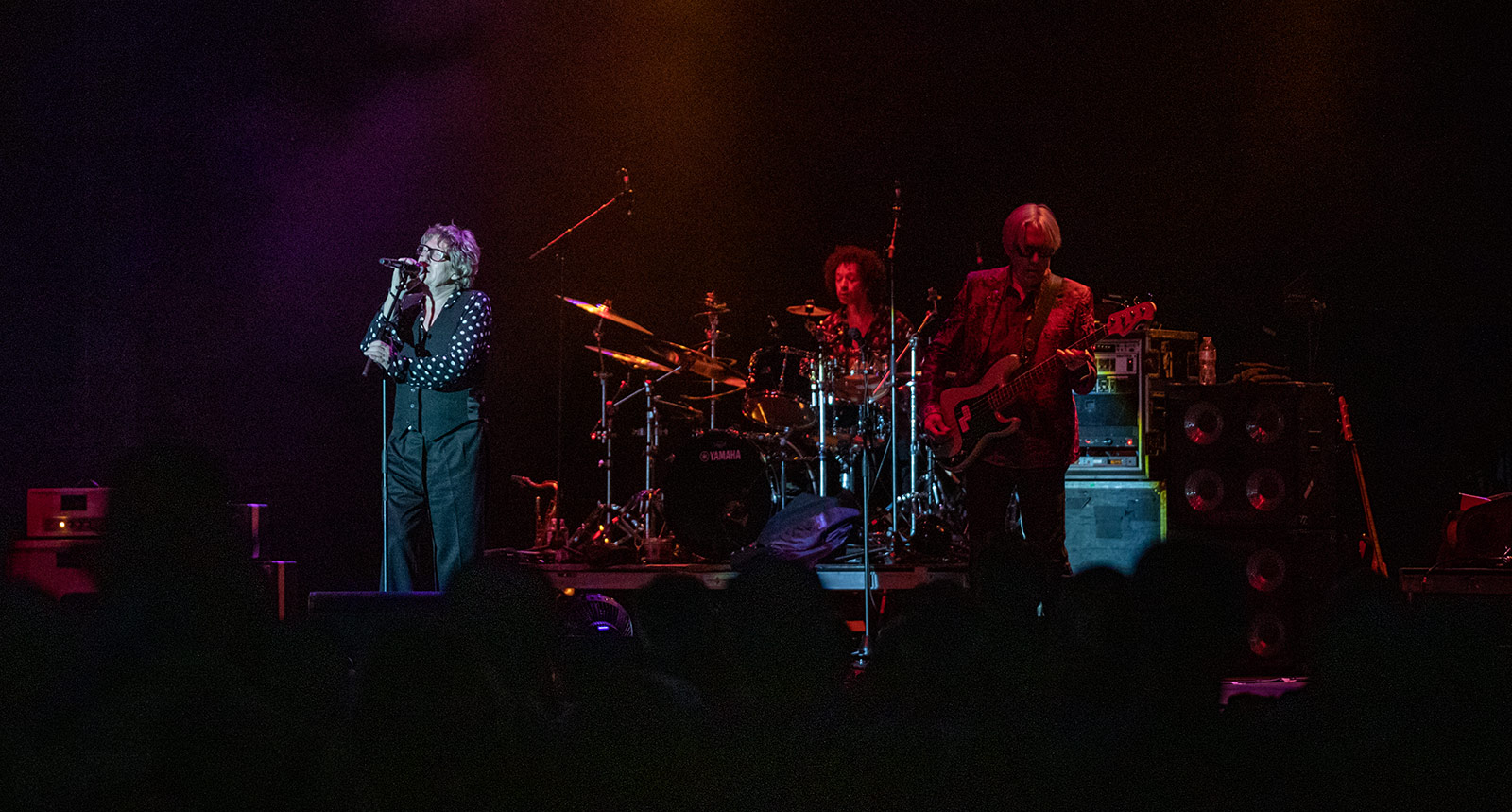 But what does the new Psychedelic Furs music sound like? Refreshingly, it doesn't sound a whole lot different than the old songs. "You'll Be Mine," "No-One" and "Don't Believe" had a little grittier, dark vibe than their classics … but not by much. And some soprano sax.
Keep in mind that while 1981's "Talk Talk Talk" is the record that propelled the band to fame in America, they also put out six albums before going on hiatus in the early '90s and reforming in 2000. So, kicking off with "Run and Run" from 1982's "Forever Now," and wrapping with the bass-heavy line of Tim Butler on "India" from their debut album, felt like a nice bookend to a long career.
The band had some drum tech issues throughout the show, resulting in long spells in between songs. A little banter with the crowd from Butler would've been nice, instead of just standing in front of the drums with his back to the crowd. Still, Butler looked genuinely happy to be here, especially during "The Ghost In You." And despite the drum issues, touring drummer Zach Alford really was excellent. Mars Williams did some sparkling work on the tenor sax.
Sure, Summerfest felt different this year in so many ways. But the Psychedelic Furs, even with a new record, felt comfortably so much the same.
"Thank you for your patience," Butler said before the final song of the night.
It was worth the wait.
Set list:
Run and Run
Dumb Waiters
You'll Be Mine
Mr. Jones
Wrong Train
The Ghost in You
The Boy That Invented Rock & Roll
No €One
Pretty in Pink
Don't Believe
Love My Way
Ash Wednesday
Into You Like a Train
This'll Never Be Like Love
Heaven
Heartbreak Beat
Encore:
Sister Europe
India

Andy is the president, publisher and founder of OnMilwaukee. He returned to Milwaukee in 1996 after living on the East Coast for nine years, where he wrote for The Dallas Morning News Washington Bureau and worked in the White House Office of Communications. He was also Associate Editor of The GW Hatchet, his college newspaper at The George Washington University.
Before launching OnMilwaukee.com in 1998 at age 23, he worked in public relations for two Milwaukee firms, most of the time daydreaming about starting his own publication.
Hobbies include running when he finds the time, fixing the rust on his '75 MGB, mowing the lawn at his cottage in the Northwoods, and making an annual pilgrimage to Phoenix for Brewers Spring Training.