The OnMilwaukee.com Summer Festivals Guide is presented by Pick 'n Save, Where Wisconsin Saves on Groceries. Pick 'n Save is Wisconsin proud, and excited to help promote and feed the great Milwaukee summer that includes festivals and fun nearly every day. Click to save here!
It's been 33 years since Public Enemy first rallied in Long Island, N.Y.
A quick Google search on the number 33 informs us that the number is the temperature at which water boils on the Newton scale, the degree at which all points of the universe collide and is the numeric equivalent of the word "amen." (1+13+5+14=33.)
Metaphorically, these facts describe what happened on stage tonight when Public Enemy played a 90-plus-minute show that started at 10 p.m. on Summerfest's Miller Lite Stage.
Prior to tonight's performance, the bar was already high – the 2010 Summerfest show has become legendary for many who attended and affirmed that neither age nor fame were stunting nor clouding PE's message.
Tonight, Chuck D, Flavor Flav, DJ Lord, The S1W group and Professor Griff were, once again, loud and clear. The group delivered an extremely high-energy show during which Chuck D and Flavor Flav were as interactive, prolific and connected as ever with one another and with the audience.
The show opened with "Miuzi Weighs A Ton" and PE went on to deliver "911 Is A Joke," "Welcome To the Terrordome," "Bring the Noise," "Don't Believe The Hype," "Can't Truss It," "Do You Wanna Go Our Way," "Fight The Power," "31 Flavors," "Time Bomb" and show closer "Shut 'Em Down."
Throughout their career, Pubic Enemy defined and redefined hip-hop through their political lyrics that both criticize American culture – as well as the media– and provide a voice for the frustrations of African Americans.
Despite the recent tragedies and outrages in America, during tonight's show the group made it clear, for the most part, that their message was of peace and connectedness.
"From the bottom of my heart, there are two things I have always been against: racism and separatism," said Flavor Flav near the show's end. "No matter where we come from, no matter what race, what religion … we are all God's children and we must live together."
But don't worry, Flav's edge returned with a similar message when he encouraged the audience to put their middle fingers in the air and yell "f*ck, racism, f*ck separatism." Flav then led the group to change formidable fingers into the peace sign.
Unlike the 2010 show, Flav didn't stage dive into the audience, but his role dominated tonight's show. He was very much front and center, once again offering an impressive stint behind the drums on the group's "Timebomb" – at which point Chuck D referred to him as "the black Dave Grohl" – and also, briefly, on the bass.
Flavor Flav, wearing his signature clock necklace (slightly subdued in size compared to his '80s version), had more to say tonight than usual, in part, because of racial issues in America, but also, perhaps, because he referenced his mother who is battling cancer. He also thanked the audience for supporting his reality television career on VH-1.
Public Enemy inspired many hip-hop artists including Kool Moe Dee, Gang Starr, X Clan, Eric B. & Rakim, Queen Latifah, the Jungle Brothers and A Tribe Called Quest. Tonight they referenced their hip hop roots numerous times, as well as having the oldest hip hop website. Chuck D. also gave a shout-out to Milwaukee's hip hop community still going strong after 30 years.
The group's first four albums were certified either gold or platinum. In 2009, VH-1 named "Fight The Power" as the no. 1 hip hop song of all time and the band was inducted into the Rock and Roll Hall of Fame in December of 2013, making them the fourth hip-hop act to be inducted after Grandmaster Flash and the Furious Five, Run–D.M.C. and The Beastie Boys.
PE changed the Internet's music distribution capability by being one of the first groups to release MP3-only albums which was a format virtually unknown at the time.
Tomorrow, the crew leaves for a European tour which includes stops in the United Kingdom. Sweden and Italy. They have a gig at London's Roundhouse on Saturday night. F*ck jetlag.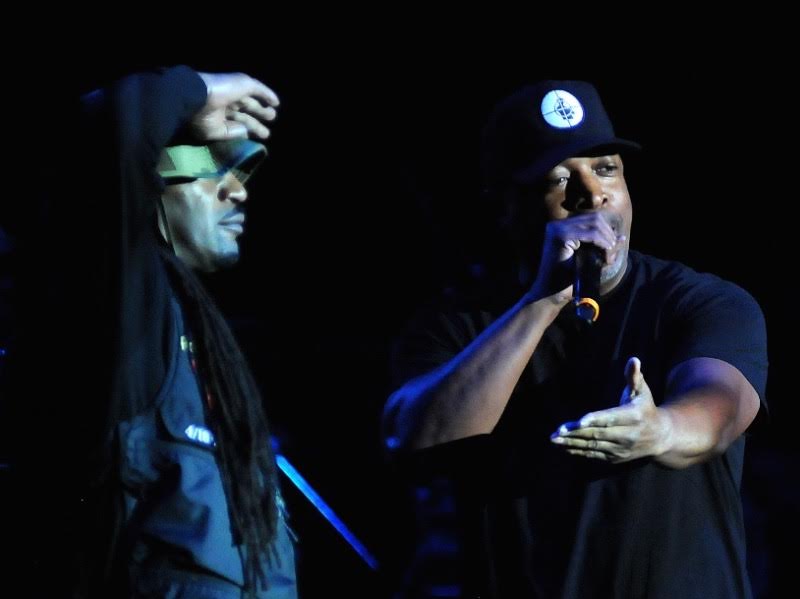 Tonight's show was a reminder that beneath the band's justified rage there is and always has been true compassion and social concern. For some, a Public Enemy concert is a series of party-hearty anthems, but for others, it's a perfect storm of people listening to people demanding change.
"Until I take my last breath, I am gonna keep hip hop alive like a motherf*cker," said Flavor Flav.

Molly Snyder started writing and publishing her work at the age 10, when her community newspaper printed her poem, "The Unicorn." Since then, she's expanded beyond the subject of mythical creatures and written in many different mediums but, nearest and dearest to her heart, thousands of articles for OnMilwaukee.

Molly is a regular contributor to FOX6 News and numerous radio stations as well as the co-host of "Dandelions: A Podcast For Women." She's received five Milwaukee Press Club Awards, served as the Pfister Narrator and is the Wisconsin State Fair's Celebrity Cream Puff Eating Champion of 2019.