It's important to have goals – or that's what "they" say – so, with that in mind, I set a summer goal for myself: to go to all 25 bars participating in the new PubPass program. Lofty ambition, I know.
In early June, OnMilwaukee.com reported on the PubPass, a passport-like booklet that costs $25 and entitles folks to one beer at 25 local bars.
The PubPass launched in 2014 in Minneapolis, and the founders decided to add a second city, Milwaukee, to the mix in 2015. Considering the Milwaukee PubPass was not available until mid-year, co-founder Jake Nyberg is pleased that 1,000 have sold so far.
"And we plan to print even more in 2016," says Nyberg, "because we'll have the entire year to sell them."
Originally, Nyberg – along with Nick Dyer and Rett Martin – picked Portland, Ore. as PubPass' expansion city, but after a trip to Milwaukee in 2014 they decided to go with Brew City instead.
"Milwaukee is a fantastic city and has been a great fit for PubPass," says Nyberg. "We'll be back and we want to add more like it."
Nyberg would not disclose at this point the cities he hopes to include in the 2016 program, but says the plan is to add two more. As for next year's Milwaukee program, some of the participating bars will be different.
"We always try to freshen up the bar list a bit with 5-10 new spots from our waiting list," says Nyberg.
The 25 bars participating in the program agreed to give one beer to anyone carrying a PubPass – there is no phone app, but there could be in the future.
"We do have plans to explore an app at some point, but are focused for now on curating the best experience in each city," says Nyberg.
The PubPass will most likely get discounted to $20 in October. In early 2016, all PubPassers will be invited to a party. The details of the party have not been finalized, but stay tuned to OnMilwaukee.com for more information later this year.
"Anyone who finished their 2015 pass will be eligible for some prizes and anyone with a 2015 or 2016 PubPass can enjoy a couple free beers that night on us," says Nyberg.
After going to every PubPass-participating bar I can say it was a very positive experience overall. I visited a place I had never been before – the Milwaukee Burger Co. – and a couple of places I had not been to in a long time, like Steny's and The Historic White House. I also sat on the patio at Leff's, which was a first, and enjoyed Horny Goat's outdoor drinking scene.
For the most part, bars offered any tap beer – many offered cans or bottles as well – as long as they were under $6 or $7. (There was some range on the price cut-off for PubPass beers depending on the bar.)
The best part of the PubPass was it inspired me to try some beers I wouldn't normally order and to visit a variety of different places, such as the aforementioned Milwaukee Burger Company, which has a great beer selection and an even greater burger.
Here is a list of the bars that participated in the PubPass program and what they offered:
Art Bar – Art bar does not have tap beer, so any bottle beer was available.
Bar None – Any tap beer.


Blackbird Bar – Any tap beer.
Boone & Crockett – $5 house cocktails or any tap beer. (Note: I got a delicious Trinidad Sour, made with Angostura bitters, Old Overholt rye, orgeat syrup and lemon.)
Cafe Lulu – Any tap beer.
Fink's – Any tap beer priced at $6 or less.
Frank's Power Plant – Six of the tap beers were available. Plus, Frank's takes $1 off every beer for the rest of the year when the PubPass is presented.
Hi-Hat Garage – Any tap beer.
Highbury Pub – Any beer under $7.
Hinterland Gastropub – Any tap.
Historic White House – Any tap beer.
Horny Goat – Any beer.
Hotel Foster – Any tap beer.
Junior's Hook – Any tap beer.
Leff's Lucky Town – Any tap beer.
Milwaukee Burger Co. – Any tap beer.
Monkey Bar – Any bottle of beer.
Old German Beer Hall – Any tap.
Riverwest Filling Station – Any beer or cider in the $4-$5 range.
Rumpus Room – Any beer from a provided list.
Sobelman's Pub & Grill – Any tap.
The Standard – Any tap, bottle or can.
Steny's – Any tap beer.
Tin Widow – Any beer priced at $7 or under.
Tonic Tavern – Any tap priced under $7.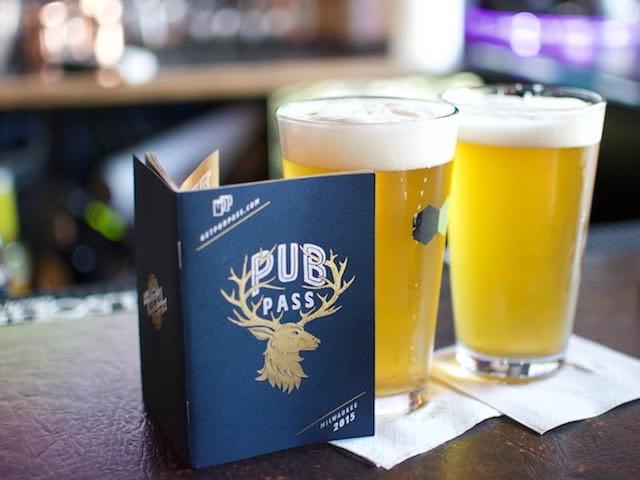 Molly Snyder grew up on Milwaukee's East Side and today, she lives in the Walker's Point neighborhood with her partner and two sons.
As a full time senior writer, editorial manager and self-described experience junkie, Molly has written thousands of articles about Milwaukee (and a few about New Orleans, Detroit, Indianapolis, Boston and various vacation spots in Wisconsin) that range in subject from where to get the best cup of coffee to an in-depth profile on the survivors of the iconic Norman apartment building that burned down in the '90s.
She also once got a colonic just to report on it, but that's enough on that.
Always told she had a "radio voice," Molly found herself as a regular contributor on FM102, 97WMYX and 1130WISN with her childhood radio favorite, Gene Mueller.
Molly's poetry, essays and articles appeared in many publications including USA Today, The Writer, The Sun Magazine and more. She has a collection of poetry, "Topless," and is slowly writing a memoir.
In 2009, Molly won a Milwaukee Press Club Award. She served as the Narrator / writer-in-residence at the Pfister Hotel from 2013-2014. She is also a story slam-winning storyteller who has performed with The Moth, Ex Fabula and Risk!
When she's not writing, interviewing or mom-ing, Molly teaches tarot card classes, gardens, sits in bars drinking Miller products and dreams of being in a punk band again.