Belly up to these bar stories that explore well-loved but lesser-known taps and taverns from all corners of the city and beyond.
Recently, I was asked about Milwaukee's oldest taverns and the question confounded me a bit because there are so many ways to consider the possibilities: tavern under the same ownership the longest, or building that has housed the longest run of consecutive taverns, oldest building that is currently a tavern?
One of the contenders for the latter would be Puddler's Hall, 2461-63 S. St. Clair St., in Bay View, which is, perhaps, second after Landmark 1850.
But, Puddler's Hall has only been a tavern since the early 1890s and that moves it into a much larger group of contenders. In the end, does it really matter?
Puddler's Hall is plenty historic and plenty evocative of saloons of a distant era.
Interestingly, as old as it seems, the place – built around 1871 – does not now look as it did then.
"People see the hall now and think that's what was there back then," says current owner Casey Foltz, who points out that the current hall was a 1921 addition.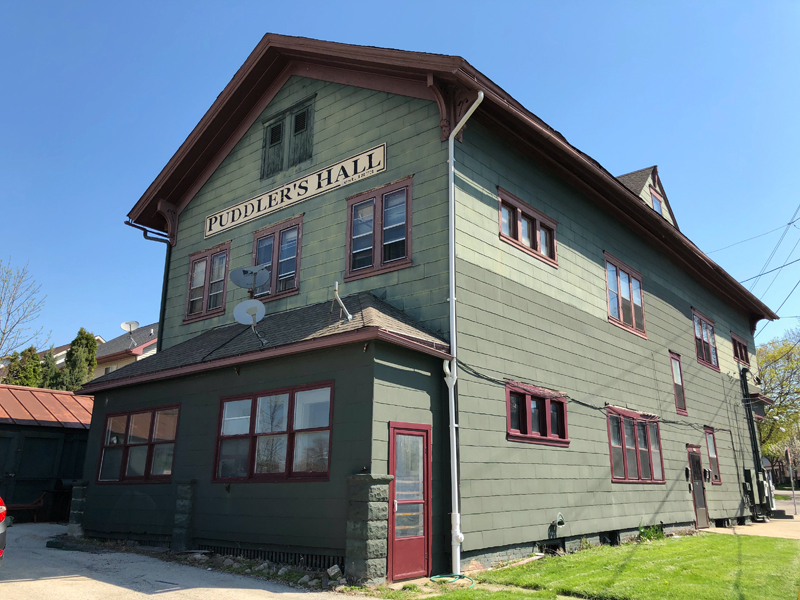 "I think the hall was back behind there," he adds, pointing to the wall behind the bar, "where the back apartment is now."
A first-time saloonkeeper, Foltz had never been a customer at Puddler's Hall before he bought it in 2011, and though he knew it had some history – that much is obvious on first glance at the place – he's learned more over the years.
"I always hear extra little stories that get added on," he says. "A few years ago, someone told me about running in the tunnels between the bars (in Bay View) and then they'd end up in Puddler's basement when they were a kid and stuff. You hear some of the stories like that."

The blocked-up tunnel entrance.
A little history
Puddler's Hall was built as a union meeting hall and offices by the puddlers, skilled craftsmen who worked at the Milwaukee Iron Company's sprawling mill that loomed, and spewed smoke, over Bay View.
The Bay View rolling mill. (PHOTO: Courtesy of Milwaukee Public Library)
"The puddlers, who work at the furnaces are charged with the duty of transorming pig into wrought iron, are paid a high rate of wages, but the work not only requires great skills an attention, but it is unhealthy," wrote the Milwaukee Sentinel in 1891.
"As a class, the iron workers are the best-paid artisans in the country, but they undoubtedly earn all they receive. The mills are run night and day and the blast furnace has to be kept in operation Sundays as well as week days. A rolling mill running full at night is as nearly a picture of inferno as the human imagination can conjure up."
A series of vintage views of Puddler's Hall. (PHOTOS: Courtesy of Mindy Ceretto Rupp)
The group used the first floor of its frame building for meetings and events and the upper floor served as union offices. It would've been a lively place, and not only during massive events like the 1886 strike which led to the massacre that led to seven deaths a couple blocks away.
"How closely the life of Bay View was associated with the mills is shown in the fact that Puddlers' Hall, owned and controlled by a steel and iron workers' organization, was the center of the social existence of the village," the Sentinel added in 1911.
"It was here that lectures, debates, theatrical entertainments, exhibitions and general public meetings were held. The Masonic and Oddfellows lodges also met there."
The Garibaldi Society, which bought its own clubhouse – Club Garibaldi – in the 1940s, met at Barbieri's, too, after it left the site of its founding, Gardetto's on St. Clair in the 1920s.
For some reason, the puddlers decided to sell their building and move into another space near the mill, and in 1892 it was purchased by the Falk, Jung and Borchert Brewing Co. for use as a tied-house tavern.
The brewery, which was located on the southern rim of the Menomonee Valley at 29th Street, immediately hired architect Bernard Kolpacki to remodel the building into a tavern and to underpin the building with a brick foundation.
But within months, the latest in a long line of devastating fires led Falk to sell out to the Pabst Brewing Co., and the added capacity helped the latter surpass a million barrels of beer annually.
So, the saloon became a Pabst tied house that was rented to a parade of keepers, including W.R. Williams in 1896, Henry Krueger and, reflecting Bay View's Italian population, a Michael Zonna (whose name may have been misspelled, as was common), in 1908.
In 1909, Francesco Barbieri – who had been in partnership in a tavern at 300 Bishop (now the Cactus Club) with Leonardo Loffredo (whose paths also crossed with what would become Club Garibaldi) – leased the tied house from Pabst and began a long association with the building that continued, on and off, for decades.
Like many immigrants, Barbieri – who was born in Italy in January 1874 and immigrated to the U.S. in 1890 with his parents Vincenzo and Maria (seen on the left in the photo at right, courtesy of Mindy Ceretto Rupp) – saw the benefit of public displays of patriotism during World War I and in 1918, he must've been pleased when the morning newspaper reported that, "Frank Barbieri has sent a hand carved statue of Gen. John J. Pershing to President Wilson. The statue was sent in commemoration of the birthday of the American general which will be observed on Friday. Accompanying the gift was a letter in which Mr. Barbieri praised the work of Gen. Pershing"
Still, Prohibition was upon the land soon after and Barbieri, like countless Americans, was made a criminal by the amendment to the Constitution, when in November 1920, feds found, "still and several gallons of alleged moonshine" at his saloon.
But Barbieri kept moving forward and in 1921, the same year he bought the building from Pabst, which was forced out of the tied house game by the 18th Amendment, he tapped builder Joseph Luettgen to add the hall that you see today at Puddlers.
Still, Bay View was thirsty after a long day of work and in January 1922, ""Frank Barbieri, 253 St. Clair Street, Bay View, was visited by a raiding part late Wednesday afternoon, and five gallons of alleged moonshine and three barrels of wine were confiscated. ... No arrests were made."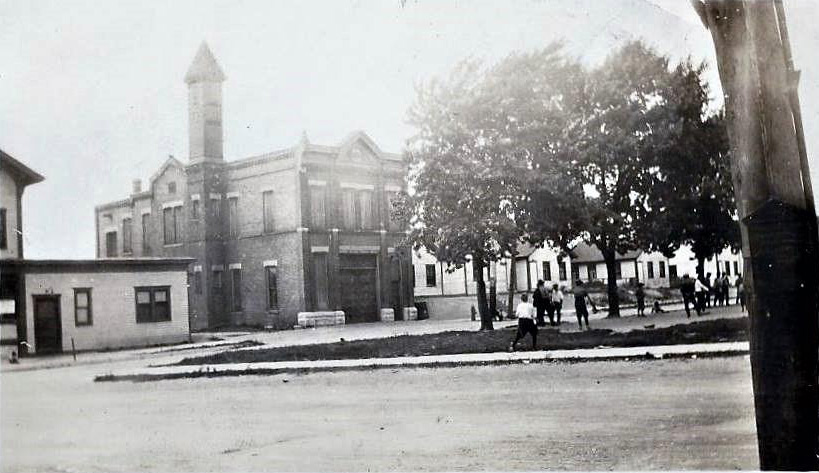 The recently completed addition to Puddler's Hall is at left in this 1922 photo.
(PHOTO: Courtesy of Mindy Ceretto Rupp).
This is likely the era when the Bay View tunnels were constructed. They don't appear on any of the 1910 Sanborn maps for the area, and tunnels were typically marked on those maps.
Two years later there were more charges filed against Barbieri, but they were dismissed.
In 1932, the Journal reported that, "Agents raided a saloon at 2463 S. St. Clair St., and arrested Frank Barbieri. A small quantity of liquor was found. Barbieri was placed under a $1,000 bond for a hearing May 16."
By 1933, Frank retired and let the tavern to Walter Prochnow, who lived over on Iron Street, but by '35, a Joseph Barbieri was back behind the bar.
Frank died at the age of 61 in February 1935.
"(A) well-known figure among Italian residents, (Barbieri) died yesterday at the home of his son, James, 1210 E. Potter Ave. A native of Italy, Barbieri had lived here 44 years."
The following year's City Directory lists Barbieri's tap as vacant, though a string of lessees make appearances in the annual guide to the city: George Miller who ran Uncle George's Club Tavern in '37; Elmer Gleesing and Adam Horle, who ran the E&A Tavern there in '38; John Wilde in '39; Gussie J. Arndt and Charles Keena, who kept Gussie & Charlie's Beehive Bar in '40 and '41; before another couple years of vacancy.
Beginning in 1944, the Bay View Lodge 797 Loyal Order of Moose Tavern began an eight-year run in the saloon before Andy Busalacchi returned for a couple years with Bussie's Tavern. Then Ray Roszak opened Ray's Place in 1955 and stayed until 1960, ceding to Matthew Rutkowski, who opened Matt & Jo's Tavern, who, in turn, made way for the Beach House from 1963 until about '67, run by Ronald R. Perez, Charles F. Otter and McLain M. Brunke.
During Roszak's time, in 1958, a short-circuit in a neon sign set the building aflame, causing $2,500 in damage to the building, charring rafters and roof plans – which can still be seen today in the attic – and $1,000 damage to the contents.
"I remember the fire," said Mindy Ceretto Rupp on Facebook. "There was a young family living there and that night of the fire,the neighborhood was enraged because the fire department tried to come east on Potter only to run into the tracks that had recently been closed because of the impending future 794. ... That was the year they began to close up the railroad crossing. ... They put up the permanent closures after the fire.
"They tore down the fences to get the trucks through. Meanwhile, the young family came into the (my) Basile (grandparents') home kitty corner from Barbieri's, and all I remember is seeing the fear in the kids and the smell of smoke on them."
On one of the doors in the attic – where remnants like an old gas stove, a rustic-looking sink and toilet tank, and a homemade shelving unit crafted from recycled food crates suggest a former apartment – there are World War II-era Red Cross and war bonds stickers that date to the Loyal Order of Moose era.
All this time, the building remained in the Barbieri family and in 1968, Frank's son James took over and re-opened Barbieri's, which lasted iuntil 1979, when the family sold the building.
It was replaced by Potter's End (Elizabeth Sims, Charles Hutchins and Shirley Shulta), Sue's Bay View Bandwagon (Susan Burzynski), which was known for the gigs held on the stage in the hall, and Mardy's Party (Mardean Krogman).
And that leads us to ...
The return of Puddler's Hall
In 2002, Tim Capper took over the then-former Mardy's Party and renamed it Puddler's Hall in honor of its original purpose and a salute to its deep roots in Bay View.
After a brief closure, Casey Foltz brought his dream of a brewpub to the building, which was, by then, owned by Ciel Stepke.
I had been homebrewing a lot, and was interested in finding a place that I could maybe eventually turn into a brew pub," says Foltz, who also runs the Foltz Family Market at the Milwaukee Public Market in the Third Ward.
"I live just over on Kinnickinnic Avenue, so just six blocks away, and my wife had run past here and saw that it was for sale, so we worked out a deal with the owner of the building. (Stepke) had never run the bar, she'd always leased out the bar to other operators. She was looking to just get out of the building, and at that time, there weren't a lot of banks interested in loaning the money, so I worked out a partnership agreement with her. About three years ago now, I bought her out of it."
Foltz had a background in IT, and zero experience in the bar or restaurant game.
"You know, it was a little bit of a learning curve," he says, with a smile. "If someone is going into the bar business, I'd definitely recommend that they start as a bartender or something first. I still had my day job at the start."
Though a variety of factors led to Foltz abandoning the brewpub idea, he does offer a variety of foods, including pizzas and panini from his Milwaukee Public Market venture, and the hall hosts a variety of events that draw in customers.
There are comedy nights on Mondays, which are popular, live music on weekends and a monthly guitar club.
"We're a little off the beaten path. We're only a few blocks from Palomino and Club Garibaldi and only a few blocks from Kinnickinnic, but we're a little off the beaten path," says Foltz. "We get customers who walk from around the neighborhood, but the events bring people from other parts of town, too."
Alas, now that the entrances are bricked over – Foltz shows me where one access point was in the Puddler's basement, which also has a old, diminutive walk-in cooler – no one arrives via tunnel anymore.
Born in Brooklyn, N.Y., where he lived until he was 17, Bobby received his BA-Mass Communications from UWM in 1989 and has lived in Walker's Point, Bay View, Enderis Park, South Milwaukee and on the East Side.
He has published three non-fiction books in Italy – including one about an event in Milwaukee history, which was published in the U.S. in autumn 2010. Four more books, all about Milwaukee, have been published by The History Press.
With his most recent band, The Yell Leaders, Bobby released four LPs and had a songs featured in episodes of TV's "Party of Five" and "Dawson's Creek," and films in Japan, South America and the U.S. The Yell Leaders were named the best unsigned band in their region by VH-1 as part of its Rock Across America 1998 Tour. Most recently, the band contributed tracks to a UK vinyl/CD tribute to the Redskins and collaborated on a track with Italian novelist Enrico Remmert.
He's produced three installments of the "OMCD" series of local music compilations for OnMilwaukee.com and in 2007 produced a CD of Italian music and poetry.
In 2005, he was awarded the City of Asti's (Italy) Journalism Prize for his work focusing on that area. He has also won awards from the Milwaukee Press Club.
He can be heard weekly on 88Nine Radio Milwaukee talking about his "Urban Spelunking" series of stories.