This month, we visit our neighbor to the south for a series of weekly Racine Spelunking stories in which our Bobby Tanzilo explores some Racine County gems.
The idea of using a building design to erect more than one structure isn't unheard of. In fact, I've written about some Milwaukee schools that were built off basically the same plans.
Recently, I had the chance to see inside a trio of Racine schools that were all designed by the same architect and built at the same time – 1855!! – and which, despite many changes over the years, still survive today.
They are the old Fourth Ward School, now called Lorenzo Janes Elementary (pictured above), the former Fifth Ward School, later known as Garfield, and now called Julian Thomas Elementary (pictured below) and the old Third Ward School, later renamed Winslow Elementary and currently closed.
(While I was there, I also got to see two other 19th century Racine public schools and I'll talk a little about them toward the end.)
Winslow, 1325 Park Ave., was the first of the bunch to have caught my eye, a few years ago after I had visited the nearby SC Johnson campus and happened to drive by. It's a gorgeous cream city brick schoolhouse executed in a high Victorian style.

The south side of Winslow.
Two of the three buildings have lovely Victorian/Queen Anne elements. Winslow and Janes, 1425 N. Main St., have distinctive gables above their entrances, and the former has bowed walls on its north and south facades that provide many of the classrooms with rarely seen, but extremely beautiful arcs of tall windows.
Janes also has a turret that rises from grade to above the roof line, giving one lucky second-floor classroom quite a unique little nook (pictured at left).
Julian Thomas, 930 Martin Luther King Jr. Dr., lacks these kinds of details, instead maintaining its more original Italianate appearance.
The buildings have more modern additions, but trying to sort out the older additions can be difficult, especially at Julian Thomas.
While at Winslow it's quite easy to see the original building on the east end (an early photo, courtesy of Wisconsin Historical Society is at right), and at Janes you can spot the oldest part on the north side, at Thomas, it appears that the old building was chopped in half and a new section inserted in between. And that's kind of true.
In 1855, Racine's existing schools were deemed inadequate and architect Lucas Bradley was hired to design the three buildings, which all appeared to use the same plan for a 40x50-foot, two-story brick schoolhouse with Italianate styling.
Born in Geneva, New York, in 1809, Bradey apprenticed in Auburn, New York, and St. Louis, before arriving in Racine in 1843, where he lived until his death in 1889, and where he served on the city's first council.
In those years, in addition to the schools, Bradley designed Racine's First Presbyterian Church, Eli Cooley House and George Murray House, among others.
The floors were double-loaded corridors, but with classrooms arranged in a sort of "pavilion" style in something of a circle around a central space lit by means of a skylight that ran straight down through from the roof. All the skylights are gone, though at Julian Thomas, the skylight framing remains and is now lit in a way that hints at the recess' original purpose.

In this photo, taken at Julian Thomas, you can get a sense of the "pavilion" style floor plan
and the framing for one of the skylights, all of which have been closed.
The rooms in all three buildings are quite large and loaded with windows. Winslow's rooms definite get the edge, however, thanks to those arching banks of fenestration. Some transom windows survive at Janes.
Julian Thomas and Winslow have great staircases with fine spindles. Staircases up to the attic at Thomas are worthy of "Gone With the Wind." At Janes, they tend to be less grand, though the ones up to the top floor auditoriums/gyms are all wide and wainscoted.
Staircases at Julian Thomas (above) and Winslow (below).
All three buildings still have their wainscoting and in some cases, it remains unpainted.
The gyms/auditoriums have, in all three cases, been converted to other space. At Janes, the stage was converted to a classroom long ago. In this photo, you can see the auditorium at right and the classroom at left, with the dividing wall in the center.
Interestingly, Janes has pressed tin ceilings in most of the corridors and stairwells (pictured below), a classic old decorative touch that I don't recall ever seeing in a schoolhouse before.
In the basements, you can really see where the old and new buildings are, because the former have stone foundations, while the later period buildings are on brick.
In the attics, there's graffiti and it appears that Winslow has the most, though Janes had the oldest I found, dating to January 1903. I loved the carpentry in the Winslow attic, which had great repeating braces that made for some evocative photos, but Janes ... well, Janes has the turret, which you can enter – on your belly, with very little headroom – from the attic.
Then you can take a few steps down, where I peeked out the windows, on tip-toe, or you can take a ladder up through a scuttle to reach another level and then one more ladder to get to another level where you can see the carpentry of the peak, which looks like it's been rebuilt fairly recently.
For a bit of background...
Janes – named for Lorenzo Janes, a lawyer, who donated the land for the school to the city in 1839 – opened in 1856 with four teachers and about 200 students.
Janes, a lawyer, had come to Racine in 1836, and was also publisher of the Argus, the city's first newspaper. He owned much of the land on Racine's near north side.
In 1883 four new rooms and a large assembly room on the 2nd floor, occupied by the 5th-8th grade students were completed as a part of an addition to what a newspaper referred to as "the back" of the building (pictured at right).
In 1897, the same year the building was renamed in honor of Janes, the original part was apparently razed and replaced with a 12-room, three-story addition, designed by James Gilbert Chandler, that also included a manual training room and the top floor auditorium.
Electric lights were installed in 1922.
In more recent years, Janes was one of the first Wisconsin schools to operate on a year-round schedule, which it did until 2016. These days it's an elementary school with about 250 students. That's down from around 400 a few years ago, before vouchers came to town.
Originally the Third Ward School, Winslow was named in honor of one-time school superintendent Horatio Gates Winslow, and it, too, got an 1897 addition designed by James Chandler. He's the one I have to thank for those gracefully curving window banks.
Born in Berlin Falls, New Hampshire in 1856, Chandler studied in Minnesota and Madison, where he got his first work as an architect in 1879. The Shoop Building and YMCA buildings he designed in Racine are listed on the National Register of Historic Places.
The bell that once was installed in the belfry atop the building now sits in a hallway at the school, which closed in 2005 and has since been home to a variety of short-lived charter programs, including the Racine Civil Leaders Academy, which closed last year.
The land for Julian Thomas, named for a civil rights leader, was purchased for $700 from a Mr. West.
The school opened with 116 primary students and 107 grammar students under Principal Mrs. B.F. Walker, who was also the grammar teacher, and primary teacher Miss Terry.
In 1879, a addition with eight rooms was put on the front of the building and in 1882 and '84 Chandler added to the back. Four years later, the building must've still been quite crowded as one newspaper account reports that a single first-grade teacher had 184 students in her care.
In 1903, the 1856 portion of the building – sandwiched between the 1879 and 1880s additions – was torn down and replaced with a three-story section, designed by A. Arthur Guibert and Edmund B. Funston, which included that top floor auditorium/gym.
That's why the building looks like it was chopped in half with a new section stuck in between.
A 1950s era addition was torn down (though the same cannot be said for the one at Winslow). A photo of that work can be seen above, along with an image of a view that can no longer be seen, both courtesy of Greg Buscher.

Three buildings meet at Julian Thomas.
A major addition went up at the start of the 21st century, more than tripling the size of the building and I'm told the school will have more than 800 students next year.
Racine Unified's facilities manager Bryan Arnold told me that a few years back – before some new construction – the average age of a RUSD schoolhouse was somewhere around 77 years. This trio of gorgeous buildings isn't helping that number, but they are (at least in two cases) still vibrant, lively buildings serving hundreds of Racine children.
In 2014, voters approved a referendum that provides $8.5 million a year for 15 years including $4 million for maintenance work, $1 million for classroom technology and safety and security, and $3.5 million annual to pay off debt and to build new schools, including three that have been completed: Olympia Brown Elementary, Knapp Elementary and Gifford K-8.
There are other old buildings in the district that are still serving students, well, two and we checked out two of them.
The old Second Ward School, 914 St. Patrick St., was built in 1874 on high ground called Knight's Hill. It was a two-story cream city brick building with two rooms on each floor, that cost $11,888.89.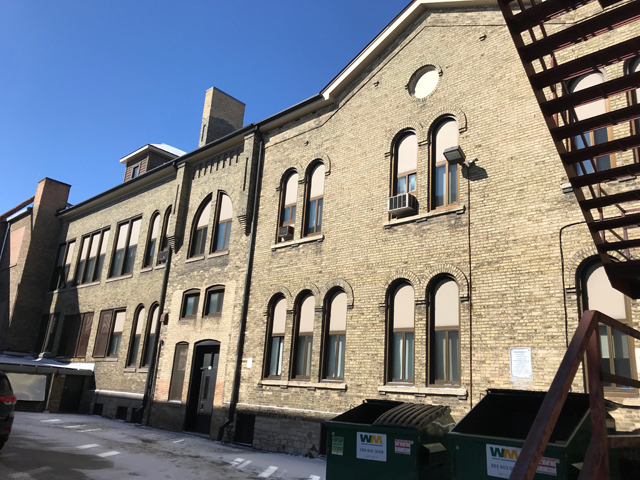 You can see the oldest portion of the building, at right, and the first addition, to the south, at left.
A 20th century addition is even further off to the left.
There were 247 pupils when the building opened in January 1875 (do the math, that's about 62 students per room!) under the watchful eye of Mrs. Dessie Scott and teachers Mary Near and Kate Murphy Thornberry.
Just over a decade later, the place was awash in kids and one former principal from that era, a Mr. Field, later recalled that some rooms were divided and extra teachers added to help deal with the crowding until an 1895 expansion was added to the south, with two rooms on the first floor and two small and one large room upstairs.
By then, the school had been renamed in honor of George Washington at the request of then-principal H.S. Tibbets.
For a time, the school boasted the largest playground of any Racine school and it's been said that in winter students and teachers enjoyed sledding down the hill and skating on Duck Creek.
In 1903 another addition went up to the north (pictured above), with eight more rooms and a large auditorium. A still later addition to the south serves as the main face of the school.
In 1921, a junior high program was annexed to the building. The elementary program was shuttered in 1962 and the junior high followed in '66.
The alternative Middle School Academy was in there for a while and now Red Apple – one of two early learning centers (there are more of these all-day K4 programs in the works) in the district – is housed in the building.
Lastly, the Neoclassical Jefferson School, 1722 W. Sixth St., is in a three-story cream city brick schoolhouse from 1899 with some later additions, too.
This one, while also using what I referred to earlier as that "pavilion" style layout inside, has had its stairwells replaced and the top floor auditorium, if there was one, has long since been converted to a floor plan that more or less resembles the lower floors.
The school has been named in honor of Thomas Jefferson since it opened nearly 120 years ago and since the late 1970s it has been home to the Jefferson Lighthouse gifted and talented program, which has had International Baccalaureate accreditation since 2012.
Born in Brooklyn, N.Y., where he lived until he was 17, Bobby received his BA-Mass Communications from UWM in 1989 and has lived in Walker's Point, Bay View, Enderis Park, South Milwaukee and on the East Side.
He has published three non-fiction books in Italy – including one about an event in Milwaukee history, which was published in the U.S. in autumn 2010. Four more books, all about Milwaukee, have been published by The History Press.
With his most recent band, The Yell Leaders, Bobby released four LPs and had a songs featured in episodes of TV's "Party of Five" and "Dawson's Creek," and films in Japan, South America and the U.S. The Yell Leaders were named the best unsigned band in their region by VH-1 as part of its Rock Across America 1998 Tour. Most recently, the band contributed tracks to a UK vinyl/CD tribute to the Redskins and collaborated on a track with Italian novelist Enrico Remmert.
He's produced three installments of the "OMCD" series of local music compilations for OnMilwaukee.com and in 2007 produced a CD of Italian music and poetry.
In 2005, he was awarded the City of Asti's (Italy) Journalism Prize for his work focusing on that area. He has also won awards from the Milwaukee Press Club.
He can be heard weekly on 88Nine Radio Milwaukee talking about his "Urban Spelunking" series of stories.