Season's eatings! The weather may be getting colder, but Dining Month on OnMilwaukee is just cooking up, dishing out your winning picks in this year's Best of Dining poll. Dining Month is brought to you by Fein Brothers, your premier food service equipment and supply dealer in Wisconsin since 1929. Congratulations to all of the winners, and happy eating for all those who voted!
Last spring, we brought you the news that the popular Chicago eatery Goddess and the Baker would open its first Wisconsin location just south of Café Hollander at The Corners of Brookfield.
Just six months later, the cafe is nearly ready to welcome its first guests. There are still a few tweaks that need to be made, both in the eatery and kitchen. For that reason, a firm opening date has not been set; however, if all goes well, the cafe is likely to open by mid-week. In the meantime, we got a peek at what guests can expect.
Chic digs
The interior of the cafe was designed by Dana Ensing and Melissa Friday, designers from Denver-based Xan Creative. Among their goals for the space was to create a comfortable brand-focused environment that evoked a "goddess-like feminine feeling."
That feeling is captured in both the feel and palette of the space, which is rich with bright turquoise accents that pop against black and white tile, and strong graphic elements in brass and gold tones softened by elements like groupings of live plants.
The barista station for the location – which includes intricate floral tiling and a tall staging area – was also created to be a focal point, says Ensing.
As for seating, guests have a number of choices. There's bar-style seating in the middle of the cafe, as well as along the windows. There are also larger, more communal tables, perfect for groups and upholstered banquettes with low tables that accommodate two to four.
There is also a beautiful color-washed lounge-like area toward the back of the space that's perfect for meetings or lingering conversation.
"Ultimately, we wanted to create a place where people can come, enjoy great coffee and food and leave in a better place than they came," says Tamar Mizrahi, Goddess and the Baker partner.
Instagrammable eats
The Goddess & the Baker menu features a broad range of breakfast items (from sandwiches and burritos to scramblers and acai bowls), sandwiches (think turkey, banh mi, chicken caprese) and salads along with soup and baked macaroni and cheese. A good number of the items can also be made vegetarian or vegan-friendly.
Mizrahi notes that two of the restaurant's most popular items include the avocado toast featuring toasted sourdough topped with smashed avocado, cotija cheese, chili flakes, arugula salad and sliced radishes ($8.99), and the chopped salad featuring romaine, avocado, diced tomato, garbanzo beans, cucumber, corn, carrots, red peppers, blue cheese, sunflower seeds, a six-minute egg and goddess dressing ($10.99).
Of course, for as many healthful options as there are, the cafe is also filled with scads of delectable baked goods, including muffins and scones, cookies and other treats, including fun variations on rice krispie bars.
There's also cake... including the Instagram-famous rainbow cake.
Among the beverage options are liquid chocolate (rich, sweet drinking chocolate, $4.99), fresh juices ($4.99) and a large selection of teas from Milwaukee's own Rishi. If you're in a brunchy mood, there are also "daytime cocktails" including wine, mimosas, spritzs, and a signature bloody mary with amber ale, dry sake and finished with a rim of matcha salt ($6.50-7.99).
Thanks to the coffee bar – which features a rotating selection of coffees from roasters including Metric (Chicago), Colectivo and Kickapoo – there's also a comprehensive menu of coffee drinks from espresso and lattes to nitro cold brew, along with a specialty drink menu featuring creative offerings like the apple butter oat latte and the glittery, fancy ultra-photogenic "Glitter Gold Latte."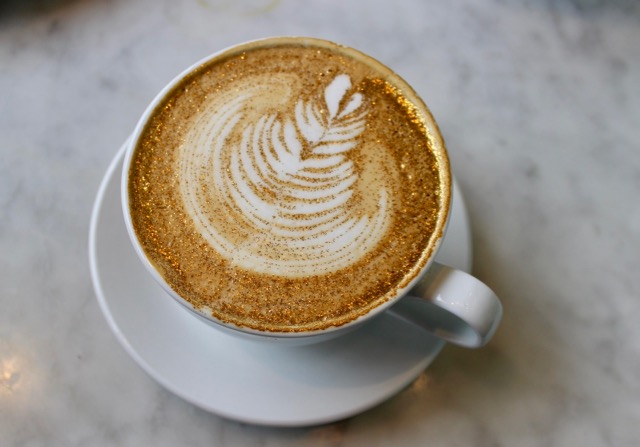 Once open, Goddess & the Baker will be open Monday through Friday from 7 a.m. to 8 p.m. and Saturday and Sunday from 8 a.m. to 6 p.m.
Lori Fredrich (Lo) is an eater, writer, wonderer, bon vivante, traveler, cook, gardener and girlwonder. Born and raised in the Milwaukee area, she has tried to leave many times, but seems to be drawn to this quirky city that smells of beer and alewives.
Some might say that she is a little obsessed with food. Lo would say she is A LOT obsessed with food. After all, she has been cooking, eating and enjoying food for decades and has no plans to retire anytime soon.
Lo's recipes and writing have been featured in a variety of publications including GO: Airtran Inflight Magazine, Cheese Connoisseur, Cooking Light, Edible Milwaukee, Milwaukee Magazine and the Milwaukee Journal Sentinel, as well as on the blog Go Bold with Butter, the web site Wisconsin Cheese Talk, and in the quarterly online magazine Grate. Pair. Share.