Milwaukee has numerous paint studios / bars but as of this week it is now home to a DIY craft studio / bar called Rec Room Craft Co., 219 S. 2nd St. in Walker's Point.
Rec Room Craft Co. offers about 20 different trending craft projects including leather travel tags or flask covers, string art, wood projects and air plant displays. The project options will change semi-often and people sign up online for open rec times.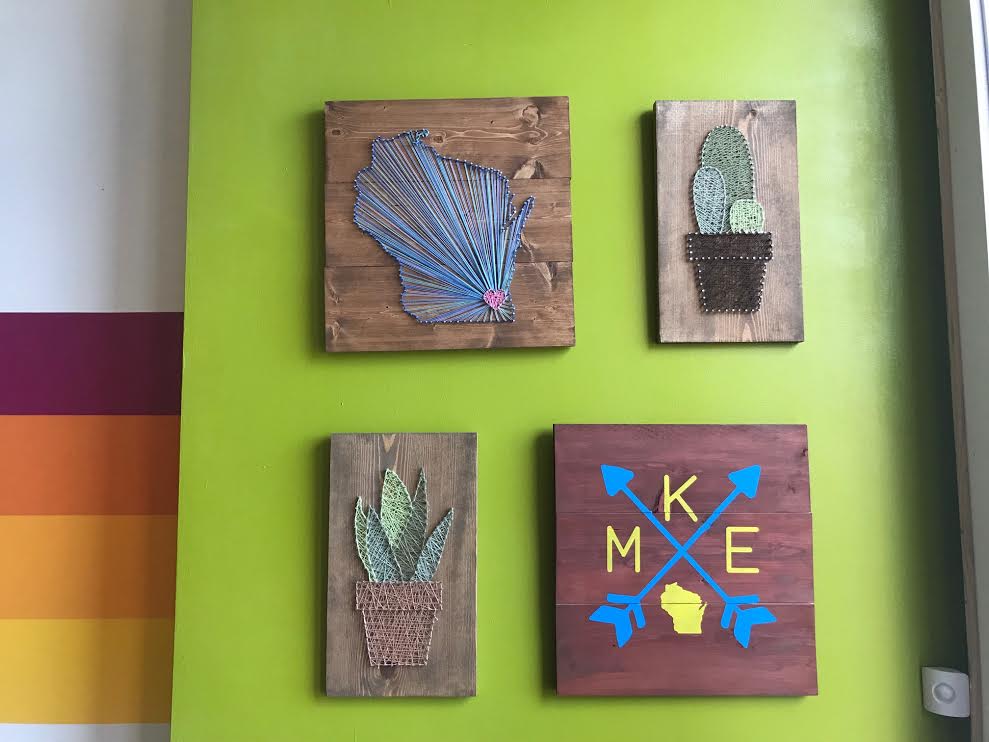 The projects – which range from easy-breezy to more focused – are $35 or $25 during happy hour, which is Wednesday-Friday from 3 to 6 p.m.
People pick a project, grab a drink and go to the second-floor studio to gather supplies from the craft wall and then create, chat and consume a drink or two.
They are given step-by-step instructions and a staff member will always be on site to help them find all of the materials, provide guidance if needed and refresh drinks.
"All of the projects are self-led and don't have to be the same. Someone could pick a leather project and their friend could pick a wood project," says owner Krista Bach. "And because of the wide range of materials, even if a couple or group picks the same project, no two will look the same."
Down the road, Bach will collaborate with local guest artists for special event project nights.
The bar features beer and primarily classic cocktails like Moscow Mules, Palomas and Dark 'N Stormies as well as mocktails.
Bach planned to open the bar, formerly the iconic Club 219 LGBTQ+ bar and venue that was in the space from 1980 to 2005, in October 2018. However, a disreputable and disappearing contractor set back the opening date by eight months.
"The slightly bright side is we did everything ourselves," says Bach. "It was hard, but appropriate that a DIY studio and bar turned into a huge DIY project for us. Plus, I was seven months pregnant and doing things I had no idea how to do before like staining floors for hours. I wore a mask."
Bach grew up in Racine where her mom owned an animation studio and her artistic grandma had a rec room craft studio which inspired the name of the studio and bar.
"Some of my best childhood memories are making things in my grandma's rec room. We'd go to Nelson's Dimestore in Racine and buy pom poms and popsicle sticks and put things together. From the time I was seven, I have always made gifts for people with supplies from Nelson's. I remember one of the first gifts I ever made were 'golf ball dogs' made with glued-together golf balls with golf tee 'tails' and googly eyes."
Rec Room's decor is vibrant, mid-century, tasteful and fun. A few of the items belonged to her grandparents like a massive lamp and a credenza that originally stood behind her grandpa's desk for decades.
Some '70s-looking wall paper and hanging pendant lamps (made by Bach) and a bold swoosh mural on the north wall contribute to a vintage-contemporary look and feel. There's also a framed photo of artist, stylist and drag queen B.J. Daniels during a performance at Club 219.
"I'm also obsessed with finding treasures from thrift stores," says Bach. "Some of the stuff I wanted for my house but my husband said it's too crazy so I brought it here."
Bach says the project would have been unmanageable if it weren't for the help of her husband, extended family, friends and YouTube.
"We YouTubed everything," says Bach.
Rec Room didn't open on schedule, but the process and the final results turned out to be deeply satisfying to Bach and all who were involved.
"I hope the love put into it shines through and that it's a happy and creative place for everyone who comes here," she says.
Follow Rec Room Craft Co. on Instagram.
Molly Snyder grew up on Milwaukee's East Side and today, she lives in the Walker's Point neighborhood with her partner and two sons.
As a full time senior writer, editorial manager and self-described experience junkie, Molly has written thousands of articles about Milwaukee (and a few about New Orleans, Detroit, Indianapolis, Boston and various vacation spots in Wisconsin) that range in subject from where to get the best cup of coffee to an in-depth profile on the survivors of the iconic Norman apartment building that burned down in the '90s.
She also once got a colonic just to report on it, but that's enough on that.
Always told she had a "radio voice," Molly found herself as a regular contributor on FM102, 97WMYX and 1130WISN with her childhood radio favorite, Gene Mueller.
Molly's poetry, essays and articles appeared in many publications including USA Today, The Writer, The Sun Magazine and more. She has a collection of poetry, "Topless," and is slowly writing a memoir.
In 2009, Molly won a Milwaukee Press Club Award. She served as the Narrator / writer-in-residence at the Pfister Hotel from 2013-2014. She is also a story slam-winning storyteller who has performed with The Moth, Ex Fabula and Risk!
When she's not writing, interviewing or mom-ing, Molly teaches tarot card classes, gardens, sits in bars drinking Miller products and dreams of being in a punk band again.