David Stearns officially took over as Brewers general manager on Oct. 5 and waited more than six weeks to make his first trade.
He liked it so much, he did it three days in a row.
Stearns had completed several minor transactions in his first month and a half on the job, but it wasn't until Wednesday, when he traded closer Francisco Rodriguez to the Tigers, that he'd made a significant move.
After dealing K-Rod, the Brewers traded twice more in as many days, sending minor-league pitcher Cy Sneed to the Astros on Thursday and infielder Luis Sardinas to the Mariners on Friday. In return, the Brewers acquired minor leaguers Javier Betancourt (from Detroit), Jonathan Villar (from Houston) and Ramon Flores (from Seattle).
If you haven't been able to keep up with all of Stearns' wheeling-and-dealing, here's a recap of what went down in the three trades, which are attempting to restock and revitalize Milwaukee's middling farm system.
Brewers trade Francisco Rodriguez to Tigers for Javier Betancourt and player to be named
What they gave up: In K-Rod, Milwaukee surrendered a veteran reliever who is the MLB's active leader in saves with 386, ranking seventh all-time. A fan favorite that was originally acquired in a 2011 trade, the 33-year-old Rodriguez was in his fifth stint with the Brewers, for whom he went 13-16 with a 2.91 ERA, 1.08 WHIP and 95 saves in 263 often-heart-racing appearances. He was selected as an All-Star the past two seasons and was brilliant last year, converting 38 of 40 save opportunities with a 2.21 ERA in 60 games.
What they got: Betancourt is a 20-year-old infielder from Venezuela who projects primarily as a second baseman. He was the 11th-ranked prospect in Detroit's farm system, according to MLBPipeline.com, but is No. 20 on Milwaukee's list. The right-handed batter is a career .281/.323/.364 hitter in four seasons in the minors, finishing last year at Class-A Lakeland with a .263/.304/.336 line and 48 RBI in 531 plate appearances. He's got virtually no power but is considered to be a smart player with a good defensive glove and average speed. Hopefully, he's better than the last Betancourt we had here.
What it means: In full rebuild mode, trading Rodriguez was a no-brainer for Stearns. The Tigers are reportedly picking up all of the $9.5 million Rodriguez is owed from the two-year contract he signed last season, so it's a valuable salary dump, as well. As for Betancourt, the Brewers have Scooter Gennett at second base and plenty of middle infielders in the system. But Stearns has said his goal is to acquire as much young talent as possible, and Betancourt has a chance to be a big-league second baseman. The player to be named later isn't likely to be a difference-maker.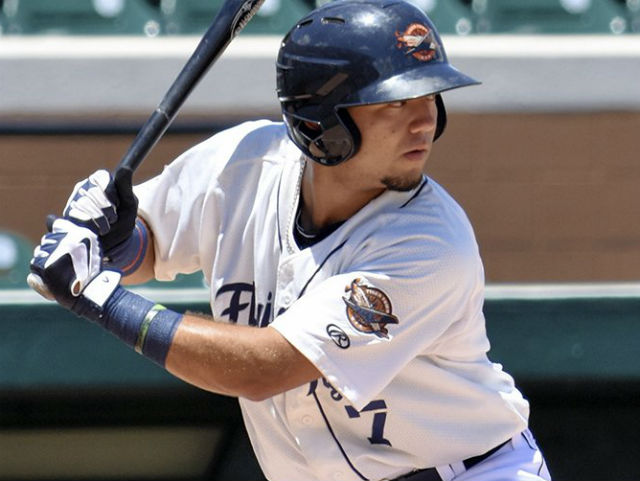 (PHOTO: MLB Pipeline via Twitter)
Brewers trade Cy Sneed to Astros for Jonathan Villar
What they gave up: Sneed, 23, is no one to sneeze at. The right-handed starter was a 2014 third-round pick who went 6-13 with a 3.30 ERA in 37 games (30 starts) over two seasons. The mustachioed Sneed split last year between Class-A Wisconsin and high Class-A Brevard County, going 6-11 with a 2.58 ERA in 26 games (24 starts). In his final outing for the Manatees on Sept. 4, he pitched seven shutout innings, allowing just four hits and three walks, and striking out a season-high 10 batters.
What they got: In Villar, 24, the Brewers acquired another middle infielder to add to their stash – pun intended – though he's played third base and outfield, too. A switch-hitting native of the Dominican Republic, Villar played in 53 games for the Astros last year – including 28 starts – and had a .284/.339/.414 slash line. Another player with little power, Villar batted .236 with 10 homers, 46 RBIs and 42 stolen bases in 198 major-league games with Houston over three years.
What it means: Stearns, who joined the Brewers from the Astros' front office, watched Villar in Houston for three seasons and praised his positional versatility. Stearns said he "absolutely" could be an option at third base, where the Brewers currently don't have much. Milwaukee added Villar to its 40-man roster, protecting him from December's Rule 5 Draft. Clearly, Stearns values him highly, because Sneed was a promising pitcher with a plus stache.

(PHOTO: MiLB via Twitter)
Brewers trade Luis Sardinas to Mariners for Ramon Flores
What they gave up: As mentioned above, Milwaukee had a glut of middle infielders and probably saw as much of Sardinas' potential as they thought existed last season. In two separate stints with the big-league club in 2015, the 22-year-old switch-hitter put up a meager .196/.240/.457 slash line with six walks and 25 strikeouts in 97 at bats. Acquired from the Rangers in the Yovani Gallardo trade, Sardinas had not been with the Brewers for even a full year. At Triple-A Colorado Springs, he had a .678 OPS in 103 games.
What they got: Originally signed out of Venezuela in 2008 at age 16, Flores is a career .275 hitter in the minors. Now 23, the outfielder had a .219/.219/.250 line with one extra-base hit in 33 plate appearances for the Yankees last season in his major-league debut. Traded to the Mariners at the deadline, Flores hit well for Triple-A Tacoma, putting up an impressive .423/.524/.654 line in 63 plate appearances. The left-handed hitter has a good understanding of the strike zone and makes regular contact.
What it means: Don't give much, don't get much. Despite being a slick fielder, Sardinas showed he wasn't ready to be – or couldn't be – a major-league offensive player. Flores, despite decent batting numbers, doesn't have enough pop to be a regular corner outfielder and is coming off a season-ending leg injury. Out of minor-league options, Flores was added to the Brewers' 40-man roster but probably only projects as, at best, a backup in the bigs.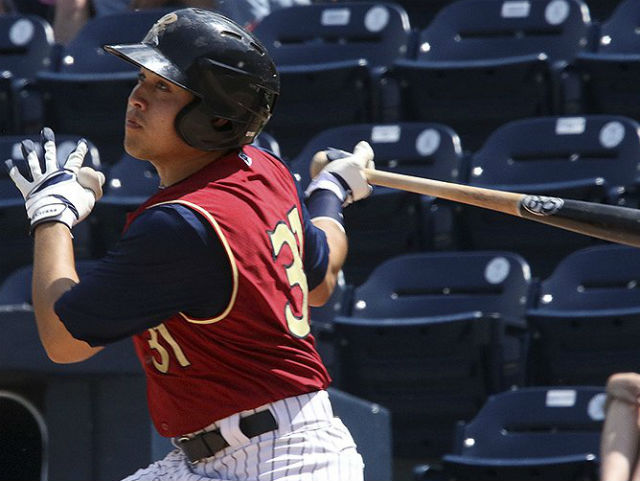 (PHOTO: MLB Pipeline via Twitter)
Born in Milwaukee but a product of Shorewood High School (go 'Hounds!) and Northwestern University (go 'Cats!), Jimmy never knew the schoolboy bliss of cheering for a winning football, basketball or baseball team. So he ditched being a fan in order to cover sports professionally - occasionally objectively, always passionately. He's lived in Chicago, New York and Dallas, but now resides again in his beloved Brew City and is an ardent attacker of the notorious Milwaukee Inferiority Complex.
After interning at print publications like Birds and Blooms (official motto: "America's #1 backyard birding and gardening magazine!"), Sports Illustrated (unofficial motto: "Subscribe and save up to 90% off the cover price!") and The Dallas Morning News (a newspaper!), Jimmy worked for web outlets like CBSSports.com, where he was a Packers beat reporter, and FOX Sports Wisconsin, where he managed digital content. He's a proponent and frequent user of em dashes, parenthetical asides, descriptive appositives and, really, anything that makes his sentences longer and more needlessly complex.
Jimmy appreciates references to late '90s Brewers and Bucks players and is the curator of the unofficial John Jaha Hall of Fame. He also enjoys running, biking and soccer, but isn't too annoying about them. He writes about sports - both mainstream and unconventional - and non-sports, including history, music, food, art and even golf (just kidding!), and welcomes reader suggestions for off-the-beaten-path story ideas.