Thanks to Milwaukee, the world knows that a bratwurst can run – but can a brat fly? Thanks to a team of brat-trepreneurial engineers and Red Bull Flugtag this weekend, we'll finally get an answer to this grand sausage link-quiry.
Before we bite into that question, though, let's answer the first obvious question: What the heck is Flugtag? For those who don't know, Red Bull Flugtag – which roughly translates to "flight day" – is a comical competition where teams create homemade human-powered flying machines to launch off a platform. Each craft comes with a little pre-flight entertainment, often complete with choreography and costumes, before taking off and either immediately collapsing into the water below or soaring in the sky … and then collapsing into the water below. It's great entertainment; the Wright Brothers would be proud.
Red Bull Flugtag's flown across the globe – including London, Chicago, Hamburg, Austin, Wellington, Miami, Oslo and many more – and for the first time, it'll land in Milwaukee for a festival of falling-with-style, hosted at Veterans Park on Saturday, July 16, at 1 p.m.
In total, 34 teams from around the Midwest will splash down on Saturday, each with their own theme and creative aircraft – from a Viking-inspired ship to a giant flying deer. The one that caught our eye (and stomach) the most, though? Flying Schmeat: a winged wurst cooked up by recent UW-Madison grads Anthony Balistreri, Quinn Brousseau, Kosta Katsoudas, Max Johnson and Jake Boyarsky.
Before this weekend's tantalizing takeoff and mouth-watering water landing, we grilled Milwaukee-based team members Balistreri and Brousseau about how they plan to meat the challenge and – most important – if their giant frankfurter will actually fly.
OnMilwaukee: When did you discover this absolutely bizarre event?
Anthony: It must've been maybe, like, two months ago maybe? A month and a half ago?
Quinn: It was like a couple weeks before the deadline.
Anthony: We'll say about two months just to be safe. I saw an ad on Facebook for it. I've always watched the videos of Flugtag happening, so as soon as I saw the Facebook ad – and that it was coming to Milwaukee – I contacted all of my friends and asked if they wanted to do this. And here we are.
So why a flying brat?
Quinn: I think the most exciting thing, at least for me, when we first heard about it was that it was happening in Milwaukee. You read about it, and it's happened in Vienna and San Francisco and Germany and all these other places – and now it's coming to Milwaukee, which is not a super well-known, large city. So we really felt the need that, because it was coming here and because we had this great opportunity to participate, we wanted to really represent our city in the best way possible: with a flying brat.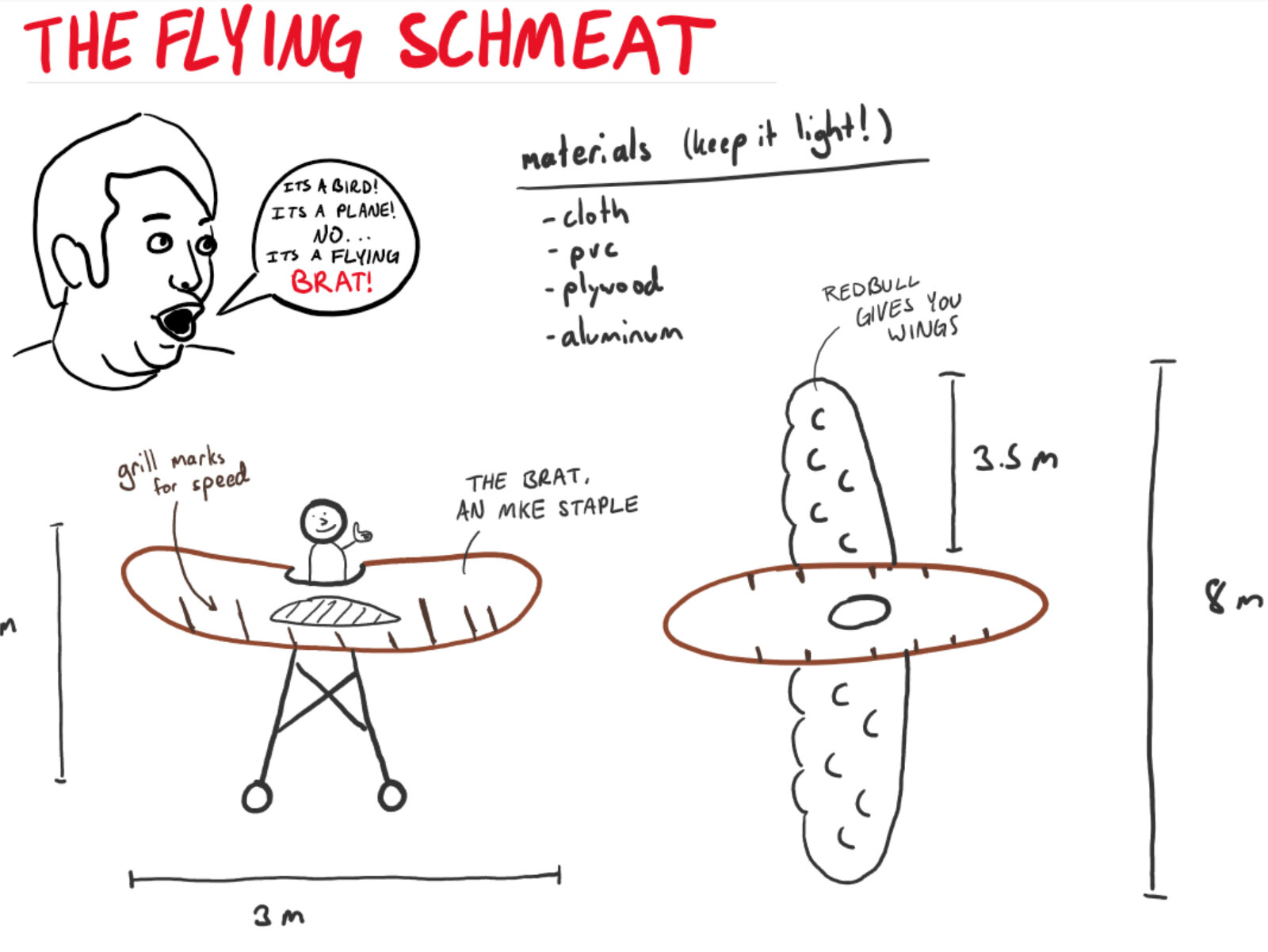 How did you go about building and engineering your flying bratwurst?
Quinn: It was a challenge, because none of us are by any means aerospace engineers or really have any experience building these kind of machines. When we first found out we were going to be a part of this, we talked to some of our peers; we have some friends who have some experience in aerospace engineering. And then of course watching videos on the internet, seeing what other people did. But a lot of it was just us figuring it out as we went along. We knew what we wanted to do, and we have found the best way to do it with the few tools that we have.
What is the flying brat made out of?
Anthony: They're actually pretty liberal. You're allowed to use pretty much whatever you want, as long as it's safe – so all metal and wood that's exposed has to be covered up by cushioning. So we're using pool noodles to do that.
Ours is made of plywood and insulation foaming for the wings, and then some two-by-fours here and there and some PVC for the frame. Then, for the actual brat shape, we have massive Styrofoam blocks, and we're gonna carve out the brat. And when I talk about massive Styrofoam blocks, I mean they're probably about nine feet by four feet by four feet. Just huge.
So this is going to be a big brat.
Anthony: Oh yeah. Sixteen feet long and two feet wide.
Now, there's usually choreography and costumes that go along with this as well. Have you figured that all out as well?
Quinn: So this is probably pretty predicted, but we did all get hot dog outfits for when we do our performance. We've chosen to theme it around "Mission Impossible"/James Bond-type fights. We've received a mission to fly this brat into the lake. We've hired someone to do a voiceover for it, we edited it with music and we're gonna do a little show for you guys before the actual flight. We're looking forward to it.
What's the hardest part: the figuring out the choreography or the building of the brat?
Anthony: I think the building the brat, by a long shot. We've been putting some serious engineering into it, like actually calculating how long the wings should be to get the right amount of lift. I think the choreography's probably gonna come second.
Quinn: The choreography and that stuff has come pretty easy. Doing calculations and engineering and building is all pretty new to us, but goofing off comes pretty naturally.
So is this brat gonna fly?
Anthony: Oh absolutely. Our plan is at least three-quarters the way to Michigan. By the time we get off the platform, the amount of lift we'll have will send Quinn soaring. We're actually fearing for his safety because he might end up in the middle of Lake Michigan, and we don't know how we're going to get him back.
You're a brave man, Quinn.
Quinn: Yes, thank you. But if the calculations are wrong and we don't end up flying throughout the air straight to Michigan, we hope to at least fall gracefully.
For more information on Red Bull Flugtag, click here.
As much as it is a gigantic cliché to say that one has always had a passion for film, Matt Mueller has always had a passion for film. Whether it was bringing in the latest movie reviews for his first grade show-and-tell or writing film reviews for the St. Norbert College Times as a high school student, Matt is way too obsessed with movies for his own good.
When he's not writing about the latest blockbuster or talking much too glowingly about "Piranha 3D," Matt can probably be found watching literally any sport (minus cricket) or working at - get this - a local movie theater. Or watching a movie. Yeah, he's probably watching a movie.