"This was an old school strip mall," says Marty Beaudoin as we walk through the former Red Dot building at 6715 W. North Ave. in East Tosa.
"You can see the building is cut up into four units."
I invited myself over to see the place, built in 1928, before it comes down to make room for Beaudoin and his Red Dot co-owner Anthony Lampasona's new mixed-use development on the site – which you can read more about and see renderings of here – and Beaudoin gave me what he jokingly called, "the nickel tour."
Though the stout, one-story building isn't exceptionally beautiful, it does carry a quadruple load of hyperlocal Tosa history – which we'll get into in a minute – because of those four retail spaces.
But first, how did we get here?
It started May 7, 2018, with a disused whirlpool bathtub in a small apartment at the back corner of the building.
The apartment on the southwest side of the building was used as offices and kitchen prep space for Red Dot. On the other side of the wall from the restaurant kitchen was an old bathroom for those living quarters.
"We used it as employee bathroom and it had one of those whirlpool tubs, but we didn't use it – nobody would take a shower here," says Beaudoin as we gaze upon the ruins of the bathroom, with smoke and water damage, gaping holes in floor and walls.
When someone was cleaning the bathroom, they flicked a switch thinking it was for the light.
"She was trying to turn off the light," says Beaudoin. "So she hit the switch and was like, 'Why doesn't this light turn off?' So, finally, she just walks away and forgets about it.
"The switch turned on the jets for the whirlpool tub. There was no water and it hadn't been turned on for, who knows, eight, 10 years? The jets should have had their own fail-safe turn-off switch, but it didn't, so the motor just heated up and ... that's how the fire started."
The tub ended up falling through the floor and the fire began to spread. The damage looks much worse inside the building than from outside.
"It's the water damage and it's the smoke everywhere," says Beaudoin, who initially planned to fix the damage and resume operations, after a temporary fix that would've allowed Red Dot to operate just as a bar in a smaller footprint while the damage was repaired.
"We started that," says Beaudoin, showing me some of the work he'd begun. "I had a server area in here, I took out all the ceiling and we thought, 'OK, this would be cool for the summer. We'll just have a nice bar.' I had the ceiling all painted and everything and then finally I'm just like, you know what, I don't want to do it. Let's come up with a solid idea, instead of hurry-everything-up just to get the bar open and then work on the kitchen.
"After a while, me and Anthony ... decided to pull the plug. My walk-in coolers were old; some of them were ancient and needed to be rebuilt. Am I going to stick another bunch of money into an old building (that's) kind of cool, but in a sense is just an old building? It's just a box."
Instead, the two turned to the idea of rethinking the entire space.
"We're in a unique situation," he says. "We own two thirds of a block (note: they also own the adjacent laundromat) in a pretty hot spot."
After some back and forth with the City of Wauwatosa on the scale of the project, Unity in East Tosa is about to become a reality.
A little history
Though no permit for the construction of the building appears to exist anymore at Wauwatosa City Hall, a source at the Tosa Historical Society suggests the permit was dated 1928, which jibes with when the first occupants began to appear in city directories.
Though the same source references a "Berwyn Lawns Grocery" having been in the building, I found no references to a business by that name anywhere I looked. Berwyn Lawns is a subdivision further west, between North Avenue and Wright Street, from 82nd to 86th Streets.
Because the building was, as Beaudoin suggests, something of an early version of a strip mall, it was, in fact, divided into four roughly equal size spaces, with four separate street addresses. The easternmost space, then at 281 North, but later 6713 W. North Ave., had a small apartment in the rear.
The result of this layout is that there were many tenants over the years – too many to make for any kind of compelling reading, so I'll be as brief as possible, starting with 6713 (pictured below), which remained a distinct, separate space the longest.
The earliest tenant was a Guy Pritchard, who, according to the 1932 city directory, ran a grocery in that space – perhaps this was the Berwyn Lawns Grocery. Pritchard appears in the 1930 census living on Moltke Avenue, in the nearby Milwaukee neighborhood of Lenox Heights, and running a grocery – though the business location is not listed.
By later in 1932, Max Fooden's Bungalow Tailors was there and according to a newspaper ad, the laundry and tailoring business was part of a confederation of a handful of similar businesses around the city under the banner of Economy Cleaners, headquartered at 22nd and Wells Streets.
It appears that Fooden and his wife, Della, and daughter, Rosalie, lived in the small quarters behind the shop, and remained there until 1946, when Walter Shawlin Jr. opened the Tosa Sport Shop there, selling fishing rods, outboard motors, guns and other sporting goods.
Again, the Shawlins, who had a 12-year-old son, lived on-site, as did Fred Raynor, who took over the shop in '49, and Harvey Stroud, who bought the business in '51. Over the years, it seems Tosa Sport Shop expanded to include golf equipment and toys, too.
It closed, however, around 1961 and was briefly replaced by Don McDougall's TV and radio repair shop, which gave way to perhaps the space's most interesting tenant.
As short-lived as McDougall's business, Tiny Tot's Toys was run by Arnold Riley, who lived in back with his wife and infant son, Arnold Jr.
Riley and his brother Bruce were in the business of making durable and engaging toys and learning materials out of solid maple in woodworking shops in a pair of two-car garages.
Riley had worked for the WPA Handicraft Project, designing and making toys for local day cares and nursery schools. According to a UWM site for an exhibit on the project, "All of the WPA nurseries in Wisconsin, Iowa and Kansas were equipped with Milwaukee toys, and sample sets of toys were sent to Michigan, Illinois and Missouri. Kindergarten teachers from all over the country ordered toys from the project."
Riley got into the business as a hobby, he told the newspaper, when folks started asking him for toys for their kids. Because the WPA program could only supply such items to nonprofits, Riley started making them on the side in his spare time.
"Now things have gotten to the point where the hobby is turning into a business," he said.
Riley made steering wheels mounted onto a block, giraffe-shaped slides, math sticks (blocks with numbers) and sentence blocks that, from gritty old newspaper photos look a bit like Montessori materials.
After a brief stint as home to John Schank's Dan-Dee Office Equipment shop, Milo Janzer moved his barber shop into 6713 in 1964 and stayed until 1972, at which point the apartment was occupied sporadically by a variety of tenants until Shepherd's in Tosa opened in 1984 and took over the space.
Meanwhile, 6715 (originally 279), which served as the main entrance to Red Dot, has pretty much always been home to a tavern and, later, bar and restaurant.
"The bar was here (when we got here)," says Beaudoin, "and it was original." The vintage backbar, which survives, definitely looks original. Beaudoin added the bartop covered in pennies, which has been saved.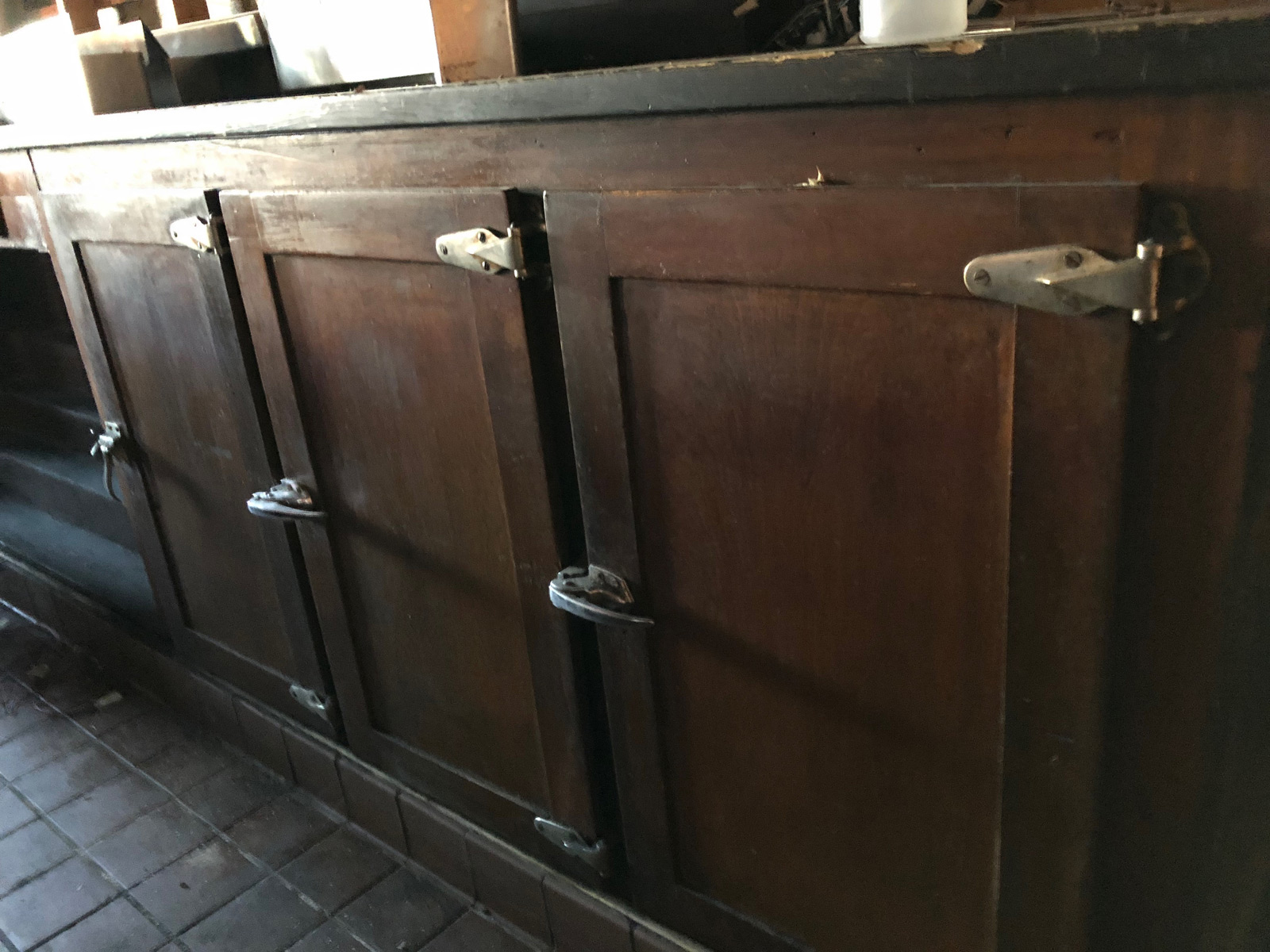 Floyd Hixson, a former tractor mechanic who lived with his wife Cecelia, and their three kids on 67th Street, just south of Milwaukee Avenue, opened Hixson's after the repeal of Prohibition and stayed put for more than a decade.
A bulky fella with short, dark hair, Hixson – who had married Cecelia in Butternut, in Ashland County, in 1923 – became involved in the neighborhood, too, co-founding the North Avenue Civic Club in 1937, with 60 nearby business and professional men, who elected him VP of the club at their first meeting.
In 1946, Hixson also took over the restaurant at the far west end of the building and, the following year, expanded it into the space in between, connecting it to the bar.
Permits from '47 show that Hixson not only pulled a permit to make those interior openings and relocate a staircase to the basement, but also added the cinder-block addition (pictured above) to the back of the west end of the building, where he put another apartment – the one where last year's fire started.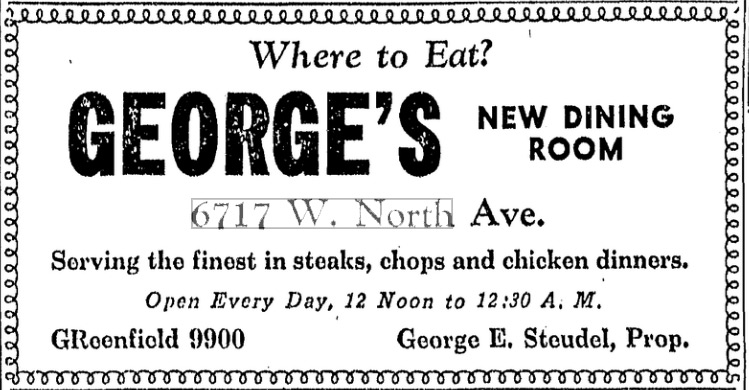 But almost immediately, Hixson sold out to George Steudel, who renamed the place George's Bar and George's New Dining Room, where he began "serving the finest in steak, chops and chicken dinners," daily from noon until 12:30 a.m.
From this point on, the businesses at 6715 and 6717 (which had previously been home to a general contractor's office, a bakery, Nathan Zimel's shoe repair shop, Irma T. Eckardt's gift shop and Benduhn water softener company) are one and the same.
Around 1951, the restaurant was renamed Tosa Cafe and had been taken over for a brief run by William Christie, who sold the lease to Max Hammes around 1954, who tinkered the name to Tosa Coffee Shop before selling the lease to Dorothy Wojciechowski, who renamed it Dorothy's Tosa Cafe, and moved into the apartment with her husband Andrew and their kids.
Tragedy struck when Andrew, aged 48, and their son, Charles, 20, died in 1959 and 1960, respectively, but Dorothy continued to serve food and "Ho-Made Pies" in the cafe until 1965, when Pete Patterson took over and ran it until 1974.
Patterson, in turn, sold to Greek immigrant Anna Tsevas, who had previously run a restaurant at 820 N. 27th St., around the corner from her home on Wells Street, and who moved into the rear apartment with her husband, Gust.
Later, after Tsevas renamed her place Wauwatosa Gardens in 1976, Patterson would open another Tosa Cafe, further east on North Avenue.
By 1980, Anna and Gust Tsevas renamed the place G&A Tap, but three years later, John Stannell, Bill Tuczynski and Mike Shepherd bought it and renamed it Shepherd's, combining all four spaces into one.
Meanwhile, on the far end, at 6719 (originally 275), before Hixson took over, the space started out as home to Chester Manhardt's Storage and Transfer Co., which sent semi trailers around the country dropping off and picking up loads in places like Duluth, Chicago, Sioux Falls, Springfield (Illinois), La Crosse, Madison and Oshkosh.
After Manhardt left in 1935, George Starr briefly ran a sweet shop before Adeline Youngman opened her restaurant there in the late 1930s, before selling out to Hixson.
It appears that a Thomas Garland operated the restaurant here briefly before it was converted into offices and rented to Veteran Realty Co., which stayed only a couple years before making way for the Culver Cub Shoe Store, which sold "correct and corrective" shoes for kids.
Based in Poneto, Indiana, the business was founded by Milwaukee native E. M. Culver.
With 30 stores under its belt, the company decided to open two at the same time here, the other was called Cinderella House, located at 1424 W. Vliet St. Culver's daughter Elaine, an executive in the business, visited Milwaukee and Wauwatosa for the grand openings in July 1950.
But by 1951, the store was vacant.
Afterward, Hoff's rented the space to clear out its stock of Maggie the Telemagnet telephone answering machines, acquired after the "former distributor ... found that Uncle Sam (wa)s calling him into service; entire stock of telephone answering machines must be sold immediately at a sacrifice. Formerly $329, now $145."
If you wanted one, you were urged to, "Call now and," of course, "leave your name and number," presumably with Maggie.
Around 1954, Eugene Weisflog opened the Hobby Hut in the storefront.
According to a newspaper report, Weisflog, who had attended Washington High School, "was well-known in hobby circles and helped sponsor children's hobby groups. He began operating the hobby shop while still a switchman for the North Western Railway."
He quit the railroad in 1956 to focus on the shop. When Weisflog died four years later, his widow, Esther, briefly kept it going before closing and making way for Tosa Variety, which was replaced in 1964 by Robertson Insurance Co., which stayed until 1970.
Like the space on the opposite end of the building, the store then sat empty while a line of tenants came and went in the apartment, until Shepherd's arrived in the 1980s.
Shepherd's – a neighborhood sports bar – became a well-known East Tosa spot and hosted dart leagues in the former apartment behind 6713, which was opened up to the bar in 1985.
Shepherd's had an impressive nearly 30-year run.
Beaudoin and his wife Claudia, who were running Red Dot on the East Side, bought the bar and restaurant in 2012 and reopened it as the Sherbrooke – bringing poutine to Tosa (Beaudoin's a native of Quebec) – but soon renamed it Red Dot before closing the East Side place to focus on Tosa.
There they built a patio, ran the adjacent laundry and hosted live music. Lampasona became a partner in 2016 when he invested to help build out a live performance space (pictured below) in the former 6719 storefront.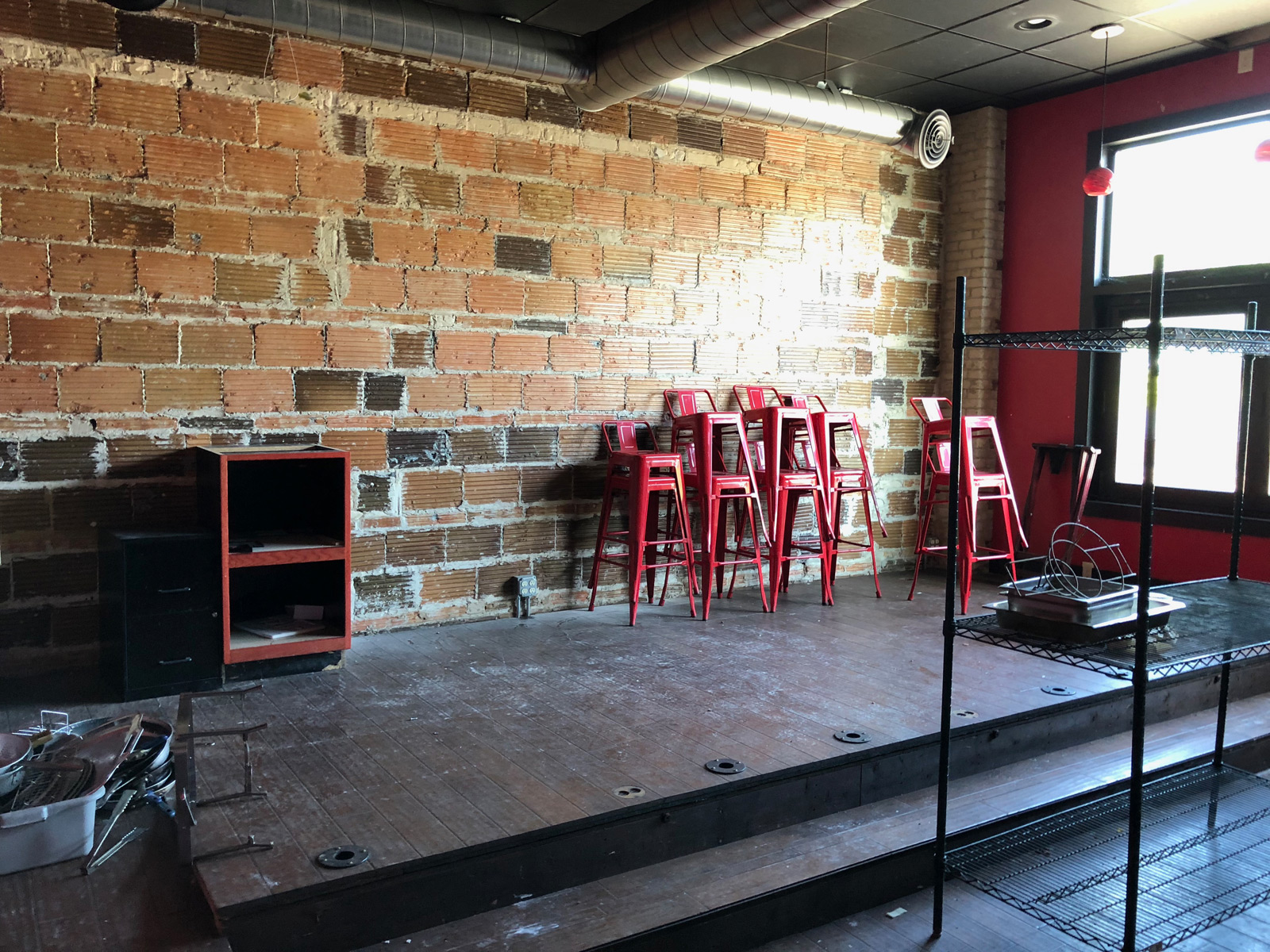 Thanks to his connections, Red Dot hosted a number of wowsa parties featuring national artists like Sponge, Public Enemy and Run-DMC, drawing big crowds and creating quite a buzz.
And then the fire started.
What's next?
The current building's days are numbered and its owners are taking the steps required to move forward.
"We've submitted drawings to the city," says Beaudoin, "and they came back and said, 'Hey, we need some more information.' We've provided that and so we're waiting to get the go-ahead from them, but we're meeting with contractors and bankers and stuff.
"We want to break ground this year," he says, adding that he expects the project to be complete by early next summer.
Beaudoin says that the project initially called for 21 apartments, which would've required a zoning variance from the city, but now that it's scaled back, Unity no longer requires that permission.
"We don't need anything from the Common Council," he says. "The only variance that we applied for was a landscape variance."
If you're wondering about a new Red Dot run by Beaudoin in the Unity's ground floor commercial space, he promises, "There will be a restaurant and probably a bar. My involvement might be that I hold a liquor license ... that's kind of important."
Born in Brooklyn, N.Y., where he lived until he was 17, Bobby received his BA-Mass Communications from UWM in 1989 and has lived in Walker's Point, Bay View, Enderis Park, South Milwaukee and on the East Side.
He has published three non-fiction books in Italy – including one about an event in Milwaukee history, which was published in the U.S. in autumn 2010. Four more books, all about Milwaukee, have been published by The History Press.
With his most recent band, The Yell Leaders, Bobby released four LPs and had a songs featured in episodes of TV's "Party of Five" and "Dawson's Creek," and films in Japan, South America and the U.S. The Yell Leaders were named the best unsigned band in their region by VH-1 as part of its Rock Across America 1998 Tour. Most recently, the band contributed tracks to a UK vinyl/CD tribute to the Redskins and collaborated on a track with Italian novelist Enrico Remmert.
He's produced three installments of the "OMCD" series of local music compilations for OnMilwaukee.com and in 2007 produced a CD of Italian music and poetry.
In 2005, he was awarded the City of Asti's (Italy) Journalism Prize for his work focusing on that area. He has also won awards from the Milwaukee Press Club.
He can be heard weekly on 88Nine Radio Milwaukee talking about his "Urban Spelunking" series of stories.