When a restaurant has been around as long as The Red Mill inn & Pizza, 1005 S. Elm Grove Rd. in Brookfield, memories practically seep from the walls.
"My grandmother used to live a couple of blocks from here, and she always told stories about how they'd line up down the street for the Friday fish fry," says Mark Zierath, who purchased The Red Mill with business partner Brian Eft this past September.
And while the partners have shifted the focus of the previous supper club menu, introducing an Italian American spin, Zierath says the intention is to offer something new to the largely residential neighborhood.
"When we bought it, our intention was to maintain the Red Mill tradition as best we could, while putting our own spin on it," he says.
Building on history
The core of the building, which houses the kitchen and the bar of The Red Mill, was built in 1847. Over the years, it functioned as a stage coach stop between Milwaukee and Madison and – like so many similar venues of the day – as a brothel. By the 1930s, the building evolved into a retaurant which was owned and operated by a succession of owners including Tom and Katie Halker, who not only served up a menu of steaks, sandwiches and classic desserts like schaum torte, but made the spot into a haven for live jazz music.
Most recently, the historic venue was owned and operated by Butch Schettle, a restaurateur known for restaurant's like Butch's Clock Steak House and Butch's Old Casino Steak House. Under his ownership, the bar and restaurant took on the name Butch's Red Mill Pub & Eatery.
Schettle closed the Red Mill in August 2019, turning the keys over to Eft and Zierath, veteran operators who also purchased and reopened another iconic Milwaukee area venue, Von Trier on the East Side.
Walk through the bar and you'll still hear the charming creak of hard wood floors beneath your feet. The interior is still rough hewn and decorated with antiques, and the tradition of Friday night fish fry is still going strong.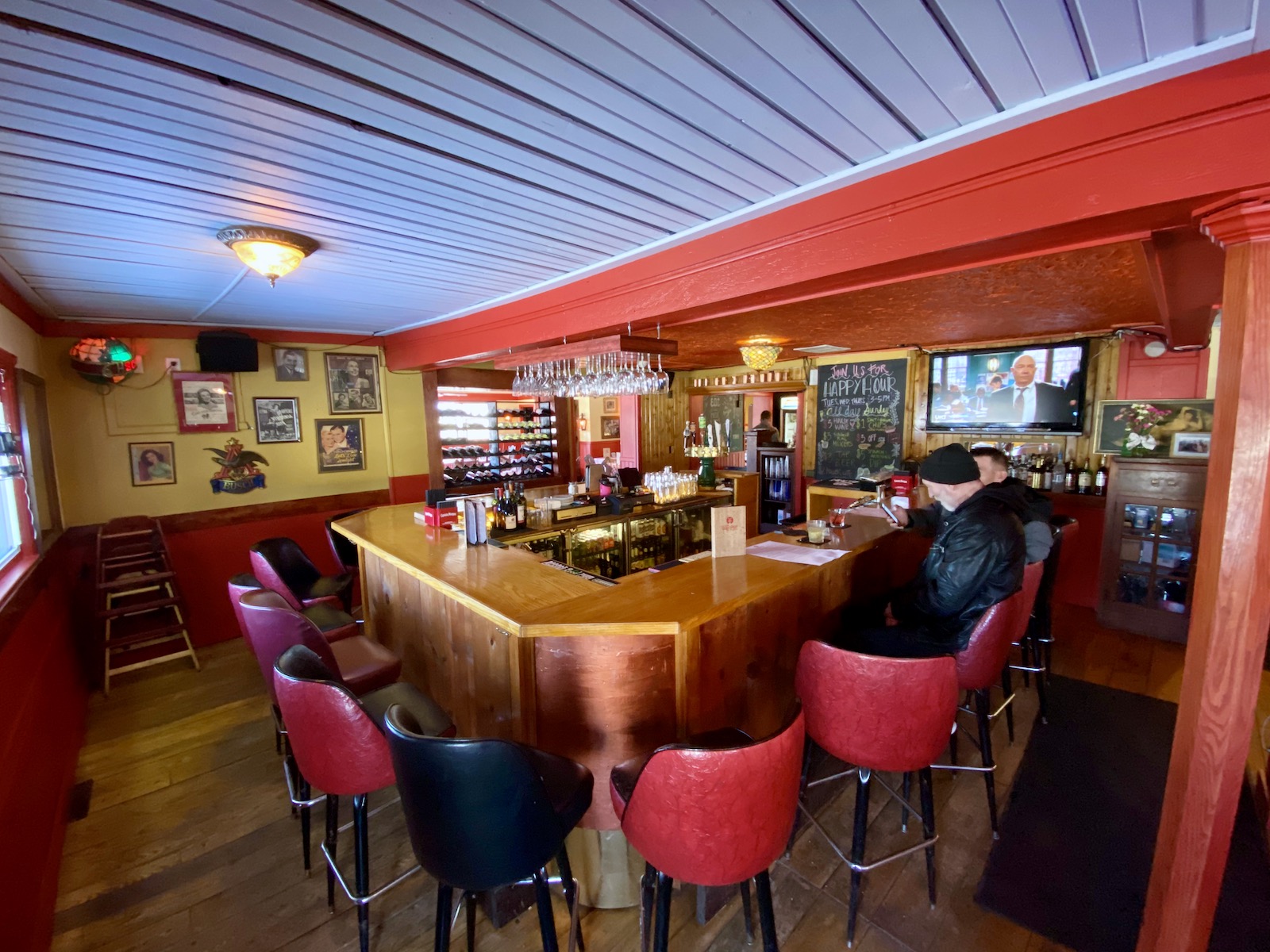 But the burst of red paint on the walls and checkered tablecloths on the tables in the dining offer queues that the historic restaurant has yet again taken on a new role, this time as an Italian-American-inspired family restaurant.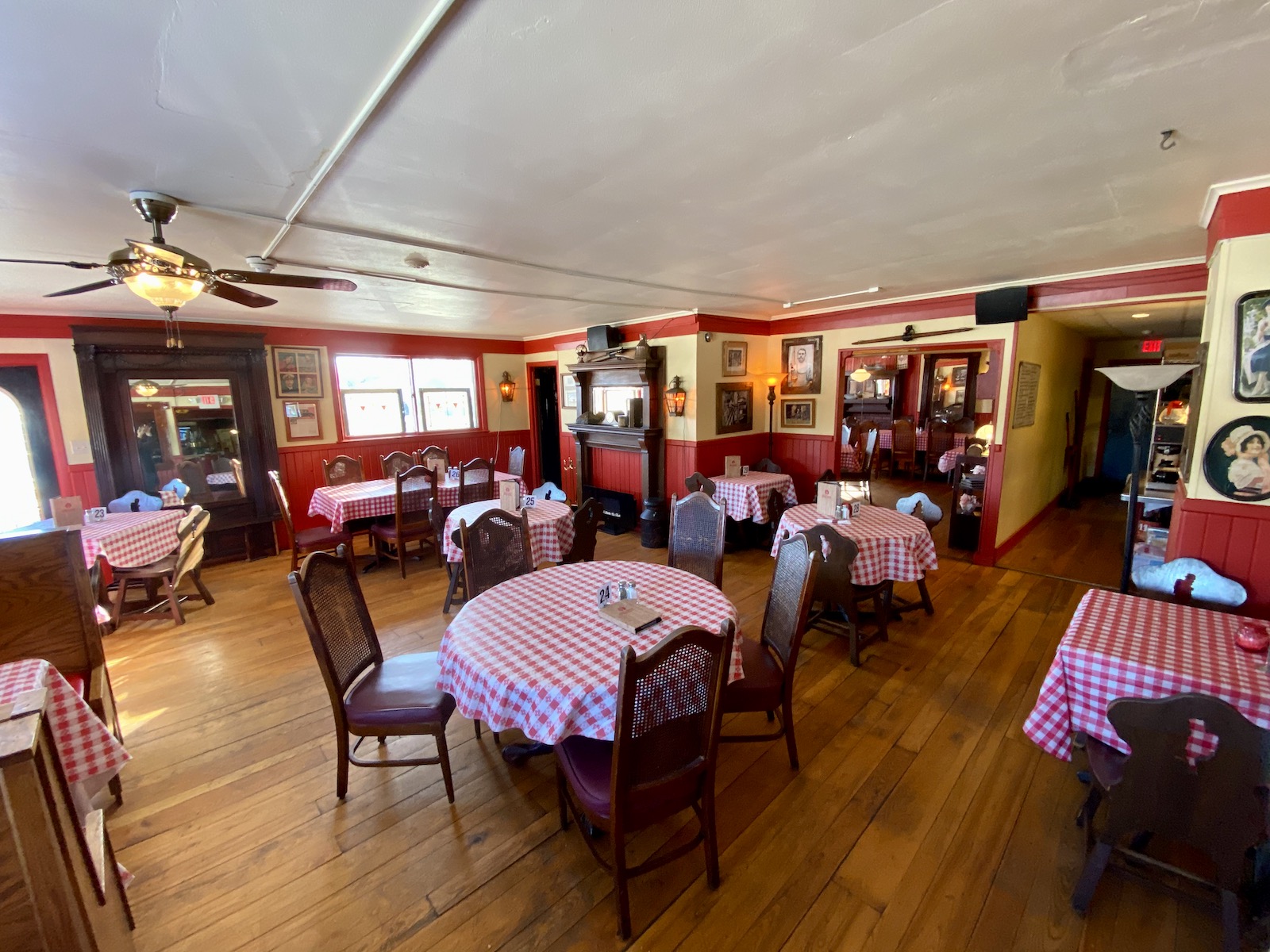 Apps, salads, pasta
Since reopening in January, the restaurant has begun to settle in. The menu has expanded to include a variety of new items, and both the kitchen and wait staff have had a bit of time to find their stride.
Head to The Red Mill this week and you'll find Chef Christopher Rolfson in the kitchen whipping up appetizers like dischi di mozzarella fritta, rounds of mozzarella which have been breaded and fried and are served with marinara sauce ($8); baked spinach artichoke dip with crostini ($9) and fried eggplant parmesan sticks with marinara or alfredo sauce ($9).
The house garlic bread is soft and crisp, made with freshly baked bread that's generously swathed in garlic and butter ($5).
There are entree-style salads including classic Caesar, chop salad and caprese ($8-$10) and a variety of pasta dishes from spaghetti with housemade meatballs and marinara ($14) and baked lasagne ($15) to romesco mac & cheese with housemade romesco sauce, mozzarella and cheddar cheeses ($13); chicken parmesan with linguini ($14) and a ravioli of the week (pricing varies). Pictured: mortadella and prosciutto casoncelli with marinara sauce.
Thin crust pizza
And there is pizza, made with a recipe that was developed with the help of Dax Schaefer, a chef who worked with Eft at the Chancery before assisting Joe Bartolotta with the opening of Ristorante Bartolotta in 1993 and eventually transitioning into product development.
"He volunteered his time," says Eft. "And we spent two months working on the crust, getting it to the point where it was exactly where we wanted it."
The thin, crisp crust is made from dough that's treated to a 48 hour ferment before being put through a sheeter, topped and baked.
Specialty pizzas include the Meet Meat with red sauce, pancetta, Italian sausage, meatballs, pepperoni, hot Tuscan sausage links and mozzarella ($18/$23); Chicken Florentine with white sauce, tomatoes, radishes, spinach, chicken, mozzarella and parmesan ($16/$23); and Margherita with olive oil, Roma tomatoes, fresh mozzarella, basil and balsamic reduction ($16/$23);
Guests can also build their own pies, choosing from a variety of toppings including Italian sausage, pepperoni, bacon, hot Tuscan links, meatballs, shrimp, anchovies and chicken along with a laundry list of vegetables including mushrooms, onions, olive spinach, eggplant, basil, artichokes and peppers.
Fish fry, brunch & more
On Friday evenings, the restaurant offers an abbreviated menu which includes a classic fish fry featuring Peroni beer battered cod with coleslaw, a rye bread stick and a choice of fries, housemade salt and vinegar chips or pasta salad ($12, $15 for large portion). Potato pancakes, clam chowder or salad can be substituted for an additional $2. There's also baked cod with Mediterranean tapenade served with a choice of salad, pasta salad or chowder ($14).
You'll also find a nod to the past during brunch when The Red Mill features live jazz music along with a buffet filled with a combination of European treats like antipasti, rustic bread, jams, meats and cheeses along with egg dishes, pizza breakfast sandwiches and other Italian-inspired options ($11 for adults, $6 for kids). Brunch drinks, including bloody marys and mimosas are also available.
Beginning this spring, The Red Mill will roll out lunch service with a menu featuring items like a Sicilian steak sandwich, Italian beef, burgers (including bomb burgers wrapped in pizza dough), wraps (including vegetarian and vegan) and wings.
Zierath says he's also hoping he'll get approval to add a deck to the front of the restaurant which will allow al fresco dining during the summer months.
The Red Mill Inn & Pizza is open Tuesday through Thursday 3 to 9 p.m., Friday and Saturday from 3 to 11 p.m. and Sunday from 10 a.m. to 8 p.m.
Lori Fredrich (Lo) is an eater, writer, wonderer, bon vivante, traveler, cook, gardener and girlwonder. Born and raised in the Milwaukee area, she has tried to leave many times, but seems to be drawn to this quirky city that smells of beer and alewives.
Some might say that she is a little obsessed with food. Lo would say she is A LOT obsessed with food. After all, she has been cooking, eating and enjoying food for decades and has no plans to retire anytime soon.
Lo's recipes and writing have been featured in a variety of publications including GO: Airtran Inflight Magazine, Cheese Connoisseur, Cooking Light, Edible Milwaukee, Milwaukee Magazine and the Milwaukee Journal Sentinel, as well as on the blog Go Bold with Butter, the web site Wisconsin Cheese Talk, and in the quarterly online magazine Grate. Pair. Share.