This afternoon we stopped in at the Reginald Baylor Studio, 211 W. Florida St., to check it out and chat with the owner, Reginald Baylor, who is known to most as Reggie.
The studio is spacious, illuminated by natural light and the walls are adorned with Baylor's colorful work. It feels like an art gallery, but it's not. It's much more than that.
"It's more inclusive of all the concepts I'd like to develop," says the causal-yet-dapper Baylor. "Not just my paintings and artworks."
The Reginald Baylor Studio sells art and art products – Baylor's fine-art coloring books, for example, are available – and will represent other artists within the next year. Marketing, event planning and special commissions are also on the studio's palette of possibilities.
"I've always done a little bit of this, but now, it's in the forefront. People have always associated me with my paintings – not marketing concepts and services – but that's what I am growing into," says Baylor.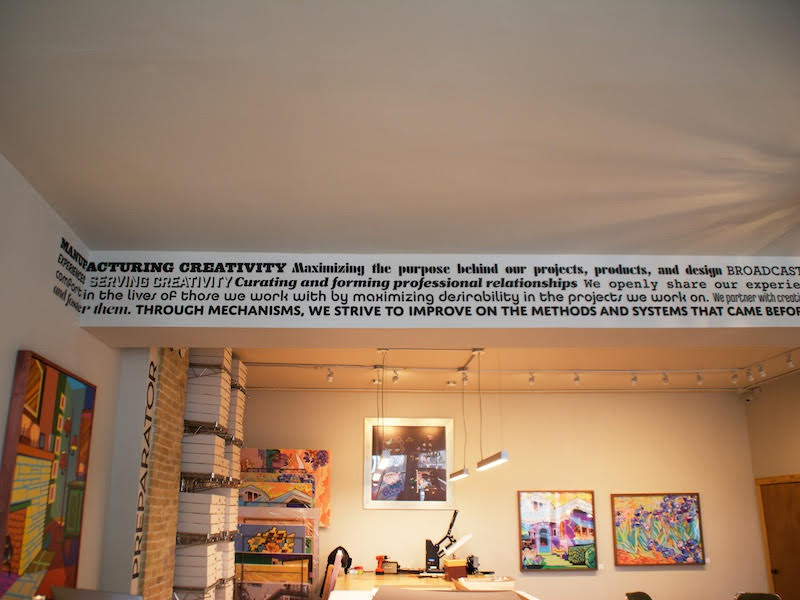 The Reginald Baylor Studio's tagline is "We Design Creativity," which might sound abstract, but actually concisely describes the business' mission.
"It means we're a design firm that provides creative services to any individual, group or business in need whether it's a product, experience or marketing concept," says Baylor, who officially opened the doors to the public this past weekend. "If someone says they need to find a way to be more creative, that's what we do."
Prior to moving to his current space, Baylor worked from a studio in the Third Ward's Marshall Building. Before becoming a full-time artist in 2007, Baylor was the owner and operator of a trucking company. The silhouette of a truck serves as his logo today.
"Just in case this doesn't work out it's nice to know there's something else I know how to do," Baylor says with a chuckle.
Baylor was born in Milwaukee and graduated from the University of Wisconsin-Oshkosh and later moved to southern California where he worked worked for the Laguna Beach Art Museum and Newport Beach Art Museum. It was during this time that Baylor started to use masking tape as the medium for his work which he would later become known for worldwide.
Baylor moved back to Milwaukee in 1998 and exhibited his art in numerous museums and galleries. He was the first Artist in Residence at The Pfister Hotel and also served as a resident artist at Ragdale in Lake Forest, Illinois.
Today, at the Reginald Baylor Studio, Baylor works with a small internal team and serves as an independent contractor for myriad skilled and creative experts.
"We're in phase one right now," says Baylor. "There's a lot more to come."

Molly Snyder started writing and publishing her work at the age 10, when her community newspaper printed her poem, "The Unicorn." Since then, she's expanded beyond the subject of mythical creatures and written in many different mediums but, nearest and dearest to her heart, thousands of articles for OnMilwaukee.

Molly is a regular contributor to FOX6 News and numerous radio stations as well as the co-host of "Dandelions: A Podcast For Women." She's received five Milwaukee Press Club Awards, served as the Pfister Narrator and is the Wisconsin State Fair's Celebrity Cream Puff Eating Champion of 2019.