The OnMilwaukee Summer Festivals Guide is presented by Potawatomi Hotel & Casino. Create your summer story by participating in casino wide promotions with the chance to win big. This summer I will own it! Click here for more details.
People tend to have mixed reactions when you tell them you're going to the Bristol Renaissance Faire. I know this because I go every year and half the time I get a positive response and the other half it's something like "I slept through English Lit in high school" or "have fun, dork."
I get it, partying like it's the year 1599 isn't everyone's cup of mead, and others would rather not sport a tunic or a bosom-boosting corset and talk like they just galloped from the pages of "King Lear." But the truth is, you don't have to dress up – although I highly recommend it because it's fun – and you can make it through an entire day at the Faire without once saying "good morrow" or "fair thee well." I promise.
Over the years, the Ren Faire has attracted many other emphatic groups other than 16th Century-philes, including fantasy creatures, steampunk fans, goth/dark angels, pirates, wizards, witches, Dr. Whovians, Celtic enthusiasts, Tolkien characters and more.
Aside from the bawdy entertainment, mushroom stew, men in kilts, human-powered rides, nod to the occult, knife hurling, romping closing ceremony and the chance to drink cider from a horn, I realized this year that my attraction to the Faire pierces deeper.
In a world that seems to have broken out with a hateful plague of bubonic proportions, the Renaissance Faire shines like a flawless sapphire as one of the most earnest, genuine, non-ironic places on earth, populated with some of the most earnest, genuine and non-ironic people.
Sometimes it reminds me of New Orleans, a place singer/activist/New Orleans resident Ani DiFranco describes as "Halloween every day," and other times I get a whiff of Grateful Dead shows and the vibrant, anything-goes pageantry around them. But for the most part, the Faire is a completely unique experience – one that, for me, is a place of joy.
Here are 10 more joyful photos from the Bristol Renaissance Faire:
1. Fairy gift
2. Roll in the hay
3. "Merry meet, merry part, until we meet again," says the Queen.
4. Devour
5. Joyful ... and a bit disturbing
6. Stoned
7. The wave
8. She eventually said yes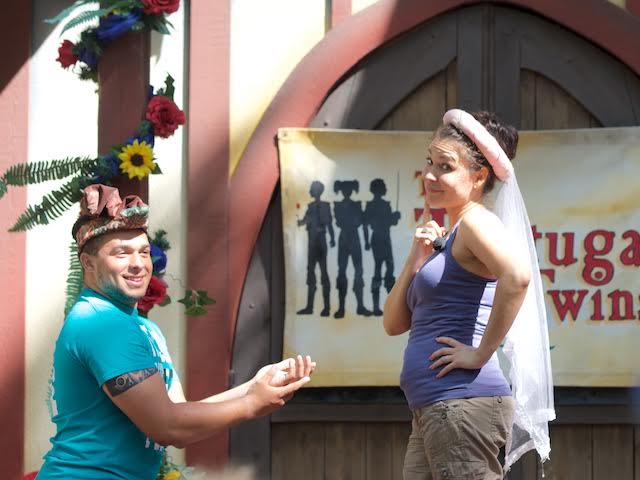 9. 16th Century hula
10. So this guy isn't very joyful, but hey, he gets tomatoes thrown at his face all day.

Molly Snyder started writing and publishing her work at the age 10, when her community newspaper printed her poem, "The Unicorn." Since then, she's expanded beyond the subject of mythical creatures and written in many different mediums but, nearest and dearest to her heart, thousands of articles for OnMilwaukee.

Molly is a regular contributor to FOX6 News and numerous radio stations as well as the co-host of "Dandelions: A Podcast For Women." She's received five Milwaukee Press Club Awards, served as the Pfister Narrator and is the Wisconsin State Fair's Celebrity Cream Puff Eating Champion of 2019.