If you remember Restoration Hardware as a store in the mall that sold primarily tchotchkes and door pulls, the new Third Ward outlet store that opened today at 224 E. Chicago St. might surprise you.
The massive, light-filled space – formerly the home of Rubin's Furniture – is stocked with furniture including couches, chairs, tables, cribs, dressers, patio items and more. There's also a large selection of rugs, light fixtures and decorative sculpture along with a table that's stacked with nostalgic kids' items such as a sock monkey kit, wooden yo-yos, mini Etch-A-Sketches and dominos.
The prices for most items are discounted by 20-50 percent of the prices in retail stores, catalogs and online.
Restoration Hardware is an American home-furnishings company headquartered in Corte Madera, Calif. It morphed in concept numerous times to appeal to a variety of budgets and shoppers, from swinging singletons to new parents. There are about 70 stores in the United States and Canada.
This is the only Restoration Hardware outlet in Wisconsin. The Mayfair Mall store, which was much smaller, closed in 2013 after 12 years in business.
We stopped in at the new "RH" today to check it out. Here's a peek at what we saw.
1. 36,000 square feet!
2. 50 shades of neutral tones
3. As far as the eye can see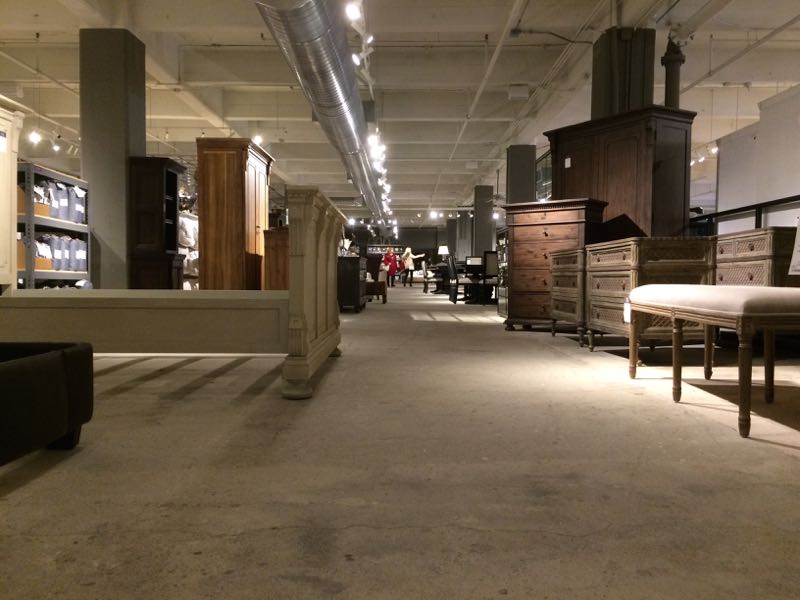 4. Big hands; awkward high fives

5. Take a load off


6. A reinvention of the wheel?
7. Horn section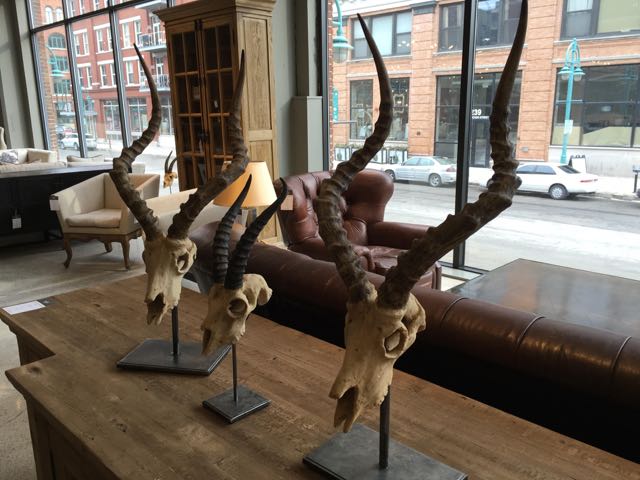 8. Save now, sit later
9. Let there be ...
10. Sock banana not included
Molly Snyder grew up on Milwaukee's East Side and today, she lives in the Walker's Point neighborhood with her partner and two sons.
As a full time senior writer, editorial manager and self-described experience junkie, Molly has written thousands of articles about Milwaukee (and a few about New Orleans, Detroit, Indianapolis, Boston and various vacation spots in Wisconsin) that range in subject from where to get the best cup of coffee to an in-depth profile on the survivors of the iconic Norman apartment building that burned down in the '90s.
She also once got a colonic just to report on it, but that's enough on that.
Always told she had a "radio voice," Molly found herself as a regular contributor on FM102, 97WMYX and 1130WISN with her childhood radio favorite, Gene Mueller.
Molly's poetry, essays and articles appeared in many publications including USA Today, The Writer, The Sun Magazine and more. She has a collection of poetry, "Topless," and is slowly writing a memoir.
In 2009, Molly won a Milwaukee Press Club Award. She served as the Narrator / writer-in-residence at the Pfister Hotel from 2013-2014. She is also a story slam-winning storyteller who has performed with The Moth, Ex Fabula and Risk!
When she's not writing, interviewing or mom-ing, Molly teaches tarot card classes, gardens, sits in bars drinking Miller products and dreams of being in a punk band again.