There was a time when removing a building from the landscape was a dramatic affair. Buildings were imploded with a boom and a plume of grey dust, or they were pounded by the repetitive thump of a wrecking ball.
But these days, thankfully, there's a growing approach that seeks to keep as much waste out of landfills and reuse and recycle as much material as possible.
The nonprofit WasteCap, for example, salvages architectural elements and materials from city-owned homes before they're demolished.
And when Northwestern Mutual took down the 16-story "east building" in 2014 to make way for its new tower and commons project, it salvaged much of the material, too.
While Habitat for Humanity is best known for constructing urban homes, the nonprofit's deconstruction team also does salvage work. And a lot of it. There's so much residential and commercial deconstruction work – from rescuing cabinets before a kitchen rehab in a private home to pulling out in-demand barn wood from an old factory – that Milwaukee's ReStore team is scheduled out at least three months ahead these days.
"We have a lot of people – both commercial and residential – that will reach out to us when they're going and taking down a building like this as a way to make sure some of the materials just don't end up in the landfills," says Jake Brandt, Milwaukee Habitat's marketing and communications manager, as we stand in a giant old Vilter Manufacturing shed on the western edge of Bay View.
"We do charge a small fee of only $250 – and that's a donation to Habitat – to bring our team out there, which is typically significantly less than a standard deconstruction a salvage team would do."
Founded in 1867, Vilter produces industrial refrigeration equipment, and during its long history it installed the first unit cooler in a small butcher shop in Milwaukee, and built cooling equipment for breweries, ice houses and meatpacking plants. It built the air conditioning equipment for one of the arenas at the 1960 Rome Olympics and in 2010 Vilter was the official sponsor of the U.S. bobsled team.
Now based in Cudahy, the company long occupied this complex of buildings on South 1st Street, between Lincoln and Becher. The buildings are a hodgepodge, built and added to as needed over the decades. As such, there's a wide variety of material here.
Habitat was salvaging everything from beam equipment to a scale to painted barn wood to metal and wood shelving, to doors, signs, fixtures, hardwood floors and much more.
Basically, anything that would be of interest to customers in the ReStore shops – at 420 S. 1st St. in Milwaukee, and 3015 N. 114th St. in Wauwatosa.

The guard tower: exterior and interior. And, below, the view out the windows.
As we check out the work going on at the site, deconstruction manager Jake Weiler tells me that most of what's being taken out of the old Vilter complex has been going straight to the shops and, in large part, is being sold within a day. Sometimes items are sold on their way out to the sales floor, he says.
Sales at the ReStore outlets directly benefit Habitat for Humanity's work building homes in Milwaukee.
"On top of that, anything that we salvage out of here, we provide a complete detailed list of what we've salvaged to the donor, and they can write that off on their taxes," Brandt says.
In 2015, Brandt says that Milwaukee Habitat did about 75 deconstruction jobs, of which about 43 were commercial.
"It's been leaning a little bit more towards the commercial side, but we do both. We were just, a couple weeks ago, at a home in Whitefish Bay that was being completely gutted and took out all these beautiful cabinets, wood flooring, pretty much anything and everything.
"This team last year salvaged over $343,000 worth of materials from those deconstructions. That's all stuff that would have just been tossed in a dump, but instead, it's going to raise money for Habitat for Humanity."
Deciding what to take and what to leave is key to the process. Anything hazardous – lead painted covered in asbestos, etc. – is not salvaged by the ReStore folks. Beyond that, it's important to understand what will bring returns on the investment of removal.
"We've got a couple amazing team-leader volunteers that have been volunteering with us since about 2010," says Brandt. "One of them comes from an interior design background, so she's got an eye to kind of know what's there going to be a market for.
"For example, right now we're salvaging all the barn wood off of this building here. That's the kind of stuff that people are just eating up. Sometimes it's trial and error. We'll pull things that we think we see value in and got to put it in the ReStores to find out, but typically it's on our staff to look at the items and see what's there is going to be a good resale market for."
The day I visited there were perhaps a dozen ReStore volunteers working on the long factory building that runs along the east side of South 1st Street – the one with that little guard tower turret on the corner of Becher – while a demolition team worked to clear a previously deconstructed building behind it.
They were taking apart metal shelving units and wooden storage cabinets. They were pulling apart workbenches built into one of the walls up in the mezzanine. Outside, a couple was taking red-painted barn wood clapboards off the exterior.
There were some other cool materials, like wooden paving "stones" that had been used to "tile" the factory floor. The ones that had been removed were piled up like a heap of coal. Alas, these were being left behind because they were laced with creosote.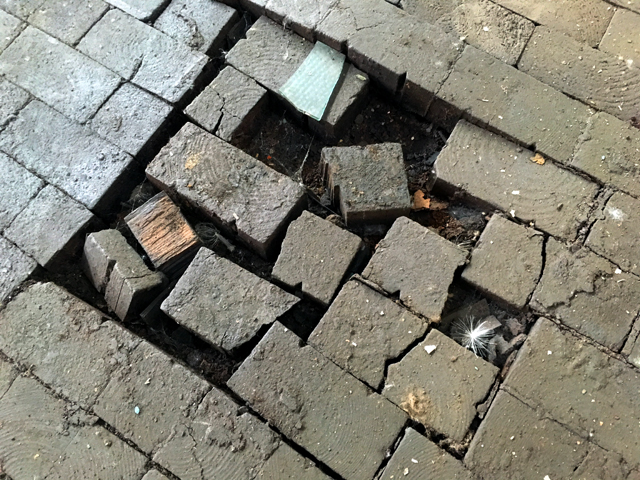 These folks were working hard and seemed to be having a great time, too, despite – or maybe because of – the fact that it wasn't a paid job.
"This team is absolutely all rock stars," says Brandt. "These guys are out here every single week. Some of them are retired teachers. One was an interior designer before this. Another one of our volunteer leaders used to work at U.S. Bank. So it's really kind of diverse backgrounds coming together because they see how much value that they can bring to Habitat for Humanity.
"Every Wednesday, they are at a new deconstruction project and, like I said, they're all volunteers. We have anywhere from to 10 to 20 volunteers on this team that are coming out every single week. It's really amazing. Amazing people."
Born in Brooklyn, N.Y., where he lived until he was 17, Bobby received his BA-Mass Communications from UWM in 1989 and has lived in Walker's Point, Bay View, Enderis Park, South Milwaukee and on the East Side.
He has published three non-fiction books in Italy – including one about an event in Milwaukee history, which was published in the U.S. in autumn 2010. Four more books, all about Milwaukee, have been published by The History Press.
With his most recent band, The Yell Leaders, Bobby released four LPs and had a songs featured in episodes of TV's "Party of Five" and "Dawson's Creek," and films in Japan, South America and the U.S. The Yell Leaders were named the best unsigned band in their region by VH-1 as part of its Rock Across America 1998 Tour. Most recently, the band contributed tracks to a UK vinyl/CD tribute to the Redskins and collaborated on a track with Italian novelist Enrico Remmert.
He's produced three installments of the "OMCD" series of local music compilations for OnMilwaukee.com and in 2007 produced a CD of Italian music and poetry.
In 2005, he was awarded the City of Asti's (Italy) Journalism Prize for his work focusing on that area. He has also won awards from the Milwaukee Press Club.
He can be heard weekly on 88Nine Radio Milwaukee talking about his "Urban Spelunking" series of stories.