In some ways the Riverside, 116 W. Wisconsin Ave., has always been the theater that almost never was.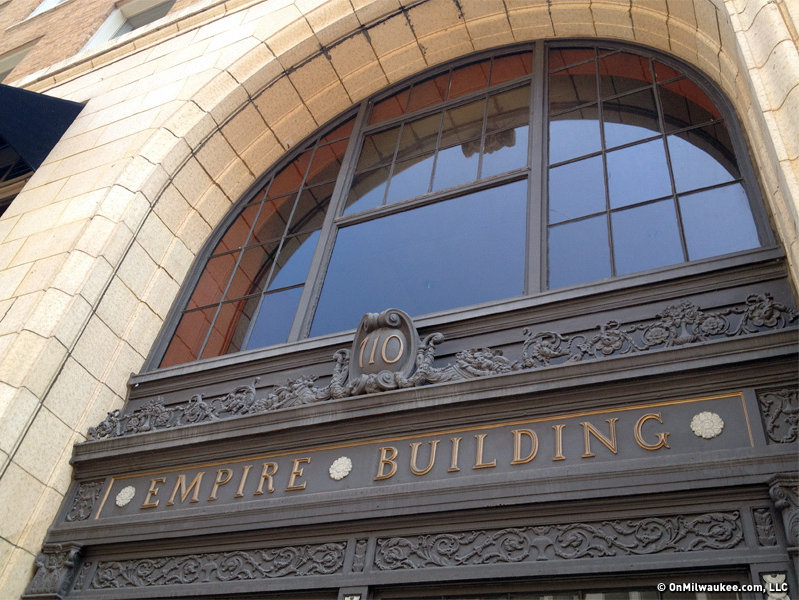 Erected in 1928 as part of the new Empire office building – which replaced a previous Empire Building on the site – The Riverside Theater (which was designed by Kirchhoff and Rose) opened just before America plunged into the Great Depression.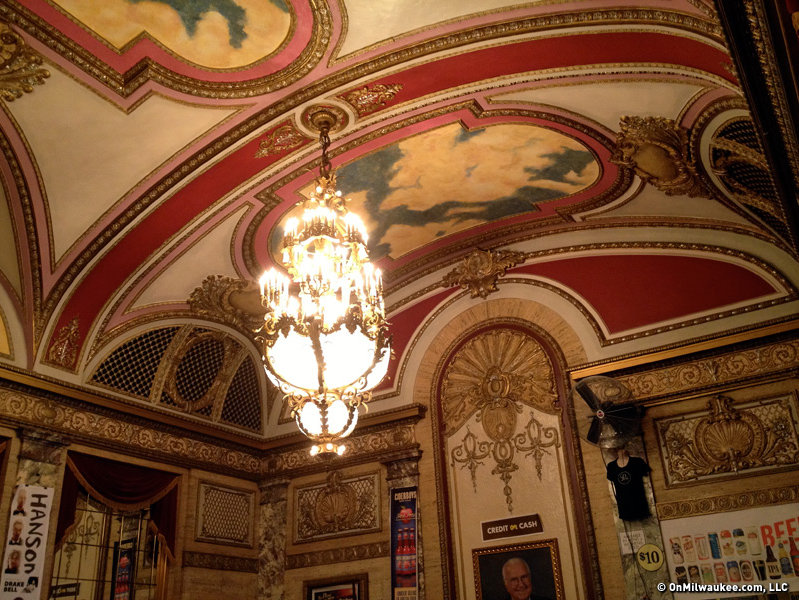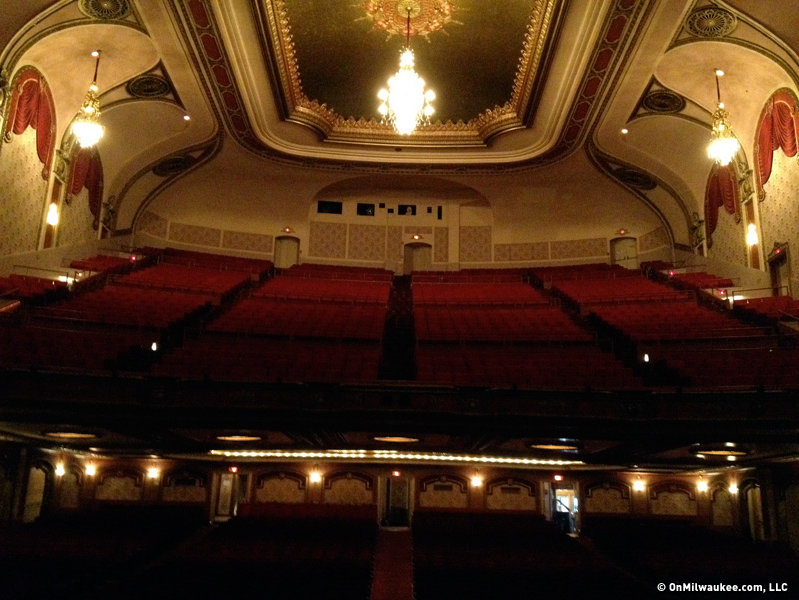 Somehow, the theater – the bread and butter of which was vaudeville – survived.
But vaudeville also took its final bow in the first half of the 1930s and still the Riverside survived.
Long since recast as a film house, the Riverside fell on tough times and by the dawn of the 1980s, there was a move to close the theater once and for all.
"It was literally one crazy man that was saying, 'no, we have to save it,'" says Andrew Nelson spokesman for The Pabst Theater Organization, which now runs the venue. That crazy man, says Nelson, was Joseph Zilber, whose Towne Realty bought the theater in 1962 and still owns it today.
"Even internally, his staff was arguing against Joseph Zilber, saying, 'you can't make money here, there's nothing to do, it's way too big.' They wanted this made into additional offices. There was talk also of making it a beer garden, which is interesting.
"It was either fix it or gut it and do something else with it. They were going to remodel it and do offices or whatever."
Other ideas floated at the time were for a retail center or a parking structure.
Zilber won and fix it he did. An intensive renovation was undertaken in 1984 and for the next decade, the Riverside hosted performances by the likes of Aerosmith, Bruce Springsteen, the Beach Boys, Johnny Cash and Ray Charles.
"They had all the big names in the late 1980s and early '90s," says Nelson, including, he adds, "my favorites, DJ Jazzy Jeff and the Fresh Prince in 1990 and Marky Mark and the Funky Bunch in '92."
Concerts continued under another operator for another decade but the theater seemed to dip into limbo again before Michael Cudahy's Pabst team stepped in in 2006. Since then, the 2,460-seat entertainment palace has been livelier than perhaps ever, hosting the likes of Neil Young, Paul Simon, Jerry Seinfeld, Bill Cosby.
"It's had a tumultuous life span," says Nelson. "It struggled right from day one. It was kind of off and on."
But there were long runs of incredible activity. In the vaudeville and post-vaudeville era, Abbott and Costello, Red Skelton, Judy Garland and the Three Stooges appeared on its stage.
By the '50s, folks could see Chuck Berry and Frankie Avalon at the Riverside.
"When vaudeville ended ... it became mostly a film house until the '70s," says Nelson, who has taken an interest in the history of the venues his group runs and has been delving into archives to learn more.
"When I asked my parents if they had any memories of the theater their memories were of film. They saw 'Ben-Hur' here and stuff like that."
On a recent tour, Nelson and Jason Millies who works in the organization's facilities department, showed me the nooks and crannies of the place. And there are a lot of nooks and crannies. There are doors everywhere. Some lead to closets, others to backstage rooms, others into passages that lead to storage rooms. There are a couple that Millies hadn't noticed before.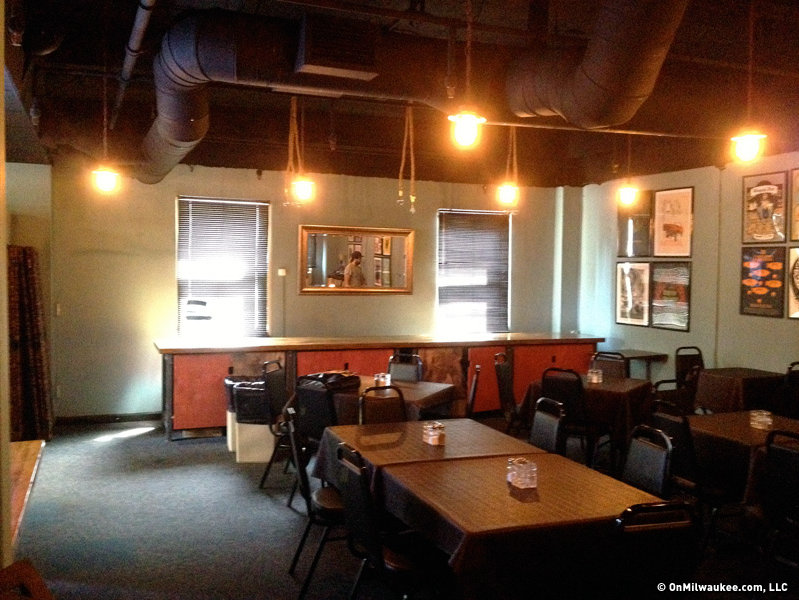 Through a door in the eighth floor backstage catering room, we find the mechanicals: the air intakes and giant wheels that turn giant fans that heat and cool the entire venue. These heating and cooling spaces – some now disused – are often big enough you can climb right into them. Nearby, there is a random stack of cushioned chairs.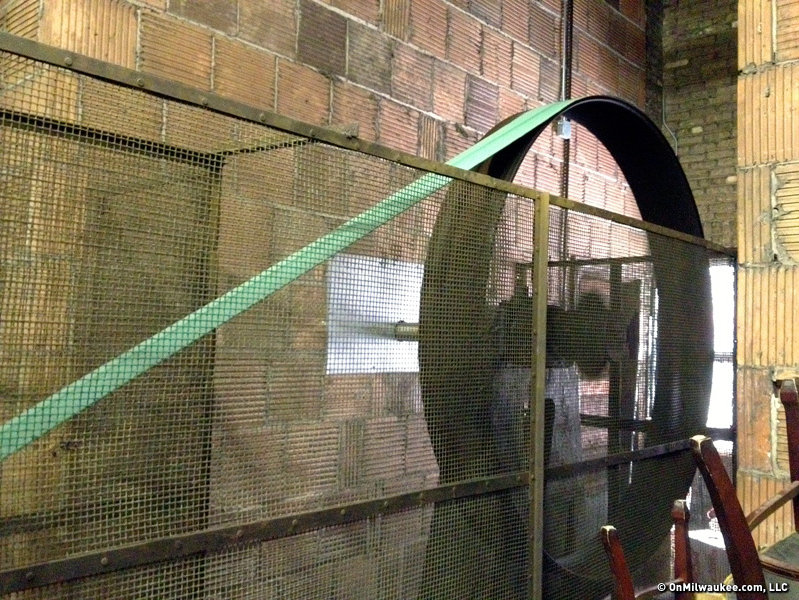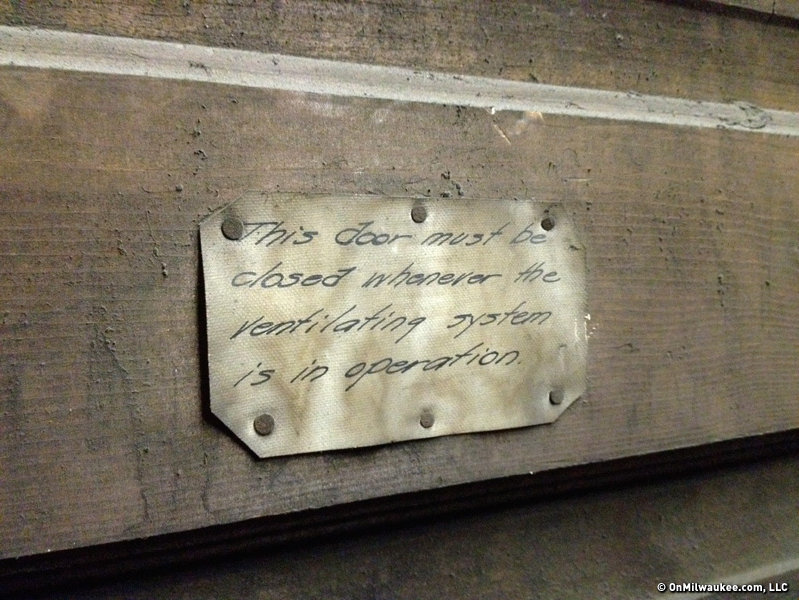 Through another door and down a wobbly ladder made of metal not unlike rebar, we're on the catwalks that encircle the dome above the ceiling of the theater, hundreds of feet up. Once in a while we can peer down through a hole at the seats below.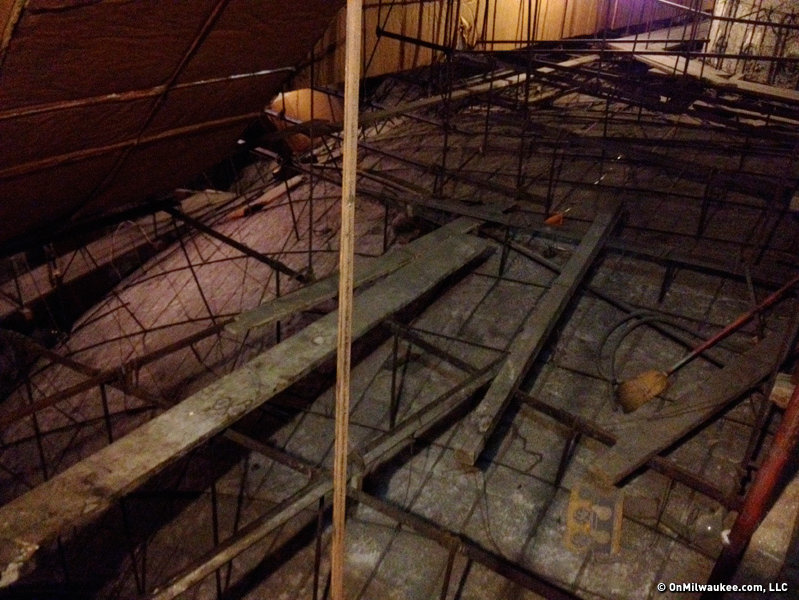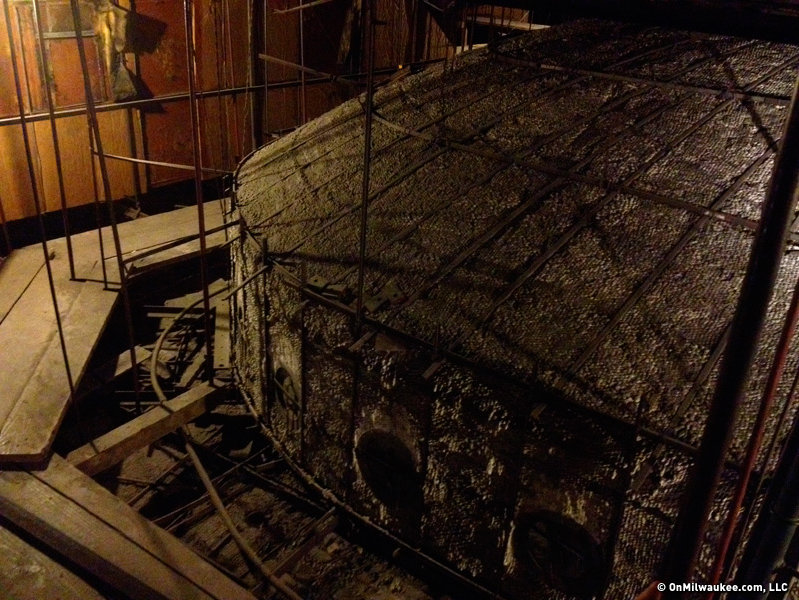 There are also strange ladders – hanging nearly horizontal by ropes – that no one really knows how to get to. Up here we can see the cranks and pulleys that allow the chandliers to be raised and lowered.
On the river side of the Riverside are six floors of dressing rooms. That sounds impressive, but there's only really one per floor. Each, however, gets its own bathroom. Some, like one outfitted like Jeannie's bottle in "I Dream of Jeannie" has a vintage arcade game that gets Nelson excited.
On the small roof above, there are great views of the river, and of some ghost signs on the neighboring Nelson Brothers building. One of them is low enough that it's obscured by the Riverside, suggesting it dates back to before the theater's 1928 construction.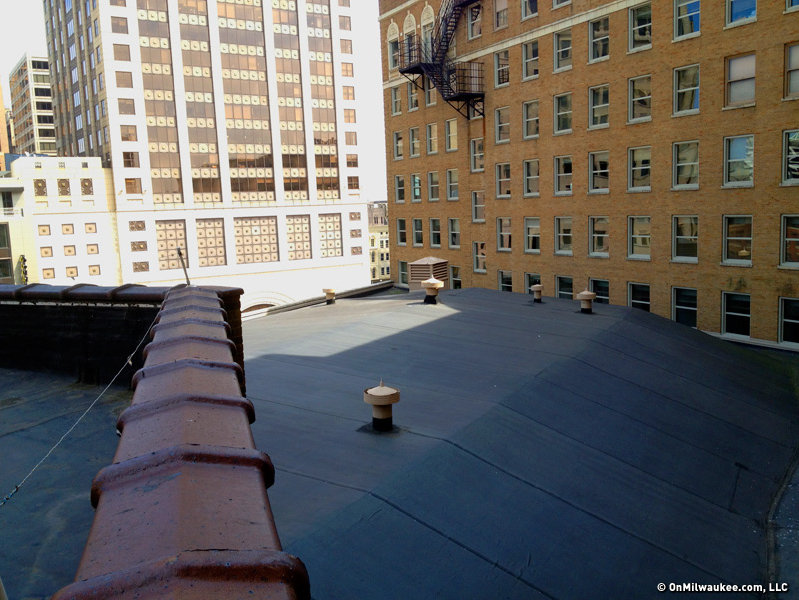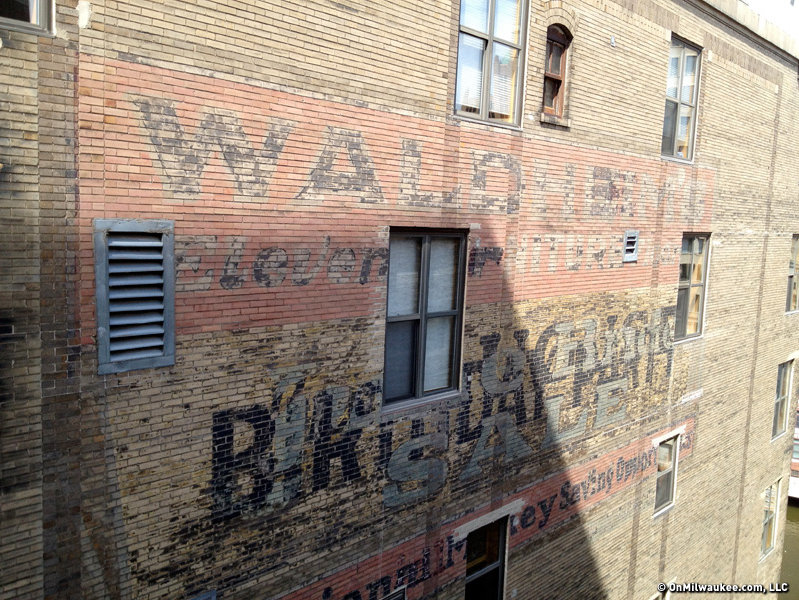 In the basement, we're below not only street level, but also water level and down here, the first three feet of wall is fortress-thick. It also smells strongly of tobacco thanks to Uhle's upstairs. There's an ancient cooler down here that Millies says is likely to be torn down soon.
Down here, Millies has a makeshift workshop with a power saw to repair broken theater seats.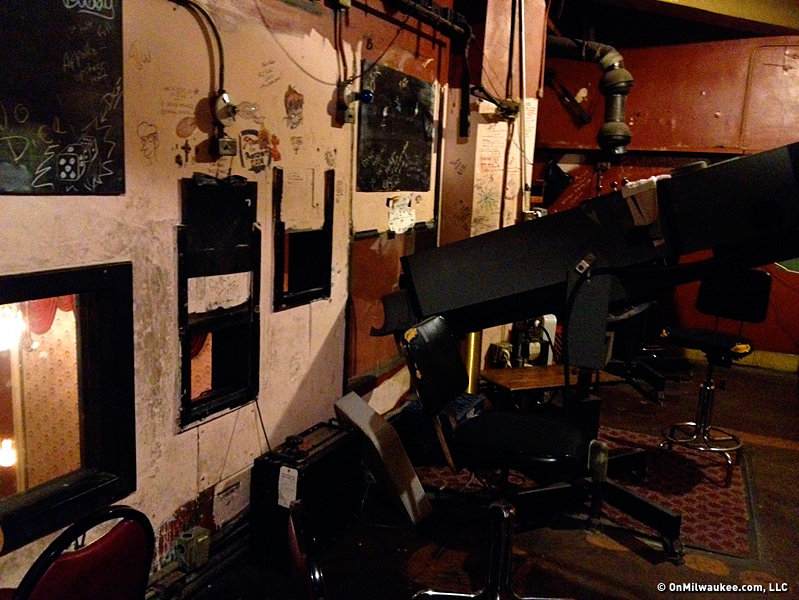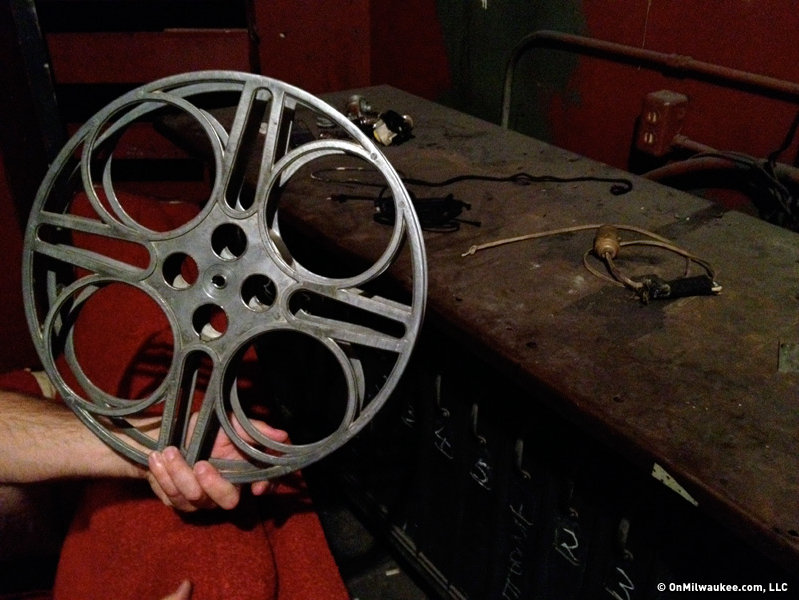 Upstairs is the old film projection booth, which has been converted to a lighting booth for concerts. But much of the old film-era equipment survives, including a rack of gear and a row of film reel storage boxes, one with an empty reel still inside.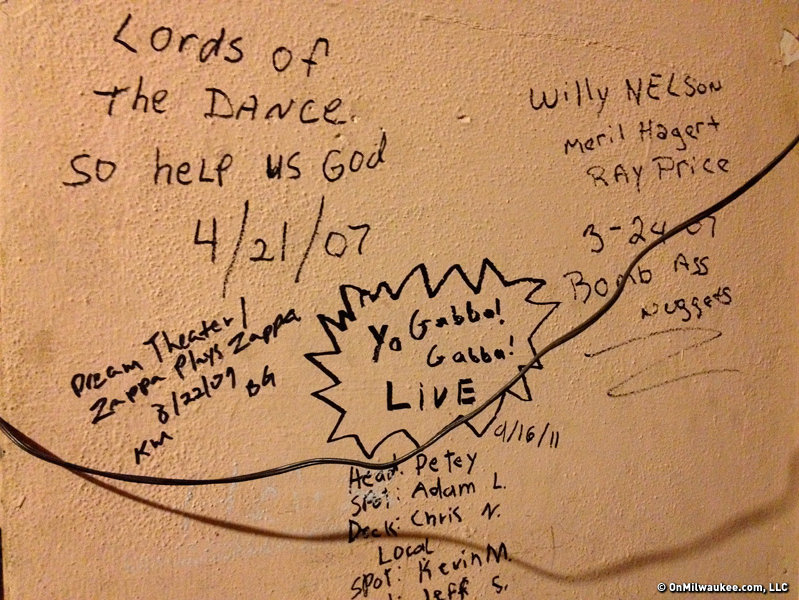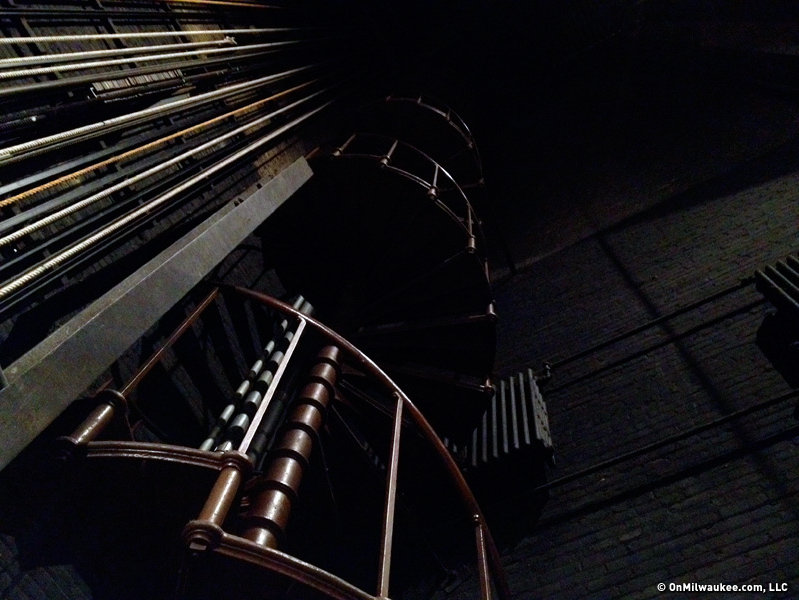 On the stage is a metal spiral staircase that ascends up into darkness. Climbing up to the top makes my thighs sore. The descent tests my fear of heights.
We talk a lot about the ghosts but we don't encounter any ... that we know of.
"There are like three legitimate ghost investigators and they all come through here on a regular basis," says Nelson, who mentions that Jay Reatard's final gig before his death in January 2010 was a New Year's Eve performance at the Riverside opening for Spoon.
While the Riverside has always played second fiddle – or opening act – to more glamorous, more popular venues in Milwaukee, unlike Reatard, the the theater has kept going.
According to Larry Widen and Judi Anderson's "Silver Screens: A Pictorial History of Milwaukee's Movie Theaters," the Pabst Theater Organization's work at the theater is good sign for the future.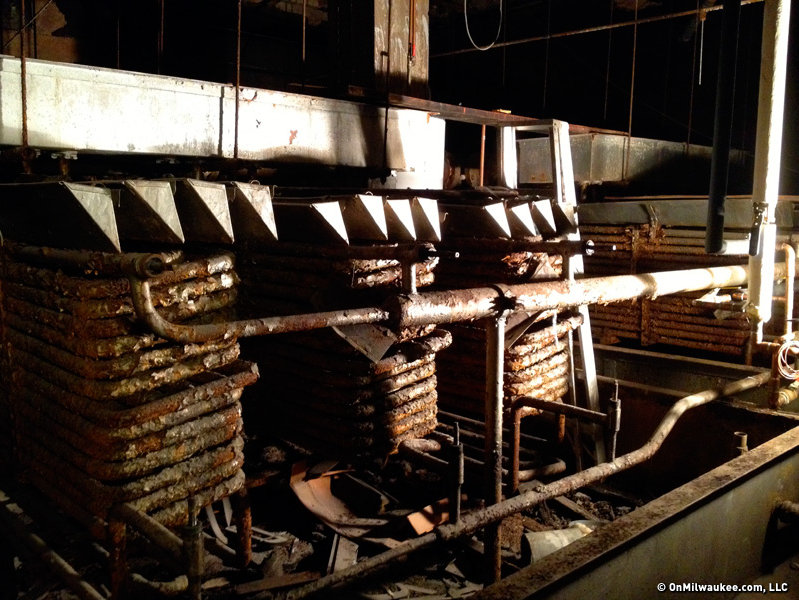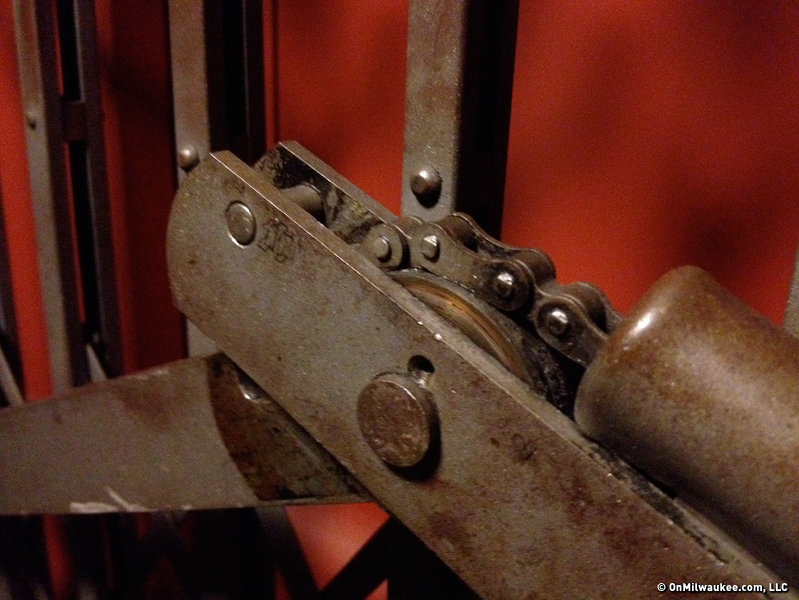 "Efforts like Cudahy's are at the heart of the theater preservation movement," they wrote.
"This place is amazing because it's one of three remaining and two operating movie palaces in the city with the Oriental and the Grand," says Nelson, standing on the stage and gazing up to the chandelier, three stories up. "Larry Widen always speaks to how incredible, considering the size of Milwaukee, that we have three movie palaces. It's extremely rare."
Born in Brooklyn, N.Y., where he lived until he was 17, Bobby received his BA-Mass Communications from UWM in 1989 and has lived in Walker's Point, Bay View, Enderis Park, South Milwaukee and on the East Side.
He has published three non-fiction books in Italy – including one about an event in Milwaukee history, which was published in the U.S. in autumn 2010. Four more books, all about Milwaukee, have been published by The History Press.
With his most recent band, The Yell Leaders, Bobby released four LPs and had a songs featured in episodes of TV's "Party of Five" and "Dawson's Creek," and films in Japan, South America and the U.S. The Yell Leaders were named the best unsigned band in their region by VH-1 as part of its Rock Across America 1998 Tour. Most recently, the band contributed tracks to a UK vinyl/CD tribute to the Redskins and collaborated on a track with Italian novelist Enrico Remmert.
He's produced three installments of the "OMCD" series of local music compilations for OnMilwaukee.com and in 2007 produced a CD of Italian music and poetry.
In 2005, he was awarded the City of Asti's (Italy) Journalism Prize for his work focusing on that area. He has also won awards from the Milwaukee Press Club.
He can be heard weekly on 88Nine Radio Milwaukee talking about his "Urban Spelunking" series of stories.