Rock Country, a bar, restaurant and music venue at 11400 W. Silver Spring Rd. on Milwaukee's Northwest Side, opened at 4 p.m. today in the former Jokerz Comedy Club. OnMilwaukee was there to check it out and get a tour from owner Brian Ward who also owns Ward's House Of Prime and three Point Burger Bar locations (and possibly more in the near future!)
The building, located between Silk Exotic Gentlemen's Club and Milwaukee Harley-Davidson, includes a restaurant and full bar on the main floor and a 9,000-square foot music venue with a stage, dance floor and bar on the lower level. Both spaces underwent a major remodel, including new flooring and a variety of artistic flourishes, such as a massive American flag light fixture in the dining area and another large flag comprised entirely of Budweiser cans.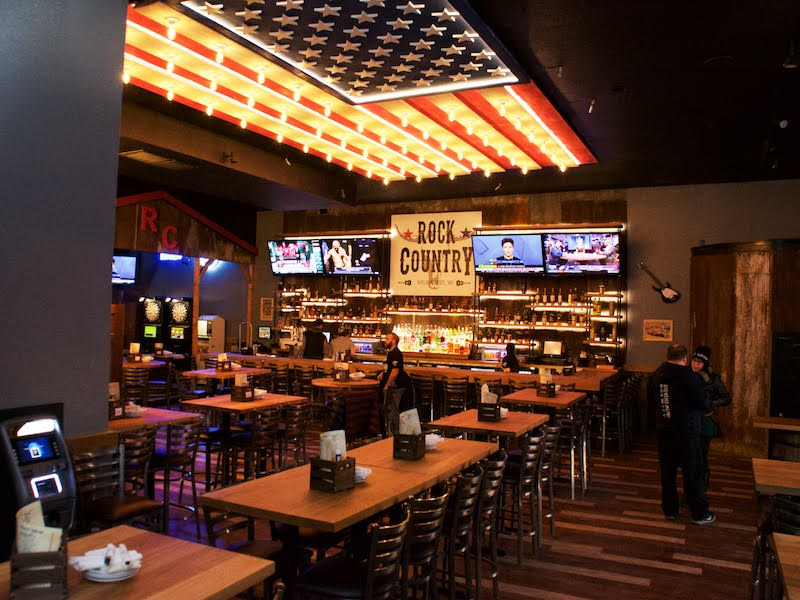 "Because it was Jokerz Comedy Club space, the venue was already set up to accommodate live performances," says Ward.
The music venue will open on Fridays and Saturdays at 8:30 p.m. The bands will be primarily local and country or "church festival" musical groups with some national groups mixed in. This weekend features Chasin Mason and Rebel Grace; King Solomon, The Boogie Men and Eddie Butts Band will also gig in February.
"Music has always played a part in the success of our venues, but it has never taken 'center stage' to the degree that is will at Rock Country," says Ward. "It's great to bring live music to this part of town."
The bar includes an impressive selection of whiskey, bourbon and Scotch along with micro and macro beers, house cocktails, wine and more.
The food menu includes Texas smoked chicken, Kansas City pulled pork, chicken and waffles and a Friday night fish fry. The restaurant is open nightly from 4 p.m. until bar time, serving a full menu until 10 p.m. and a limited "late night" menu afterward. Food is available on both levels.
"While our entertainment is going to be first rate, it's very important to me that the food be an attraction all on its own," says Ward. "Simple and delicious."
Molly Snyder grew up on Milwaukee's East Side and today, she lives in the Walker's Point neighborhood with her partner and two sons.
As a full time senior writer, editorial manager and self-described experience junkie, Molly has written thousands of articles about Milwaukee (and a few about New Orleans, Detroit, Indianapolis, Boston and various vacation spots in Wisconsin) that range in subject from where to get the best cup of coffee to an in-depth profile on the survivors of the iconic Norman apartment building that burned down in the '90s.
She also once got a colonic just to report on it, but that's enough on that.
Always told she had a "radio voice," Molly found herself as a regular contributor on FM102, 97WMYX and 1130WISN with her childhood radio favorite, Gene Mueller.
Molly's poetry, essays and articles appeared in many publications including USA Today, The Writer, The Sun Magazine and more. She has a collection of poetry, "Topless," and is slowly writing a memoir.
In 2009, Molly won a Milwaukee Press Club Award. She served as the Narrator / writer-in-residence at the Pfister Hotel from 2013-2014. She is also a story slam-winning storyteller who has performed with The Moth, Ex Fabula and Risk!
When she's not writing, interviewing or mom-ing, Molly teaches tarot card classes, gardens, sits in bars drinking Miller products and dreams of being in a punk band again.