Please allow me to introduce myself. I'm a man of moderate means and often accused of having little or no taste. My name is Larry, and I'm a Stonesaholic.
It has been two hours since I saw the Rolling Stones in concert. Before that, it was a painful 690 days. When the band confirmed they would be playing Milwaukee on their 2015 summer Zip Code tour, I felt like a junkie anticipating a mainline rush of smack straight to the brain. Because, let's face it, I was already craving a fix.
On the positive side, the Summerfest concert was special because I would be attending with my daughter, Emily, and two of my best friends, Bill Burczyk and Chris Multerer. Bill, Chris and I met while working at Barnaby's Family Inn on 84th and Capitol Drive 42 years ago. And Emily? Well, kudos to her for being on the ball. Minutes after the Marcus show was announced, I received a text saying, "I'm in!"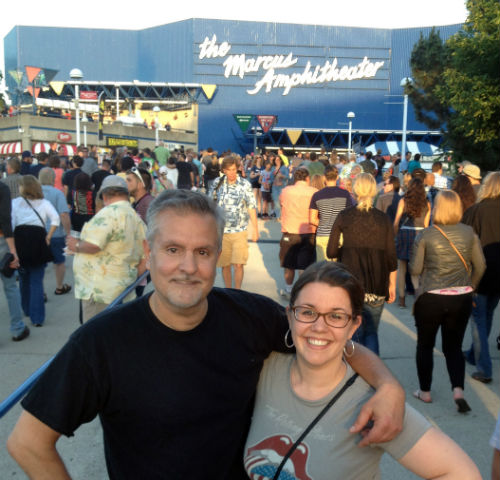 I got hooked in 1968, at age 11, when I first heard "Jumping Jack Flash" on a tiny red and white transistor radio. Although I began buying their albums like crazy after that, I didn't see the Stones in concert until June 8, 1975 when they played at County Stadium.
The thrill of seeing them for the first time overshadowed the fact that they weren't all that good. The Milwaukee show was Ron Wood's second time on stage with the band, and they sounded rusty and a bit ragged. Perhaps the best thing to come out of the whole experience was my dad's reaction when I burst in the door and announced I had gotten a ticket to the show. "I wouldn't go across the street to hear Mick Jagger sing," he said. I still laugh when I think about that now.
Flash forward 40 years and two weeks to June 23, 2015. In that span of time, I've managed to see the band 21 times.
Waiting for Buddy Guy to kick off last night's concert, I sat in my extremely uncomfortable $268 bleacher seat at the Marcus Amphitheater thinking about the last time I'd seen the band. The May 2013 show at the United Center in Chicago had been a pretty exciting experience. Former guitarist Mick Taylor sat in on "Midnight Rambler" and "Satisfaction," and blues legend Taj Mahal came onstage to sing "Six Days on the Road." All in all, not a bad night, considering I came this close to being turned away at the door.
My son Joe and I drove down to Chicago that night expecting to buy a couple of tickets outside the venue. That had worked pretty well in Detroit (Ford Field, 2002), Milwaukee (Bradley Center, 2005) and a previous Chicago show (Soldier Field, 2006). What I hadn't factored into the equation was the torrential rain from a heavy spring thunderstorm that killed ticket sales on the sidewalk.
With less than 30 minutes to showtime, I was glad to grab a pair of $250 face value seats in the upper deck for $80 each. Just another blip on the free market radar ... until the tickets were presented at the door. Frowning as if he'd just smelled a fart in an elevator, the attendant said, "Wait here, please." An icy ball began forming in my stomach, because I knew what "Wait here" meant. "Dad, is there something wrong with the tickets?" Joe said. "He said, 'Wait here,'" I said. And then I prayed.
Within minutes, an impeccably groomed man with a full head of white hair and a very expensive suit introduced himself and asked where I had obtained the tickets. I explained that we drove in from Milwaukee and bought them outside. "The tickets are counterfeit, I'm sorry to say," he began. "We'll make a copy of them and file a report. But as for access to the show, you understand there's nothing I can do." He took us to the security office where a half a dozen of Chicago's Finest in bulletproof vests milled about.
Three different officers took my statement and asked for a description of the man who sold me the tickets. Each officer asked if I could identify "the perp" if I saw him again. I answered in the affirmative with a crisp "Yes, sir." Hey, I know how to handle myself with the thin blue line. I've seen "Dragnet."
They cops brought out a man with his hands cuffed behind his back.
"You reconnize dis mug?" one of the officers asked. "Might dis de scuzzball yez bought dem tickets from?"
In fact, it was not. But my heart skipped a beat.
"No sir, " I said. "But he was with the man who did."
The officers looked at each other and grinned like wolves.
A huge cop, wearing a badge that said 'MARQUEZ,' came over to us and held up some Polaroid pictures. "Can yez idennify anyone in dese pitchers?"
Without hesitation I pointed to a slender man with a scraggly goatee and some bad teeth.
"This is the mug, I mean, the guy who sold me the tickets," I said.
Marquez called back over his shoulder to the other cops, "He ID'd Johnson, no question."
A voice called back, "Johnson? The dirtball that was shot a few months ago?"
Marquez turned back to me. "Dis guy got clipped inna penis wit' a .38 slug a while back. Prolly a beef over some dope deal."
Just then a roar went up from the crowd inside the arena, and the office walls shook as Mick Jagger bellowed, "Hey! YOO! Geddawffa Mah Cloud!" Minutes later, a short, powerfully built lieutenant with a tank commander red crewcut came over and copied down the info from my driver's license. "We've got a case here, and we'll file the charges, but I wouldn't expect to get your money back," he said. "This crumb is already smoking it somewhere."
As the Stones eased into "Wild Horses," I said, "Sir, I don't care about the money. My son and I just want to see the show." Red Crewcut actually looked like he felt sorry for me at that moment. "I understand that, Mr. Wee-den, but this phony-baloney ticket thing happens all the time, and we don't have the authority to grant you admission." Just then, his radio sputtered to life. After listening to some unintelligible crackling, he gazed at me with something that bordered on reverence and said, "Well, whaddya know."
The white-haired man reappeared and took us back down the hallway. "Wild Horses" was ending as we neared the entrance. "The other people who bought tickets from that gentleman didn't bother to stay and assist the police," he said. "I'm told your information was very helpful. Joe looked at me with a big grin as our new friend handed me a pair of tickets. "The Stones came on late, and they'll play til midnight," he said. "Enjoy the show!" An usher took us to a pair of fabulous seats way down front. Face value: $600 per ticket. As Keith Richards turned up the volume on "Rocks Off", I thought, "Hell, yes! We made it into the '50 and Counting' show with our armor intact."
My "Milwaukee Rock and Roll" book came out last November, and at a Boswell Books author appearance, I mentioned that I'd seen the Stones 20 times. A man in the audience asked which show was my favorite. I get asked that a lot, and the answer is always the same: The Rosemont Horizon, Chicago, November 24, 1981.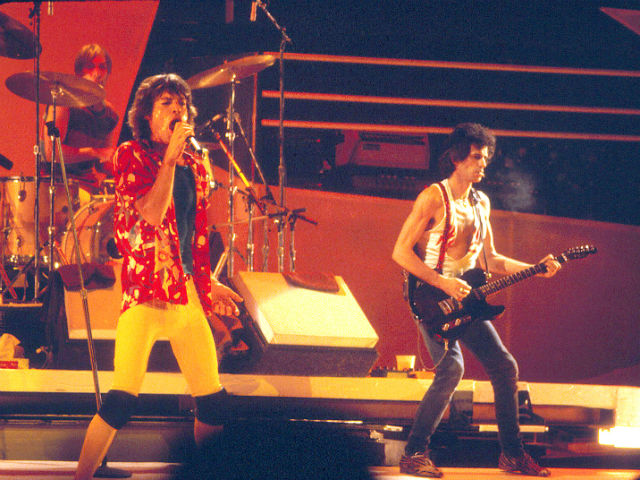 It was one of those nights when the cosmic tumblers just click into place, and for a short time, you're granted access to another world. The seats were in Row 16, center. The security guards failed to find the camera body and telephoto lens I had duct-taped to my legs. And the band was absolutely on fire. The sound, estimated at 82 decibels, was loud as hell but crystal clear. No swampy mix by some pothead roadie THAT night, no sir. The floor was vibrating, and Charlie's drum beats were bouncing off my chest. You could hear all the vocals, and the guitars were completely separated so as to reveal the magnificent, if not telepathic, way that Ron and Keith threw the leads back and forth.
Other shows high on the list are Alpine Valley in 1989 and The New Barbarians a decade earlier. Technically the Barbarians was not a Stones show, but with Keith, Ron and the late Bobby Keyes on sax, it was fabulous. The "Steel Wheels" tour which stopped at Alpine Valley was a very pleasant surprise in that it marked the end of a bitter, seven-year feud between Mick and Keith. A sales rep at WLZR set me up with a pair of tickets in the 18th row, and I went out to East Troy hoping for the best but ready for the worst. Instead of playing like a machine caked with rust, the band came out hard and tough, delivering a no-frills set packed with the familiar favorites and a few curios like "2000 Light Years from Home."
And the worst shows? I'd have to say the 2006 performance at Soldier Field in Chicago. The early October date was projected to be a balmy Indian summer evening. Instead, a cold front swept across Lake Michigan, dropping the temperature inside the venue to 32 degrees by show time. Mick appeared on stage in a sinister-looking oilcloth trench coat and fedora, but by the third song, he'd peeled down to a tank top and spandex leggings. Keith, however, wore a parka all night while Ron was wrapped in a huge peacock blue muffler. Despite a phalanx of heaters behind them, it was obvious the band was as cold as the audience. Because they went on and played in the extreme conditions, everyone in the place loved them even more for the effort.
As for the Marcus show last night, I'm not going to review it because that's another OnMilwaukee.com writer's turf. Suffice to say, it was very good, and I ought to know. As to whether 21 times seeing the Rolling Stones is enough, well, I told you once, and I told you twice. It may be the last time, I don't know.