Milwaukee Public Schools is blessed with a number of really, really gorgeous old schoolhouses, but few can compete in the ornate category with Rufus King International High School, 1801 W. Olive St., which not only was built during the Great Depression, but really offered the ailing economy a giant middle finger with an almost insane attention to detail.
Designed by Guy Wiley, who was head architect for MPS from the early 1920s until 1951, Rufus King was built in 1932 and is really the architect's masterpiece.
That's saying something when you realize Wiley designed pretty much all MPS buildings in the 1920s, including French Immersion (Steuben Junior High), Lincoln Middle School (Lincoln High), the former Jackie Robinson (Peckham Junior High) and a slew of buildings that all riffed on a similar design, including Neeskara, Fernwood, Townsend Street, Lloyd Barbee (Garden Homes) and many others.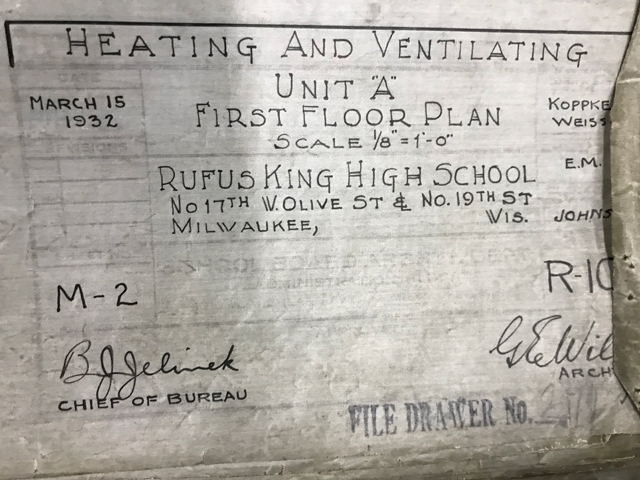 Wiley also designed Pulaski High School, a larger version of his Rufus King plan, in 1938, which was the last school the district would build for a decade; its construction plans stymied by war.
"Built at a time when the Great Depression delayed most construction activity in America, this Art Moderne high school, embellished by local artists, testifies to the ingenuity and frugality of its designers and builders, who accomplished their work at reduced cost," notes the Wisconsin Historical Society's Architectural Inventory.
"The U-shaped building has an impressive, robust character distinct from the Collegiate Gothic and vaguely Neoclassical styles typically employed for Milwaukee's school buildings during the 1920s and 1930s. The large, soaring central tower is a feature common to many public and institutional buildings designed in the Art Moderne style."
According to a school history that appeared in an anniversary booklet, "The building was built on approximately 12 acres. While the plan had originally intended that a junior high school be built on the land, the unexpected increase in senior high school enrollment which Milwaukee experienced following World Ward I caused the plan to be modified. The six-year high school (grades 7-12) was decided upon by the school board and was going to be used as such until further growth warranted a separate senior high school on a separate site. At that time it was expected that the building would ultimately become strictly a junior high school."
The school, which opened in September 1934 and was named for public schools and city pioneer in general, Rufus King, is decorated on nearly every surface. Especially elaborately for what was ultimately expected to be a junior high.
There are stunning floral stained glass transom windows at the entrances, a coffered and barrel-vaulted ceiling in the foyer outside the auditorium, elaborated decorated metal ventilation grates, even more elaborately tiled stairwells, aluminum speed lines on the exterior, bronze classroom number plates, terra cotta panels created by the American Terra Cotta & Ceramic Co., brushed aluminum handrails, a terrazzo compass just inside the main entrance and even the corridor clocks have fancy numbers.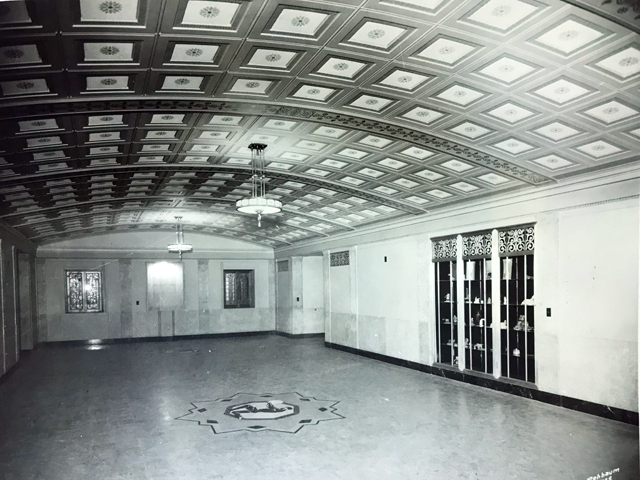 Of course, there's much much more but it would take me forever to list it all. Instead, I'm going to point out two pretty unique features to the school.
First, just inside the main entrance, on the right is a door that doesn't look like anything special. But swing it open and prepare to be amazed.
This is what Wiley described as the "Creative English Room" – with seating for 125 – on his blueprints.
As MPS Assistant Superintendent W.W. Theisen described the room in a 1935 article in the American School Board Journal:
"The creative English room finished in Old English style, of rough-hewn natural oak, with beamed ceilings and Gothic windows, has a small stage at one end and an old-fashioned spectators' balcony at the other. As its name indicates, the room is intended to provide opportunity for the development of dramatic interests and talents, and for self-expression in an atmosphere which is conducive to such work."
The space, which some at the school call "the little theater," looks just like that today and is the site not only of plays and performances, but also is used for study halls and some classes, according to librarian Veronica Thompson, who graciously showed me the school's architectural treasures one day when students had the day off.
The room was one of a number in the building that were meant to offer Milwaukee students a wide-ranging and well-rounded education that would prepare them for life as productive citizens.
"In planning the building major considerations were given to curriculum needs and possible efficiency in building utilization," wrote Theisen. "Recognition was accorded to modern curriculum tendencies in the direction of increasing emphasis upon the preparation of young people for active participation in the civic, economic and social life of the community.
"No little importance is attached in the curriculum of the Milwaukee high schools to the need for developing many-sided interests in boys and girls, and for extending their mental horizons with reference to life activities."
With that in mind, upstairs is a large "household arts suite," which Theisen wrote, "was planned with one laboratory for clothing, another for food, and a third equipped to accommodate both. This is accomplished by using a dual-purpose type of student desk with such additional space as necessary to house sinks, stoves and sewing machines."
Even now, there's a large space, three of the walls of which are lined with repeating rows of little kitchens with sinks, stoves, countertops and cabinets of a certain era ... a Midcentury Modern era.
But most intriguing is the adjacent space, which you can spy though windows, that Theisen called, "a small homekeeping suite, inexpensively finished in aged knotty pine in natural color," which, he said, "complete the household-arts layout."
Yes, folks, there is an apartment in Rufus King High. It has a knotty pine paneled dining room with a built-in hutch and a living room with built-in shelves and an incredibly cozy (functioning) fireplace and leaded glass windows.
It's a pretty ... well, sweet.
These are just a few of the treasures in this stunning building that cost $1.3 million, not including land acquisition. But, Theisen assured his colleagues soon after King opened its doors, it was money well spent.
"While efforts to make the building attractive may strike the reader as entailing unnecessary expense to the taypayer, it must be stated that utility has been the prime consideration throughout," wrote Theisen in 1935.
"With few exceptions waste space has been avoided and decorative features have been included because they served some useful function at the same time. While the building is both attractive and highly serviceable, the per-cubic-foot cost of 28.6 cents is among the lowest of any school building erected in Milwaukee in recent years."
The result is that not only is Rufus King International High School not only one of the best and most respected high schools in the state, it is also surely one of the most beautiful.
Born in Brooklyn, N.Y., where he lived until he was 17, Bobby received his BA-Mass Communications from UWM in 1989 and has lived in Walker's Point, Bay View, Enderis Park, South Milwaukee and on the East Side.
He has published three non-fiction books in Italy – including one about an event in Milwaukee history, which was published in the U.S. in autumn 2010. Four more books, all about Milwaukee, have been published by The History Press.
With his most recent band, The Yell Leaders, Bobby released four LPs and had a songs featured in episodes of TV's "Party of Five" and "Dawson's Creek," and films in Japan, South America and the U.S. The Yell Leaders were named the best unsigned band in their region by VH-1 as part of its Rock Across America 1998 Tour. Most recently, the band contributed tracks to a UK vinyl/CD tribute to the Redskins and collaborated on a track with Italian novelist Enrico Remmert.
He's produced three installments of the "OMCD" series of local music compilations for OnMilwaukee.com and in 2007 produced a CD of Italian music and poetry.
In 2005, he was awarded the City of Asti's (Italy) Journalism Prize for his work focusing on that area. He has also won awards from the Milwaukee Press Club.
He can be heard weekly on 88Nine Radio Milwaukee talking about his "Urban Spelunking" series of stories.