After playing one show – plus one "get out the vote" virtual concert – over the past two years, hit rap duo Run the Jewels will now perform twice in 24 hours: Friday night at Summerfest, followed by Saturday evening headlining at Chicago's Riot Fest. If there was any energy being reserved during round one at the Big Gig, though, you wouldn't know it from RTJ's rattling and rocking set, putting the power into the new Generac Power Stage.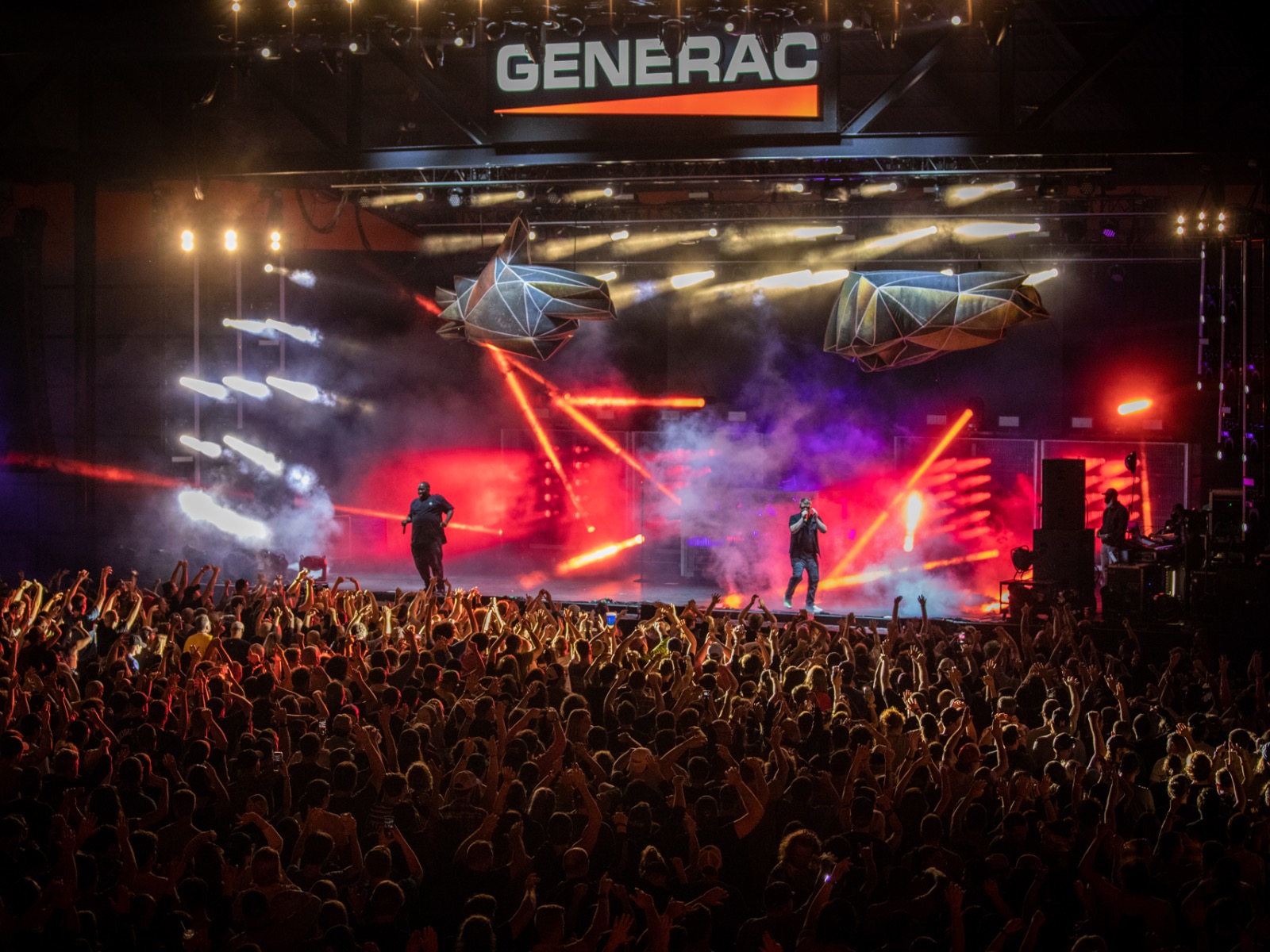 With an inflatable version of their signature logo – a finger gun and fist, aimed at one another – dangling above the stage, Killer Mike and El-P giddily came out to the triumphant sounds of "We are the Champions" before launching into the booming "yankee and the brave (ep. 4)."
A gun and fist may have lorded over the stage, but it was all love on it between RTJ's brotherly chemistry and their genuine thrill of being back out in the spotlight in front of a raucous bleacher-packing crowd. Before "ooh la la," El-P yelled to the audience, "We missed the f*cking shit of y'all," while Killer Mike in particular grinned throughout the whole night, blissfully bouncing in and around the songs. Not even talking about his hometown Atlanta Hawks getting clipped by the Bucks in the Eastern Conference Finals could wipe his smile away. (He made sure to tell the Milwaukee crowd he was a lifelong Brett Favre guy at least.)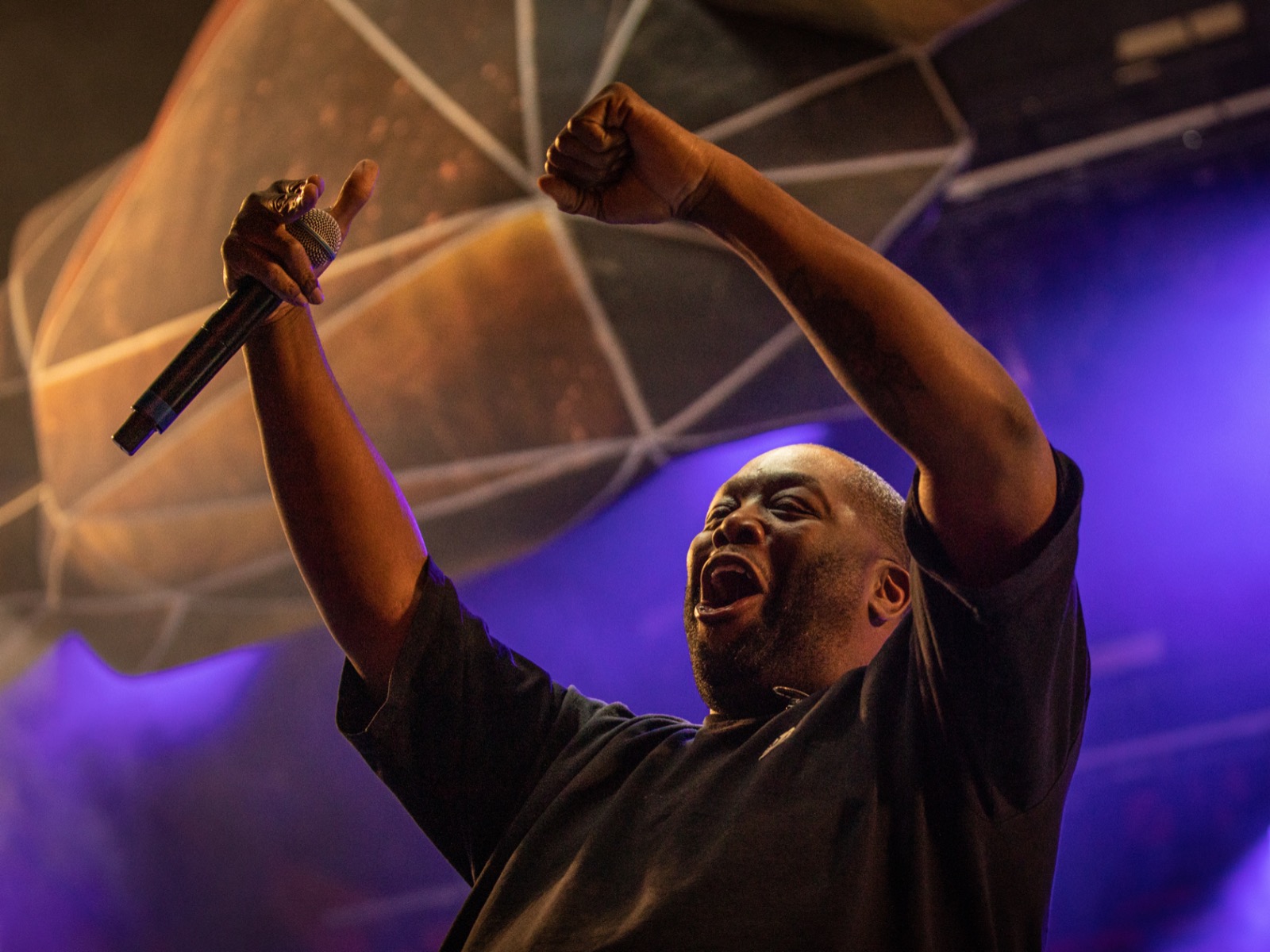 Part of their excitement, El-P explained to the amped-up crowd, was finally being able to play their new tracks off "RTJ4" to a live audience. Besides their virtual show last October and a gig at BottleRock in Napa earlier this month, their latest work's lived exclusively on the album since its June 2020 release. And Friday night's show felt like they were at long last free, the album's first five tracks – the aforementioned "yankee and the brave (ep. 4)" and "ooh la la," followed by "out of sight," "holy calamaf*ck" and "the goonies vs. E.T." – also serving as the night's first five tracks, their repressed energy finally unleashed around a rocking crowd and melting faces like it was the end of "Raiders of the Lost Ark."
While "RTJ4" made up almost half of the 19-song setlist, Killer Mike and El-P brought out all of the old hits as well for their return to the road. After their opening five-song "RTJ4" rundown, the duo roared into the grimy, pounding beats of "Blockbuster Night Pt. 1" and "Oh My Darling Don't Cry" off their second album before taking off into the banger "Legend Has It" from "RTJ3." Add in appearances from "36" Chain" and the self-titled set closer, and the only record missing in action Friday night was "Meow the Jewels," their remix of "RTJ2" ... but with cats. (OK, but don't laugh because it actually slaps.)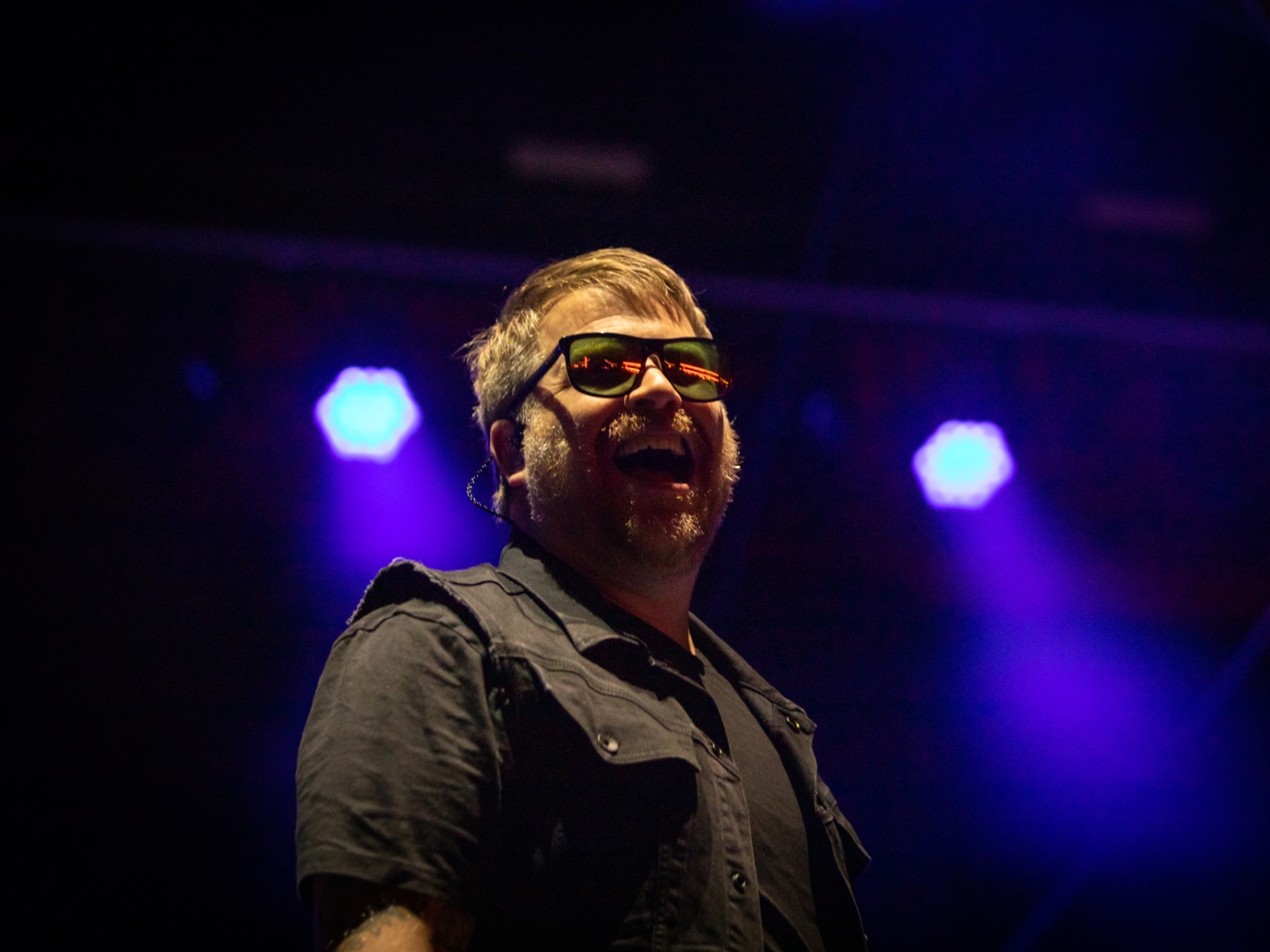 A lack of "All Meow Life" or "Meowpurrdy" aside, the show's biggest issues were just knocking some of the technical rust off after almost literally two years stuck on the bench. (Prior to their live debut in Napa on Sept. 4, their last true performance came Sept. 7, 2019.) For instance, the audience missed out on the first half of Killer Mike's verses on "36" Chain" thanks to a dead mic – thankfully fixed before the end of the throwback track. Perhaps it was just my particular location at the stage, but the bass was also dangerously close to overwhelming. The brain-rumbling, cavity-rattling levels made for a head-bangingly fun party atmosphere, but Killer Mike and El-P's sharp and cutting lyrics were often unfortunately smothered under the mix more than preferred.
Even so, Run the Jewels' songs are too pointed to not breakthrough into one's brain no matter the circumstances. ("JU$T" and "Lie, Cheat, Steal" sliced through in particular on Friday night.) Add in the contagious energy and eager vigor coming from Killer Mike and El-P on stage, and no one could be that bothered.
Plus the duo's scorching and propulsive beats were all intact throughout the night. They wrapped up their approximately 75-minute set with the hit combo of the riotous "Close Your Eyes (And Count to F*ck)" (sans Zack de la Rocha, of course) and the slinky groove of their DJ Shadow collaboration "Nobody Speak followed by a few more tracks off "RTJ4," topped by the driving force of "a few words for the firing squad (radiation)."
A brief encore of "Run the Jewels" called it a night for the Generac Power Stage crowd – but not so much for Killer Mike and El-P, who'll do it all again at Riot Fest less than a day later. Have fun, Chicago; we certainly did.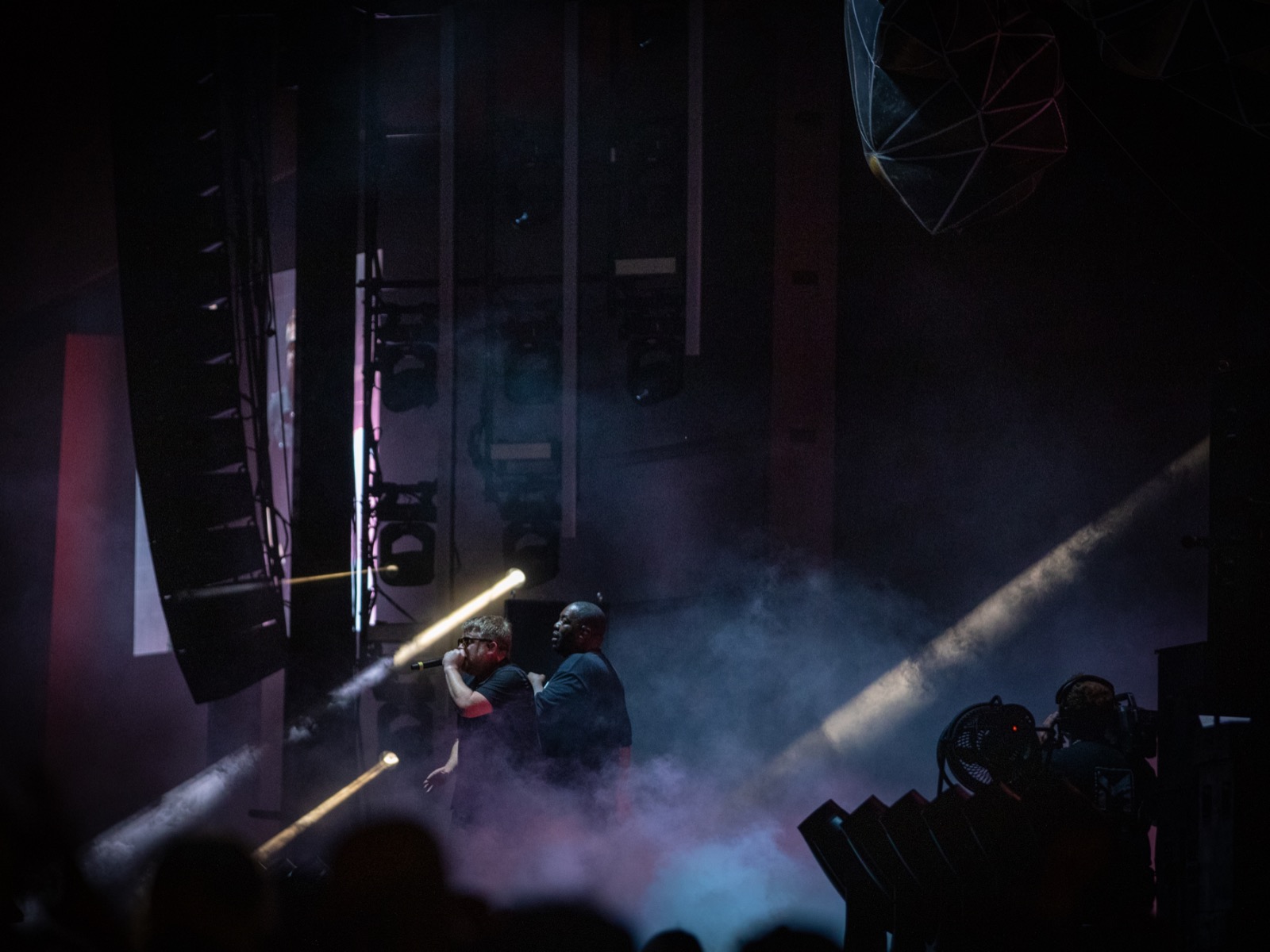 Setlist
"yankee and the brave (ep. 4)"
"ooh la la"
"out of sight"
"holy calamaf*ck"
"goonies vs. E.T."
"Blockbuster Night Part 1"
"Oh My Darling Don't Cry"
"Legend Has It"
"walking in the snow"
"JU$T"
"Stay Gold"
"Don't Get Captured"
"36" Chain"
"Lie, Cheat, Steal"
"Close Your Eyes (And Count to F*ck)"
"Nobody Speak"
"pulling the pin"
"a few words for the firing squad (radiation)"
"Run the Jewels"
As much as it is a gigantic cliché to say that one has always had a passion for film, Matt Mueller has always had a passion for film. Whether it was bringing in the latest movie reviews for his first grade show-and-tell or writing film reviews for the St. Norbert College Times as a high school student, Matt is way too obsessed with movies for his own good.
When he's not writing about the latest blockbuster or talking much too glowingly about "Piranha 3D," Matt can probably be found watching literally any sport (minus cricket) or working at - get this - a local movie theater. Or watching a movie. Yeah, he's probably watching a movie.