Sunday evenings are typically quiet on the east side of the Milwaukee River, but not last night.
What looked like to be a sunbathing Donald Trump floatie turned out to be a suited Beastie floating down the river.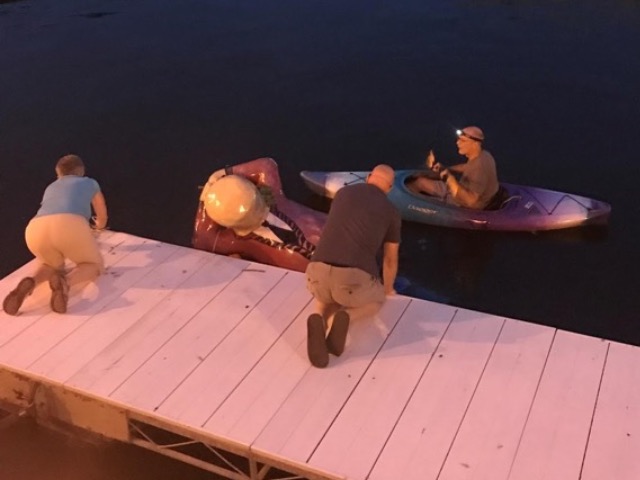 This Beastie's usual locale is in front of Ogden and Company, Inc., at 1665 N. Water St., but due to construction expanding the Riverwalk around the building, workers had removed the sculpture for safe keeping. Or so they thought, as this Beastie apparently wanted to see the world and broke free for a river cruise Sunday.
Condo folk united to retrieve the drowning statue around 9 p.m. One man donned a head flashlight, grabbed a nautical rope and kayaked toward the Beastie. With the rope looped around the Beastie's snout, he paddled slowly to a nearby boat slip. The Beastie was too heavy for a few people to pull out of the water, however, so it was tied firmly to the dock.
Police arrived by boat shortly after, around 9:30 p.m., and we were all sure the Beastie would be firmly back in his place by morning. But the police also found it too heavy to lift, so the Beastie remains sunbathing in the water this morning.
By the way, you can find more Beasties (not swimming) at the Milwaukee County Zoo all summer long.
Chelsea Gloeckner, MS, RD is a Registered Dietitian and the founder of VICTAE, a nutrition coaching business helping athletes and professionals reach their dreams and goals through practical and proper fueling.
In her life and here content, Chelsea combines her love of nutrition, science, and food to provide a fresh perspective on how to live a full and vibrant life.