Driving along Walnut Street or Fond du Lac Avenue, you can't really miss the Running Rebels headquarters at 1300 W. Fond du Lac Ave., a triangular building that's held sway over its intersection for more than a century.
The youth guidance community organization has been located at the site since the late 1990s but during its long history, the building has also served the community in a number of ways before, and it has an interesting story.
But what's happening in the building – which is also home to Express Yourself, which does art education, art therapy, music and other programming with kids – right now is some of the most important work that's ever taken place there.
Running Rebels was founded in 1980 by Victor Barnett, says John L. Rakowski, Running Rebels' director of prevention programs.
"We've been mentoring youth throughout Milwaukee since 1980," he says. "The program really took on life beyond the one-on-one work Victor was doing in the '80s and early '90s when in the mid-'90s, he got some contracts to work with adjudicated youth.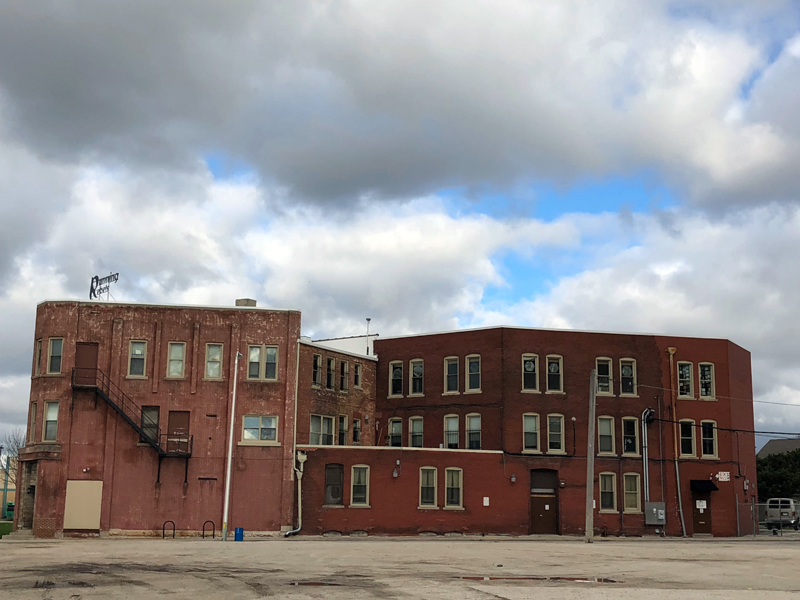 "Basically, someone was paying attention and said, 'You really seem to strike a chord and have some good influence on some of the young people who are a little bit harder to reach, and some of those guys are sitting on paper. Do you think you might be willing to do some work with them?'
Rakowski says that Running Rebels works with about 1,500 kids each year and a big part of mentorship and service is in creating relationships.
"Over the years, we've been fortunate to build off that model and just building relationships with young people, meeting them where they are, allowing them to make mistakes, work with them off hours, I think is a big thing," says Rakowski.
"If you need me as a mentor because something happened, your step-dad came home or your friend got hurt tonight, you need me now. I can't say, 'Yeah, Bobby, actually I'm on the clock tomorrow. Actually, well, today's Friday, so let me catch you Monday. I hope everything goes well for you.'"
Running Rebels has a basketball program, recording studio facilities, in-school programming at a number of Milwaukee Public Schools sites, as well as after-school programming at its two facilities (the other is the former Lad Lake site on East Capitol Drive).
"We do after-school programming predominantly here (on Fond du Lac Avenue)," says Rakowski. "We have the second floor right now set up for general rec. We get a lot of kids from Alliance (High School) and Roosevelt (Middle School).
"We have a lot of kids that are siblings of the young people we've worked with over the years who live in the neighborhood. So the second floor is set up as a rec space. We bring young people in and do tutoring, we play pool, we play ping pong. We run some group activities here."
Rakowski says that Running Rebels does not, itself, deliver counseling services.
"We really function more as the role of connector, mentor, advocate, to get young people to those services and people qualified to do it," says Rakowski. "We work predominantly with ages 12 to 17. And I say predominantly because if you were a young person in the neighborhood whose 10 we're going to probalby work you in somehow.
"If you were a guy that I was working when you were 14 and now you're 21 and need some help, we're going to find a way to connect you to something. We've tried to build programs to make sure we're just not doing it by stretching. We were really good at doing it that way for a while, but that's not sustainable."
The Fond du Lac Avenue building was a godsend when Running Rebels arrived as tenants in the late 1990s, says founder Victor Barnett.
"We were at 634 E. Burleigh, right off of Burleigh and Holton," he recalls. "It was a pretty small building. So when we came here, it was like, 'Oh, this is perfect,' We leased the second floor for a couple of years and then we bought it."
At that point, two other businesses – a dolly company and a carpenter who built furniture – began to clear out, allowing Running Rebels to really stretch out.
"The first floor is really open," says Rakowski. "We had run a small café there for a while. Now we use it mainly for meeting space. We have general staffing meetings, staff trainings, host community meetings. It gives us a little bit more space to work with, because the other building is nice, but there isn't really one main meeting space that can fit the needs of 80-plus."
Running Rebels currently has about 120 employees, according to Rakowski.
Down here, there's a small space at the front that's rented out and in there is a walk-in safe. But the main area is that big open meeting space with a great hardwood floor, pressed tin ceiling and wainscoting.
The second floor is the after-school recreation space with pool tables, foodball, ping pong, computer stations, areas for socializing, a snack station and more.
The top floor is home to Express Yourself.
"They're a great partner to have in-house," says Rakowski. We've worked with them for quite some time and people like what they do. So we both, as organizations, are uniquely positioned, who will actually go into juvenile detention and work with young people while they're in there.
"In terms of the way we work after school, it kind of happens in two fashions," he adds. "One, young people who are part of our after-school program, are offered Express Yourself programming, and two, we were really fortunate this year to actually get some funding from the state to do what I call a true prevention mentoring, working with young people before they've gotten into trouble or gotten hurt. And they're a partner of ours on that.
"So, there's an intentional effort to get to know what young people's interests and needs are and steer them towards academic support, athletics or wellness programming, and then the arts, as well."
A little history
In February 1908, Frederick T. Adler's Adler Realty Co., headquartered on Michigan Street, filed a permit with the city to erect a one-story building with two stores and a basement on the northwest corner of 13th Street and Fond du Lac Avenue, at a cost of $8,000, and presumably builder William G. Williams set to work.


This less-than-ideal image offers a rare look at the building with its tower and bays.
By August, Adler was back at City Hall for another permit, this time to allow Williams to add two stories to the top of the building, which by November – when an elevator permit was filed – was already home to U.S. Post Office Station B, located in the corner space on the first floor.
According to the USPS web site, a "station" was defined, after May 1908, "specifically (as) units located inside city limits, although that distinction does not always hold true today."
Hoping to clear up inconsistencies in the designation of locations, in 1897 Postmaster General James Gary issued an order declaring, "all stations or sub-stations, as now designated, that receive and dispatch mail, either by carriers or through boxes or general delivery, will be designated by letters or local names. Sub-stations issue and pay money orders, register letters and parcels, sell postal supplies, but do not deliver mail, and will be designated by numbers."
As it was designated "B," we can assume that the Fond du Lac post office received and dispatched mail, either by carriers or through boxes or general delivery.
The post office, which served the neighborhood at least into the 1950s, installed that walk-in vault on the first floor, in 1918.
In 1910 – a year during which Sanborn fire insurance maps show a ladies' underwear factory on the top floor – another community-serving organization also moved into the building.
The State Board of Control launched the Wisconsin Workshop for the Blind, and placed Oscar Kuestermann at the helm, at 1323 W. Vliet St., in 1903. Within a few years – the organization, which taught skills to the blind to help them become as self-supporting as possible and continues its work today under the name Beyond Vision – outgrew that space.
"It is to be moved to more commodious quarters," reported the Milwaukee Sentinel in July 1910, "in the building partially occupied by the post office branch at Thirteenth Street and Fond du Lac Avenue. Here the workshop will have the store in the rear and the entire second floor, giving 3,000 square feet more than available at present."
A 1914 source shows that the post office paid $2,500 a year in rent at the building, the State Board of Control paid $1,500 annually and other tenants paid another $1,200.
"That's pricey for rent," Beyond Vision's Diana Voight told me with a smile. "We pay the State of Wisconsin $1 a year right now for the building we're in (at 5316 W. State St.)."
The group – which the Sentinel noted made only "willow ware" after having experimented with making brooks, carpets and tuning pianos – expanded up to the third floor in 1917, staying another 10 years before relocating to Water Street. During its time there, the workshop produced baskets, clothes hampers and similar items that were sold in local shops, including at Boston Store.
When it left, Russian immigrant Joseph Brindis – who had arrived in the U.S. with his parents at age 4 and came to Milwaukee from Haverhill, Massachusetts, in 1911, after having graduated high school – moved in his BB Shoe Company, which also maintained another location on Center Street, to manufacture women's shoes in nearly the entire building.
"The company plans to double its present daily output of 1,200 pairs of women's shoes by Jan. 1," the Sentinel reported in July 1927, shortly after the move-in. The same article noted that Brindis also ran a leather company in Boston and a tannery in Haverhill.
Floor plans among city records suggest that in the early years of the 1930s, there were 8-10 girls and 7-8 men working in the basement, 20-30 girls running sewing machines on the second floor and another 60-70 of them on the top floor, alongside 25 or so men running stamping machines.
In 1933, City inspector Leon Gurda deemed the factory with about 200 employees in a 9,600-square foot building unsafe and unsanitary, writing in a letter to Brindis that among other issues, like insufficient ventilaton in the restrooms, the "rear stair (leads to basement and is not enclosed) is useless as an exit in case of fire in basement."
Soon after, the State Industrial Commission also wrote a letter confirming the same issues, and Brindis then hired architects George Zagel & Brother to alter and enlarge the building (pictured at right).
These issues, along with pay, likely contributed to the strike that hit BB Shoe Company in 1934, leading to regular news updates in the dailies, especially when violence broke out between picketers and scabs.
In 1934, Brindis settled with workers, giving them a small wage increase, but soon after he shuttered the factory, bought the former Harsh and Chapline Shoe Co. in Mayville, and moved the operation out there, renaming it Mayville Shoe Co. (seen in a postcard image below).
But Brindis didn't actually leave 1300 W. Fond du Lac, which he seems to have owned by this time.
In 1936, Carroll Walters opened a furniture repair and upholstery business on the third floor and by 1944, Lake States Footwear was again making shoes on the second floor.
Folks might've thought the 1939 blaze that tore through Brindis' Washington Boulevard home was related to the strike of five years earlier, that was not the case. Instead, it was the work of a pair of 17-year-old burglars, who smeared honey around the kitchen and turned on gas jets before fleeing.
In 1945, Brindis had workers remove the tower and cornice, and remove bays and replace them with windows flush with the walls. Around the same time, he set up his son Eugene with another shoe business in the building.
By '46, the Marilyn Shoe Co. occupied the same sprawling footprint as BB Shoe Co., including the basement and both upper floors. It was here that the well-known Kickerinos were made, including the Sashay and Clique designs.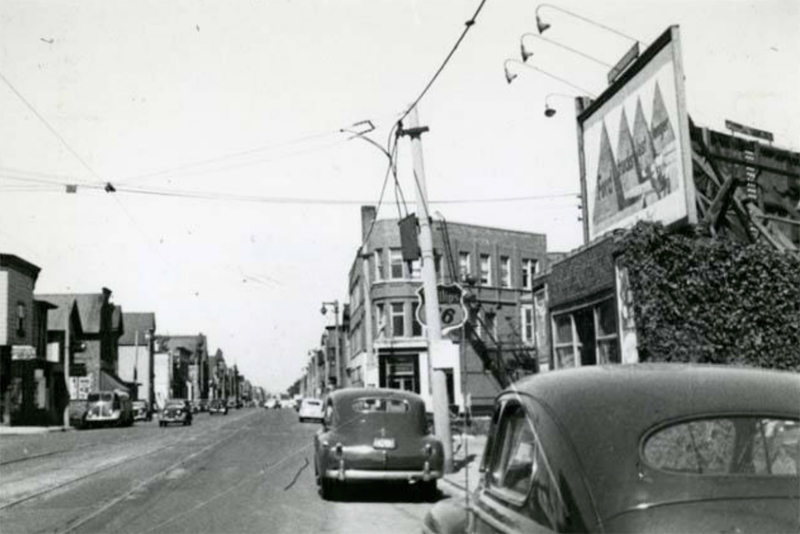 Two glimpses of the building from 1948 (above) and 1957 (below, left side of the frame),
courtesy of Milwaukee Public Library.
One 1950 advertisement in LIFE Magazine boasted, "The shoes of the year, because Kickerinos styles them so gayly – combines feminine wiles and smart simplicity in the most all-around, wearable ways!"
Marilyn (later a division of Hampton Corp.) was also known for its Kickerinos Alaskan boots – available in Ketchikan and Yukon styles – which had, according to another ad, "luxuriously fur-soft, warm-as-toast Borg DeePile lining" and "DuPont Neoprene Crepe Soles," and were "glamorous ... elegantly styled."
At the dawn of 1960, O.H. Ewert Co. was making cabinets on the first floor and the Lily Shilling Dress Factory had moved in, too.
In '63 R. Heise moved his Yeats Appliance Dolly Sales Inc. into the former cabinet making shop and stayed until Running Rebels arrived, and a number of other businesses came and went over the next few decades including Robelle Sportswear in the mid-1960s and Net Material Handling, whose ghost sign you can still spy on the north side of the building.
In 1983, the front sidewalk was relocated and the current street configuration was added as part of the Hillside Interchange Project.
In the '90s, the building was owned by Wayne Kappel and his son Mike, who rented part of the space to John Gee and Kathy Hanneman's Kandi Music International, in addition to Yeats, and that carpenter that Victor Barnett recalled.
In 1998, Milwaukee police notified the city, which in turn notified Wayne Kappel that a rave party had been held in the building and that a flyer distributed to area high schools advertised another such event for the following Friday.
"Contacted Wayne Kappel to inform him of the party and unsafe environment the building is for such a party," reads a note in the city file. "Said he'd contact his partner, his son, and have the party canceled."
Sounds about right, says John Rakowski.
"I've heard different stories of neighborhood kids' uncles saying they shot pellet guns or other stuff in here." says. "And you'd have your little drinking parties somewhere in here maybe.
"This was sitting dead. We had a line of houses here that were kind of distressed," he says, pointing across 13th Street.
Those were demolished soon after Running Rebels bought the building.
"When I first started working here we had no asphalt (basketball) courts," he recalls. "I remember they dropped city fill around it, so we had all this rebar and stuff sticking out."
They cleaned that all up, and later put the sign – which you can't miss – on the roof, and got right down to business.
"We've got a pretty big program that's set up to work with youth ... trying to keep them out of going further down, and it's not just staying out of jail – also to help them connect to some things to make sure that they can be successful."
Born in Brooklyn, N.Y., where he lived until he was 17, Bobby received his BA-Mass Communications from UWM in 1989 and has lived in Walker's Point, Bay View, Enderis Park, South Milwaukee and on the East Side.
He has published three non-fiction books in Italy – including one about an event in Milwaukee history, which was published in the U.S. in autumn 2010. Four more books, all about Milwaukee, have been published by The History Press.
With his most recent band, The Yell Leaders, Bobby released four LPs and had a songs featured in episodes of TV's "Party of Five" and "Dawson's Creek," and films in Japan, South America and the U.S. The Yell Leaders were named the best unsigned band in their region by VH-1 as part of its Rock Across America 1998 Tour. Most recently, the band contributed tracks to a UK vinyl/CD tribute to the Redskins and collaborated on a track with Italian novelist Enrico Remmert.
He's produced three installments of the "OMCD" series of local music compilations for OnMilwaukee.com and in 2007 produced a CD of Italian music and poetry.
In 2005, he was awarded the City of Asti's (Italy) Journalism Prize for his work focusing on that area. He has also won awards from the Milwaukee Press Club.
He can be heard weekly on 88Nine Radio Milwaukee talking about his "Urban Spelunking" series of stories.