Saint Kate – The Arts Hotel, 139 E. Kilbourn Ave., recently named artist Jeff Zimpel as its first Artist-in-Residence. Starting this month, Zimpel will welcome guests to the new studio inside Saint Kate where they can engage with his artistic process and witness his art come to life.
Zimpel is an interdisciplinary artist from Cedarburg whose art practice intersects painting and photography using mark-making. He explores his artform by developing site-specific installations using a multitude of tools, media and surfaces to grind colorful rocks into dust and paint vibrant markings using different techniques, ideas and collaborators.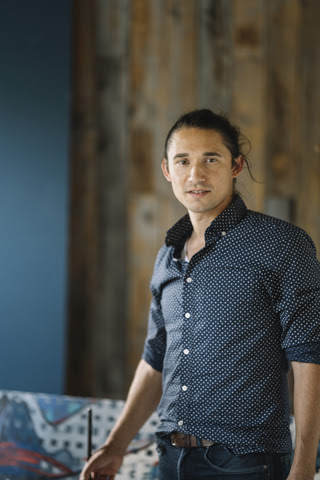 Extending his ongoing community-based project "An Ecology of Marks," Zimpel will transform Saint Kate's AIR Space into an ecosystem of creative potential. His residency will serve as a component to his larger project and will be titled "Studio Ecology" as guests explore his ecological approach to living and creating his art in Saint Kate's studio.
Zimpel is currently the instructional designer for Arts@Large in Milwaukee and has also taught art and design at secondary and collegiate levels. He holds a Master of Fine Arts in art and social engagement from the University of Wisconsin – Milwaukee and a Bachelor of Fine Arts in graphic design from Cardinal Stritch University in Milwaukee.
"I'm honored to be named the first Artist-in-Residence at Saint Kate – The Arts Hotel," says Zimpel. "I've long admired Saint Kate's mission to provide an arts experience that arouses our imagination while inviting all to explore the creative process. This beautifully aligns with my work as I feel every person is a mark-maker, yet we have so much to learn from marks made by the world around us."
Saint Kate's Artist-in-Residence program offers Midwest-based artists working in any art form or medium an eight-month residency inside the hotel's studio.
Chosen by Saint Kate's creative team, the artist's practice and residency must embody Saint Kate's commitment to invoke creativity, and promote community and collaboration, while building a common ground between the artist and guests.
"In choosing Jeff to serve as Saint Kate's first Artist-in-Residence, we have found an artist who is bold in his practice, inviting those who experience his work to become part of his process and leave their mark along the way," says Linda Marcus, one of Saint Kate's visionaries and a nationally recognized multi-disciplinary artist, designer and storyteller.
The Artist-in-Residence will also host events, talks, tours and other opportunities for guests to interact directly with the artist.
"I'm looking forward to sharing my art with Saint Kate's guests and drawing attention to the ecology around us as visitors contribute to my process and evolve my art in ways I never expected," says Zimpel.
To learn more about Saint Kate – The Arts Hotel's new Artist-in-Residence program, visit: www.saintkatearts.com.

Molly Snyder started writing and publishing her work at the age 10, when her community newspaper printed her poem, "The Unicorn." Since then, she's expanded beyond the subject of mythical creatures and written in many different mediums but, nearest and dearest to her heart, thousands of articles for OnMilwaukee.

Molly is a regular contributor to FOX6 News and numerous radio stations as well as the co-host of "Dandelions: A Podcast For Women." She's received five Milwaukee Press Club Awards, served as the Pfister Narrator and is the Wisconsin State Fair's Celebrity Cream Puff Eating Champion of 2019.