The Saint Kate Arts Hotel, which replaces the InterContinental Milwaukee at 139 E. Kilbourn Ave., has been edging closer to its Tuesday, June 4 opening day.
Two weeks ago we were there as artists began installing work in the public spaces of the hotel, which already has a permanent collection of more than 100 contemporary artworks, assembled by curator Maureen Ragalie.
We also offered a preview of the food and beverage options that will be on tap at the new hotel, including Aria Restaurant and the attached Giggly Champagne Bar, as well as a lobby bar – which will serve breakfast items in the morning, too – and Proof Pizza in the lobby.
Today, we went back for another look as opening day approaches for Milwaukee's first major arts hotel.
There will be three permanent spaces for art, including an outpost of the Museum of Wisconsin Art called MoWA DTN, a space for works from the Marcus family collection and a small space upstairs near the ballroom, called The Closet (see bottom photo), which will house immersive art experiences, according to Ragalie.
In addition, there are paintings, works on paper, sculptures, an art vending machine, a Poet Phone that features seven Milwaukee poets reciting more than a dozen poems, video screens and more art absolutely everywhere.
The 221 rooms in the Saint Kate will be adorned with works by makers like Milwaukee's Todd Mrozinski (check inside the closets!) and Bay View Printing's Ashley Town (including lamp shades), as well as Christiane Grauert (blankets), Daniel Chung (who designed sinks with Kohler), Linda Lindner (tile) and Kelly Frederick Mizer (shower curtains and hair dryer bags).
Five of the property's rooms will be designed by Milwaukee-area artists and makers – including Lon Michels, Reed Skocz, Rosemary Ollison and John Grant – and some of the revenue generated by those rooms will be shared with area arts nonprofits like 88Nine Radio Milwaukee, Artists Working in Education, Milwaukee Artists Resource Network and the Milwaukee Rep.
And there is the Arc Theatre performing arts space, which will host a wide variety of performances, including dance, theater, comedy and music, including late-night shows, too.
In a rather unique move, the hotel has recruited artists in residence for the space. Not many hotels have dancers, acrobats and musicians on the payroll, but the Saint Kate does.
"My grandfather said Adam and Eve were the only original idea and everything else is a copy," quipped Greg Marcus of Marcus Hotels & Resorts, which owns the Saint Kate. "The art hotel idea is not a new idea ... People want to experience something when they travel; get a little more out of their time away.
"We were watching that trend and ... we want to make sure our products are appealing to customers. Overlay that with my family's experience with the arts, which goes back generations and I very much believe that you can do well and do good at the same time. That's a virtuous circle because if we do well then there's more money available to put into the arts."
The Marcus family, over the years, has helped launch Summerfest, ideated the MECCA basketball floor designed by the late Robert Indiana, created Sculpture Milwaukee and has the naming rights to the Marcus Center for the Performing Arts, among other arts-related endeavors.
"Putting all that together, (we said), 'let's do something like that but let's add some spin to it'," said Marcus. "We're in an area where we're surrounded by the performing arts, so let's add the performing arts to the mix and let's celebrate both visual and performing arts. Then all of a sudden we're here and we have something that's very special now."
Here's some of what we saw on Thursday:
The lobby
MoWA DTN, a Museum of Wisconsin Art gallery
Arc Theatre performing arts space
Artist-designed rooms to benefit local nonprofits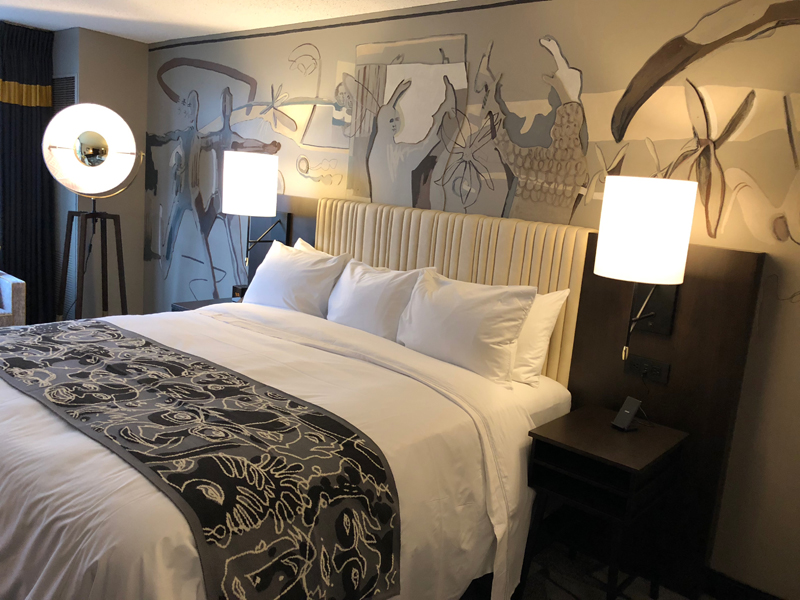 One of two Study rooms, this one focused on music
Aria restaurant and Giggly bubbly bar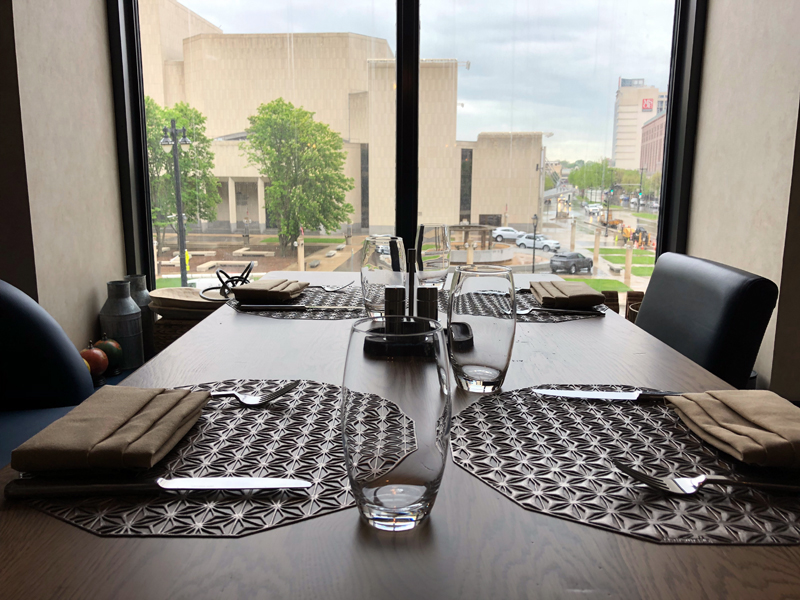 Art everywhere