As of this Saturday, Milwaukeeans can experience a taste of the island life – well, at least we can Wednesdays through Sundays. The Sangria Bar will open to the public on Saturday at 4 p.m. and bring tropical-themed drinks, vibes and sounds to the Walker's Point neighborhood.
Located at 904 S. Barclay St., The Sangria Bar is a large, outdoor "paradise" that's attached to The Point, a rental space and venue in the former Rain.
Owned by Clai Green, Elizabeth Atkinson and Robert Smith, The Sangria Bar will have a rotating menu of sangria concoctions in glasses or pitchers, along with massive margaritas and a full bar.
To drink at the Sangria Bar requires a membership card, but everyone is welcome to one.
"Anyone can be a member if they come to our bar and ask for one," says Green.
Once a customer has a membership card, they are eligible to receive drink specials and more.
"Summers in Milwaukee are amazing," says Green. "Milwaukeeans love their outdoor drinking and eating on patios, and don't forget: Ours is bigger than yours."
Food will be available for delivery from Drink Wisconsinbly, located across the street.
I sampled three or seven different sangrias tonight (forgive any typos) which ranged from sweet to dry to puckery and ranged in price from $5 to $6. All were refreshing and loaded with fresh fruit and, amazingly, the sangria drinks will be served with a vodka or brandy chaser (feel free to re-read that sentence if it seems unreal).
"Everyone will take an Uber or a Lyft home," says Green. "That's our goal."
The space features a thatched-roofed bar, a sand pit with a soon-to-be-installed fire pit, a large waterfall and a pond.
"We are going to steal all the fish for our pond in the next couple of days, so if anyone's missing a fish …" jokes Green.
"We're going for an island. A South Beach experience," says Green. "We have visited a lot of places like this and are bringing the best of the best to Milwaukee. We're going for a romantic, fun, island experience."
The Sangria Bar will be open in most weather, but in the case of strong rain, The Point bar will be open and serving sangria.
"Hey, it's Wisconsin. If it's chilly, wear a coat. Snuggle up to your someone or meet someone new," says Green.
Saturday's opening will feature performances by two female impersonators, Betty Boop and Nova Divine, and will run from 4 to 2:30 a.m. After its opening Saturday, The Sangria Bar will close at midnight.
"After midnight, our guests can visit one of the many other Walker's Point bars," says Green.
Here are 11 more photos of The Sangria Bar and OnMilwaukee's Facebook Live video:
1. Sangria diversity

2. Island life ... in Walker's Point

3. Sangria Bar "startenders"

4. Vines, rocks, tables, chairs
5. Margarita ... perfect for your next threesome

6. Pour it
7. Pour it good
8. Fruity
9. The falling of water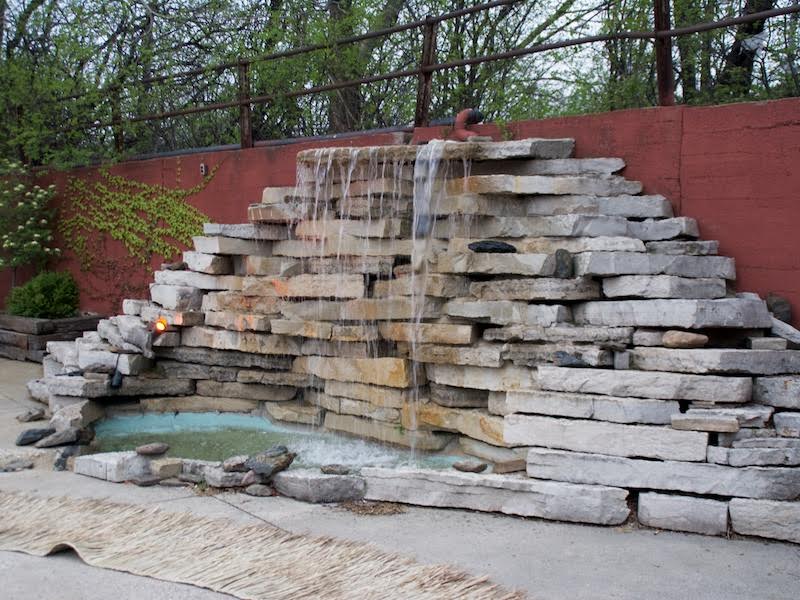 10. No complaints

11. Size matters

Take a stroll through The Sangria Bar with Molly and Clai:

Molly Snyder started writing and publishing her work at the age 10, when her community newspaper printed her poem, "The Unicorn." Since then, she's expanded beyond the subject of mythical creatures and written in many different mediums but, nearest and dearest to her heart, thousands of articles for OnMilwaukee.

Molly is a regular contributor to FOX6 News and numerous radio stations as well as the co-host of "Dandelions: A Podcast For Women." She's received five Milwaukee Press Club Awards, served as the Pfister Narrator and is the Wisconsin State Fair's Celebrity Cream Puff Eating Champion of 2019.