A sea of Santas, reindeer, Grinches, elves and even a Joseph with a very pregnant Mary, along with a mass of bicycles of all shapes and sizes, invaded Wauwautosa's downtown district on Saturday morning for the Wisconsin Bike Federation's Santa Cycle Rampage. In its 17th year, the Santa Cycle Rampage was created by a handful of people who rode their bikes all year to encourage people to try winter riding. And encourage the people, it has.
On this bright, clear and unseasonably warm Saturday morning, the streets were almost overwhelmed by the sheer number of riders. The river of cyclists, accompanied by Wauwautosa and Milwaukee Police Departments, took up one full lane of North Avenue and stretched for at least 10 blocks on the Tosa leg of the Santa Cycle Rampage. That leg left from Cranky Al's and traveled east on North Avenue, with its final stop at Lakefront Brewery. Other legs left from Café Centraal in Bay View, various locales on the East Side and from Kegel's Inn in West Allis.
It was standing room only inside Lakefront Brewery when the ride finished. Lakefront closed at noon to encourage Rampagers to venture out to other establishments that support the ride, which included Nomad World Pub, Great Lakes Distillery and Red Lion Pub, just to name a few.
The stream of Santa cyclists, whooping and shouting "Merry Christmas!" popped up all over downtown long into the afternoon. For the most part, people taking in the sight of so many Santa's on bicycles were receptive, smiling and waving. Many of them grabbed their cell phones to capture the unusual sight, while kids were in awe of so many Santa Clauses. Some cyclists even yelled, "Be good!"
The Santa Cycle Rampage's goal of bringing holiday cheer? Yeah, achievement clearly unlocked.
1.
2.
3.
4.
5.
6.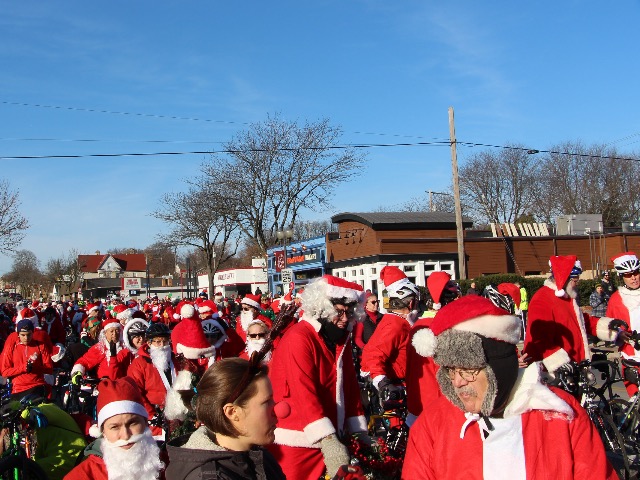 7.
8.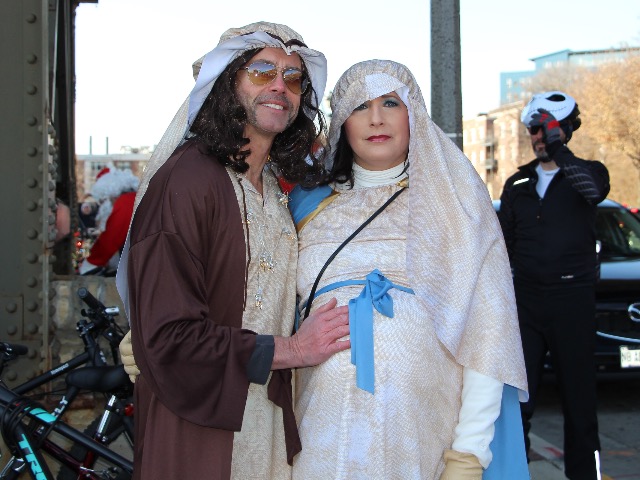 9.
10.
11.
12.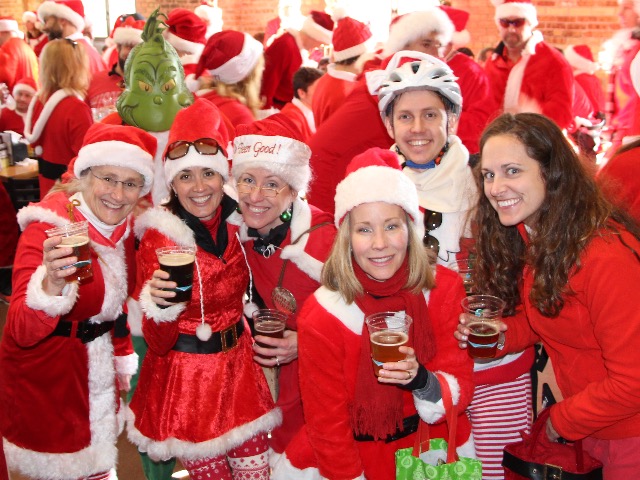 13.
14.
15.
Moving to Milwaukee in 1998, Lora quickly adapted to and embraced big city living. A graduate of Carthage College and Marquette University Law School, Lora clerked for the Hon. Diane Sykes at the Wisconsin Supreme Court, worked as a litigator in private practice, and most recently was employed as a development officer for the MACC Fund.

In all of her experiences, time was focused on writing which has been a passion since junior high school. A series of food service industry jobs both before and after law school taught her that bringing out the human side in any story is key to great storytelling and good writing.

A die-hard east side girl, you'll usually find Lora down by the lake or on the Oakleaf. She's an avid photographer, and sometimes storm chaser.

Hobbies include biking, gardening, cross country skiing, swimming, blogging, and of course working on her fictionalized autobiography--fictionalized, because whose life is really interesting enough to fill 400 pages?

She's in IMDb. Look her up.