This interview originally ran in November of 2017, but in honor of Dashboard Confessional's upcoming "When We Were Young" tour, we've updated and rerun the article. Enjoy!
In the late 1980s, Bay View-based bass player Scott Schoenbeck's first band, Cleveland Bound Death Sentence, played all-ages shows on Sunday afternoons at Cafe Voltaire, later the Odd Rock Cafe, and The Unicorn. In 1988, the band went to Green Bay to open for hardcore punk band 7 Seconds.
"That's when I got the bug in me," says Schoenbeck. "For being in a band, for touring, all of it."
In the '90s and early 2000s, Schoenbeck was a member of Alligator Gun and later The Promise Ring; both bands experienced national success and also played a lot of local shows.
But in 2002, the Bay View bassist was recruited for Dashboard Confessional, a pop punk/emo/fill-in-the-blank-here band that started in Boca Raton, Florida, and today is based in Nashville. Schoenbeck is the only member of the group who lives outside of Nashville.
"It's not like we can have Wednesday night practice," says Schoenbeck. "But it works."
In the early years, Dashboard Confessional, fronted by Chris Carrabba, performed on MTV Unplugged and won an MTV music award for the video "Screaming Infidelities," beating out Nora Jones, The Stokes and The Hives. The band's third album hit No. 2 on the Billboard Charts and landed a spot on the "Spiderman 2" soundtrack.
(PHOTO: Facebook)
The band has performed in huge arenas, including at a Quebec festival in front of 110,000 fans. Dashboard Confessional appeared on "Late Show with David Letterman," "The Tonight Show with Jay Leno," "The Tonight Show with Conan O'Brien," and "Jimmy Kimmel Live!" The band also toured with Bon Jovi and performed at Neil Young's annual Bridge School Benefit.
"The first night, there was a party at (Neil Young's) house. It was cool: spilling wine on Eddie Vedder, hanging out with Crosby, Stills and Nash," says Schoenbeck.
Was he nervous suddenly being in front of so many fans?
"No way. It's fun as hell," he says. "Especially when everything goes right."
After taking a few years off, Dashboard Confessional was signed by record label Fueled By Ramen – which also signed Panic! At The Disco, Paramore, Twenty One Pilots, Vinyl Theatre (also from Milwaukee) and more. "They really know what the f*ck they're doing," says Schoenbeck. "I'm really impressed so far."
The band's seventh studio album, "Crooked Shadows," came out last year along with its singles "We Fight" and "Heart Beat Here." Afterward, Dashboard embarked on an 8-10 month tour, the longest Schoenbeck's been on in a few years. Now, after their Summerfest headliner gig at the BMO Harris Pavilion, they'll get a month or two off before heading back on the road for the band's UK/Euro tour. But he's always ready for it.
"The first 10 years with Dashboard I spent more time on the road than off," he says.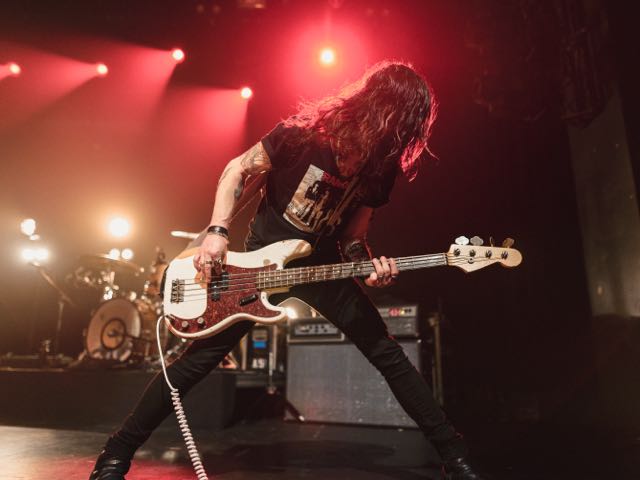 (PHOTO: Joe Ortega)
During this same decade, Schoenbeck and his wife, Janice Scholz, had two children, now both in their teens. For some it would be a lot to manage – even an impossible endeavor – but Schoenbeck is simply cut out for touring. He even took a job as tour manager for Milwaukee's Trapper Schoepp and as a guitar tech for Fountains of Wayne just to have the chance to go back on the road.
Although Scholz can sometimes join him on tour thanks to family members who can provide child care, Schoenbeck's rigorous touring schedule has prevented him from attending some family events. But he's OK with that.
"I don't feel like I've missed out on anything. I feel I missed the stuff I didn't want to be around," says Schoenbeck. "I was really psyched when I thought I was going to be on tour during Thanksgiving, but then it fell through. I really like missing holidays."
Scholz says that, although she misses her husband, she doesn't mind flying solo as a parent – which is one of the reasons why the couple has been together for so long.
"Honestly, a lot of the time it's easier to parent when it's just you making all the decisions," she says. "And I'm super proud of him."
(PHOTO: Facebook)
For Schoenbeck, going on tour is not the hard part. Readjusting to "normal life" is.
"It's a mindf*ck and it can take forever to get 'back,'" he says. "You feel anxious and stuck. It's like post-tour depression blues. On tour, you're moving constantly for months and staying in killer hotels and then you come home and you can immediately smell your cats. It's major culture shock.
"I still love it. I get to play bass with such a great frontman – the whole band is just really good," says Schoenbeck. "Anytime a friend tells me he's quitting the business I say, 'Good for you,' but I think I have the sickness. I just can't stop."
(PHOTO: Royal Brevvaxling)

Dashboard Confessional goes to Las Vegas for the "When We Were Young" concert this fall. Get info on tickets here.

Molly Snyder started writing and publishing her work at the age 10, when her community newspaper printed her poem, "The Unicorn." Since then, she's expanded beyond the subject of mythical creatures and written in many different mediums but, nearest and dearest to her heart, thousands of articles for OnMilwaukee.

Molly is a regular contributor to FOX6 News and numerous radio stations as well as the co-host of "Dandelions: A Podcast For Women." She's received five Milwaukee Press Club Awards, served as the Pfister Narrator and is the Wisconsin State Fair's Celebrity Cream Puff Eating Champion of 2019.