A soggy May is blossoming into a bright and boldly colorful June – at least Downtown in the Chase Tower on Wisconsin Avenue, where art is blooming on the glass walls of its main atrium.
"Gild the Lily (Caribbean Hybrid I, II, III)" is one of the 23 works of art calling Downtown Milwaukee's main drag home for the next several months as a part of the third annual Sculpture Milwaukee outdoor public art exhibition – and it's pretty hard to miss, turning the front of Chase Tower into a beautiful array of flowers and flora.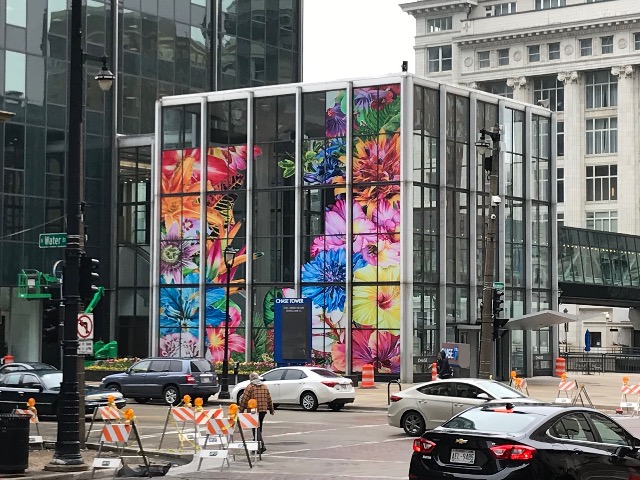 The man behind the magnificent piece is artist Carlos Rolón, who OnMilwaukee caught up with late last week as he was in the midst of putting his eye-catching work on the walls. Here's our chat with Rolón – about the process behind the piece and its meaning – as well as a glimpse at the gorgeous work-in-progress.
Rolón's work, as well as the rest of Sculpture Milwaukee 2019, will officially open on June 7. Stay tuned to OnMilwaukee for more updates!
As much as it is a gigantic cliché to say that one has always had a passion for film, Matt Mueller has always had a passion for film. Whether it was bringing in the latest movie reviews for his first grade show-and-tell or writing film reviews for the St. Norbert College Times as a high school student, Matt is way too obsessed with movies for his own good.
When he's not writing about the latest blockbuster or talking much too glowingly about "Piranha 3D," Matt can probably be found watching literally any sport (minus cricket) or working at - get this - a local movie theater. Or watching a movie. Yeah, he's probably watching a movie.