The last time a group from Ontario, Canada came into the Fiserv Forum, things didn't go Milwaukee's way. This time, however, everyone was a winner as Canadian pop star Shawn Mendes brought himself and Alessia Cara to Milwaukee for his headlining tour.
No stranger to Milwaukee, the 20-year-old singer has already delivered a number of memorable shows in the city throughout the years. With past shows at Summerfest, The Rave and the Wisconsin State Fair, Mendes' Tuesday night performance was his biggest in the city yet.
More than his biceps have grown since Mendes first played in the city six years ago, most especially his talents as a live performer, which was evident last night.
Here are our seven reasons why you shouldn't have missed Shawn Mendes' show at Fiserv Forum.
1. He put on a great performance at Summerfest last year
Mendes left his Milwaukee fans wanting more after his entertaining Summerfest performance at the American Family Insurance Amphitheater last year. Fortunately fans weren't forced to wait long, as it took less than a year for the "In My Blood" singer to return to Milwaukee, this time for his biggest show in the city to date.
Less a day before gates open at Summerfest for 2019, Shawn Mendes took his live show indoors for another night that his local fans won't soon forget.
2. His biceps were on full display
It was difficult to sort out what percentage of screams at Fiserv Forum were aimed toward Mendes' catalog of hits and what percentage were aimed at his massive biceps. When he isn't in the studio, he must be in the gym, because Mendes was jacked on Tuesday night.
The Toronto native wasn't afraid to show off his arms either, as his Bruce Springsteen-inspired cut-off tee put his left and right arms in the spotlight last night. The music comes first for Mendes, but he's as confident as ever with his image and for good reason.
3. Entertaining melodies
Mendes treated fans with a lengthy 24-song setlist on Tuesday – exactly 10 more songs than his Summerfest show a year ago. Of the several performances for the night, Mendes performed two different and creative melodies throughout the show.
The first of two melodies came as Mendes mixed the new with the old, splicing his 2015 Camila Cabello collab "I Know What You Did Last Summer" with "Mutual," a song from his newest LP. Despite the years that separate the two songs, they blended together perfectly on stage. Mendes again mixed the new with the old later in his set with a melody of "A Little Too Much" and "Because I Had You." Not only did the melodies squeeze a couple extra tracks into the night, but it changed the format for the evening in a way that caught the audience's full attention.
4. Alessia Cara
Alessia Cara rewarded fans for finding their seats on-time by taking charge of the packed arena and setting the mood for the night's headliner with an energetic performance of her own. First known for her breakout single "Here," Cara breathes positivity and a healthy self-image through her music.
The 22-year-old performed tracks from her newest album "The Pains of Growing," as well as her other standout songs for the crowd. Her Canadian nationality isn't the only thing Cara shares with Mendes, as the singer also shares his ability to engage a massive audience at such a young age.
5. Mendes performed the majority of his newest album
Unlike some, Mendes played much more than just the singles and a couple extras from his newest studio album. Mendes performed the vast majority of his new self-titled LP to the audience's delight. "Shawn Mendes: The Album" was met with critical acclaim and is deserving of its large role in the tour's setlist. Although Mendes' Summerfest performance followed the release of the album by over a month, the project has since grown in popularity, bumping up the significance of his latest visit to Milwaukee.
6. His trip to the B-stage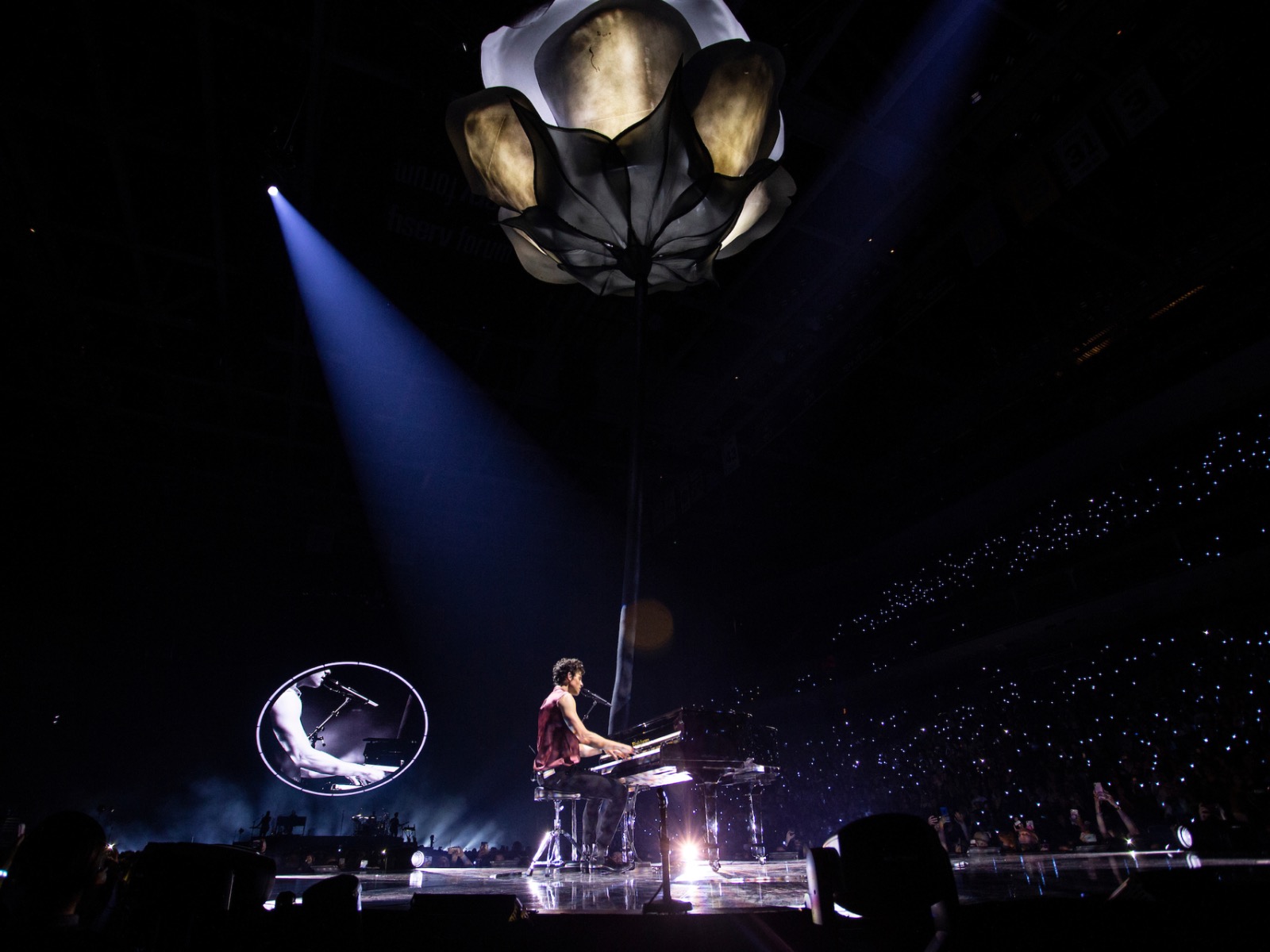 Although his main stage and giant circular video screen supplemented his performances well, Mendes paid a visit to the other end of the arena with a visit to his tour's B-stage midway through the night, topped with a giant flower to give the small stage a little flair. The 20-year-old kicked the visit off with a fun cover of Whitney Houston's "I Wanna Dance With Somebody" before performing "Patience," "When You're Ready" and more.
7. "In My Blood"
Last but certainly not least, Mendes ended the night with his self-titled album's single "In My Blood," a track penned after Mendes' battles with anxiety. Despite the serious subject matter surrounding the record, "In My Blood" was a perfect emotional track to end the night during his encore performance.
While we don't know if Shawn Mendes will return to the city in 2020, after Tuesday's great performance, his Wisconsin fans certainly hope that he will continue his annual visits.