The warm, inviting and colorful Art Bar, 722 E. Burleigh St., is the perfect setting for Shelby Keefe's oil paintings, all of which effuse the same qualities.
Keefe, a local painter with a zillion awards and credentials, has lived in Milwaukee her entire adult life, but has painted and shown work all over the world. Currently, she has work in galleries in Colorado, New Mexico and Door County.
Her self-titled Art Bar show, which runs through Wednesday, Feb. 9, features 75-ish paintings, about half framed and half displayed on a "magnet wall," brushed between 2010 to the present.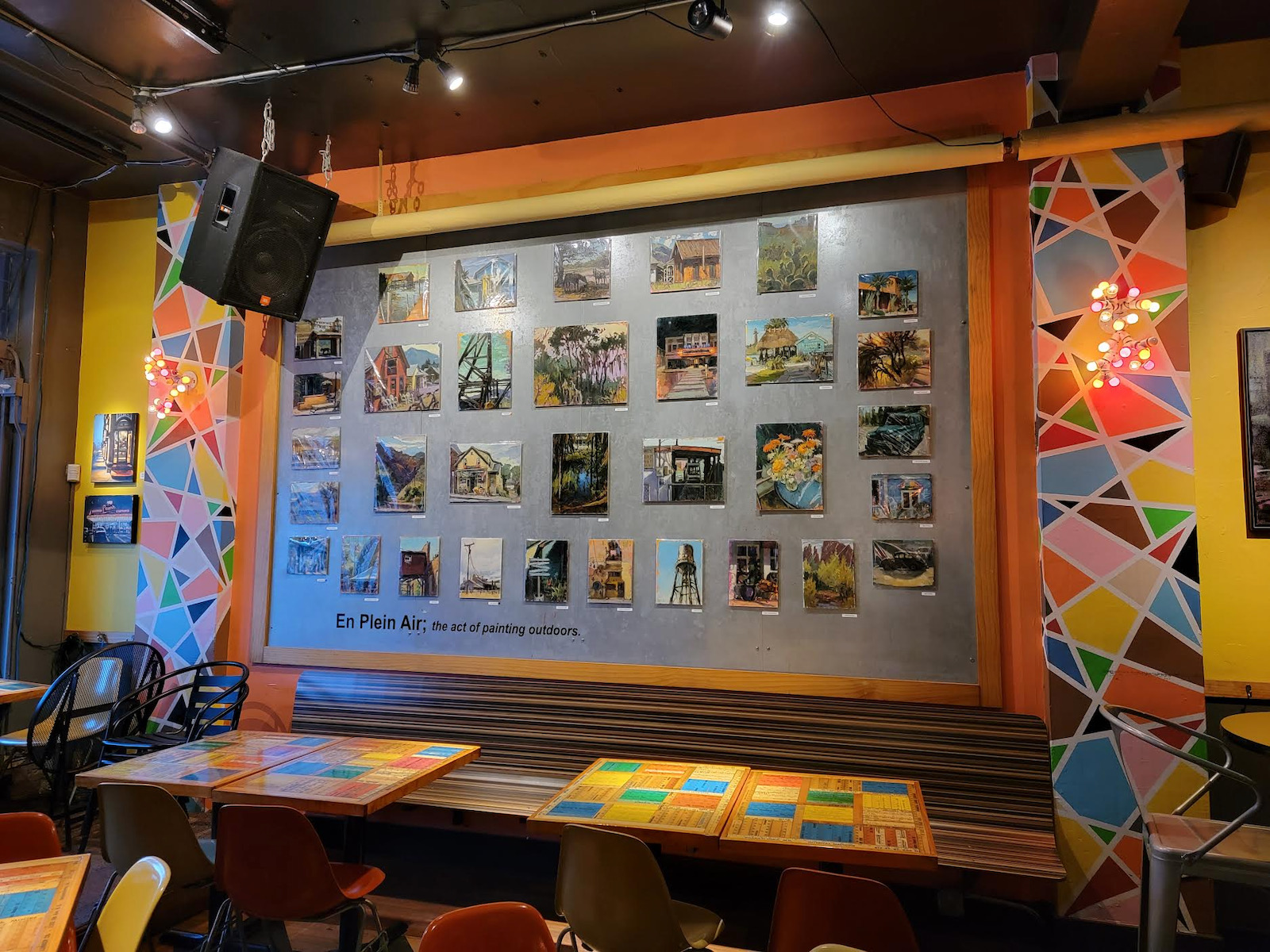 For this show, Art Bar owner and curator Don Krause focused on the Milwaukee themed paintings that include The Domes, Oriental Theater, Downtown Milwaukee, Leon's Custard and the Hi-Fi Cafe (I had the honor of posing for the latter).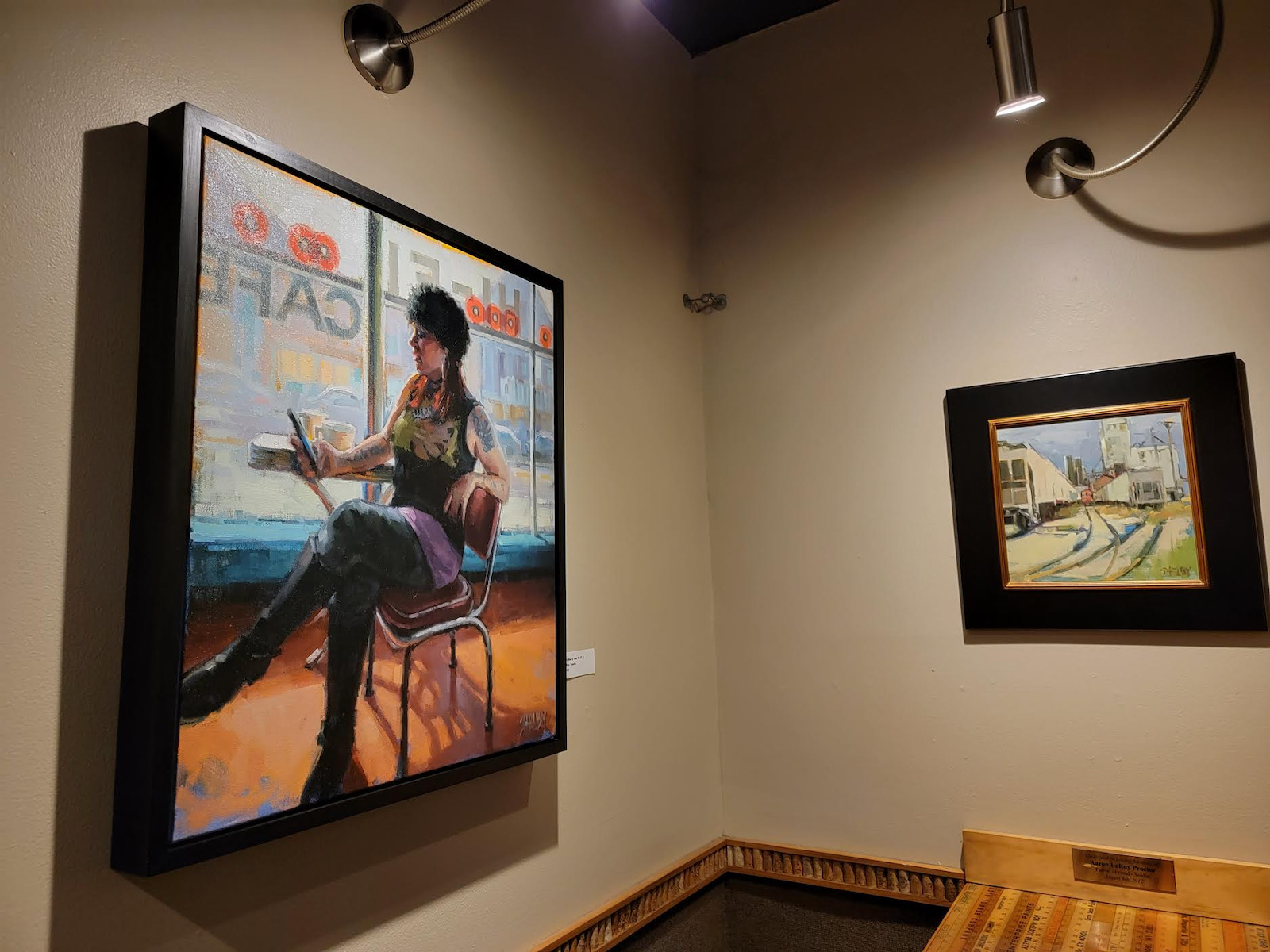 Also on display is a unique, moment-in-time in Milwaukee history: the building of Fiserv Forum. Nature paintings, including a stunning capture of Lapham Peak in the Kettle Moraine State Forest are also in the mix.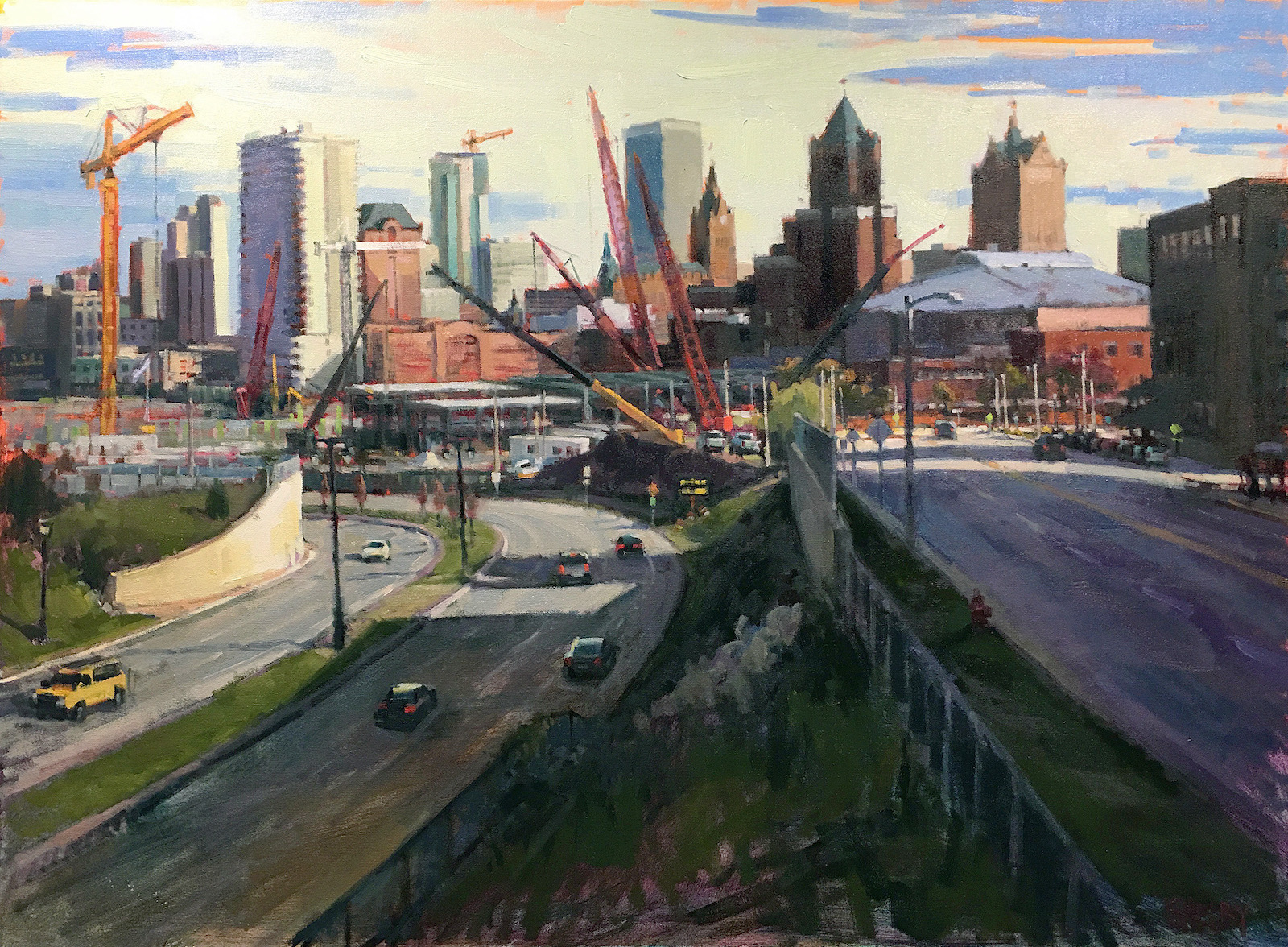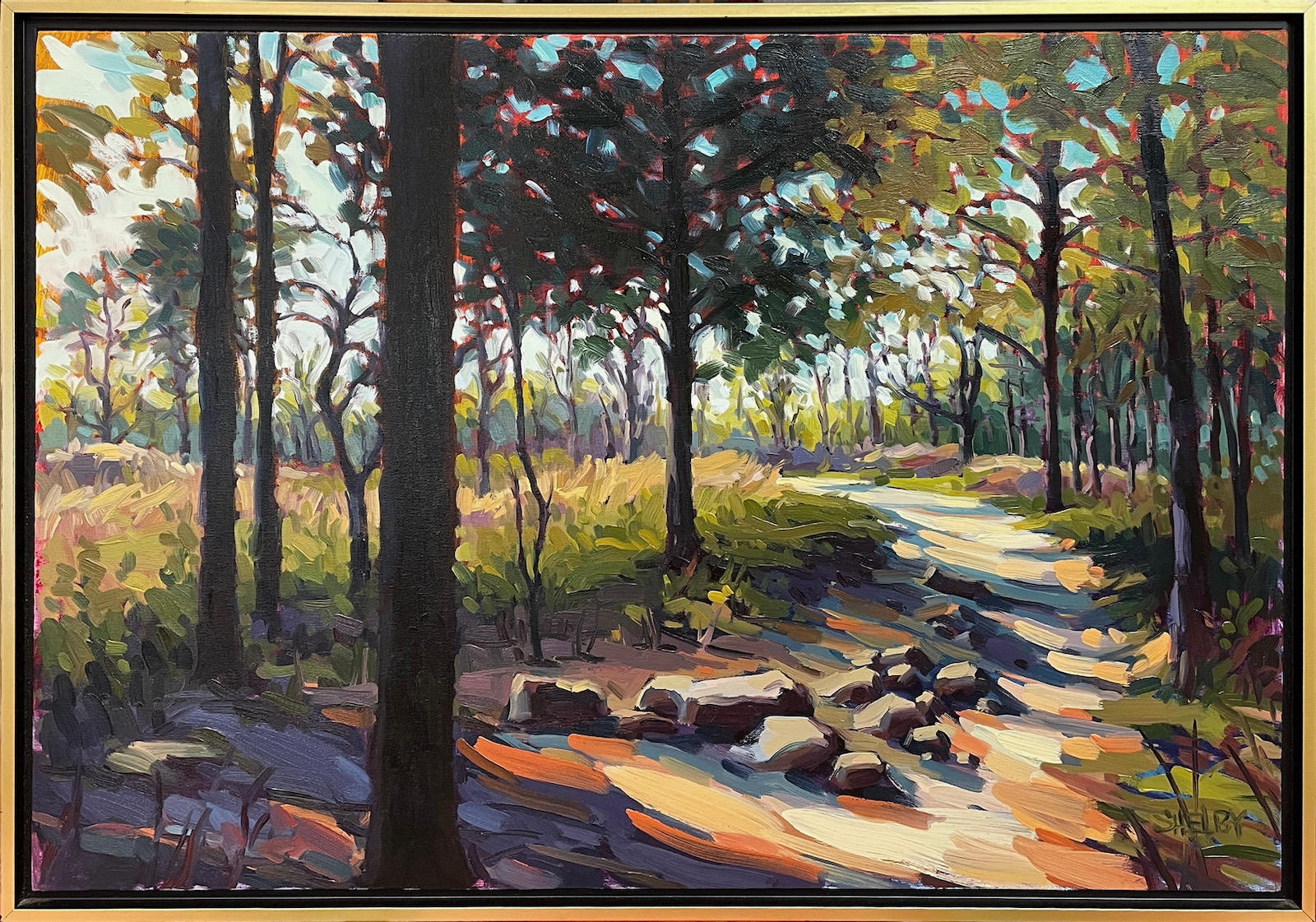 Keefe attends Plein Air festivals throughout the country and many of the paintings are from those experiences in New Mexico, Colorado, Florida, Arizona, Nashville and more. Plein Air, also called En Plein Air, simply means the act of painting outdoors and often for a set amount of time.
She describes her painting style as Expressive Realism.
"Somewhere between Impressionism and Photo Realism," she says.
Aside from her talent and painting style, Keefe is also known as being a fast painter. She often finishes a large piece in a few days and a smaller painting in a couple of hours, which is one of the reasons why she enjoys Plein Air painting.
"I used to be quicker. I've slowed down a little bit, wanting a little more accuracy in my paintings, but I'm still pretty fast," she says.
Keefe grew up in rural Wisconsin and moved to Milwaukee to attend Cardinal Stritch University (then Cardinal Stritch College) and she never left Brew City. Thus, she developed a deep appreciation for both urban and natural subjects.
"I particularly love old architecture and how light hits it," says Keefe. "Architecture often has a story that's told just by looking at the buildings."
As a single mom of two boys, Keefe worked as a graphic designer for many years, but also created fine art on the side. In 2005 she left her day job and became a full-time artist.
Keefe has won dozens of awards for her paintings including Best of Show from the Cedarburg Art Museum in 2019 and was awarded the $20,000 Dorothy Dreihaus Melins Fellowship for Midwestern Artists at Oil Painters of America National Exhibition in 2015. Her work has appeared in museum shows, top-tiered plein air painting competitions and has attained Signature Status in Oil Painters of America, American Impressionist Society and American Women Artists.
She served as the Pfister artist-in-residence from 2011-2012.
At the end of 2021, Keefe was diagnosed with breast cancer. Despite the diagnosis, she decided to move forward with the Art Bar show, which was booked in September, and she's extremely glad she did.
"I'm astounded by Don and his ability to make paintings relate that don't relate. He really knows how to light work, too. It's a beautiful show and truly a bright spot in my life right now," says Keefe.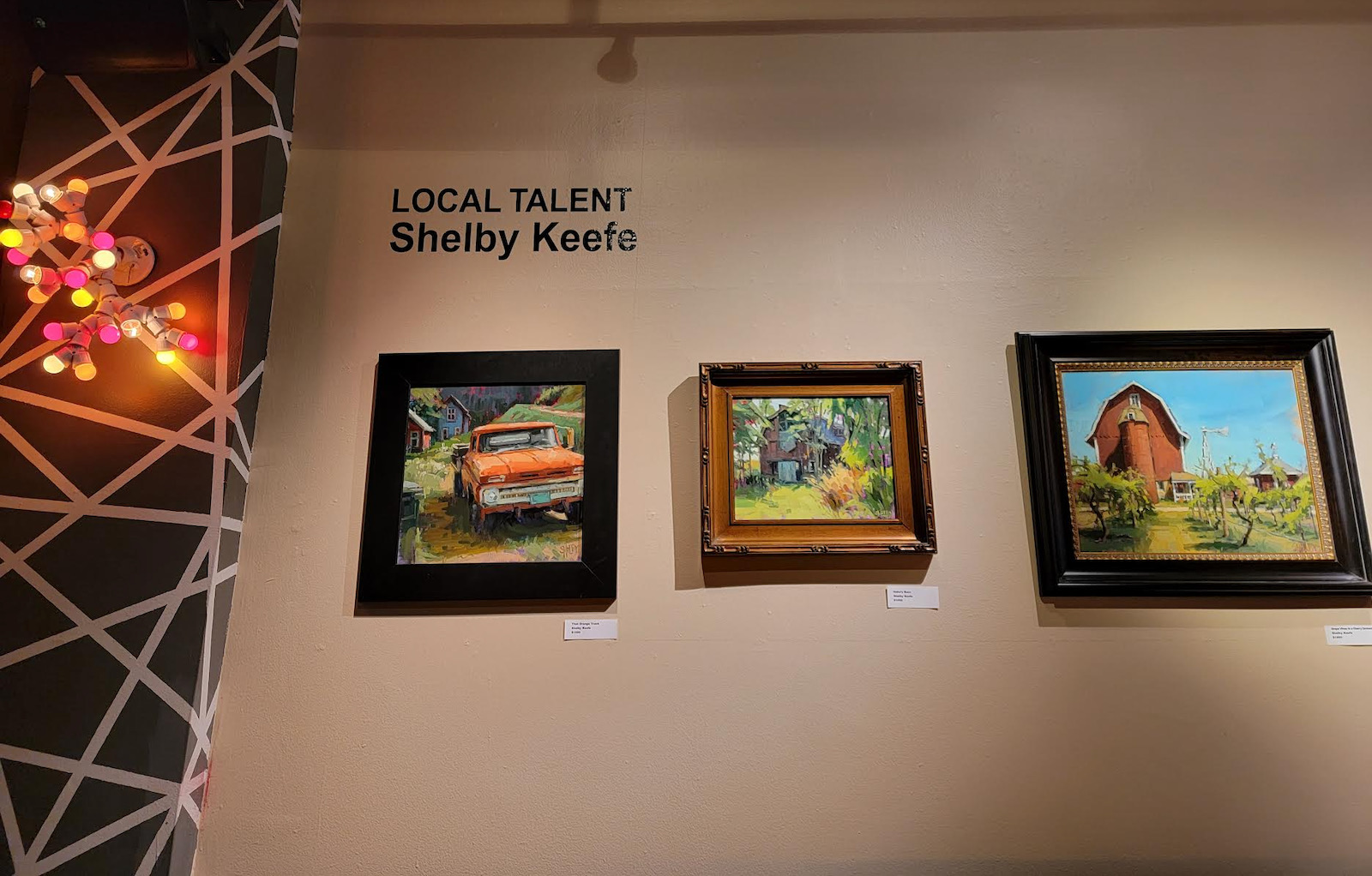 Molly Snyder started writing and publishing her work at the age 10, when her community newspaper printed her poem, "The Unicorn." Since then, she's expanded beyond the subject of mythical creatures and written in many different mediums but, nearest and dearest to her heart, thousands of articles for OnMilwaukee.

Molly is a regular contributor to FOX6 News and numerous radio stations as well as the co-host of "Dandelions: A Podcast For Women." She's received five Milwaukee Press Club Awards, served as the Pfister Narrator and is the Wisconsin State Fair's Celebrity Cream Puff Eating Champion of 2019.