Check in early and stay late during OnMilwaukee's "Hotel Week" sponsored by VISIT Milwaukee. These seven days will be packed with stories about historic area hotels, reviews, history, food and drink, staycations and more. Find out what it's like to be a tourist in this town. (Chocolate on your pillow not included.)
There are many reasons why we are now smitten with the Sheridan House in Cudahy, but first and foremost, it is – hands down – the cleanest hotel we have ever stayed in.
We are picky travelers who spend a fair share of time inspecting a room before we sleep in it due to previous bad experiences, so we actually pull the bed and furniture away from the wall and often, even in the fanciest of rooms, find crumbs and dirt in hard-to-vacuum places. But not here – it was immaculate. I think I could actually eat off the tile in the massive shower stall. (But, alas, I did not.)
There were many other attributes that make Sheridan House, 5133 S. Lake Dr., our new favorite local getaway spot. The location, which at first seemed odd – a B&B in Cudahy? – is actually extremely lovely and serene across the street from a county park and golf course. We could even see a blue patch of lake from our room. Although the hustle of a Downtown stay is fun, the quietness of the residential street and chance to explore an area we don't usually experience made us feel like we really slipped away from the grind.
Sheridan's has 12 guest rooms, three of which are "luxury" rooms, and all of which reflect famous international vineyards. We stayed in one of the luxury rooms – the "Champagne" room – and found it extremely lavish, yet very comfortable and cozy thanks to an abundance of amenities including a homey fireplace, huge whirlpool that's wide enough for two people to sit next to each other, a cloud-like bed, Marie Antoinette-inspired chairs, a vintage-looking full length mirror and many different lighting choices from sconces, lamps and overheads.
But best of all, there was free, lightning-fast WiFi. "I'm never leaving here!" I wrote on Facebook after realizing this.
Actually, before we even put the suitcase on the bed, Sheridan's stole our staycationing hearts with the fresh baked goods made in the restaurant on the ground floor called, aptly, Sheridan's. The aforementioned bathroom was another favorite, thanks to the shower with great water pressure and two wall sprayers, a body sprayer and a rain shower. There's also a delightful warm air duct that blows down on you when exiting the shower.
Lee Barzack and Jane Schilz, who also own and renovated the Avalon Theater in Bay View, bought the Cudahy boutique hotel in the summer of 2007. The building, which was built circa 1911, originally opened as the Sheridan House and Palm Garden Tavern in the 1920s. In 1968 it became The Fountain Blue.
"It had a lot of historical appeal to us," says Schilz.
According to Schilz, Sheridan's guests are both in-town staycationers and out-of-town travelers.
"It's a nice mix of clientele," she says. "Our hotel appeals to people who are looking for the small European feel versus a big hotel experience. We've hosted people from all over the world: Germany, Sweden, Australia."
The couple completely remodeled the building – only the outside brick remains original – which is actually two buildings, connected by a courtyard in which all of the herbs are grown for the restaurant. The general vision is for the feel of an upscale B&B, but with a farm-to-table restaurant that's open to the public.
Sheridan's is open seven days a week from 7 a.m. to 3 p.m. and serves breakfast and lunch. The menu is American bistro style, with favorites like the eggs Sheridan, sweet apple panini, mushroom quiche and pulled pork benedict.
We stopped in for brunch after our relaxing evening and found the food on the seasonally-inspired menu to be extremely fresh, flavorful and inspired.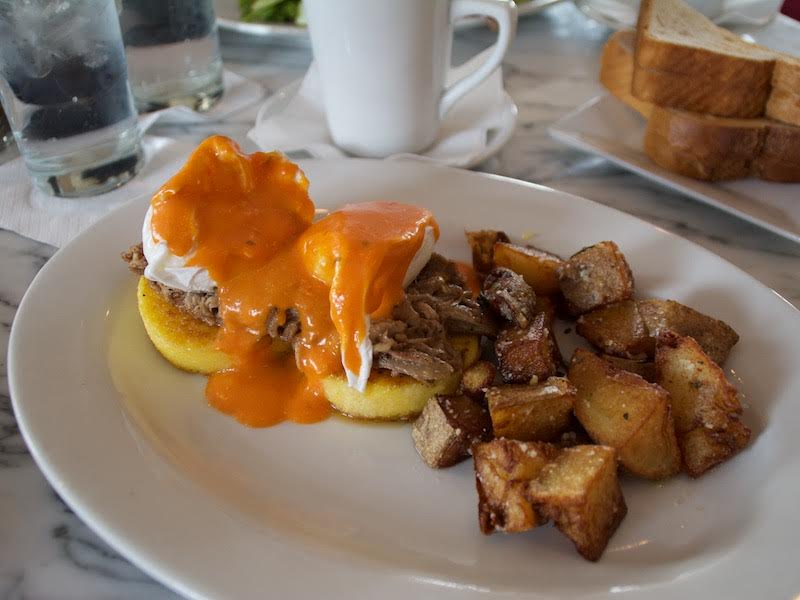 We ordered the pulled-pork Benedict and the smoked salmon omelet, both of which were served with an attractive presentation and were the perfect "Goldilocks" temperature. The pulled-pork Benedict features two perfectly poached eggs and soft shredded pork atop polenta cakes. The roasted pepper Hollandaise sauce had a sightly off-putting color, but was savory and delicious. The salmon omelet was stuffed with dill cream cheese and is, in a word, flawless.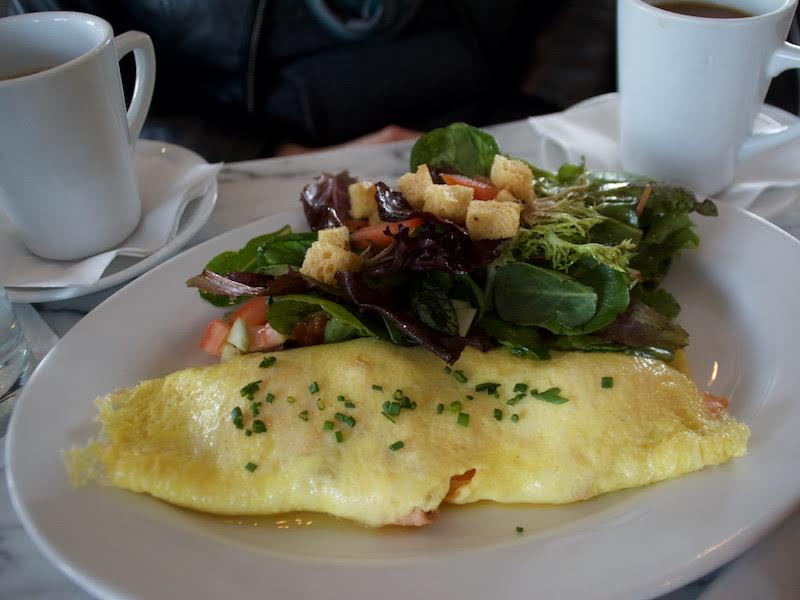 We appreciated the choice of potato or salad on the side and the bottomless cups of Valentine coffee.
"We continue to add new items to the menu, but keep customer favorites on it, as well," says Schilz.
Keeping customers in mind is clearly something Sheridan's excels at and why it is, quite possibly, the crown jewel of Cudahy.

Molly Snyder started writing and publishing her work at the age 10, when her community newspaper printed her poem, "The Unicorn." Since then, she's expanded beyond the subject of mythical creatures and written in many different mediums but, nearest and dearest to her heart, thousands of articles for OnMilwaukee.

Molly is a regular contributor to FOX6 News and numerous radio stations as well as the co-host of "Dandelions: A Podcast For Women." She's received five Milwaukee Press Club Awards, served as the Pfister Narrator and is the Wisconsin State Fair's Celebrity Cream Puff Eating Champion of 2019.