The Sherman Phoenix, 3536 W. Fond du Lac Ave., celebrated a grand opening this evening with an open house, vendor samples, a crackling fireplace and lots of affirmative nods and smiles.
Located inside a former BMO Bank, the Sherman Phoenix houses 29 businesses primarily owned by people of color and many of which are family ventures.
The dining experience is "food hall style," with walk-up restaurant service and community sitting in the center of the space. On-site restaurants include Sauce and Spice Pizza, Funky Fresh Spring Rolls, Lush Popcorn, Next Level Vegan, Shindig Coffee and more.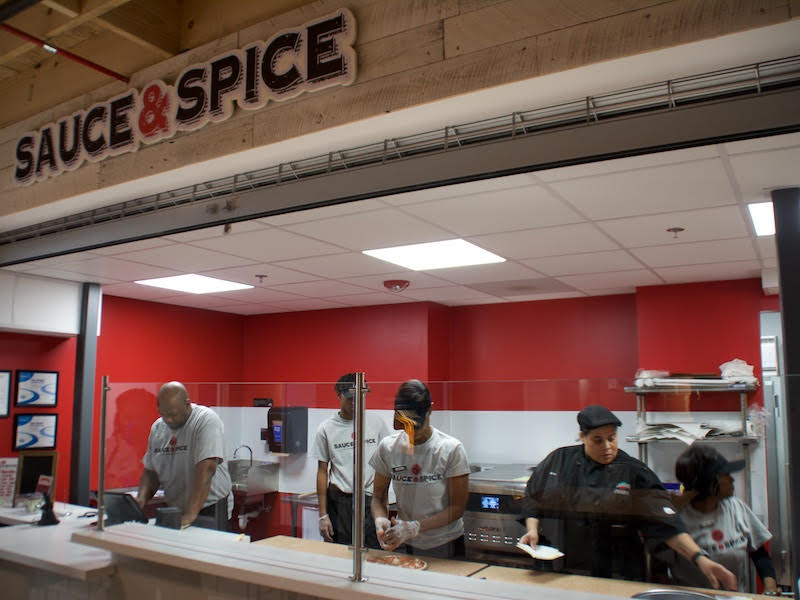 The four-level complex also features art studio space, cultural exhibits, a yoga studio, massage space, jeweler, nail salon, hair salon, barber shop, a lash-extension salon, fitness facility, counseling services and more.
True to its name, Sherman Phoenix was literally built from the ashes of the bank that was damaged in a fire in August 2016 during violent protests in the neighborhood. The vault door is one of the only reminders of the building's past.
"It's a cultural hub, a wellness center and a food hall," says Juli Kaufmann, who founded the project along with business partner JoAnn Sabir. "It's a gathering place for all of Milwaukee."
Sherman Phoenix's business hours are 7:30 a.m. to 8:30 p.m. daily. Breakfast is available on the weekends; lunch and dinner served every day.
Tour a portion of the space:
Molly Snyder grew up on Milwaukee's East Side and today, she lives in the Walker's Point neighborhood with her partner and two sons.
As a full time senior writer, editorial manager and self-described experience junkie, Molly has written thousands of articles about Milwaukee (and a few about New Orleans, Detroit, Indianapolis, Boston and various vacation spots in Wisconsin) that range in subject from where to get the best cup of coffee to an in-depth profile on the survivors of the iconic Norman apartment building that burned down in the '90s.
She also once got a colonic just to report on it, but that's enough on that.
Always told she had a "radio voice," Molly found herself as a regular contributor on FM102, 97WMYX and 1130WISN with her childhood radio favorite, Gene Mueller.
Molly's poetry, essays and articles appeared in many publications including USA Today, The Writer, The Sun Magazine and more. She has a collection of poetry, "Topless," and is slowly writing a memoir.
In 2009, Molly won a Milwaukee Press Club Award. She served as the Narrator / writer-in-residence at the Pfister Hotel from 2013-2014. She is also a story slam-winning storyteller who has performed with The Moth, Ex Fabula and Risk!
When she's not writing, interviewing or mom-ing, Molly teaches tarot card classes, gardens, sits in bars drinking Miller products and dreams of being in a punk band again.