Perhaps even more than beer, Milwaukee is the city of festivals. Here, you can find a festival dedicated to a culture, a neighborhood, a food, a drink, a season or merely the fact that the sun came up that morning – just about anything. And now that includes a festival dedicated to a green, swamp-dwelling animated ogre with emotional layers like an onion and a penchant for farting.
On Saturday, Sept. 3, a band of local internet creators/friends/ogre uber-fans will host Shrekfest, a celebration dedicated to a hero as green as the Humboldt Park grass it will call home. Running from 3-9 p.m. (plus an afterparty at Indeed Brewing in Walker's Point) the free all-ages event features all your typical festival elements – live music, games, honorary ceremonies – themed in far-less-typical fashion to the movie "Shrek." That includes a costume contest featuring the franchise's fractured fairy tale characters, a roar-off inspired by the green grump's swamp-clearing bellows and an onion-eating competition, all eventually topped off with a screening of the successful (and, lest you forget, Oscar-winning) film.
The only thing more remarkable than the existence of a festival dedicated to "Shrek"? That a festival dedicated to "Shrek" has existed for years – and only grown, starting in a small Madison park in 2014 and expanding year after year in the capital city until now landing for the first time in Milwaukee.
"We keep out-growing our shell, like a hermit crab," said festival co-creator Grant Duffrin.
Shrekfest is the beloved and bizarre donkey-dragon hybrid baby of 3GI Industries, a band of internet creatives headed by Duffrin along with southeastern Wisconsin natives Kevin Gonring and Eric Nitschke. However, it's by no means their first surreal brainchild.
Before the days of Shrekfest, the trio made similarly ornate oddball projects through 3GI – albeit for the internet rather than in-person events. One of their first viral sensations came a little more than a decade ago: an ever-increasingly intricate series of live-action "Super Smash Bros." tournaments, blending together their love of movies and video games with an off-kilter "Tim & Eric Awesome Show, Great Job!"-like sense of humor, highly inventive lo-fi production value and an even higher tolerance for pain.
Another of their pop culture obsessions: "Shrek," a collective favorite from their childhoods that they made the centerpiece of some later comedy videos including the horror parody "Shreknomicon." So when they stumbled upon a Facebook event for a Shrek-themed festival in Madison back in 2014, they were thrilled.
"We thought, 'This is awesome,'" Nitschke recalled. "We're going to show up, and we're going to really wild out at this event. We're posting on this site, and it's looking really cool – and so many people are saying they're going to go."
Just one problem: The festival didn't actually exist.
"The guy who created the event was like: Do people really think this is real? … This is so not real; why would anybody do this? It's obviously fake," Nitschke said.
"The joke went over our heads," Duffrin added. "Shrek, to us, wasn't on my radar as a meme ... it was just like, 'Remember Shrek?'"
The event listing was a joke – but the enthusiasm Duffrin, Gonring and Nitschke felt was very real. And judging by the fellow comments in the Facebook event, they weren't alone – so they decided to turn this online prank into an offline reality, throwing the first Shrekfest in 2014 at Demetral Park in Madison. A few dozen fans joined them.
"It was intimate," Duffrin said with a smile.
"But some of the people who went that year are now helping out with the fest or still go," Nitschke added. "Most people were totally won over by that."
Indeed, just like the animated franchise that spawned it, Shrekfest has only grown since. Some featured elements have stayed, like the onion-eating contest and the end-of-day screening; others, like a Pin The Tail On Donkey competition and homemade "onion wine" refreshments, made like Lord Farquaad and got killed off. (Though during our chat, Duffrin and Nitschke were already pitching each other ideas for a new and improved Donkey game for next year's edition.) Thanks to word of mouth from happy fans as well as write-ups both local and national, celebratory and side-eyeing, the event also expanded out of several Madison swamps over the years, moving from Demetral Park to James Madison Park to Warner Park – and now, for the first time, to Milwaukee, with Humboldt Park serving as the latest locale to transform into Duloc for a day.
"We probably weren't ready for Milwaukee – definitely not year one," Duffrin said. "Madison was a perfect place for the training wheels, but this is going to feel different. This is going to feel like a big deal."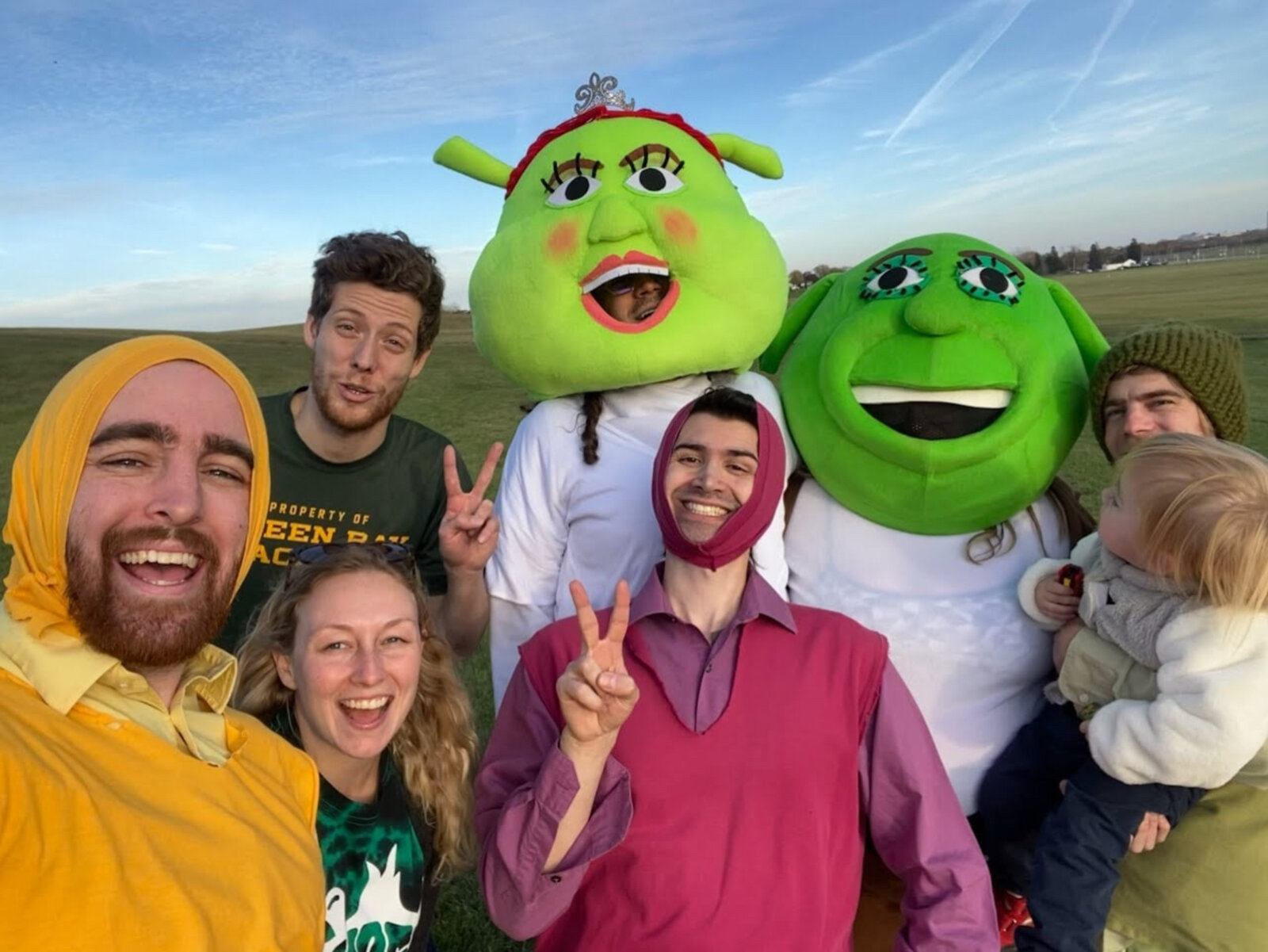 So yes, Shrekfest is real – but is it, you know, real? Is this a sincere celebration of a 20-year-old animated movie for kids? After all, more than a decade removed from its last big-screen appearance (2010's middlingly received "Shrek Forever After"), the character is perhaps more known as an internet meme than a movie. Even the festival's creators aren't entirely sure, with Duffrin particularly fascinated by the philosophical questions of whether or not the event is ironic. They know where they stand, though.
"We're not hate-going to this. We're not saying, 'Oh, 'Shrek' is so stupid; it would be hilarious to have a festival about a stupid movie.' No, that's not it," Nitschke said. "It's funny, and it's fun – but it's not a joke."
"It's too much effort for a joke," Duffrin added.
"I think it's a style of movie that is super popular, especially now: a parody of something that ends up being the genuine version of that thing – in the case of 'Shrek,' a fairy tale," Gonring noted. "In Shrekfest's case, it's a festival that started ironic and should be ironic, but it's somehow wholesome and real."
The Shrek-ffection – and the work that goes into it – goes beyond just Shrekfest, too, for the 3GI guys. In 2018, with the participation of dozens upon dozens of fellow fans and creators, they assembled "Shrek Retold," a feature-length loose re-imagining of the original film featuring a plethora of different animation styles and interpretations from the first movie.
And while some may eye-roll "Shrek" more than 20 years after its original release, with its now-commonplace referential style, there's no such sarcasm or cynicism from the trio when asked about the movie.
"'Shrek' is a message of inclusion," Gonring said. "It's about a guy who hates everyone different from him but learns to love kind of love them by the end. And in terms of Fiona's arc, she learns to love who she is and accept who she is."
"For us, the meme looped back around to us just a true appreciation for the movie – because it's a really, really good movie," Nitschke added. "You really can't touch it. It's got a good moral. It's got good action, hilarious jokes, a good cast. The animation for the time actually was really good and even now holds up pretty good. It'll never be 'Polar Express.'
"It's a satire that loops around back to being sincere, because the end moral and the end situation isn't comedy. It's a completely sincere, romantic end to the movie. It's almost like us: It's kind of a joke but loops around back to sincerity."
No matter if you're a hardcore fan of ogres, irony or somewhere in the middle, just like the characters in its inspiration, Shrekfest has made quite a community – one that's now come to Milwaukee and, on Saturday, might just turn you into a believer, not a trace of doubt in your mind.
As much as it is a gigantic cliché to say that one has always had a passion for film, Matt Mueller has always had a passion for film. Whether it was bringing in the latest movie reviews for his first grade show-and-tell or writing film reviews for the St. Norbert College Times as a high school student, Matt is way too obsessed with movies for his own good.
When he's not writing about the latest blockbuster or talking much too glowingly about "Piranha 3D," Matt can probably be found watching literally any sport (minus cricket) or working at - get this - a local movie theater. Or watching a movie. Yeah, he's probably watching a movie.