You'd think there wouldn't be much to say about Sir Mix-A-Lot's 3:30 p.m. set at the BMO Harris Pavilion on Thursday.
Oh my God, Becky, stop looking at those butts for just a second and listen up: there was a lot going on this afternoon. You just had to pay attention to the details.
After 24 years of covering Summerfest for OnMilwaukee, writing reviews isn't always the hardest job. In fact, depending on the band, it can be a little formulaic. But I also like to challenge myself, which is why I reviewed Sir Mix-A-Lot at Summerfest in 2016 – I wrote a serious review of a frequently not very serious rapper, and it was harder than you might think.
So, to do it differently this time was harder. I mean, why was a rapper best-known (and for most, only-known) for the '90s party tune "Baby Got Back" playing in mid afternoon on a Thursday? Last time, he was a primetime act. Today, he was rapping up against kids music and lounge acts at Jo-Jo's Martini Stage.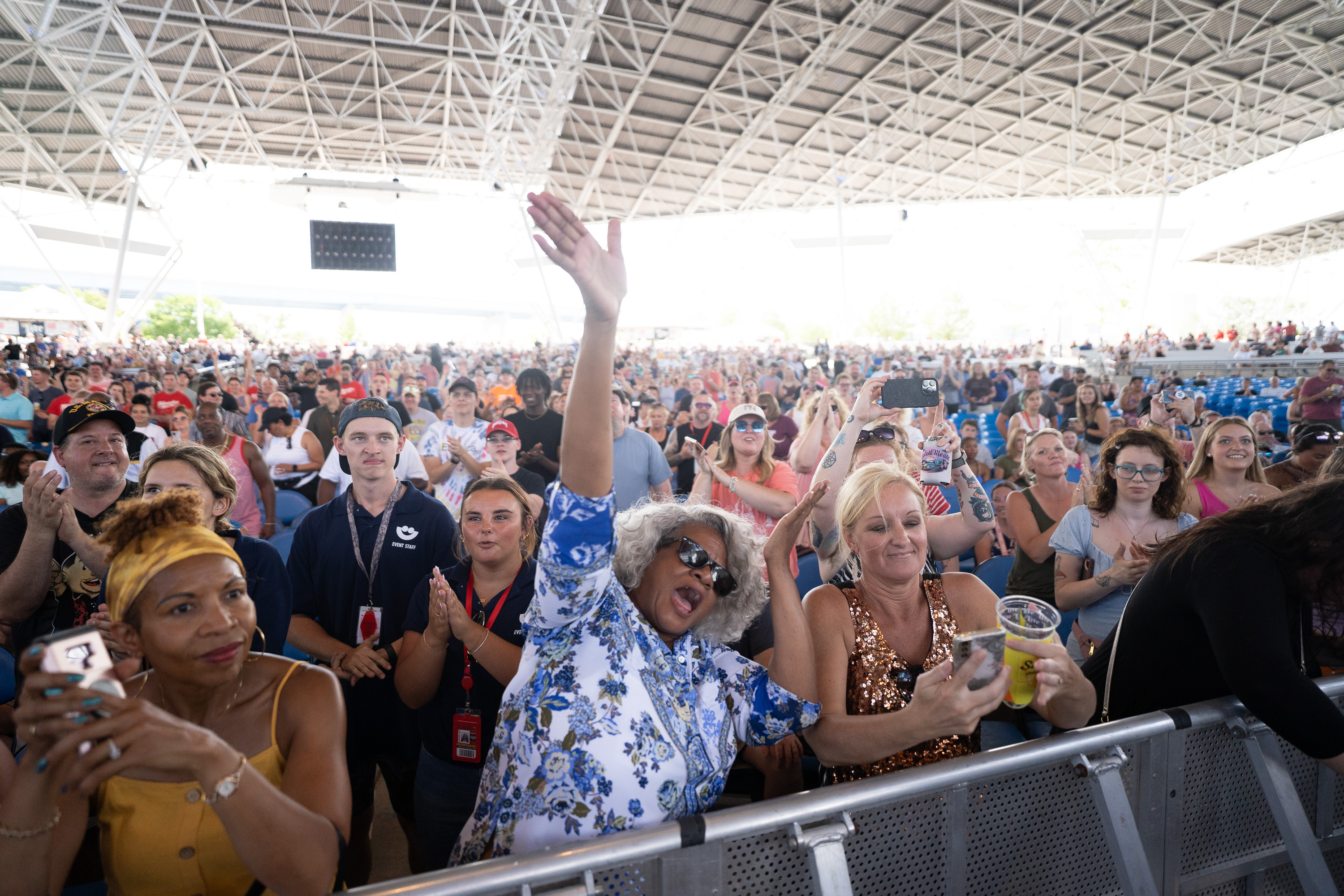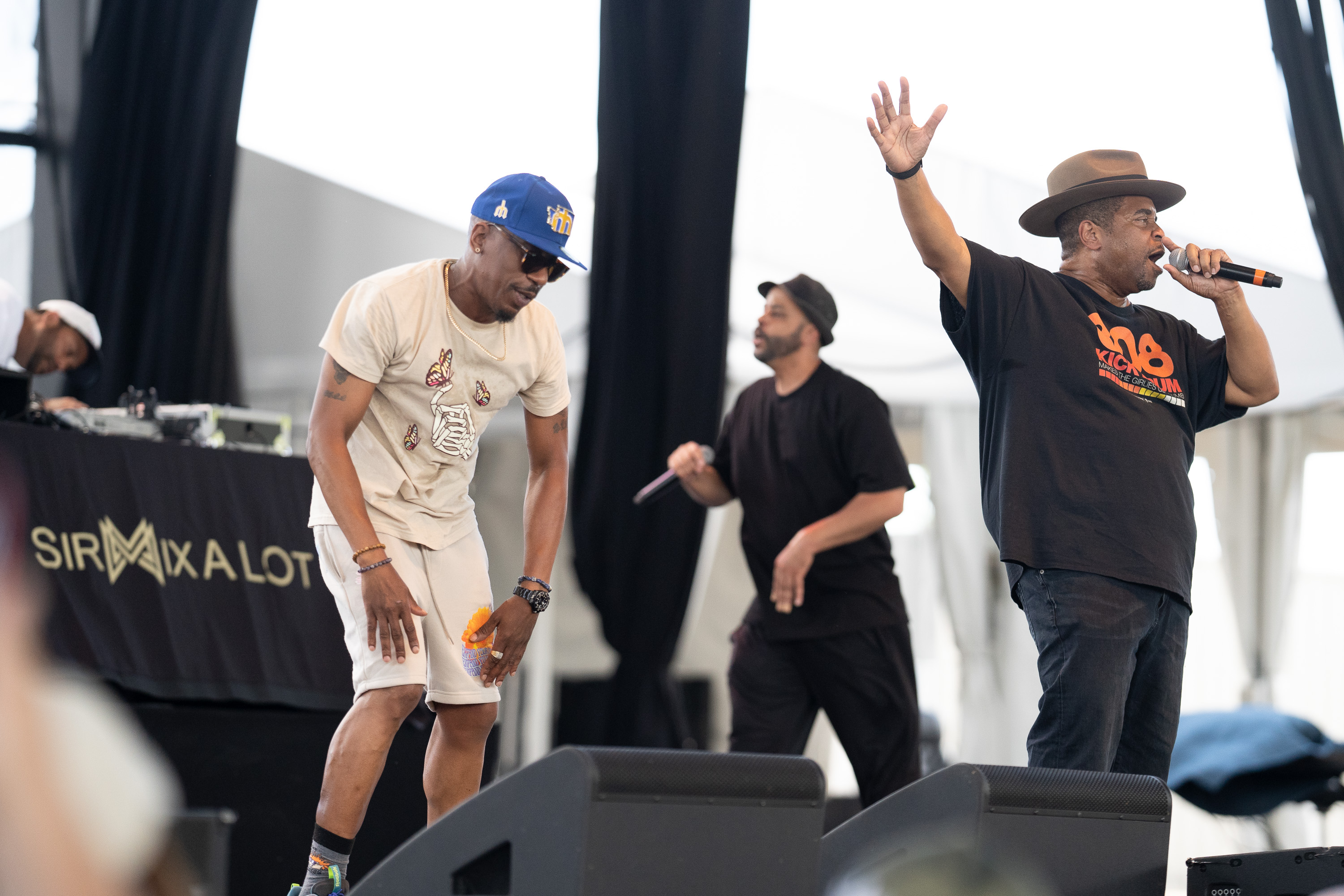 You could say that Seattle's Anthony Ray is less relevant now than he was in 2016, but other than his home-flipping show on the DIY Network in 2018, he still hasn't put out an album since 2003's "Daddy's Home." Not much has really changed.
No, I think this was just a mismatched scheduling oddity, with Sir Mix-A-Lot filling time until Anthony Hamilton would perform on the same stage at 9:30 p.m.
Nonetheless, on a smoking hot Thursday afternoon, out came the rapper in a TR-808 t-shirt, black jeans, red sneakers and his signature brown hat. He mixed it up for 65 minutes to a smallish crowd of Gen Xers and their kids (the little girl wearing the pink "Look at her butt" tank top was cute). To its credit, the audience grew a bit as the show went on.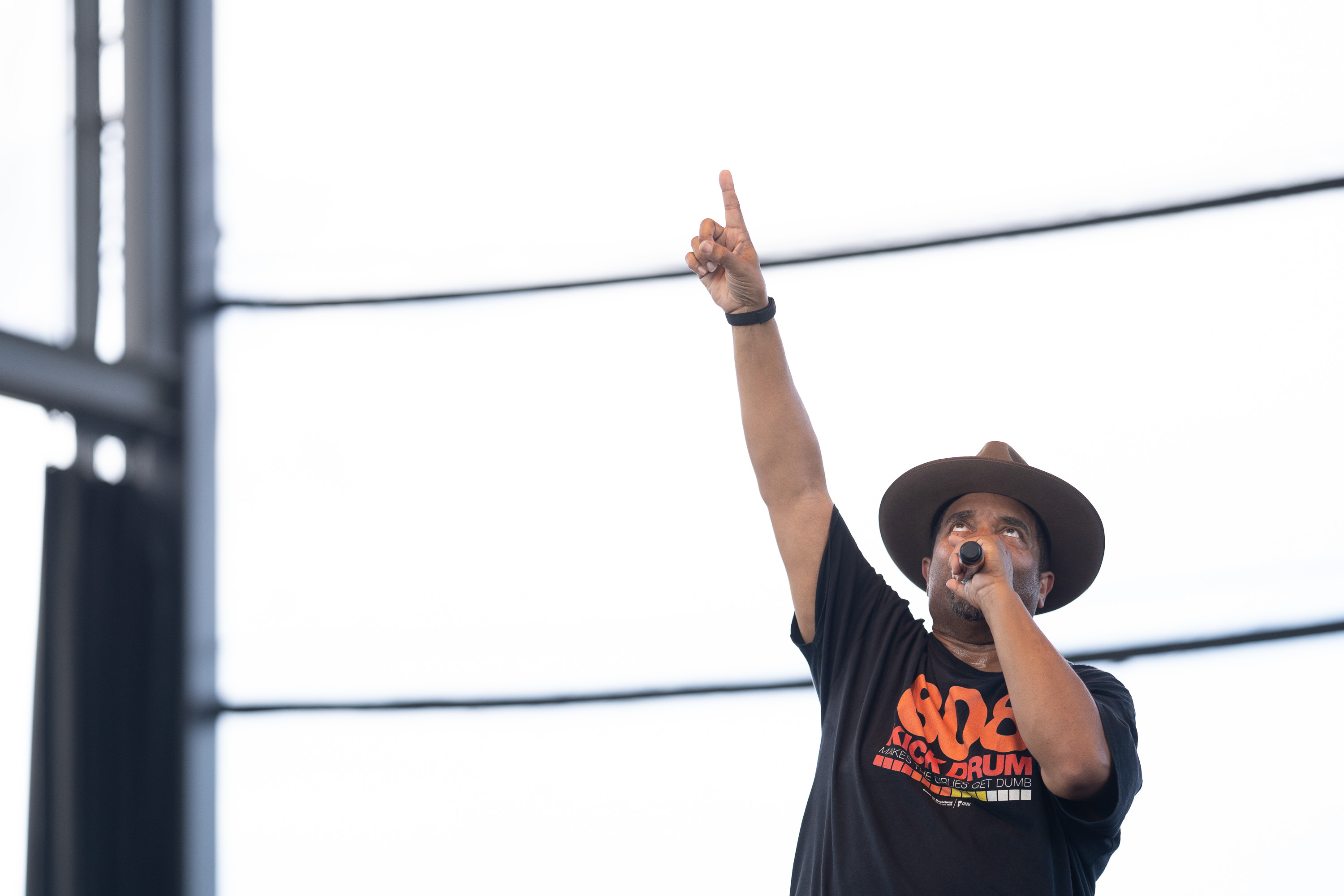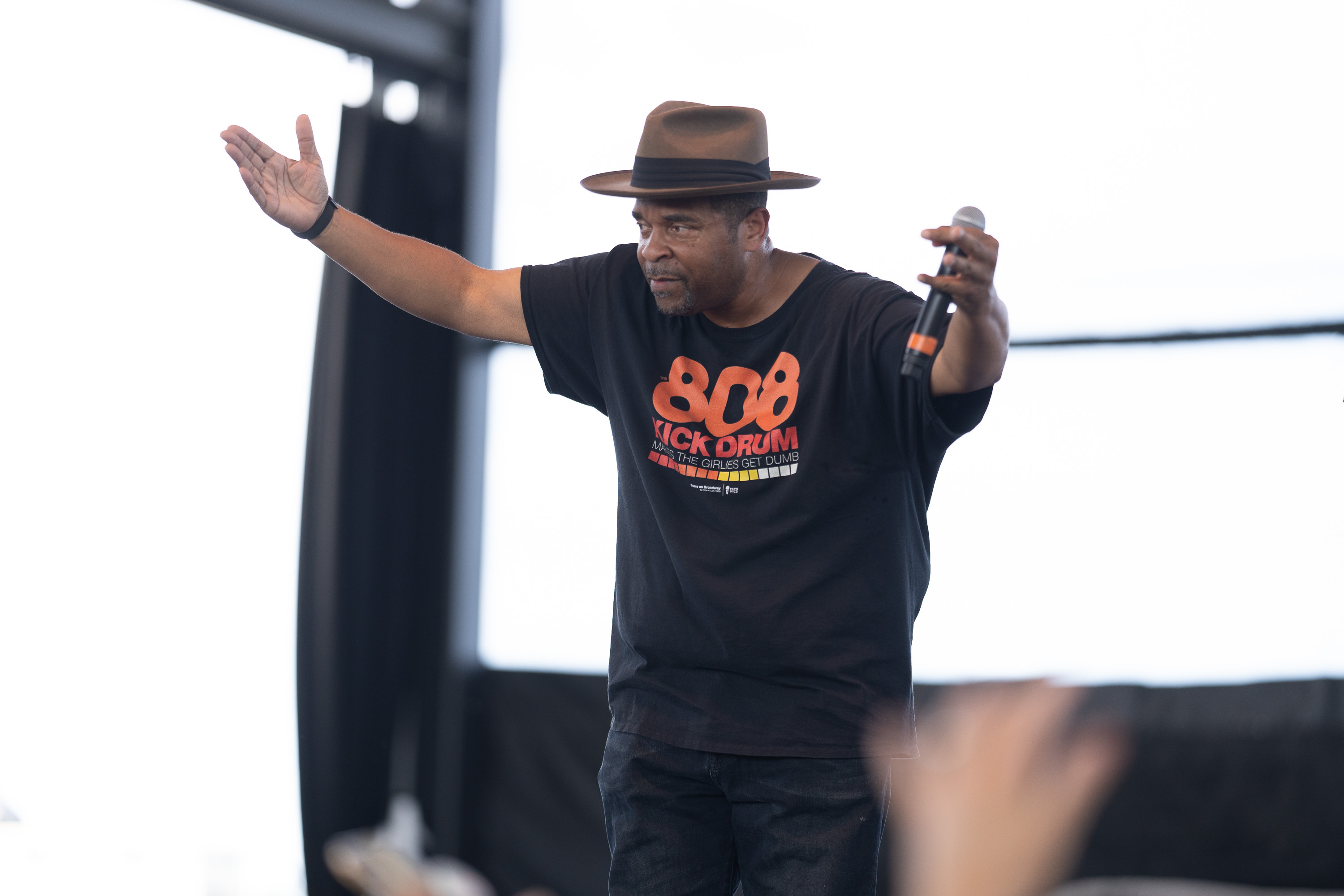 Like last time, Mix had a hype man, whose job was to dance around wearing a backpack, a Seattle SuperSonics hat and grab his junk (the fifth "member" of his band, if you will). His nephew was at the DJ booth.
The sound was pretty muddy at first, but Sir A-Lot played the songs that most of the crowd had never heard (but I certainly had) like "My Hooptie," "Posse On Broadway" and "Put 'em on the Glass." He displayed his fast rapping skills on "Testarossa," a song about bad decisions when he hit it big. His mic-less hype man borrowed fans' cell phones and shot video up close and personal. It was cool, except for the poor fans who were literally throwing their phones on stage. I hope they had a case; my friend Sean nailed the hype man in the junk. Oops.
When Ray played "Louder," the crowd did indeed get louder. He told a story about coming to Milwaukee in the '80s in the winter, making up a tale about his hooptie. Whether that's true or not, it led to "My Hooptie" – I'm doubting that Brew City was the genesis of that song, but I can't confirm it.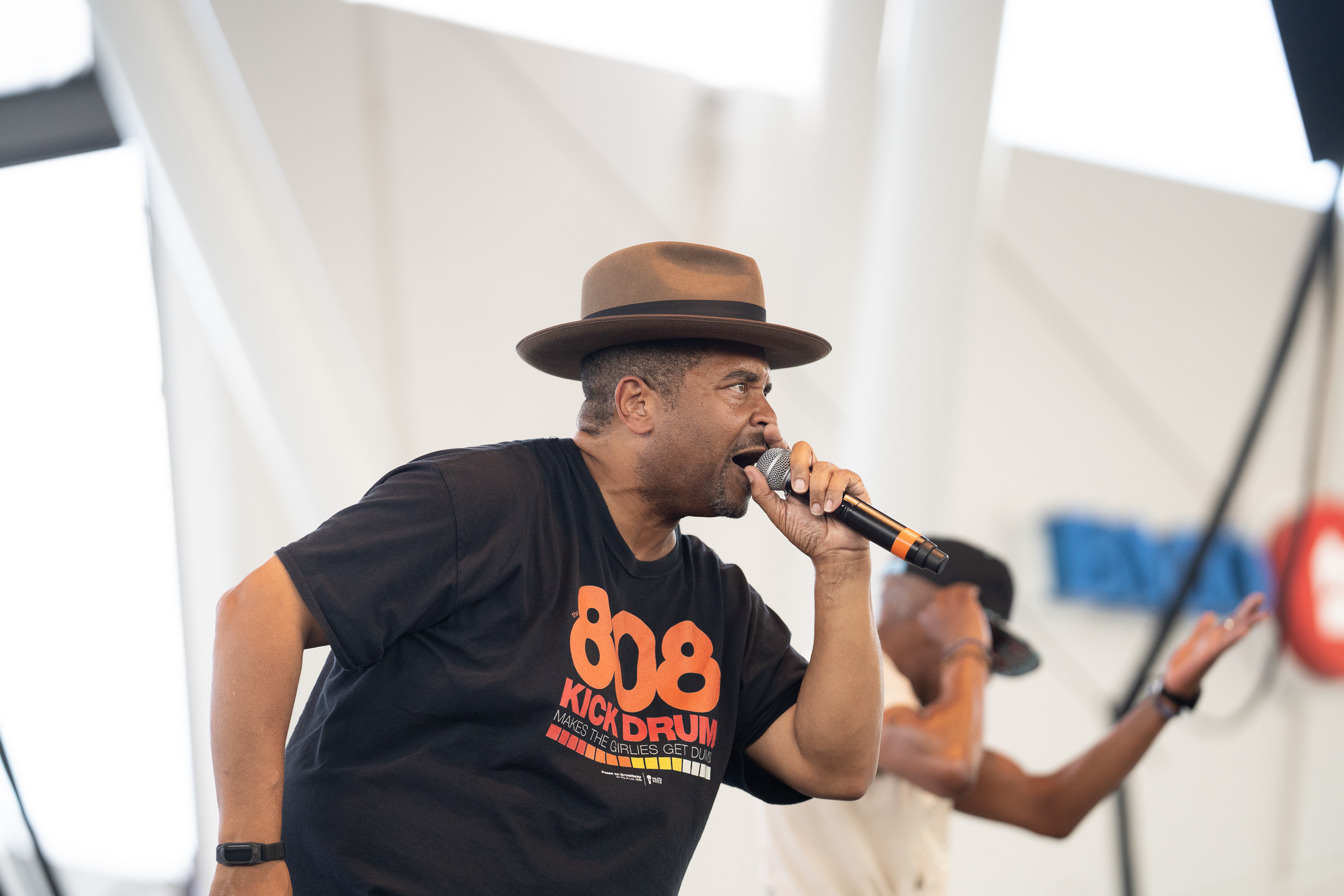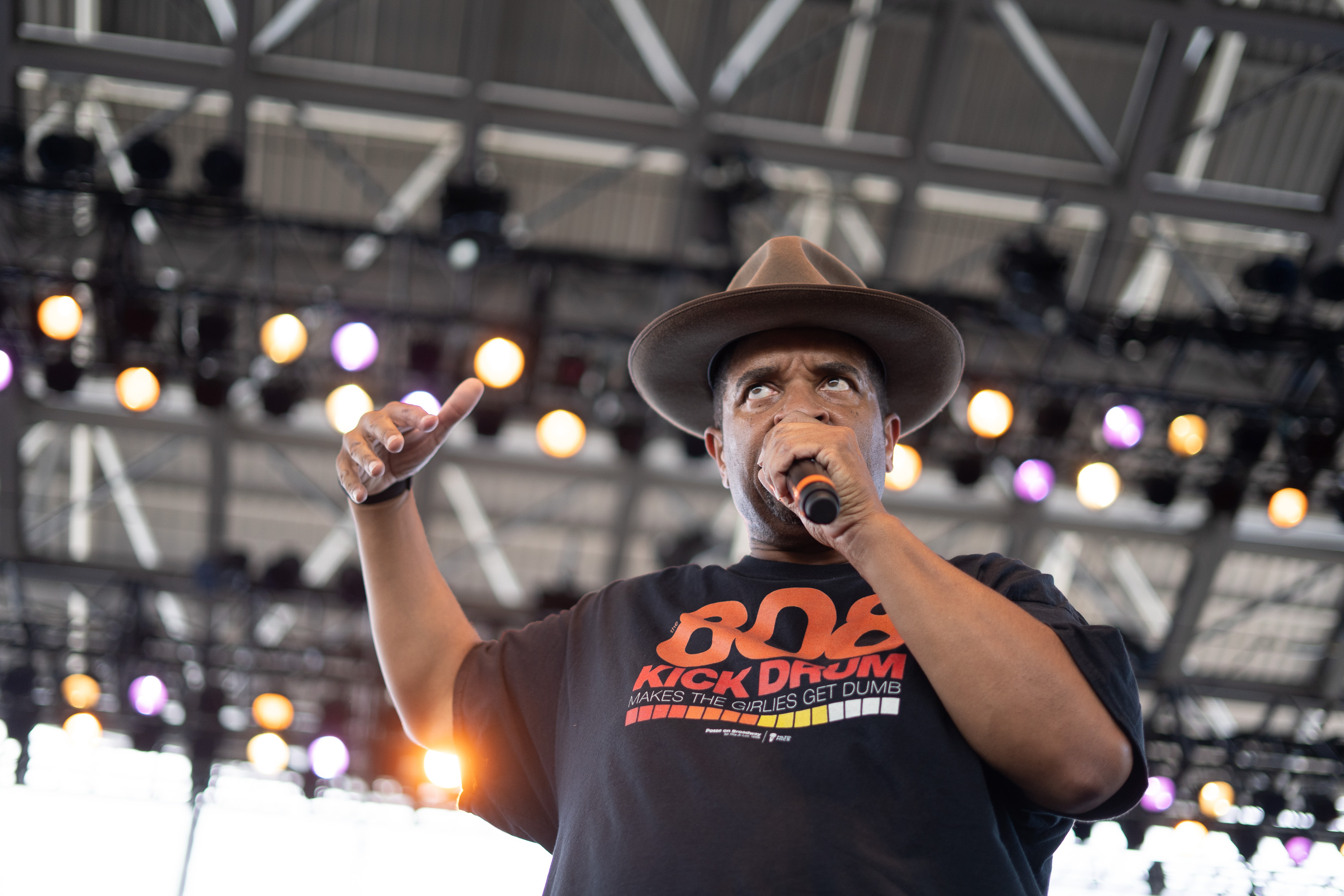 Unfortunately, to my eyes, I was the only one singing along, except for a photographer in the pit and a handful of die-hards. Fans did, of course, know his cover of "Smells Like Teen Spirit."
"This is a hard song to play in front of children," he said leading up to "Put Em On The Glass," which was nowhere near as popular as the big one …
"Baby Got Back" was what this crowd waited for. Before he started, a teenager with braces in a double cap and homemade Gruber tank top in front of me yelled to his friend, "That's the only song I know!" as he vaped and turned around to me and asked, "How are you doing, sir?"
Then he fist bumped me, and begged my cellphone-throwing friend Sean to buy him booze (he said no). Realizing he thought I was a narc, I focused in on the song, and like last time, he turned it into a weird, extended remix.
Make no mistake: Sir Mix-A-Lot might seem like a novelty, but he's a talented rapper, and it still shows.
Kudos to Ray for not mailing it in at a show like this. He had plenty of banter, spinning similar stories to 2016, and swapping "Milwaukee" into the lyrics of "My Posse's On Broadway." The set list mirrored his previous festival shows, but again, who blames him – it was 3:30 pm.
Really, who can argue with "What's up, Milwaukee" to the tune of "Jam On It?"
It was a bit of a tough crowd, but on a hot day, A-Lot made it hotter. If only the sun had set before the party started.
Never mind. Sir Mix-A-Lot is a professional. Said Ray, before gently dropping the mic: "Mix-a-Lot out."
Andy is the president, publisher and founder of OnMilwaukee. He returned to Milwaukee in 1996 after living on the East Coast for nine years, where he wrote for The Dallas Morning News Washington Bureau and worked in the White House Office of Communications. He was also Associate Editor of The GW Hatchet, his college newspaper at The George Washington University.
Before launching OnMilwaukee.com in 1998 at age 23, he worked in public relations for two Milwaukee firms, most of the time daydreaming about starting his own publication.
Hobbies include running when he finds the time, fixing the rust on his '75 MGB, mowing the lawn at his cottage in the Northwoods, and making an annual pilgrimage to Phoenix for Brewers Spring Training.