Milwaukee's newest – and possibly smallest – restaurant will open at 7 a.m. on Wednesday, Aug. 8 in the former Bud E's Filling Station at 2504 E. Oklahoma Ave.
SmallPie, which has been in the works since February, is the newest venture from Valeri Lucks, proprietor and chief executive pie maker for Honeypie Cafe, Palomino and PieGram, will offer easy, fast breakfast, lunch and dinner options, along with a great patio for lingering with a cup of coffee or alcoholic beverage.
A peek at the space during its soft opening this weekend revealed a bright, surprisingly spacious restaurant, complete with indoor seating for about 12 guests.
A large garage door offers a bright southern exposure, along with the option of an open-air feel for the dining room.
Meanwhile, a spacious patio surrounded by attractive landscaping and doppled with potted plants, offers a great place for folks to take in the all-too-short Milwaukee summer.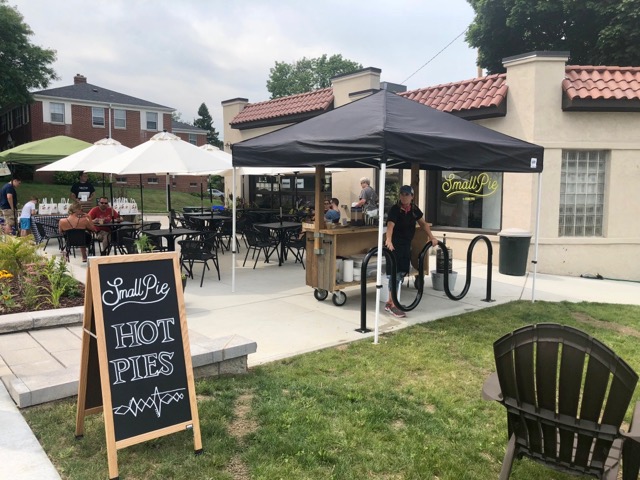 SmallPies and more
In keeping with its name, pie will be a feature for the new counter service spot which will offer a rotating selection of seasonal handpies in both sweet and savory varieties like peach, Wisconsin cheeseburger and Cubano ($5-6).
Sweet Smallpies (mini sized) will also be available for $7-8 each.
Other offerings include seasonal salads ($3-6) and a selection of sweet and savory baked goods like giant triple threat chocolate cookies ($4), savory focaccia bread ($4) and house-made New York style bagels, served with house spreads like three-year cheddar beer cheese, herbed cream cheese, fruit jam and orange honey butter ($3 each, plus $1 for spread). There will also be yogurt and housemade granola bowls ($8), monkey bread ($6) and a variety of other freshly baked items.
Those can be enjoyed with steaming hot cups of Anodyne "Pie Blend" coffee or refreshing Anodyne cold brew or Pilcrow sweet and creamy nitro cold brew. There's also tea, juices and a variety of sodas available, along with beer, canned wine and cocktails. (Think classics like bloody marys, old fashioneds and patio-appropriate sips like the "Light and Stormy" with Twisted Path light rum, lime and Wisco Pop ginger ale.)
Meanwhile, ice cream will be sold by the scoop ($2.50), in ice cream floats ($6) and alongside warm pie or brownies ($7).
Starting Wednesday, SmallPie will be open seven days a week from 7 a.m. to 9 p.m.
Lori Fredrich (Lo) is an eater, writer, wonderer, bon vivante, traveler, cook, gardener and girlwonder. Born and raised in the Milwaukee area, she has tried to leave many times, but seems to be drawn to this quirky city that smells of beer and alewives.
Some might say that she is a little obsessed with food. Lo would say she is A LOT obsessed with food. After all, she has been cooking, eating and enjoying food for decades and has no plans to retire anytime soon.
Lo's recipes and writing have been featured in a variety of publications including GO: Airtran Inflight Magazine, Cheese Connoisseur, Cooking Light, Edible Milwaukee, Milwaukee Magazine and the Milwaukee Journal Sentinel, as well as on the blog Go Bold with Butter, the web site Wisconsin Cheese Talk, and in the quarterly online magazine Grate. Pair. Share.